IASbaba's MAINS Mentorship Based Answer Writing Programme: Think Learn and Perform (TLP), 2019 Phase II: ONLINE and OFFLINE – General Studies GS (Admission Open)- Now in DELHI and BANGALORE !!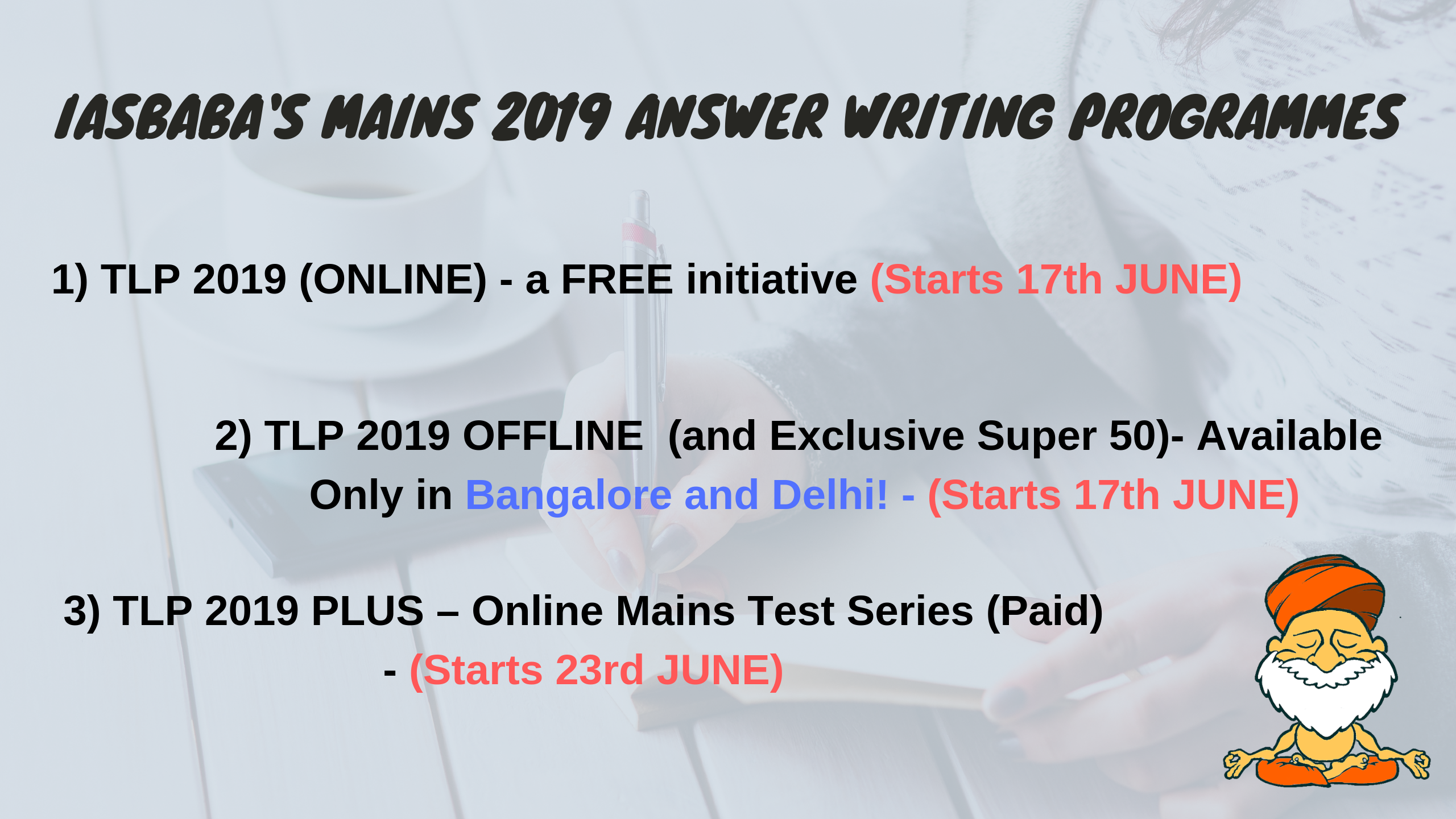 IASbaba's MAINS Mentorship Based Answer Writing Programme:
Think Learn and Perform (TLP), 2019 Phase II
ONLINE and OFFLINE – General Studies GS (Admission Open) – Now in DELHI and BANGALORE!
The Preliminary Examination just got over and it is high time that you get done and dusted with the hangover of predicting cut off and endless speculations. What matters the most at this point of time is the planning for Mains which is hardly 3 months away. With UPSC squeezing the time between Prelims and Mains, you need rigorous and intensive preparation during this period.
What do you need at this point of time? The answer is the following:
The first and the foremost is to complete the syllabus which may have remained untouched till now. Simultaneously, you need to have a revision regime to consolidate the loads of information that you must have collected before Prelims.

While everything else happens, the most important or rather the most obvious thing to do is- answer writing practice. Even if you have studied from the best possible sources and have the confidence to answer any question under the sun, without practising answer writing, things are going to be difficult. While writing in Mains, you must be at ease, as if you are doing the most routine and mundane thing.

During your preparation, you must know whether you are on the right track. Only practising answer writing is not sufficient. There are many candidates who answer all the questions, fill in all the pages of the QCA and yet score really low marks. Reason? They are just writing, without giving adequate attention to context, content and construction of an answer.  

Innovation is needed to make your level a notch or two above others. If your answers don't shine amongst the numerous others, the examiner will hardly be impressed. What it means is that you need to learn to display novelty in your answers. While everyone else is writing the same spoon fed content, you must learn to

think original

and make the examiner believe that you possess higher order thinking skills.
How is IASbaba going to help you?
The name TLP doesn't need any introduction. For the past 3 years, TLP has become synonymous with quality and effectiveness. The testimony and recommendation of toppers speak volumes about the quality of questions that IASbaba frames. In TLP, you will get a mix of thought provoking, opinion oriented, highly analytical and most probable questions apart from few direct questions to prepare you for any scenario that UPSC can throw at you.
TLP Programme has become the most trusted name when it comes to answer writing practice for UPSC Mains. You can see it yourself here: 
Mains 2018: General Studies Paper: How IASbaba was Helpful in Answering More than 85 Percent of UPSC GS Mains Papers!
UPSC Mains Examination 2017: How IASbaba was helpful in Answering 85% of GS Mains Papers!
Few Testimonials:
In the words of Kanishak Katria, Rank 1 UPSC CSE 2018, the feedback on ONLINE platforms:
Unacademy:

tried in my 1st month of preparation. Didn't find it relevant for me. Sometimes had a look if I had to find some information. NOT A REGULAR LEARNER.

IASbaba:

Followed TLP Platform for Answer Writing Practice (AWP) after Prelims. It helped me get into the AWP groove. I would HIGHLY RECOMMEND to those who want to get started with AWP. Quality of Questions is good. But feedback is difficult as many people upload their answers. If you are able to get in touch with 3-4 people, it'll certainly be mutually beneficial. Otherwise you might get a little lost.

Insightsonindia:

utilised for prelims (as explained earlier). Didn't find Mains answer writing platform relevant for me. Preferred IASbaba more for their quality of questions.

ForumIAS: ustilised for prelims and few offline tests at home.
Dr. NEHA JAIN, AIR 14 – CSE 2017 (ILP Student)
The most important part of my own mains preparation was TLP initiative. I used to religiously and diligently practice every day writing 5 questions on the website. If there's one initiative I truly followed despite even on days when I didn't feel like studying, it was definitely TLP.
The questions are thoughtful and completely in sync with the dynamic trends covering the syllabus in a timely manner. There are legit regular breaks which make this initiative actually workable and realistic so one can have time for optional/ revision/ rest.
I can say that for myself that I truly and honestly give my thanks to IASBABA and specially TLP for being such an important part of my journey. Thanks:) and All the best wishes for future.
Prabhat Kumar, TLP OFFLINE student
I was in last year TLP Mohan Sir's group. Sessions and tests helped me get 400 in GS last year(2018). I got 483 Rank. Sir, Thank you so much for such a result-oriented programme.
You will see many such Testimonials in the TLP Platform – https://tlp.iasbaba.com/
For Answer Writing targeted to UPSC MAINS 2019, we have 3 Programs:
1. Think Learn and Perform (TLP) 2019 (ONLINE) – a FREE initiative ( https://tlp.iasbaba.com/)
2. Think Learn and Perform (TLP) 2019 OFFLINE  (and Exclusive Super 50)- Available Only in Bangalore and Delhi!
3. Think Learn and Perform (TLP) 2019 PLUS – Online Mains Test Series (Paid)
All the 3 Programs are discussed in Detail. Let us see, how TLP is going to help you sail through Mains this year-
1. Think Learn and Perform (TLP) 2019 Phase II   (ONLINE) – a FREE initiative
As you all know, IASbaba the only one to have a Dedicated Platform for UPSC Mains Answer writing, something which is unparalleled. It gives your preparation a personalised touch. Just like any social media platform, you can have your personalised account wherein you can upload your answers, get the reviews and feedback and separate everything else from your Mains preparation.
TLP runs on 3 simple principles: high quality questions, high quality synopsis and high quality engagement amongst the student's community. These principles, although simple and logical, are hard to implement. However, we have been consistently delivering on these principles and the rock solid validation of this comes from the fact that since the evening of Prelims, we have received hundreds of mails from the aspirants to declare the schedule of TLP for Mains 2019.
So here we are, with yet another edition of the high quality TLP. This time, there are few changes, however. For example, on request of many aspirants, we have synced the schedule of TLP (Online) with TLP (Offline), our another flagship offline/ online initiative for Mains answer writing.
Moreover, to ensure more focus and streamlined coverage of syllabus, the TLP schedule shall have one paper per week.
Now, for those who are newcomers in the domain of UPSC preparation, we are providing the features of TLP below:
TLP is a

FREE ONLINE MAINS ANSWER WRITING

Initiative of IASbaba aimed at helping aspirants practice high quality questions (that match or even surpass the standard of UPSC) on

daily basis.

TLP is a

micro plan based initiative

that runs for 90 days. You are given a

daily schedule

to help you plan your study schedule in the most effective, efficient and focused manner.

Each day 5 questions are posted (Monday to Friday)

in the morning. You are required to complete the daily syllabus from the micro plan provided to you and write the answers to the 5 questions that are posted daily. On the

Saturdays, Essay topics

on various subjects/ issues are posted.

Your answers (not all) shall be

reviewed by IASbaba

on a regular basis. We also encourage

peer review.

You can access the answers written by all other candidates following the initiative.

At the end of the day, you shall be provided with the

Synopsis and Best Answer

with respect to the questions posted on that day.

This time,

TLP starts on 17th June and gets over on 14th September

.

Full mock tests

will also be conducted.

By the end of TLP, you would have prepared

300

high

quality

questions including elaborate

case studies

from

Ethics

Paper and

12 essays

.
---
2. Think Learn and Perform (TLP) 2019- OFFLINE (and Exclusive Super 50)- Available Only in Bangalore and Delhi!
In the Offline initiative, you will come

DAILY to the centre and practice 5 Answers

from

TLP

and on the

last day of the Week appear for the full length test

covering syllabus of the entire week. Nothing can be more holistic than this. The idea is to give you the space and related

infrastructure to come together

,

write answers on a daily basis from TLP

, discuss among yourselves, learn from each other and be better prepared and better equipped.

Students will be divided into batches, each batch shall be allotted a daily time slab of 1.5 hours/batch

in which they can come to our facility write TLP answers and have discussions.

Please note that only the Weekly Tests (20 Tests = 12 Part Tests

and

4 Full-Length Mock Tests

and

4 Essay

Tests.) will be evaluated. The Weekly Test will be of

3 hours Duration.

With

40 GS questions a week

(20 from TLP and 20 in TLP), and altogether

more than 500 questions and 20 essays

, you will be at your best when you write your answers on the real turf on Mains.

Each candidate shall be assigned to a mentor

. After the weekly test, when the evaluation is done, you can have

one on one session

with your mentor. These sessions are meant to personally groom your skills, polish the rough edges of your preparation, point out your areas of strength and weaknesses and make sure that with each passing test, your intellect and understanding grows.

Please Note that the Mentorship will be available only in BANGALORE!

The tests shall be followed by high level discussions by the expert faculty of IASbaba. During the

post-test discussions

, you will not only get question specific insights but also the strategy for clear and interdisciplinary thinking. The classroom discussions will prepare you to develop high order analytical skills.

You will get the

Best possible peer group

, to come up with multiple dimensions to an issue and qualitative discussions. Most of them would have attended interview or a rank holder.

For each TLP test, you will be provided with

quality synopsis

that will work as a ready reference for future revision.

The papers will be

evaluated

with detailed feedback (review).  

Ranking

to be done and list to be published for both Online and Offline combined.

We also have

Study room facility

and we highly recommend it for our TLP followers. It is charged separately.

This time,

TLP OFFLINE starts on 17th June

and gets over on

14th September

.
Super 50 (It's a part of TLP OFFLINE)
The same Features of TLP OFFLINE will follow in Super 50.
Super 50 is Exclusive for students who are giving Mains this year (2019). It is available both in Bangalore and Delhi.
There will be a Scholarship Test held, based on the performance, the entire TLP OFFLINE Programme will be Free or given at a discounted price.
Note: The details about the Scholarship will be published on 10th June, 2019
---
3. Think Learn and Perform (TLP) 2019, PLUS  – Online Mains Test Series (Paid)
FEATURES OF TLP PLUS:
This is nothing but ONLINE Mains Test Series (PAID). The tests will be similar to the weekly tests available OFFLINE.
There will be 12 Part Tests and 4 Full-Length Mock Tests and 4 Essay Tests. Total = 20 Tests
Synopsis

on the day of the test itself.

Evaluation, marking and ranking

to be done and list to be published for both Online and Offline Combined.

A

Separate platform

has been designed for

TLP ONLINE

. Tests will be uploaded on this Platform on the day of the exam and you will be given a time-domain to write and upload your answer sheets. Evaluated answer sheets will be

uploaded back on your profile

before the next scheduled test, provided you are submitting the Answer copies within 24 hours. This will help us in timely evaluation and publication of Offline + Online Ranking.

We shall evaluate and send it back to you with

detailed feedback

and comments/improvements.
---
FEES:
For TLP Offline: Rs. 20,000 (inclusive of Tax)

Super 50 – based on your Performance (FREE or discounted Price)

For TLP Plus: Rs. 15,000 (inclusive of Tax)

Library: Rs. 1600/month (inclusive of tax), for 3 Months 4,500 rs.
---
SCHEDULE

:
TLP ONLINE (FREE) Programme -> CLICK HERE
TLP OFFLINE/Super 50/TLP Plus -> CLICK HERE
---
MODE OF ADMISSION:

Those who are interested, can fill up the Registration Form below.
---
---
If you are clear with the Programme Details and interested in joining the Programme, go ahead and make the Payment!
---
---
For TLP Plus (ONLINE Mains Test Series (PAID)) – once payment is done, an acknowledgment will be sent via mail. The Mains Test Platform will be active 2 days before the Test (i.e., 21st June), you will also receive Login credentials on the same day.
(OR)
Direct Walk-in: You can visit any of the following centres for admissions or related enquiries:
Vijayanagar Centre: 1737/ 37, MRCR Layout, Vijayanagar Service Road, Vijaynagar, Bengaluru-5660040
Chandra Layout Centre: No. 1443/1444, Above Carzspa, 80 Ft. Main Road, Ganapathi Circle, Chandra Layout, Bengaluru- 560040
You can also reach us on
Email id: support@iasbaba.com
Mobile No.: 9035077800/7353177800 ( Office Timings: 10 am – 6 pm)  
*ADMISSIONS OPEN – NOW in DELHI and BANGALORE !!
All the best 🙂
IASbaba Team