RSTV IAS UPSC – International Disability Day

International Disability Day
TOPIC:
General Studies 2
Issues relating to development and management of Social Sector/Services relating to Health
Development processes and the development industry the role of NGOs, SHGs, various groups and associations, donors, charities, institutional and other stakeholders
General Studies 3
Inclusive growth and issues arising from it.
Indian Economy and issues relating to planning, mobilization of resources, growth, development and employment.
The annual observance of the International Day of Disabled Persons was proclaimed in 1992, by the United Nations General Assembly resolution 47/3.
Aim:
To promote the rights and well-being of persons with disabilities in all spheres of society and development

To increase awareness of the situation of persons with disabilities in every aspect of political, social, economic and cultural life.
Building on many decades of UN's work in the field of disability, the Convention on the Rights of Persons with Disabilities, adopted in 2006, has further advanced the rights and well-being of persons with disabilities in the implementation of the 2030 Agenda for Sustainable Development and other international development frameworks, such as the Sendai Framework for Disaster Risk Reduction, the Charter on Inclusion of Persons with Disabilities in Humanitarian Action, the New Urban Agenda, and the Addis Ababa Action Agenda on Financing for Development.
Definitions:
The United Nations Convention on the rights of persons with disability tells us that persons with disabilities include those who have long-term physical, mental, intellectual or sensory impairments which in interaction with various barriers may hinder their full participation in society on an equal basis with others.
The Rights of persons with Disability Act of India, 2016, also clarifies that disability includes people with mental illness, epilepsy, intellectual impairment and other disabilities which are not evident to a casual observer.
2018 Theme: Empowering persons with disabilities and ensuring inclusiveness and equality
This year's theme focused on empowering persons with disabilities for an inclusive, equitable and sustainable development as part of the 2030 Agenda for Sustainable Development. The 2030 Agenda pledges to "leave no one behind".
In India:
India has around 80 million people with disability, which may be age related, accident related or due to some medical conditions. According to the Word Bank, one in every 12 households in India has a person living with disability.
In 2015, the Prime Minister rolled out the "Accessible India" (Sugamya Bharat Abhiyan) campaign, with a motive to make it convenient for persons with disabilities to access administrative buildings and transport, among other things.
Rights of Persons with Disabilities Act, 2016
The Act replaced the Persons with Disabilities (Equal Opportunities, Protection of Rights and Full Participation) Act, 1995.

It fulfils the obligations to the United National Convention on the Rights of Persons with Disabilities (UNCRPD), to which India is a signatory.

The Act came into force during December 2016.
Salient Features:
Disability has been defined based on an evolving and dynamic concept.

The types of disabilities have been increased from existing 7 to 21. It includes Speech and Language Disability, Specific Learning Disability, Acid Attack Victims, Dwarfism, muscular dystrophy. It also included three blood disorders: Thalassemia, Hemophilia and Sickle Cell disease have been added for the first time.

Reservation in vacancies in government establishments has been increased from 3% to 4% for certain persons or class of persons with benchmark disability.

In addition benefits such as reservation in higher education, government jobs, reservation in allocation of land, poverty alleviation schemes etc. have been provided for disabilities.

The Act claims that every child with benchmark disability between the age group of 6 and 18 years shall have the right to free education. The government will fund educational institutions as well as the government recognized institutions to provide inclusive education to the children with reasonable accommodation to disables.

Special Courts will be designated in each district to handle cases concerning violation of rights of PwDs.

The Act provides for penalties for offences(imprisonment of 6 months to 2 years along with fine of 10000 to 5 lakh) committed against persons with disabilities and also violation of the provisions of the new law.

The Act provides power to government to notify additional disabilities, a clear recognition of the need to factor in conditions that may arise as a result of an ageing population, an inevitable part of the demographic transition.

The new law will not only enhance the Rights and Entitlements of Divyang-Jan but also provide effective mechanism for ensuring their empowerment and true inclusion into the Society in a satisfactory manner.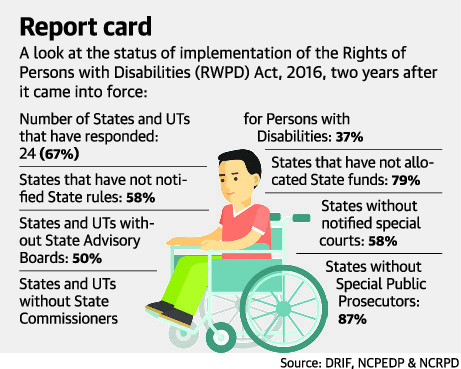 Pic: https://d39gegkjaqduz9.cloudfront.net/TH/2018/12/05/DEL/Delhi/TH/5_07/843c0c39_2572113_101_mr.jpg
Invisible Disabilities – A Question mark on Inclusiveness: People with invisible disabilities continue to be excluded from participation and inclusion by the general public, the media and even the disability movement. Within the disability movement and disability networks in India and across the world, it is evident that there a hierarchy of disability. People with invisible and psycho-social disabilities are not equally included, represented or given equal voice or resources. Within India, disabled persons organisations are typically led and represented by men who use crutches and wheelchairs.
Lack of Access to Public Places: The appropriate Governments and the local authorities shall, within the limits of their economic capacity and development, provide for —
(a) Ramps in public buildings
(b) Adaptation of toilets for wheelchair users
(c) Braille symbols and auditory signals in elevators or lifts
(d) Ramps in hospitals, primary health centres and other medical care and rehabilitation institutions.
Measurement of Disability – We still approach disability from a medical or pathological angle, focusing on a condition regarded as "abnormal". In contrast, in most developed countries, the focus has shifted to a social approach, highlighting institutional and social arrangements preventing those with impairments from leading normal lives. The census essentially functions on the basis of self-reporting of disability and, sometimes, the question isn't even asked. In all probability, the gap between true disability and measured disability is more for mental disability than for physical disability.
The Way Forward:
Identification:

The criteria and process for identifying people and certifying people with disability must find processes to recognise the disability of people with fluctuating disability such as that experienced by many with severe mental illness.
Inclusion and empowerment of people with visible and invisible disabilities must include policy action by the Ministry of Social Empowerment and Justice.

The criteria and process for identifying people and certifying people with disability must find processes to recognise the disability of people with fluctuating disability such as that experienced by many with severe mental illness.

It must also include active responses to include people with invisible disabilities from agencies working in Inclusive sports, inclusive sanitation and inclusive community-based development are the catch-cries of organisations working in disability.
Education and overall development:

The enlargement of reservation scheme to all educational institutions in all disciplines, reading non-compliance of the law for providing accessibility facilities in educational institutions as an act of discrimination and proposing the in-house body to supervise the well-being of PWDs in educational institutions. We, as a nation, need to fully understand that inclusive learning is not only about people with disabilities, it is also about educating and sensitising the society about different individual needs. Attitudinal shift is what is necessary to make our society inclusive. We must fulfil the responsibility of ensuring that all students, with or without disabilities, have all the means and support they need to exercise their right to education.

Smart City projects must be aligned to the needs of the disabled and also linked to the Start-up India initiative:

The objectives of the Smart City Mission for persons with disabilities are to:
(a) Ensure access to pathways, junctions, footpaths, bus shelters, crossings and public transportation;
(b) Create accessible websites, applications, government portals or community engagement platforms;
(c) Create accessible digital technology for websites, mobile applications, products and services and;
(d) Design accessible buildings, parks, playgrounds, schools, colleges, hospitals, recreational areas, public toilets, etc.
Time to avoid phrases that mock disabilities:

In our day-to-day interactions, we come across words and phrases like 'turning a blind eye'; 'falling on deaf ears'; 'a paralysed economy'; 'institutions running on crutches'; and 'mute leadership'. What is common among these is that they all signify negative connotation, while referring to physically disabled people. The normalisation of such terms is not a coincidence — there is a sociological reason behind their genesis and usage. Apathy on the part of society towards people with disabilities has led to these terms becoming commonplace, to such an extent that no one bats an eyelid while using them. Further, the society easily derives certain meanings out of these words. For instance, 'turning a blind eye' and 'falling on deaf ears' signify ignorance. 'Paralysed economy' implies that the economy is in a bad or unwanted situation, while 'institutions running on crutches' refers to dysfunctional or powerless institutions.
Note:
First state to have a disability census: Kerala; covers 22 kinds of disability — in movement, muscular dystrophy, chronic neurological disorders, multiple-sclerosis, hunched backs, dwarfism, blindness, seriously impeded vision, in learning, in speech, mental retardation, mental illness, autism, deafness, leprosy-free persons, haemophilia, thalassemia, sickle cell anaemia, cerebral palsy, epilepsy, deafness and blindness and multiple-disabilities.
Connecting the Dots:
Disability is a matter of perspective. Comment. What measures have been taken by the government to create a conducive ecosystem for the disabled community.

It is ironical that despite a large number of well-meaning constitutional provisions and laws aimed at protecting and safeguarding the welfare and interest of the disabled communities, the process of marginalization of people with disabilities has gone on unabated. Paradoxically, at the root of such marginalization are the laws themselves. Discuss.