IASbaba's Daily Current Affairs [Prelims + Mains Focus] – 2nd May 2018

IASbaba's Daily Current Affairs (Prelims + Mains Focus)- 2nd May 2018
---
(PRELIMS+MAINS FOCUS)
---
SC directs HCs to set panels for monitoring POCSO act trials:
Part of: Mains GS Paper I- Social issues
Key pointers: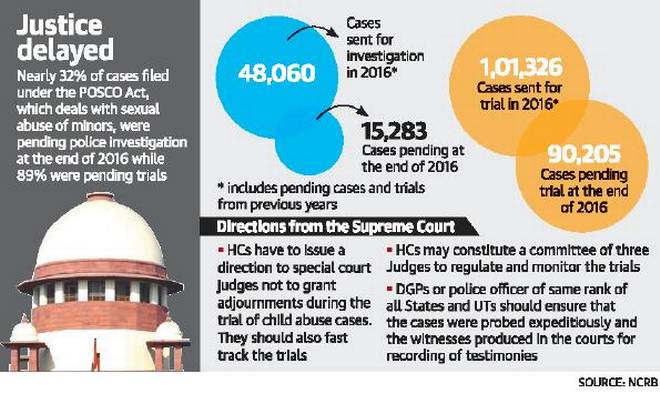 Pic credits: http://www.thehindu.com/todays-paper/article23742506.ece/alternates/FREE_660/TH01-SC-POCSOAG9M3TGAJ31jpgjpg
Shocked by the high rate of pendency of child sexual assault cases, the Supreme Court directed High Courts to set up panels of its judges to regulate and monitor trials under the Protection of Children from Sexual Offences (POCSO) Act.

The Supreme Court, which had ordered a review of the backlog under POCSO, found that States such as Uttar Pradesh have over 30,000 cases pending despite the child protection law coming into existence as early as 2012.

Many States have not yet even set up Special Courts to try POCSO cases as mandated by the law.

The Bench issued a series of directions which supplement the ordinance. These include:




The State police chiefs should constitute special task forces to investigate cases.




High Courts should ensure that they are tried and disposed of by the designated Special Courts under the Act.




POCSO judges will give no adjournments and make every effort to fast-track trial.




Witnesses should be produced in court on the day of the hearing and high courts should make every effort to provide a child-friendly atmosphere in tune with the spirit of the Act.
Article link: Click here
---
Renewables overpower conventional energy
Part of: Mains GS Paper III- Energy security
Key pointers:
For the first time in the country's history, renewable energy has added more capacity than conventional power.

Capacity addition by renewables stood at 11,788 MW in in FY18, against 9,505 MW added by conventional energy, according to data provided by the Union Ministry of New and Renewable Energy.

Capacity creation by the conventional sector fell a sharp 33 per cent in FY18.




Coal-fired power units, in particular, are suddenly facing an existential crisis triggered by falling renewable tariffs, poor demand, low plant load factors and uncertainty over long-term purchase agreements with distribution companies.
Article link: Click here
---
(MAINS FOCUS)
---
INTERNATIONAL
TOPIC: General Studies 2:

India and its neighbourhood- relations.
Bilateral, regional and global groupings and agreements involving India and/or affecting India's interests
Effect of policies and politics of developed and developing countries on India's interests
Poor performance of SAARC: Reasons and Way ahead
Introduction:
Prime Minister Narendra Modi's response on the 19th South Asian Association for Regional Cooperation (SAARC) Summit in Islamabad, conveys that India is not keen on reviving the now-defunct SAARC.
Citing cross-border terrorism perpetrated by Pakistan, Mr. Modi is reported to have indicated that it is difficult to proceed with SAARC in these circumstances.
Background:
The 19th SAARC Summit was originally scheduled to be held in Islamabad in November 2016. However, following the pull-out of India and three other countries (Bangladesh, Bhutan, and Afghanistan) after the Uri terrorist attack, the Summit was postponed indefinitely.
In March 2018, during his visit to Kathmandu, Pakistan Prime Minister sought the help of Nepal, the chair of SAARC, to revive the organisation by convening the pending Summit in Islamabad.
Pakistan has also solicited the support of Sri Lanka in this regard.
About SAARC:
SAARC was founded in 1985 with seven South Asian countries — Bangladesh, Bhutan, India, Maldives, Nepal, Pakistan and Sri Lanka.




The membership grew to eight when Afghanistan joined in 2007.

SAARC occupies a land area larger than the European Union (EU) and the Association of Southeast Asian Nations (ASEAN). In terms of population as well, it is superior with approximately 22.5 per cent of the world populace.

The organisation aims to achieve peace, freedom, social justice, and economic prosperity by promoting a shared understanding, good neighbourly relations, and meaningful cooperation.

Improving the quality of life in the member countries by fostering self-reliance, promoting mutual assistance, and strengthening collaboration with other regional and international organisations are its core objectives.
Poor performance:
The mismatch between SAARC's ambitions and achievements has been profound.
No tangible economic or political benefits have been realised by SAARC.
It has failed to achieve a majority of its stated objectives. South Asia, at present, is "one of the least integrated regions" in the world.
romoting intra-regional connectivity through trade is one of the primary focus areas of SAARC However, even after three decades of existence, intra-SAARC trade stands at a meagre five percent of South Asia's total trade.
Reasons behind poor performance:
For the member countries, SAARC was an unwanted child.

Various structural and organisational issues make SAARC not only vulnerable but reforms implausible as well.

Conflict and power asymmetry among members impede it from making any progress in regional cooperation.
An unwanted child:
South Asia was one of the few regions that did not make any attempt to build a regional organisation until the 1980s and the idea of SAARC was borne out of this dilemma.
It was not the pursuit of economic and developmental cooperation as a means to lift the region out of poverty or shared threat perception or even shared identity that pushed South Asian countries to establish a regional organisation.
In the last 33 years, SAARC has held only 18 Summits, and many have been postponed or cancelled due to various issues.
Further, in the last decade, the frequency of summits has also reduced compared to the first two decades.
Structural problems:
SAARC's emphasis on the principle of unanimity for decision making and exclusion of contentious bilateral issues from deliberations makes the organisation fragile and vulnerable.
Its Charter says: "decisions at all levels shall be taken on the basis of unanimity" and "bilateral and contentious issues shall be excluded from the deliberations."
While the unanimity clause enables any member at any time to veto any proposal, the prohibition on the raising of bilateral issues reduces the possibility of solving conflicts among, and addressing concerns of, the member states.

Given the level of suspicion, power asymmetry and persistence of bilateral conflicts, it has seemingly proven hard for SAARC countries to come to a unanimous agreement on vital issues.




The trans-South Asian road connectivity project is a case in point of how one member(Pakistan) could hinder a regional initiative that was supported by the rest.

In the EU, one of the most successful cases of regional integration, a decision requires only 55 per cent of member states (16 out of 28) to vote in favour. Besides, to block a decision at the European Council, four members representing at least 35 per cent of the EU population is necessary.
These structural characteristics not only make the decision-making process in the EU relatively easy but vetoing a decision hard as well.
Conflicting interests of members:
Since its inception, the regular activities of SAARC have been restrained by the tense bilateral relationships including violent conflicts among its members.
When one of the constituents is too big and powerful compared to the rest, it will naturally affect the progress of cooperation.
In the region, the basis of power-asymmetry is India's preponderance, which represents more than "two-thirds of the region's area and more than three-fourths of the region's population, GDP, and military strength."
India's dominance causes mistrust and suspicion about its motives in the smaller South Asian countries.

While India considers its neighbours as an integral part of its security system, the latter perceive it as a threat to their security.




This perception among the smaller countries of South Asia has enabled external powers such as the United States and China to acquire a role in the region, which, in turn, introduces a further stumbling block for regional cooperation.

The most important factor for making SAARC dysfunctional is the conflict between India and Pakistan.




While SAARC has survived various Indo-Pak crises, the organisation could not isolate itself from their ill effects completely.
Way ahead:
India-Pakistan rivalry should not lead to formation of SAARC minus one. This could lead to serious drawbacks.




First, without involving Pakistan, the possibility of integrating South Asia and resolving the economic and security challenges that the region faces will be almost impossible. The most pressing issue in the region is terrorism and Pakistan stands at its core as both perpetrator and victim.




Moreover, the other members of the organisation, who have a good relationship with Pakistan, are not likely to favour the idea of a SAARC minus Pakistan.

South Asian countries are beset by many inter-state and intra-state conflicts. These conflicts, especially hostile bilateral relationships, affect the regional integration process. Unless and until all members discuss bilateral disputes with an intention to resolve them, the chances of enhancing regional cooperation will remain dim.




The discussion of bilateral issues at its summits should thus be allowed.

Since the unanimity principle of the organisation provides veto power to each member, amending the Charter should be examined.

The organisation was a product of the functionalist optimism that economic cooperation will circumvent political issues. Economic integration will lead to peace and that the 'peace dividend' will bring progress and development to the whole region is far from reality.




The organisation should thus focus on strengthening economic cooperation.
Connecting the dots:
The SAARC has failed as an organisation. To revive the organsiation the member needs to rise above intra-regional rivalries and focus on economic aspects rather than political issues. Comment.
---
MUST READ
The rocky road
Power drive
The fire next time
The Modi-XI bonhomie at Wuhan
Lighting up India