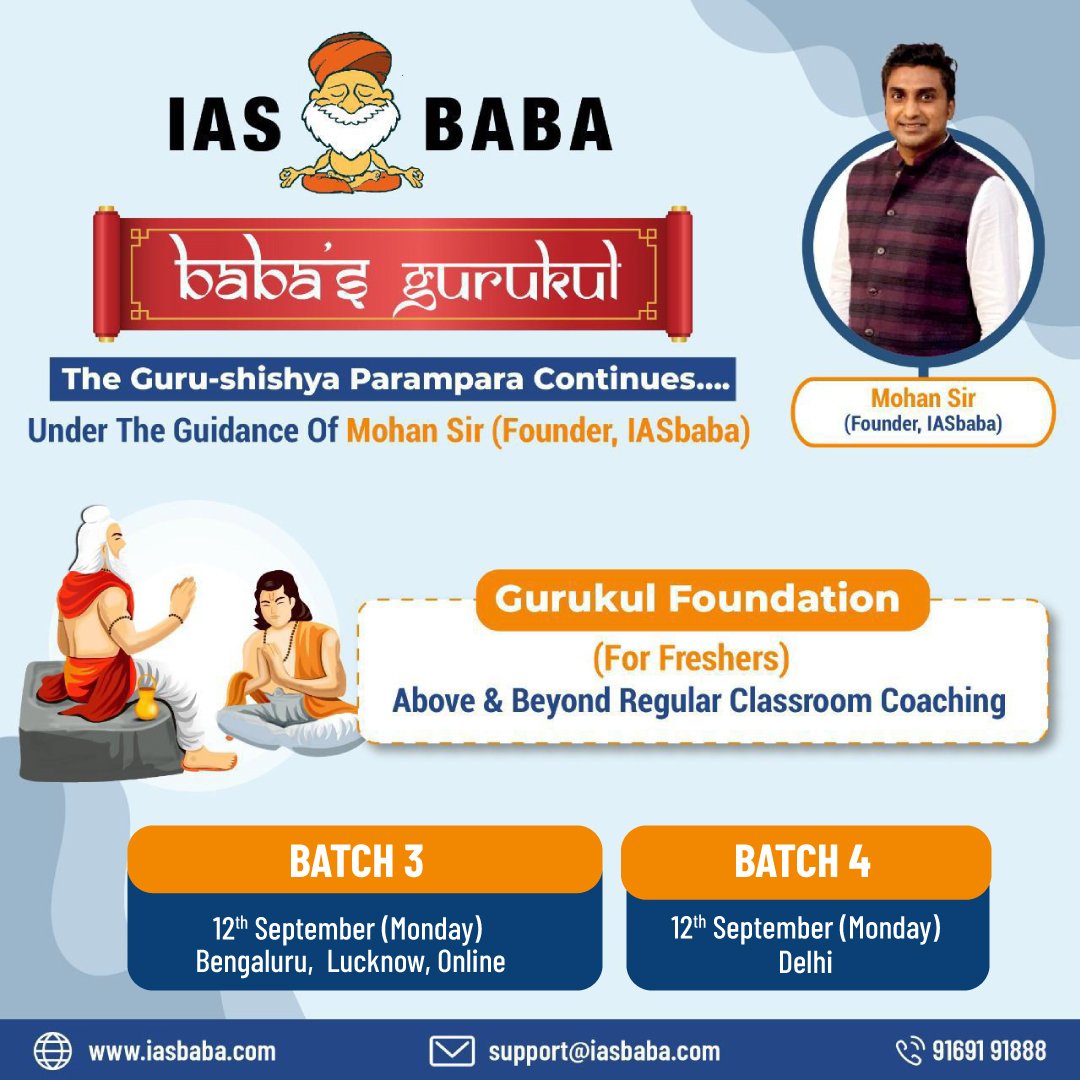 From the ancient times we have had the tradition of imparting knowledge directly from a Guru to Shishya. The process of this direct dissipation of information from the source not only built knowledge base but also helped in building a strong character' in the students.
The mechanism was called 'Gurukul'
Where students were like the family of a Guru. 
But with the present education system, students have become more distant from the teachers. There is a strong dis-connect! This lack of connection between the teachers and the students and fear of asking questions has not helped much in the process of learning as it should have actually happened.
Considering the impact and efficiency of the age-old practice, we decided to revive the good old structure of Gurukul with modern changes to continue the Guru – Shishya Parampara.
So, what made this Gurukul unique? It was the special bond that the Guru and Shishya used to share with each other. The affection of the Guru for his pupil and the respect of the Shishya for his teacher made learning a pure and immersive process. The stories of teachers like Vishvamitra, Sandinapani and Drona and the anecdotes about the brilliance of students like Ram, Krishna and Arjun are an integral part of our life journey. Isn't it? We wondered if the parampara could be revived!
Yes, it could! With this intent we started the Gurukul program two years back at IASbaba. When we started this initiative, we were very sure that the process will be liked by the students and most importantly it will become the most result-oriented program in the history of UPSC/IAS coaching. The result of the first batch exceeded our own expectations! 3 Ranks out of 50 Students, 40% Success rate in Prelims, 33% Success rate in Mains.
Yes! We are in the process of making your UPSC journey a more intimate one. We are going to redefine the relationship between the teacher and the students to ensure that the UPSC aspirants get an opportunity to prepare in a highly focussed environment, under the close guidance of a Guru.
Although it would be unfair to expect the same level of dedication and discipline in today's modern times, in terms of its overall essence and objectives, we can always make an honest attempt to create a milieu where the benefits of Guru-Shishya parampara can be reaped in a modern avatar.
Problems Faced by Aspirants Which Were Not Taken Care by Regular Coaching
GURUKUL FOUNDATION for
FRESHERS
Above & Beyond Regular Coaching..!
Gurukul Foundation is for aspirants who have 0% knowledge about the syllabus but are dedicated and sincere to achieve their goal of clearing the exam in very 1st attempt.
Gurukul Foundation is open for all subject to a screening test.
Students are selected after a screening test which consists of a basic aptitude test and an Interview.
Please note that no prior UPSC Syllabus knowledge required. The screening test is in place to weed out non-sincere aspirants and to have a top-quality peer group.
P.S: Once you complete filling out the Registration Form (including a short screening test), you will receive a call from us within 24 hours.
Instead of sitting in a class of 500 students in some Regular Coaching', imagine yourself being a part of Baba's GURUKUL, which is above and beyond regular classroom coaching with these exclusive features.
FEATURES of GURUKUL FOUNDATION
You will be spending 4-5 hours daily at the center along with the mentor.
There will be a class every day, where in faculty will discuss each and every aspect which will make sure that the students have complete conceptual clarity.
After the class, you'll be solving a Micro Prelims Test and write answer to one Mains question which will take care of the regular test practice. The Mains question given for the practice will be discussed by the mentor/faculty, so that the students understand to prioritise the points and structure the answer.
Everyday, there will also be mentor monitored current affairs discussion. One hour will be completely dedicated to Current Affairs. Initially the mentor will help you on how to identify the important articles from the Newspaper according to exam requirements. He will guide you on 'What to Read' and 'How to Read'.
What after I get selected for Gurukul Foundation?
As soon as you are enrolled in 'Gurukul Foundation' after the screening, you'll get access to following things:
NCERT Classes – Polity and Geography along with Value-Add Notes (VAN) followed by Daily Prelims Practice.
Babapedia (One Stop Destination for Current Affairs) – Access to Prelimspedia and Mainspedia for a streamlined Current Affairs Preparation.
Mentorship – You will be in touch with your mentor the very next day you get enrolled.
Mentor Monitored Current Affairs Group Discussions – One hour will be completely dedicated to Current Affairs. Initially the mentor will help you on how to identify the important articles from the Newspaper according to exam requirements. He will guide you on 'What to Read' and 'How to Read'.
How will Gurukul work for Online Students?
We have made the difference between Online and Offline negligible.
All the features that the offline students will be getting are almost replicated in the online scenario.
Mohan Sir will be having regular sessions with the online students.
You will get access to IASbaba's eLearn Portal (elearn.iasbaba.com) to access all the deliverables – Classes, Babapedia, Prelims and Mains Tests etc.
Daily Classes will be live for the online students, who can even interact with the faculty on a real time basis.
Mentor monitored Current Affairs Discussion will also be held on a real time basis.
Gurukul Foundation Online
Gurukul Foundation Offline
Bengaluru: Rs.83,999 + GST
Despite providing so many features in Gurukul Foundation, why did we make it more affordable?
This is the first time such kind of a course is launched by any coaching institute which is above and beyond the regular coaching. We want to make sure that it reaches a greater number of students, so that they will understand the quality and importance of such a course in this era of mass coaching.
We are trying to bring in a paradigm shift in the way UPSC/CSE Coaching is being done.
Avail the benefit of getting all these features at the lowest possible price!
Optionals Available @ IASbaba
Sociology
Anthropology
Geography
Public Administration
Kannada Literature

You can call us on 91691 91888 or mail us at support@iasbaba.com
Or visit our centres:
Delhi: Plot 22-B, 3rd floor, Pusa Road, Bada Bazar Marg, Rajinder Nagar, New Delhi- 110060 Landmark: Above Dominos
Bengaluru: No.38, 3rd Cross, 1st Phase, 2nd Stage, 60 Feet Main Road, Chandra Layout, Attiguppe, Bengaluru, Karnataka 560040 Landmark: opposite to BBMP Building
Lucknow: B-1/66, Sector J, Aliganj, Lucknow – 226024 Landmark: Near Mr Brown / Opp to Sahu Studio