Your Definite Roadmap to Success in Prelims 2023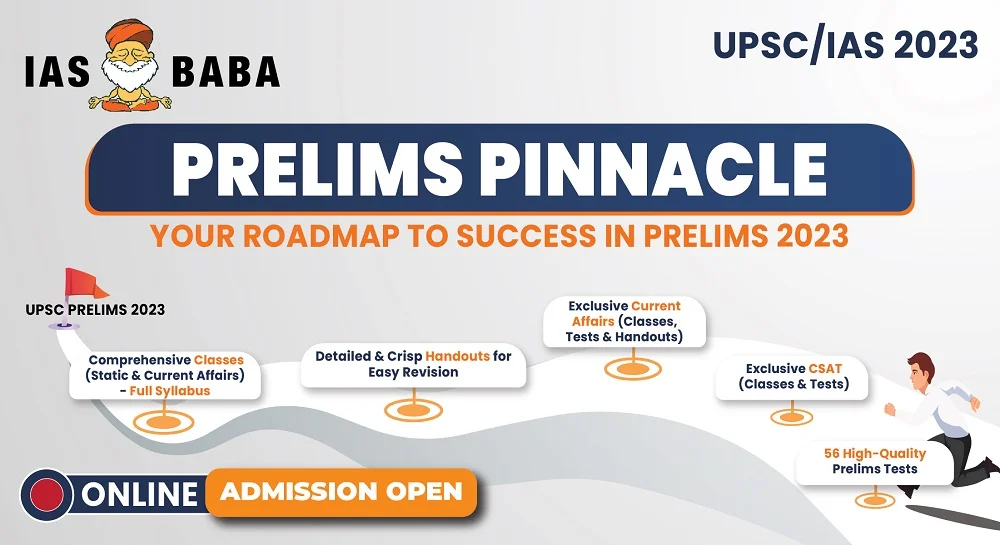 Every successful aspirant has been through this ordeal.
Late nights under the night lamp. Countless cups of chai/coffee.
The fear of not even crossing the first stage of the exam. The peer pressure. The dream to fulfill their parents' wishes — the desire to reach the top.
But they did not have ONE thing that you have.
IASbaba's Prelims Pinnacle Course - 2023
If you are thinking that it is just like the n numbers of crash courses out there in the market, then you need to read this.
But luckily, those days are gone…. Although we wouldn't like to brag we have been a differentiator here right from the beginning.
If you have been following IASbaba, you must have observed something: each course we build is truly in response to our students' wishes and requirements. The same goes for Prelims Pinnacle Course 2023.
Prelims Pinnacle Course 2023: Your Definite Roadmap to Success in Prelims 2023
Prelims is near. Time is less. But let us not forget that with the right approach, one can easily hope to clear the Prelims stage. This is where we come into the picture.
Let's tell you how we are going to help you clear Prelims 2023 successfully:
If you have sincerely attempted all the tests and learned the concepts therein, your chances of success in Prelims increase manifold.
And that's what is the FIRST step to the Ladder – CRACKING PRELIMS; if you want to reach the next level.
We have been receiving a lot of requests from the aspirant's community to come up with a Prelims Program under Rs.10,000/-, so here we are with Prelims Pinnacle.
This is one of the most Affordable Programs with the Best Quality Content.
SPECIAL DISCOUNT FOR PREVIOUS STUDENTS
If you are an existing/previous year's student of IASbaba, you will be eligible for an additional discount of 10%! Just apply your Instamojo payment ID (can be found on your payment receipt) as the coupon code while registering to avail of the discount.
Note: You will have to use the same email address used to register in the previous course to avail of the discount.
If you are unable to find the Instamojo ID or if your Code is not working, please mail us on support@iasbaba.com with the previous year's receipt. We shall rectify the issue
Note:
Validity of the course is upto UPSC prelims 2023