Since childhood, there has been a proverb that's been used time and again at different times.
'Practice makes a man Perfect!'
Sometimes it encourages us to lift our faces from failure. Sometimes it instills the belief that if we set our mind to something it is absolutely achievable.
And if you have entered the world of UPSC – there's no way you can escape this step –  PRACTICE PRACTICE AND MORE PRACTICE.
🙋‍♀️ Raise your hand if you were reminded of the famous song 'Escape' by Enrique Iglesias!
You can run…. You can hide… but you cannot escape PRACTICE!"
At least we made you smile 😄
In the dreaded exam cycle of UPSC, the preliminary exam is the first round of screening. This first hurdle appears a small one but is the toughest to crack. Take it from us – You SHOULD not take it lightly!
Many aspirants think along the following lines and never cross this stage – "I'll focus on Mains and devote just 2-3 months of studies before the prelims. I will easily qualify for Mains."
Some of them do but most don't. Why? The answer is simple. UPSC is interested in eliminating as many aspirants as it can in the first stage. Imagine the success rate – out of four lakh appearing students, only eight to ten thousand qualify for the Prelims! What seems like the most manageable stage of the UPSC cycle, ruins the chances of 98% of the candidates.
If Preparation is an Art, Knowing what and How to Prepare is the Science You Cannot Ignore.
A very important question arises here – Do you know that you have what it takes to crack Prelims? How do you know that you are ready? How do you prepare yourself for the unpredictability that UPSC is known for?
Many begin their preparation by reading standard books, magazines and newspapers. Yes, these are important but not sufficient. You have to test yourself on the yardsticks of UPSC.
You need to enroll yourself in a credible and genuine test series. It had multi-fold benefits:
But there are many out there. How to choose the best then?
Don't worry. We have the answer for you.
IASbaba's All India Prelims Test Series (AIPTS) is the most trusted tool for cracking the prelims examination. We have a unique knack for decoding the expectations of UPSC at a micro level. The questions of AIPTS are framed after a lot of discussion and research. You can be assured that you will be attempting questions that will be close to or even higher than the standard of UPSC.
In fact, many students use the AIPTS questions as a repository of expected questions. No wonder, AIPTS questions have such a high hit ratio in UPSC.
Our detailed synopsis serves as a high-quality ready reference for quick revision.
You also get to know your standing amongst hundreds of sincere aspirants. The healthy competition in AIPTS keeps you on your toes always.
Improves accuracy helping you hit the bull's eye with precision.
If you have sincerely attempted all the tests and learned the concepts therein, your chances of success in Prelims increases manifold.
And that's what is the FIRST step to the Ladder – CRACKING PRELIMS; if you want to reach the next level.
Hitting the Bull's Eye Year After Year
UPSC Prelims > 40%
UPSC Mains > 80%
UPSC Prelims > 75%
UPSC Mains > 80%
UPSC Prelims > 70%
UPSC Mains > 80%
UPSC Prelims > 65%
UPSC Mains > 85%
UPSC Prelims > 70%
UPSC Mains > 85%
UPSC Prelims > 60%
UPSC Mains > 80%
UPSC Prelims > 50%
UPSC Mains > 70%
UPSC Prelims ~ 50%
UPSC Mains > 70%
I am Arth Jain. I secured AIR 16 in UPSC 2020. This was my 2nd Attempt. I am thankful to IASbaba team, whose content helped me in various stages of exam preparation. I am especially thankful to Mohan Sir, whose guidance proved immensely helpful for Interview Preparation! Over my 2 attempts, I have been associated with different Baba Initiatives like Rapid Revision Series, Prelims Test Series and 60 Day Plan among others. Once again, thank you so much Mohan Sir and Team IAS Baba.
I am Varshitha, and I secured Rank 413 this year sir. This was my third attempt and the first two times I couldn't clear Prelims. One big change that i did this year was to join your Prelims test series which helped me to gauge my strengths and weaknesses wrt prelims which later on increased my overall accuracy and i was able to clear pre with a comfortable margin.
I'm Shireen Prakash. I was a student of IASbaba Prelims Test series in 2018. I have secured rank 166 in UPSC civil services exam 2019. IAS Baba prelims test series was immensely helpful in facilitating expansion of the knowledge base and conceptual clarity. The regular practice provided by the tests also helped me in being more confident for the prelims exam.
I would like to thank IASbaba for their phenomenal videos, notes, and immense support. The guidance and test series of IASbaba was of immense help for me to crack prelims in a very short duration of 2 months. Along with prelims, their interview guidance was of great help to me and helped me crack UPSC along with my rigorous MBA education from IIM A.
All India Prelims Test Series (AIPTS) – 2024 is available BOTH in ONLINE and OFFLINE DELHI, BANGALORE, LUCKNOW & BHOPAL
Note:-
Current Affairs Tests will be available from 3rd September
Mentorship will start from 3rd September
STANDARD/QUALITY OF THE TESTS – Questions is graded. easy, moderate, difficult and very difficult. The overall level of the test is kept a notch higher than UPSC so that students of IASbaba can have an edge and can handle uncertainty much better than the rest.
CSAT TESTS-10 FULL MOCKS – Given the recent trend, one should not take CSAT lightly. We have meticulously analysed the previous CSAT papers from 2013 to 2023. Based on that, we have carefully crafted the CSAT papers as per the standard's, difficulty level and pattern followed by UPSC.
DETAILED SOLUTIONS – will be provided after each test. The Detailed Solution will also incorporate Techniques to Decipher the Correct Answer (Elimination Technique). The solution document is made very exhaustive and revision friendly at the same time. PDFs of questions and solutions will be sent to the registered email ID. It can also be downloaded after taking the tests online. The Detailed Solution itself will act as a Source of learning and Revision.
DOUBTS RESOLUTION PAGE – We have a comment section for every question in a Test. So this gives you a scope to clear your doubts which are question-specific. All your doubts will be resolved by IASbaba's team within 48 hours (maximum).
ALL INDIA RANKING – the scores and ranks will be displayed after every test. You can clearly monitor your progress in a continuous manner and get to know where you stand. Since our subscriber base is huge, you will not only get to know the real competition but will also bring in seriousness and discipline in your preparation. It will keep you on your toes and make you walk the extra mile which is very much important in the journey of UPSC.
DETAILED ASSESSMENT OF YOUR PERFORMANCE – For you to analyse your performance we provide 2 tools – Time Analytics and Subject-wise Analytics.
As time management is one of the most important factors on the D-Day of the exam.
Time Analytics will help you in gauging your efficiency per question. Here, you will be able to know the time you have spent on an individual question, the average time taken by all your peers, and the time taken by the topper to solve the same question. This analytics becomes extremely important in both GS and CSAT papers as we believe if you are not able to go through all the questions in the given 2 hours, then it's a crime! This will also help you in knowing how much time you should spend on the difficult questions so that you don't miss out on solving the easier ones.
Subject-wise Analytics will help you introspect your strengths and weaknesses in a particular subject. It also helps you in giving more clarity and knowing your subjects better. Based on that, you can work on your weakness and gain more confidence in subjects of your interest.
Overall, both the tools will aid you in analysing yourself better in terms of the subject and time factor which are the two most important factors in cracking UPSC Prelims.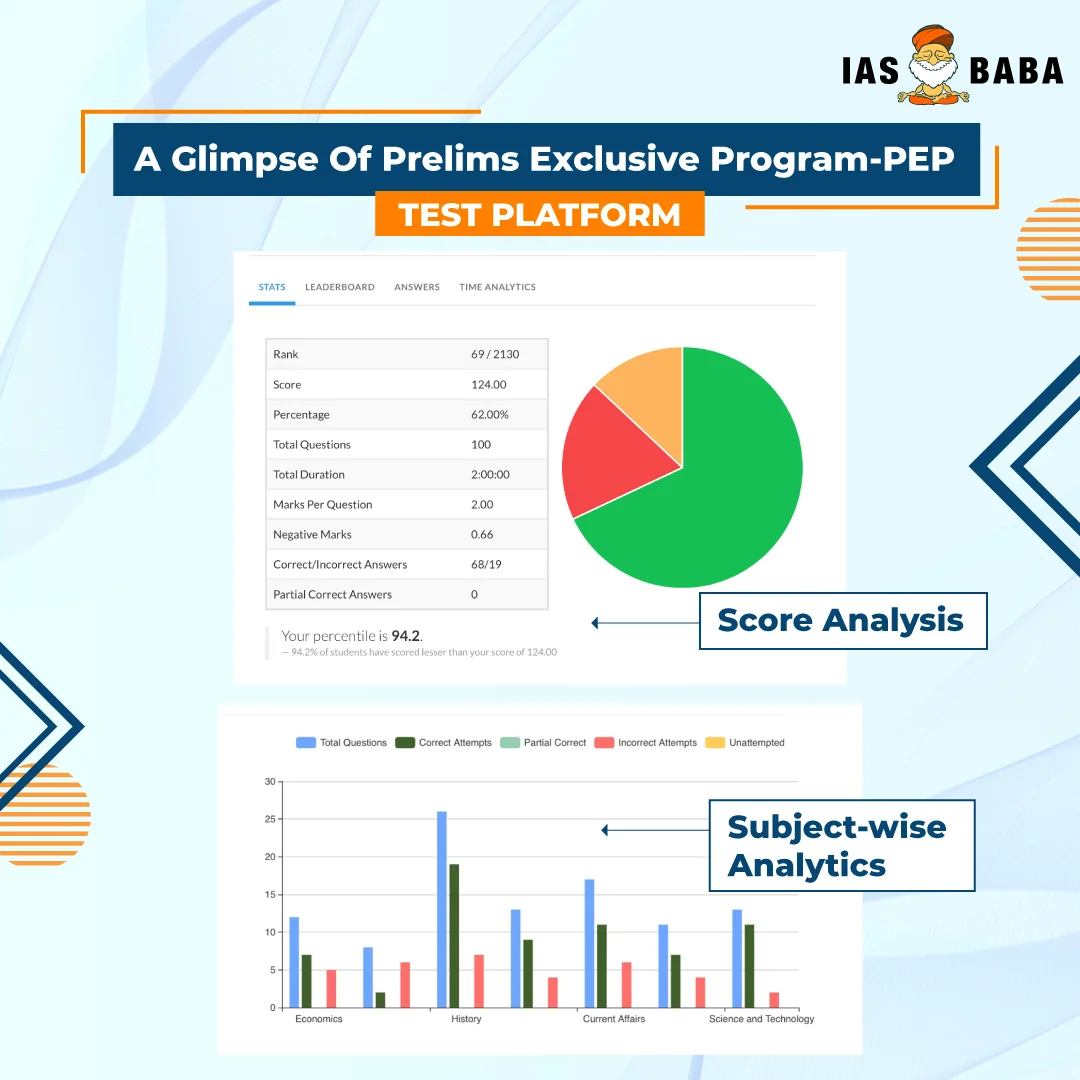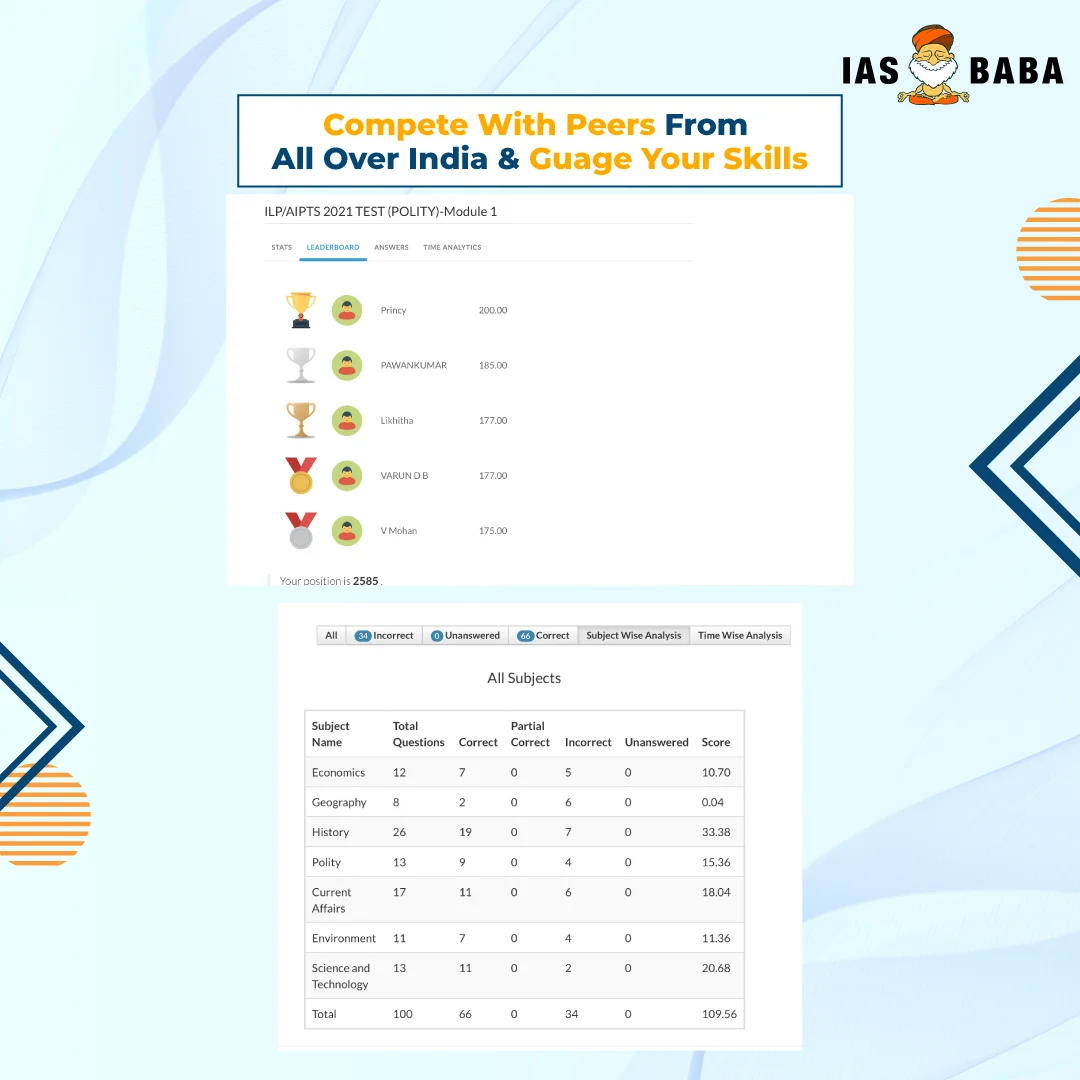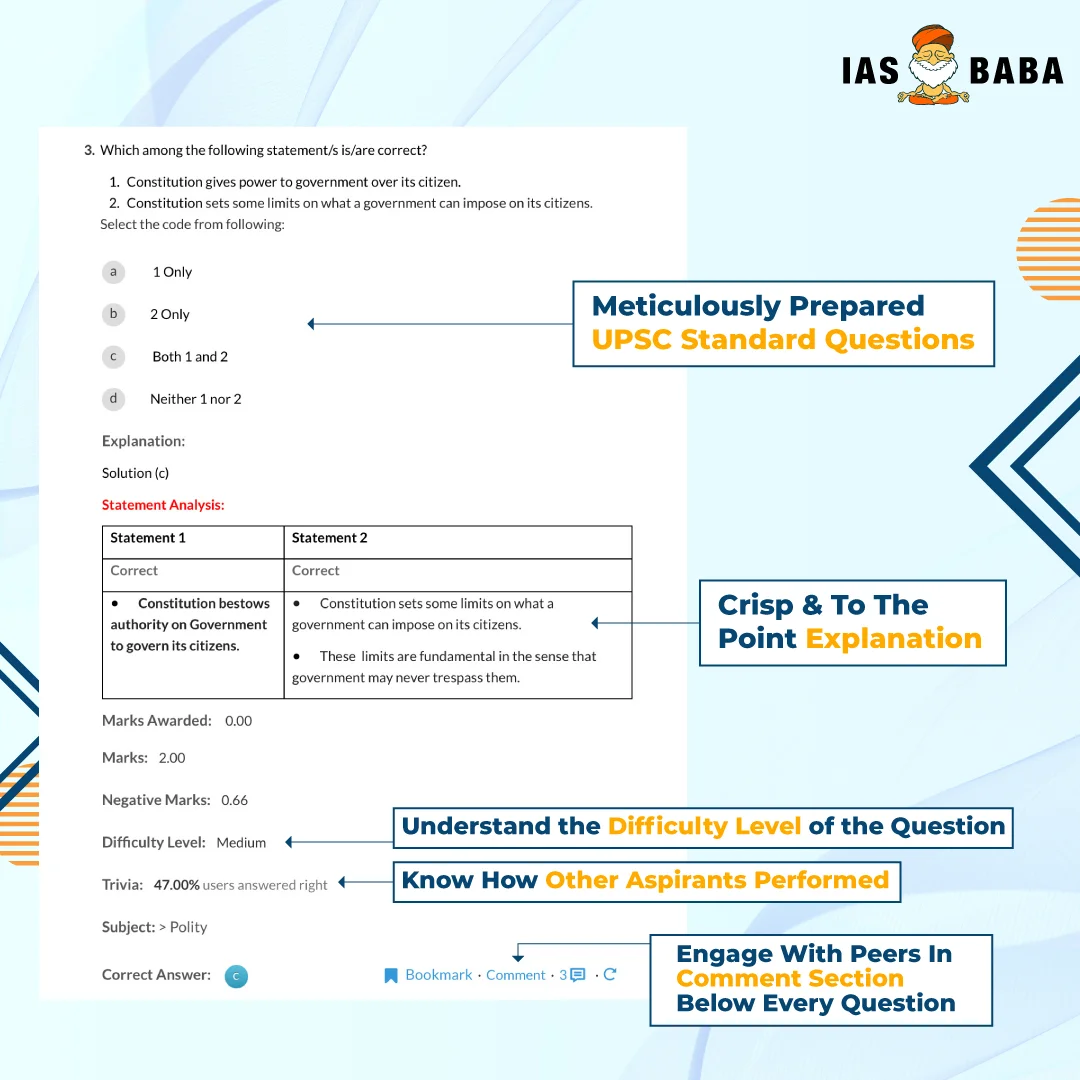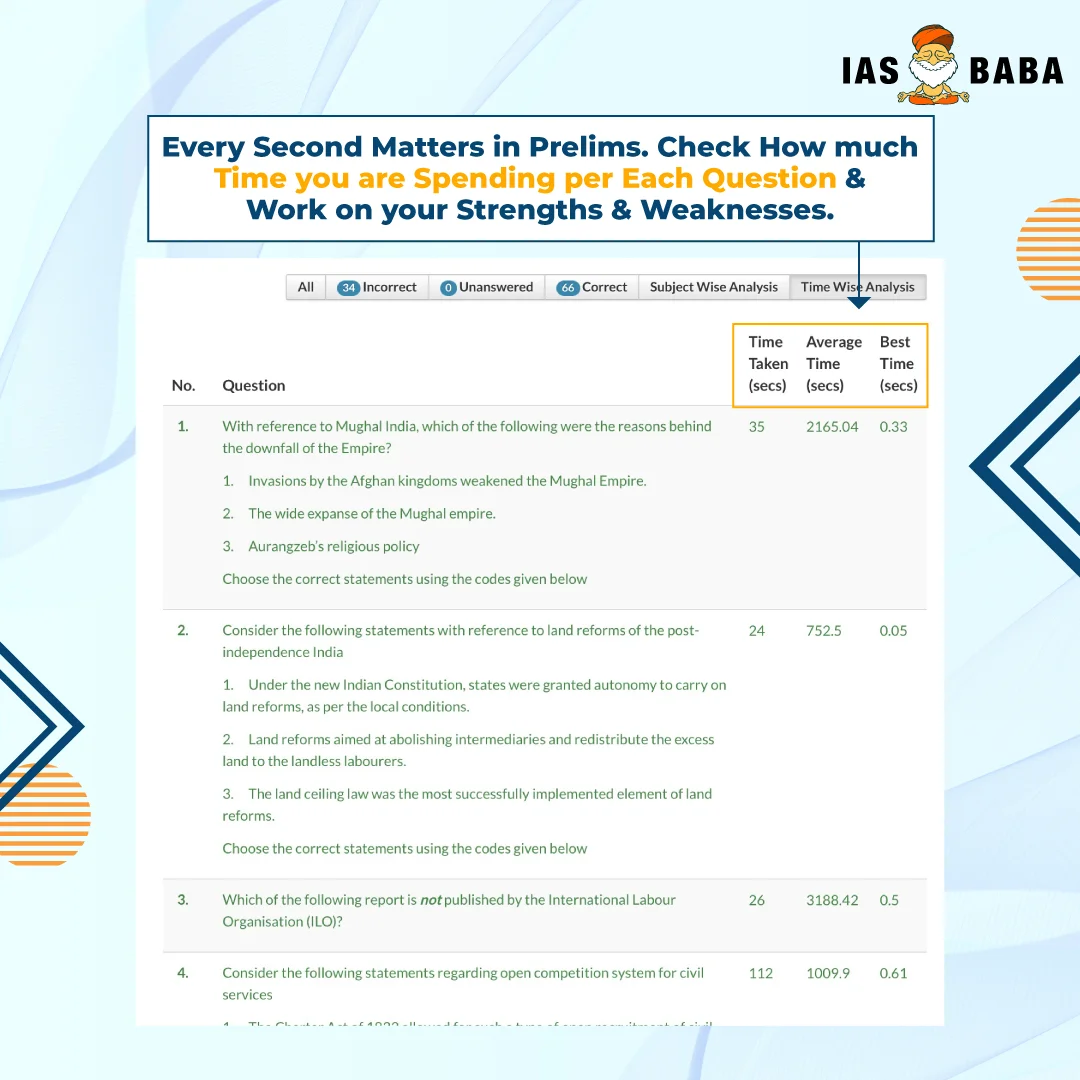 12 Exclusive Current Affairs Tests – These Separate CA Tests will help you in quick revision and consolidation. Current Affairs also overlaps with many concepts and topics of core subjects, which will be given due importance in the test series. Example: National Parks, Biosphere Reserves, Summits, Reports, Indexes, Personalities, Important Events, Latest Technologies in news etc. will be covered.
Note For Offline Programme
Hard Copies of only Question Paper and OMR Sheet will be provided. Solutions/Synopsis will be provided in PDF form in the portal only.
After making the payment
AIPTS 2024 will start from 3rd September. However, if you enroll now, you'll get access to the portal. For Online students, the test can be accessed on the portal. For Offline students test will be at the respective centres. Test related documents(Question Paper, Solutions, OMR) will be available for both Offline & Online students in the portal.
Mail us on: support@iasbaba.com
Call us on : 91691 91888
BENGALURU CENTRE:
IASbaba Admission Centre: No.38, 3rd Cross, 1st Phase, 2nd Stage, 60 Feet Mains Road, Chandralayout, Bengaluru-560040. 
Landmark: Opposite to BBMP Office/ CULT Fitness
Phone: 90192 76822
IASbaba, Plot 22-B, 3rd floor, Pusa Road, Bada Bazar Marg, Rajinder Nagar, New Delhi- 110060
Landmark: Above Dominos
Phone: 88264 90453
IASbaba, B-1/66, Sector J, Sector-A, Lucknow – 226024
Landmark: Near Mr Brown / Opp to Sahu Studio.
136, Near Vikramaditya College Zone -2, MP Nagar Bhopal, 462011, Madhya Pradesh
Landmark: Near SBI bank