IASbaba's Daily Current Affairs- 21st September

, 2015
NATIONAL
Digital India: Its challenges and opportunities
Digital India and Make in India are two initiatives unveiled by the Government of India with the vision to transform India into digitally empowered society and knowledge economy and to foster innovation, promote skill development, protect intellectual property and build world class manufacturing infrastructure.
Digital India is an initiative of Government of India to integrate the people and the government departments.
Its aim is to ensure transparency in public affairs by providing high speed internet access to the citizens.
   About Digital India
DI is an amalgam of three ongoing programmes: the National Optical Fibre Network (NOFN), the National Knowledge Network and the E-Governance initiative.
It's being implemented through a PSU, Bharat Broadband Network Limited (BBNL), supervised by the ministries of telecom, power and railways.
 USOF (Universal Service Obligation fund) has the responsibility to finance the DI scheme.
  Nine Pillars of Digital India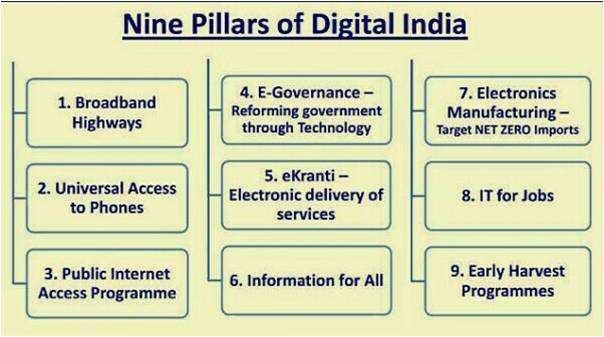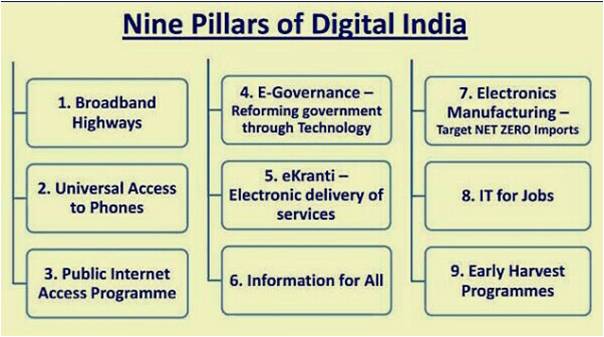 The realization of the vision DI depends on many components. Among them, the successful implementation of National optical Fibre Network, Revamping of National Telecom policies etc are very crucial.
   What is National Optical Fibre Network?
This is part of the Digital India initiative of the Government of India. NOFN is envisaged as a non- discriminatory Telecom infrastructure which will bridge the gap in rural access.
NOFN, which is being funded by the Universal Service Obligation Fund (USOF), Department of Telecom, Ministry of Communications & IT, Govt. of India, is envisaged to provide non- discriminatory access to bridge the digital divide across rural India.
What is National Tele communication Policy, 2012,?
Features:
Unified license regime : NTP,2012 envisages 'One nation, one license' system which allows fixed line, national long distance, international long distance and other services through a single license.
NTP has envisaged De linking of spectrum from licenses
 Liberalization of spectrum.
It has also proposed Full mobile number portability with an aim to achieve "one Nation, Free roaming".
Right to broadband to all at minimum speed of 2 Mbps.
It has also stressed to increase tele ensity in rural areas from 39% to 70% in 5 years.
The NTP 2012 vows to make India a global hub of domestic manufacturing.
Required factors for the implementation of the Scheme D.I
Infrastructure requirements
Availability of the spectrum: Adequate access spectrum is the basic ingredient of mobile communications.
Back haul spectrum is also essential to haul communication from the fringe of a network to the main pipe.
Sufficient numbers Towers and quality network & Connectivity
Institutional reforms
Availability of resources (spectrum as well as financial resources to fund DI) is also very crucial.
Policy reforms:
Investor friendly and Customer prioritised policy is another essential component for the successful implementation of DI.
Challenges of DI Programme
Implementation: The entire programme is designed as a top level model on the technological front. Besides the nine pillars of the program me is directly related with the high end consumers but not with the rural customers
Deploy W-Fi Centers & Hotspot: BSNL's (Bharat Sanchar Nigam Ltd) mass deployment of Wi-Fi hotspots across the country is not widespread.
Improve IT Literacy: Improving IT literacy is very important because the entire mass who is using internet should know how to secure his/her online data.
Data Vulnerability: Each and every citizen of India would have all the personal details online including bank details, Income tax details, PAN details which might be vulnerable if not secured properly. In case this is breached, then any individual would lose the privacy of the data and would be compromised.
Excessive server Hits: If majority of the population start using online, then definitely the Government portal sever will start getting more number of hits day by day.
Man-In-The-Middle Attack: It is a type of cyber- attack where a malicious actor intrudes him/ herself into a conversation between two parties and gains access to information that the two parties were trying to send to each other.
Security: It is necessary to overcome all the challenges mentioned above with the help of a proper IT security solution like eScan.
Infrastructural Challenges of National Optical Fibre Network
Inadequate Spectrum
High Price of Spectrum
Non availability of contagious spectrum
Non allocation of back haul spectrum
Government auctioning spectrum in small chunks
Way forward ( IASbaba's view)
Stuctural reform: Multiple controls on NOFN are adversary to its working.The USOF (the institution to finance DI) has no independence. The usual bureaucratic process of decision-making prevails. Further, though contributions to the USOF are non-lapsable, getting resources released from the finance ministry is another matter.
Level playing field to P&P: Public and Private must be provided level playing field in laying NOFN on the basis of lowest cost and early completion.They should also be encouraged to lay more backbone line to connect gram panchayats.
Principle Maximum Utilisation : It must be ensured that maximum utilisation of all fibres,towers and spectrum is achieved without any additional costs. It will ensure cheap delivery of broadband.
Reshuffle of priorities: The present programme's priorities are totally wrong. We should first concentrate on subscriber connectivity to the existing 35,000 fibre ends.
Harmonization of spectrum among users:For Digital India, larger chunks of spectrum are required. To increase availability, harmonization of spectrum among users is required, without extra levies.
Automatic M&G (Merger& Acquisition) : Automatic M&A should be allowed to bring the companies to an optimum size and number. It will help in quick and efficient delivery of broadband and services.
Principle of convergence and inclusion: We need to encourage the deployment of newer technologies and IP-based networks for delivering converged and inclusive services. Successful implementation can only happen in a converged environment, not in the present fragmented one.
 Speedy Clearances: Single-window and automatic clearances for right of way and towers, and Standing Advisory Committee on Frequency Allocations recommendations are a must for early up rise.
Policy reform: The National Telecom Policy 2012 speaks of convergence. However, interrelated sectors like telecom, broadcasting and IT are governed by different policies, licensing frameworks, FDI norms, cross-holding restrictions, etc. Even the present unified licensing regime fails to impart true flexibility to the license-holder. Separate infrastructure and rules lead to wastage of resources and high costs.
Convergence of networks and regulations: The convergence of networks and regulations is a must for optimal utilisation of resources and also for the implementation of newer technologies. This would lead to an explosive growth in new hi-tech manufacturing systems.
Linkage of cross-sectoral content: More important is the linkage of cross-sectoral content that can be converted to services like health, education, governance, in addition to entertainment. For efficient operation, this will need a converged network.
If these above mentioned precautions and measures are taken into consideration by the government, the mission of Digital India has the huge potential to explore.
Connecting dots
Critically discuss the role of potential role of Digital India in strengthening PRI (Panchayati Raj Institution).
Criticically discuss the challenges of DI .
DMAT and Vyapam Scams : Scams that invades intellectual space
About DMAT and Vyapam Scams
DMAT (Dental and Medical Admission Test) is an exam conducted by Association of Private Dental and Medical colleges (APDMC) for admission into Private Colleges.Madhya Pradesh.
APDMC accounted for 50 % of seats of Private Colleges while other 50% seats were to be filled up through examimations conducted by the Government Agency,VYAPAM.
DMAT is a Rs 10000 crore admission scam which came into fore in 2005 when the Controller of the exam board, Yoesh Uprit was arrested. Indore based RTI activist and Whistleblower Dr. Anand Rai complained against mass irregularities in admissions into Private Colleges.
Madhya Pradesh Professional Exam Board(MPPEB),popularly known as VYAPAM (Vyabasayik Parish a Man dal) is self financed and autonomous body incorporated by the State Government for conducting several entrance examinations.These entrance exams are held for recruitment and admissions into educational institutions of the State.
Vyapam Scam is also an admission and recruitment scam involving politicians,senior officials and businessmen in the Indian State,Madhya Pradesh.
Thus both scams were very much complementary to each other.
Both the Scams involved a serious network of Undeserving Candidates, Politicians, MPPEB officials through middlemen.
The State Government established a Special Task Force (STF) to assist the probe.
About Special Protection Force
In India every state has a power to constitute a STF to deal with uncertain problems in a specific manner.
They are primarily formed when there is lack of adequate police forces for a task, like major criminal or criminal network or counter insurgency or Anti corruption measure.
The states Taminadu and Karnataka first raised STF to counter Ivory Poacher, Veerapan in an operation known as "Operation Cocoon" in Sathyamangal Forest ( Wildlife Sanctuary and Tiger Reserve)
                                          ( Courtesy : Wikipedia)
Background
The growth of private colleges in Mushroom mood across India gave rise to Commercialization of admission into Professional Courses.
Exorbitant Capitation fees and under table payments made the monopolisation of rich classes in educational institutions.
In 1993, the Supreme Court in "Unnikrishnan" case framed a scheme to prevent such malpractices.
It was decided that Common Entrance Test would be conducted by the State Government and the top 50% students would be offered admission at Free Seats while the next 50% would be eligible for paid seats.
Again Supreme Court gave verdict in "TMA Paid Foundation Case (2002)" which scrapped "Unnikrishnan Scheme" and held that starting an educational institution was the fundamental Right and that the State would not interfere in the administrative rights of Private Institutions, Minority or Non Minority.
Another Verdict: SC ruled in "Islamic Academy Case, 2002 that Private Institutions could hold their own entrance tests, which would be regulated by a committee headed by a retired Judge.
In "PA Inamdar Case" SC again ruled that Government couldn't impose any sort of reservations in any unaided Professional Colleges.
What gives impetus to such malpractices?
Centralisation of decision making authority at top hierarchy
Ambiguity of Judicial Verdicts
Absence of well equipped Preventive Mechanism
Political Involvement makes the problem complicated and robust
Lack of institutional protection for whistleblowers
Ill equipped Structure of Vyapam with enormous responsibility of innumerable colleges
Absence of clear and specific government legislation
Bureaucratic inactivism
Poor Role of NGOs or Students Union
Potential Implications ahead
Brain drain: Despite having aptitude, Many Students ,unable to go through the exams, are migrated to other countries which is great loss for a aspiring and developing country like India
Students Suicide: The number of instances of student's suicide in our country is increasing day by day because the opportunity of the talented candidates gets sold by the medical Industry to rich classes' candidates. And this gives rise to Monopolisation of rich classes in Medical Courses.
Medical Terrorism: The bribes are considered as investments. Hence there will be surely an ill motivation behind practicing medical career. These may give rise to Human Organ Smuggling by the Doctors. In short medical career becomes Business.
Skillful India will adversely be affected: We cannot expect skillful India if we are having deviated young citizens(doctors).Healthy generation too can't be expected without the involvement of main stakeholders, i.e. Doctors. That's why without Healthy generation skillful India never can be realised.
It also creates impediment to democratic aspirations of the people.
It can be asserted that such scams will not only bring medical loss but also educational, social, economic, political and even cultural impediments to India. Comprehensively, Scams like DMAT or Vyapam Scams can be considered as pinnacle of Intellectual Crisis.
IASbaba's view
The government should pay attention to hierarchical accountability so that no irresponsible or malpractice happens.
Transparency and openness in the structural reforms should be emphasized.
Deploying smart technology
Eradication of bureaucratic in activism should also be emphasized.
Protection of whistleblower is the need of the hour.
Strengthening and inclusion of students Unions, education related NGOs as stakeholders.
Government's role in the appointment of directors of institutional (educational institution) should be minimised or neutral.
Connecting the dots
Discuss the impact of Vyapam like scams from widespread perspective.
Critically discuss the challenges of Indian democracy in the context of Vyapam scam.
For a dedicated peer group, Motivation & Quick updates, Join our official telegram channel – https://t.me/IASbabaOfficialAccount
Subscribe to our YouTube Channel HERE to watch Explainer Videos, Strategy Sessions, Toppers Talks & many more…