IASbaba's Daily Current Affairs – 10th November, 2015
NATIONAL
TOPIC:  General Studies 1

Role of women and women's organization; Social empowerment.
Women's political participation in India
The election of four female presidents in Latin America in recent years has drawn attention to women's political participation and their access to political decision-making.
Despite these encouraging results, statistics reveal that the Asian region is still far from achieving gender equality in politics.
Although women are increasingly involved in politics, they still have limited access to leadership positions in political party contexts.
The term 'political participation' has a very wide meaning. It is not only related to 'Right to Vote', but simultaneously relates to participation in: decision making process, political activism, political consciousness, etc. 
Women turnout during India's 2014 parliamentary general elections was 65.63%, compared to 67.09% turnout for men. India ranks 20th from the bottom in terms of representation of women in Parliament.
Women in Indian parliament and other elected bodies:
Women's representation in elected bodies, Lok Sabha and state legislative assemblies is a source of huge disappointment.
As we can observe, women occupy just 66 seats in the 543 member Lok Sabha, which is a mere 12%.
The scenario for women Members of Legislative Assemblies (MLAs) across all state assemblies in India is even worse, with the national average being a pitiable 9%.
The best among them, Bihar, Rajasthan and Haryana have 14% representation while the worst states are Pondicherry and Nagaland, which have no women MLAs at all.
India's position in the world:
The global average for women in parliaments stood at 22.4%.
While Europe surpasses the global average at 25.2%, Sub-saharan Africa has an average representation of 22.6%, Asia at 19% and the Arab states at 18%.
The Nordic countries alone have 41.5% average of women MPs.
42 countries in the world have 30% or more women MPs in their Parliament.
India is ranked 103 among 141 countries wrt political participation of women being a mere 12%.
India and Gender Inequality Index:
The Gender Inequality Index (GII) is an index for measurement of gender disparity; this index is a composite measure which captures the loss of achievement within a country due to gender inequality.
It uses three dimensions to do so: reproductive health, empowerment, and labour market participation.
India is ranked 132 among 148 countries indicating poor performance wrt promotion of gender equality.
Challenges to women participation:
The level and forms of women's participation in politics is largely shaped by cultural and societal barriers in the form of violence, discrimination and illiteracy.
Sexual violence:
In the larger society, violence and the threat of violence affects many women's ability to participate actively in many forms of social and political relationship, to speak in public, to be recognized as dignified beings whose worth is equal to that of others.
Self-confidence is likely to increase participation among Indian women, specifically in running for election.
Discrimination:
Although the Constitution of India removed gender inequalities among caste and gender, discrimination continues to be a widespread barrier to women's political participation.
A 2012 study of 3,000 Indian women found the barriers in participation, specifically in running for political office, in the form of illiteracy, work burdens within the household, and discriminatory attitudes towards women as leaders.
Discriminatory attitudes manifest in the limitations presented to Indian women including low access to information and resources.
Illiteracy:
India has one of the largest illiterate populations.
In January 2014, the United Nations reported 287 million adults in India are illiterate.
Literacy among Indian women is 53.7%, which is much lower than literacy among men reported at 75.3%.
Illiteracy limits the ability of women to understand the political system and issues.
Why not gender based political parties?
If we can have caste- or religion-based parties, why not have the most obvious one, a gender-based one? 
Uses of having gender based political parties:
It will end male oppression because, if legislatures are roughly half women, a completely new approach to legislation will evolve quite quickly.
It will take care of a lot of choice problems at the time of elections if votes are not dispersed by fake options like caste, class, religion etc. For one thing, tactical voting will diminish considerably.
Even if it reflects the demographic composition of a constituency which typically tends to favour males, the chances of cross voting will be in favour of women, because so few of them are likely to be goondas.
It not only politically empowers women but also socially and economically.
Connecting the dots:
Critically examine the need for increasing women's participation in politics in India.
If we can have caste- or religion-based parties, why not have the most obvious one, a gender-based one? Critically examine the above statement in the wake of increasing demand for political participation of women in India.
ENVIRONMENT
TOPIC:  General Studies 3

Conservation, environmental pollution and degradation, environmental impact assessment.
Clearing the Air: An alarming rise in pollution levels
Today, air pollution has acquired critical dimensions, emerging as a global public health problem, failing to meet WHO guidelines for safe levels, accounting for 3.7 million deaths in 2012.
A recent study by Yale and Columbia University ranked India 126th out of 132 countries surveyed on environmental performance and worst air pollution; far below all BRICS nations
From the additional risk of respiratory diseases to various other health problems (lung cancer, chronic obstructive pulmonary disease, pneumonia, loss of vision, cataracts, heightened risk of cardiovascular diseases, growth in stress levels as well as non-communicable diseases, such as high blood pressure), it is identified as a major environmental health hazard by agencies such as the World Health Organization (WHO).
Causes
SO2 and NO2:
Coal-powered thermal power plants are the leading sources of SO2 and NO2 in the environment.
Growing number of cars:

Low standards for vehicle emission
Diesel vehicles are responsible for 56% of all PM emissions and 70% of all Nitrogen Oxides (NOx) emissions
Content of sulphur in fuel makes it dirtier and lowers the efficiency of catalytic convertors, which control emissions in automobiles.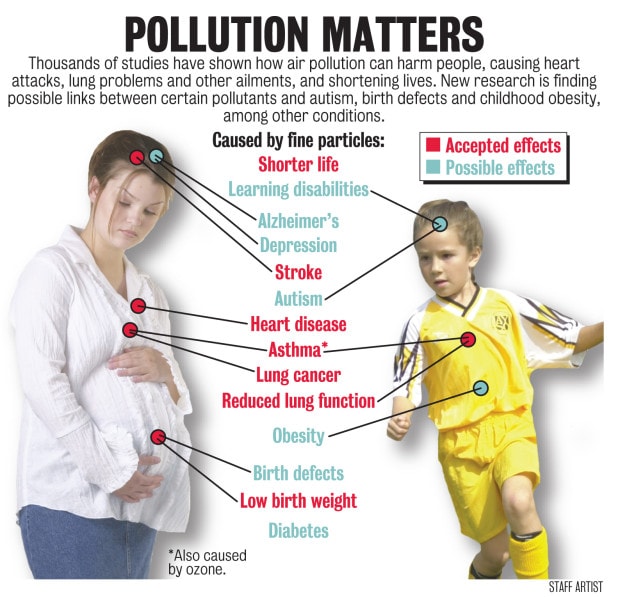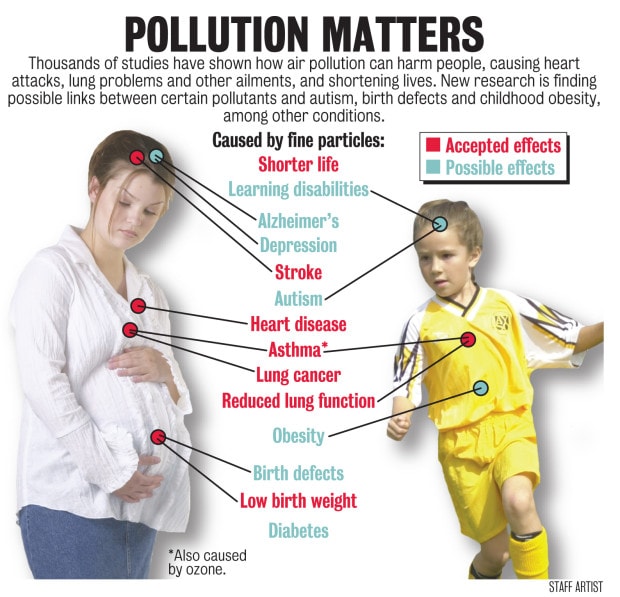 Courtesy (image)- http://www.airbetter.org/wp-content/uploads/2014/10/Pollution_effects-620×597.jpg
Indoor Air Pollution: As per Census 2011, 87% of rural households and 26% of urban households depend on biomass for cooking.
Burning of biomass is a leading cause of indoor air pollution and is responsible for respiratory and pulmonary health issues in approximately 400 million Indians.
Usage of Kerosene:

The proportion of rural households using kerosene as a primary source of energy for lighting is almost 30%.
Kerosene lanterns used in rural areas are a primary source of emission of black carbon soot and cause significant health impact, particularly in the case of women and children.
Impact
Cost of Air pollution- 3% of the GDP: A World Bank report highlighted that the annual cost of air pollution, specifically pollution from particulate matter (burning of fossil fuels): 3% of the GDP of the country:
Outdoor air pollution accounting 1.7% and
Indoor air pollution for 1.3%
The report observed that a 30% reduction in particulate emissions by 2030 would save India $105 billion in health-related costs and a 10% reduction would save $24 billion.
Leading cause of Death: The Global Burden of Disease Report has ranked outdoor air pollution as the fifth leading cause of death in India and indoor air pollution as the third leading cause. 
Agricultural productivity: A recent research study "Recent climate and air pollution impacts on Indian agriculture" suggested that Short-Lived Climate Pollutants (SLCPs) were having an adverse impact of agricultural productivity of India
SLCPs:
Ozone and Black Carbon
Released: By motor vehicle exhausts + rural cook stoves
In the atmosphere: Short periods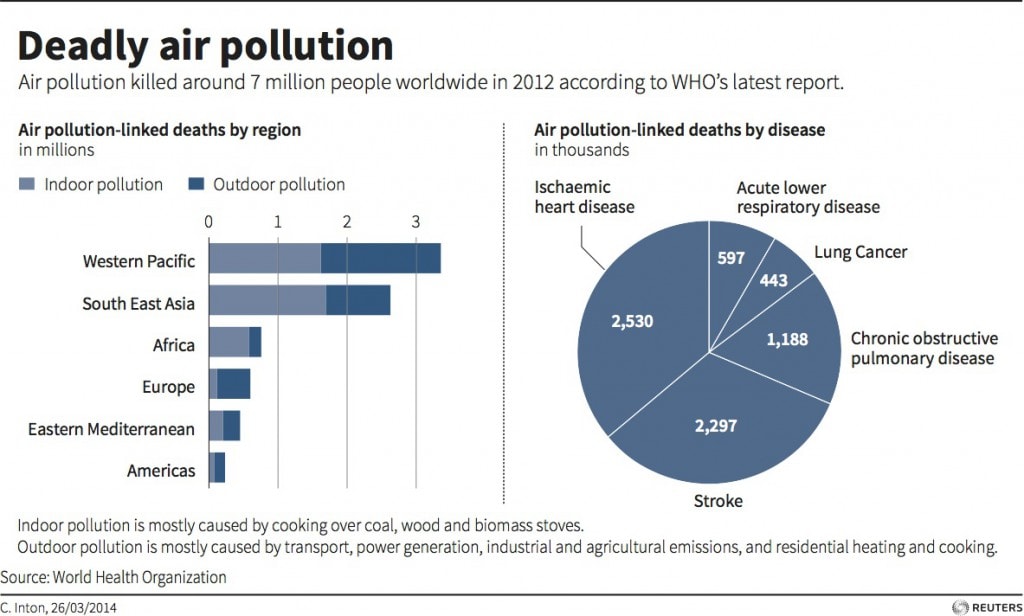 Courtesy (image)- http://blog.thomsonreuters.com/wp-content/uploads/2014/03/air-pollution-1024×616.jpg
Initiatives & Policy Measures:
Steps to curb vehicular emission
Emission norms and fuel regulation standards: BS – IV norms are applicable in 34 cities whereas BS –III norms are applicable in the rest of the country.
Saumitra Chaudhari Committee: Government should introduce the Bharat Stage – V norms across the country by 2020.
Promotion of cleaner technologies and alternate sources of energy to run vehicles:
National Mission for Electricity Mobility (NMEM):To enhance penetration of efficient and environmentally friendly hybrid and electric vehicles;
GoI: 1,000 crores for the Plan in 2015 to decrease CO2 emissions by 1.2- 1.5% in 2020
Promotion of usage of Biofuels: To substitute petrol and diesel in automobiles
target: 20% blending of bio-fuels such as bio-diesel and bio-ethanol by 2017 is proposed;
Ethanol run bus launched in Nagpur under 'Green Bus' Project
Encouraging greater use of public transport: To prioritize the use of public transport running on cleaner fuel and technology and developing a people-centric sustainable multi-modal urban transport network, taking into consideration the unique characteristics in cities.
Reducing the dependence on biomass burning
National Biomass Cookstoves Programme: Promote the use of improved cookstoves resulting in:
Reduced emissions,
Reduced fuel consumption and
Cleaner cooking energy solutions
Renewable Energy:
Achieve 175,000 MW of green energy by 2022 including
1 lakh MW of solar power,
60,000 MW of wind energy,
10,000 MW of biomass and
5000 MW of small hydro projects
Solar Power:
An enabling policy framework for manufacturing solar components and setting up power plants should be created
Off-grid applications should be promoted and steps be taken to bring tariff to grid parity level
Currently,
Government has revised the target to 100 GW by 2022.
Gandhinagar Solar Photovoltaic Rooftop Programme
From carbon subsidization to carbon taxation:
Cess on coal has been doubled which will boost renewable energy financing
Cess is collected as National Clean Energy Fund and is disbursed for renewable energy-based initiatives and power projects.
National 'Air Quality Index': "One Color, One Number and One Description".
Measurement index consisting of 8 parameters, which would disseminate information in a simple and effective manner (Real time; 8 pollutants)
IASbaba's Views:
There is a heightened need to opt for aggressive campaigns regarding the quality of air and, a shift towards public transport and renewable energy holds the key to the long-term solutions, taking into account short-term negation of the ill-effects of air pollution.
Behavioural approach needs to altered and a comprehensive, integrated and long-term plan of action, involving coordination between different ministries, departments, NGOs and the public, needs to be drawn to address the issue.
Connecting the Dots:
Discuss the role of States in promoting Renewable Energy in India.
Can India tap solar power and transform it into a crucial component of India's power portfolio? Discuss various initiatives taken by the government and suggest a way ahead for better enhancement of India's prospects.
MUST READ
Courting the people's views
Magnificent election in Myanmar
For detailed Analysis on 'India – Myanmar Relationship' refer the below link-
http://iasbaba.com/2015/10/iasbabas-daily-current-affairs-22nd-october-2015/
India-Africa summit: beyond the event
For detailed Analysis on 'India – Africa Relationship' refer the below link-
http://iasbaba.com/2015/10/iasbabas-daily-current-affairs-14th-october-2015/
Next Door Nepal: A step too far; India-Nepal stand-offs are not new. But Delhi may have overplayed its hand.
For detailed Analysis on 'India – Nepal Relationship' refer the below link-
http://iasbaba.com/2015/10/iasbabas-daily-current-affairs-11th-12th-october-2015/
http://iasbaba.com/2015/09/iasbabas-daily-current-affairs-28th-29th-september-2015/
Reaching out – Centre's package for J&K is substantial. But where's the political healing touch?
Hop, skip, jump- That was the code name for the downward adjustment of the rupee in 1991 that kicked off economic reform.
MIND MAPS
1. Agricultural Ignorance- The Indian Express
MIND MAPS – Download Here
2. Measures to improve Defence Ministry Performance- Business Standard
MIND MAPS – Download Here
For a dedicated peer group, Motivation & Quick updates, Join our official telegram channel – https://t.me/IASbabaOfficialAccount
Subscribe to our YouTube Channel HERE to watch Explainer Videos, Strategy Sessions, Toppers Talks & many more…