IASbaba's Daily Current Affairs – 2nd November, 2015
NATIONAL
TOPIC:  General Studies 2 :
Indian Constitution – Fundamental Rights
Parliament and State Legislatures – structure, functioning, conduct of business, powers & privileges and issues arising out of these; Governance Issues
Legal checks to political vandalism
The increasing intolerance of dissenting views in today's India is an extremely worrying trend for most Indians.
It is the political parties and their associates, who are mainly responsible for the intolerant activities.
But what is perplexing is that these organisations can commit criminal acts in furtherance of their extremist ideologies and yet not face any repercussions.
Important to note:
Some such intolerant acts (like the Babri Masjid demolition) may be too big to be dealt with by regular courts of law.
But most other criminal acts perpetrated for political goals can be dealt with within the existing system. 
The recent instances of ink-throwing by the Shiv Sena in Mumbai and the Ram Sena in Kashmir are perfect examples.
While the acts themselves may not be serious criminal offences, their effect on the political environment is proportionately higher.
Laws that are currently in place to deter such acts:
The Representation of People Act, 1951:
The act governs political parties in India.
However, despite containing a list of barred activities, the Election Commission can only censure individual party members.
The Act does not provide for the punishment of political parties for any criminal activities their members commit.
The Supreme Court has held that in the absence of such a provision, the EC cannot even de-register parties as it would amount to a quasi-judicial action being committed without a fair trial, a basic requirement of natural justice.
Unlawful Activities (Prevention) Act, 1967:
It has been used to ban associations like the Communist Party of India (Maoist) for engaging in "unlawful activity" and "terrorism".
However, these terms can legally be applied to only a few criminal activities. For example, the definition of "unlawful activity" only covers activities questioning and prejudicing the sovereignty and integrity of the Indian state.
Moreover, the decision to ban an association is the prerogative of the Central government and not the judiciary.
Ruling parties would obviously make no efforts to censure themselves and any action against opposing parties would inevitably lead to a media furore that would probably culminate in a logjam in Parliament.
Section 144 of the Code of Criminal Procedure, 1973 (CrPC) :
It empowers State governments, via a magistrate, to issue an order "in urgent cases of nuisance or apprehended danger".
Governments generally use it to prevent acts or prohibit organisations if they feel it is in the public interest to do so.
In a recent use of Section 144, the Goa government banned the Sri Ram Sena from enforcing its policy of moral policing in the State.
However, Section 144 has also failed to prove a sufficient deterrent to parties because the response is determined by the discretion of politicians and is not automatic as with most crimes.
Constitutional rights violated due to such intolerant acts:
The following are the constitutional rights available for a person in support of difference of opinion
Article 19(1)(a) – Freedom of speech and expression.
Article 25 – Freedom of conscience and free profession, practice and propagation of religion.
However the above fundamental rights are not absolute, the constitution places some restriction on the above fundamental rights.
Way Forward :
It is high time that other organisations like political parties are also made liable for actions committed through their agents.
Given their importance in democratic republics, it is not absurd to formulate a separate body of jurisprudence regarding their regulation.
The Constitution disqualifies party members whose voting behaviour is contrary to party instructions (10th schedule).
If there is a constitutional assumption that party members must follow the party line inside Parliament, it is not unreasonable to extend this assumption outside of Parliament.
It becomes entirely absurd not to do so when the criminal actions have received official approval.
Connecting the dots:
In the wake of growing intolerance towards difference of opinion in India, critically examine the various constitutional safeguards provided for such individuals with difference of opinion.
Critically examine the various statutory provisions that deal with intolerant political acts in India.
Explain the following terms :
Saffronisation.
Sanskritization.
Socialisation.
Westernisation.
Modernisation



TOPIC:  General Studies 2
Issues relating to development and management of Social Sector or Services relating to Health, Education, Human Resources. 
An Effective Architecture: India's demographic dividend
With the opening up of the economy and a long drawn silence lurking behind the insufficient opportunities, evolution of a 'skills' culture has activated the 'red' signal for the policy-makers to develop a transformational landscape, in the ever-changing scenario of the country's progress story.
While the mismatch in terms of quantity, quality and qualification; have caused widespread disappointment, the constant rising influence of globalization, is propelling India to shed its grievous circumstances by changing the mind-set of the policymakers.
Major challenges faced:
Increasing capacity and capability of the existing system to ensure equitable access for all
Maintaining quality and relevance
Creating effective convergence between school education and the government's skill development efforts
Creating institutional mechanism for research development quality assurance, examinations and certification, affiliations and accreditation
Mobilizing adequate investment for financing skill development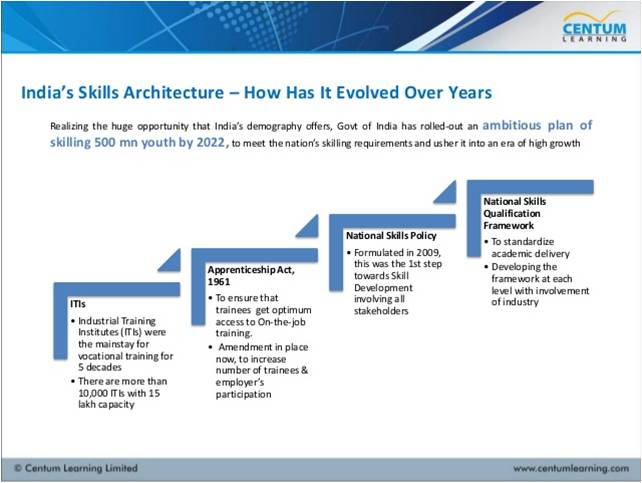 Image Courtesy– Click
Modern Approach
The 'assembly-line model' days are over and the traditional lackadaisical efforts should pave way for an ever-changing corresponding numbers, figures and training programs-not staying limited to past estimations.
Inclusion of training programs of one's choice in the educational curriculum, from the very beginning, will be helpful in creating a vocational environment and not just a requirement to be fulfilled. Specialization courses can also be developed for them who want to pursue it further.
Flexibility should be at the core of the design of these programs-dependent upon the mind-set and experiences of the learners and not the trainers or policymakers.
Deconstruct
It is necessary to develop proper skill training mechanisms in a different manner per sector as the skill set required in the field of agriculture would be different than what is required in the software industry and in a manufacturing unit.
With the recent boom in technology and the process of outsourcing, the 'factory landscape' seems to have been globalised and been presented with a whole range of optional networks and capabilities to be established and worked upon
Quest for Learning
As a human being, completely packaged with emotions, feelings and aspirations from his/her employers, steps into the workplace, the employer should also enter with a range of carefully placed objectives, tailor made incentives and by making available a range of diverse offerings; from motivation to innovative solutions to base their relationship upon.
Human development and their happiness thus, works wonders in enhancing the capabilities of the machinery as well as the overall performance of the company and therefore workers benefits and satisfaction should be given due importance in charting out the success story of the company.
This will impart an element of 'sustainable competitive advantage' to "Make in India", bringing in an era of employed human beings than mere low-cost labour
Co-evolution:
Skill development, enterprise formation and job creation must co-evolve as 'Team India' to take on the blows of the winds of change facilitated by the undercurrents of technology and innovation.
IASbaba's Views:
Policymakers need to identify the particular details and not the massive needs as these solutions can work well subject to its embedment with the already established infrastructure, capacity and institutions.
New mechanisms based on a sense of innovation and entrepreneurship can be worked upon and can be applied in the field of 'delivery' of these social innovations to the concerned population.
The institutional framework should thereby harness and deliver the promises of a market-driven approach with a learner at the fulcrum of 'growth and willingness'.
Connecting the Dots:
Many skills are culturally and historically associated with a specific gender. Do you agree? What are the steps that have been taken by India to shed this notion?
State the parameters which have been witnessed via the sharp rise in learners at the graduation and post-graduation level?
What are the differences in the challenges faced by the rural and urban unskilled forces in terms of availability, accessibility, adaptability and acceptability?
MUST READ:
For a truer decentralisation
Warning signals – Centre cannot afford to ignore the message in the downward revision of growth estimates.
A Self-Goal In Ink- Protestors should have asked Kasuri questions. They have given him the high ground.
Rear View: Judges versus politicians- This is how it all began, on February 27, 1967
For detailed Analysis on 'National Judicial Appointments Commission (NJAC) Act' refer the below link-
http://iasbaba.com/2015/10/iasbabas-daily-current-affairs-19th-october-2015/
http://iasbaba.com/2015/10/iasbabas-daily-current-affairs-20th-october-2015/
Reverse swing: Modi's biggest failure to date is one of foreign policy. The government has scarred its foreign policy with its stupidity on Nepal.
Mudra Bank – politics over economics?
The World Bank's distorted rankings
The Bank's Doing Business survey is a ranking of institutional good intentions, which explains why so many politicians swear by it
MIND MAPS
The Hindu – Modern Day Refugees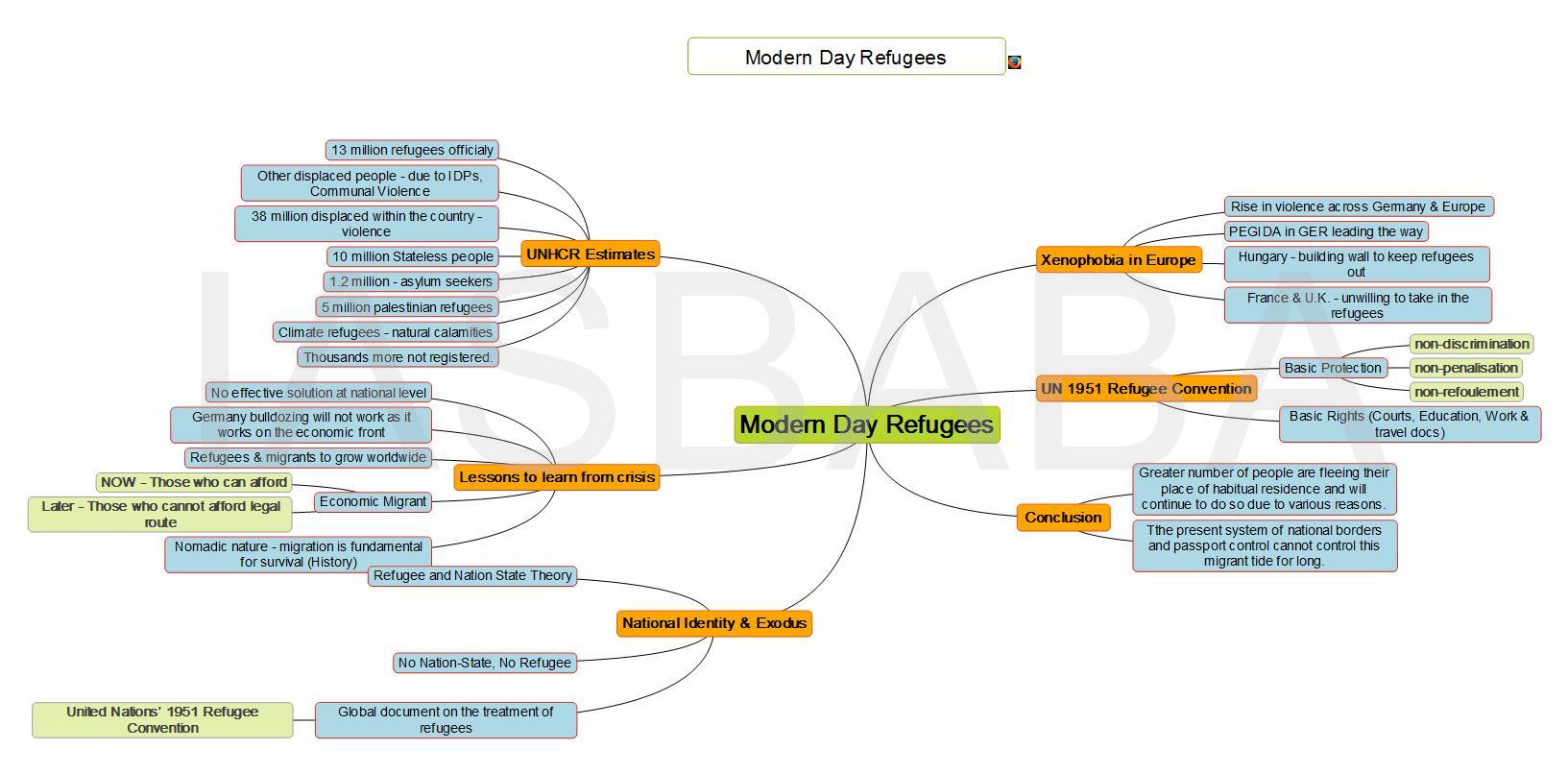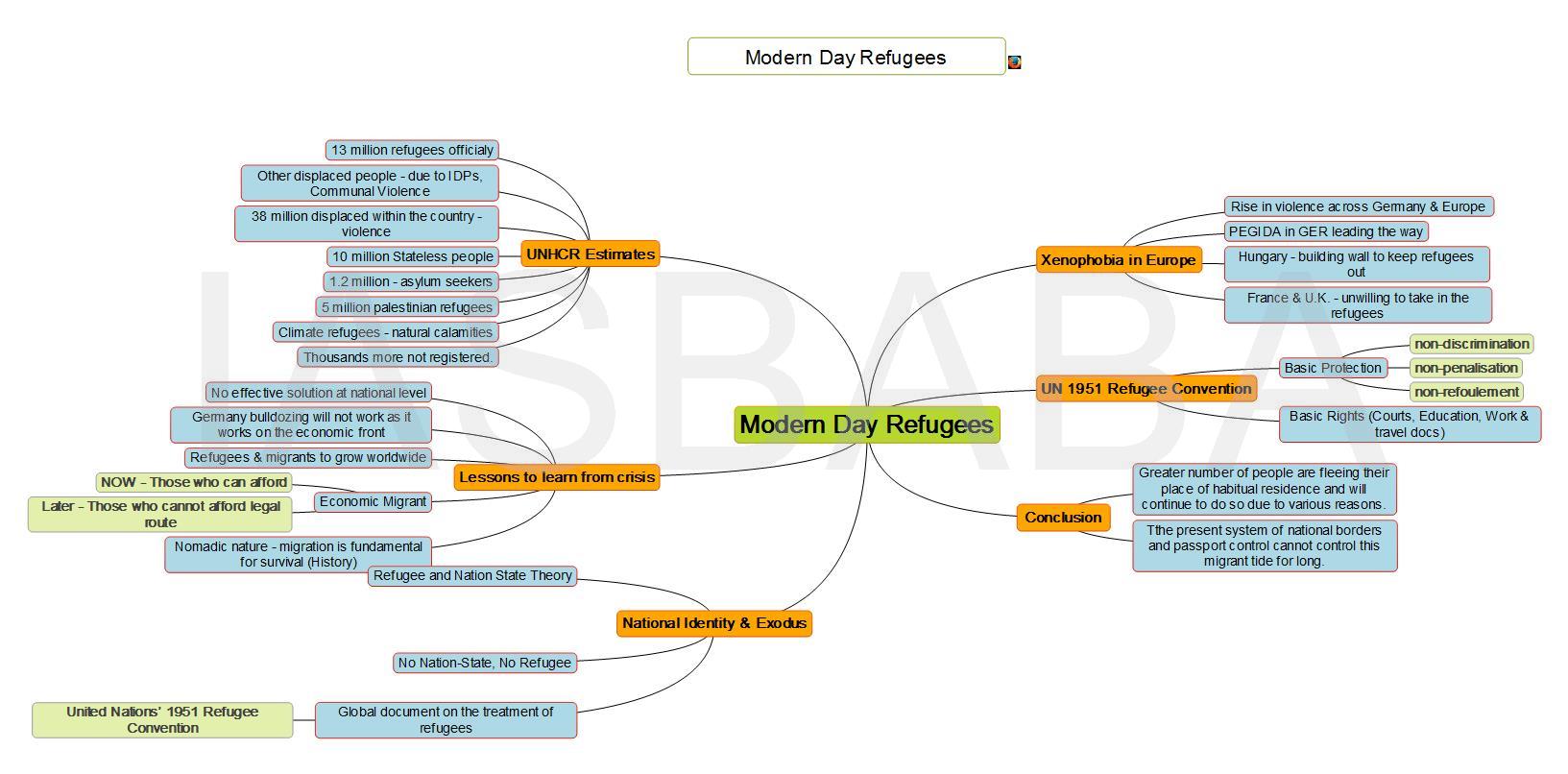 Indian Express- China's Child Policy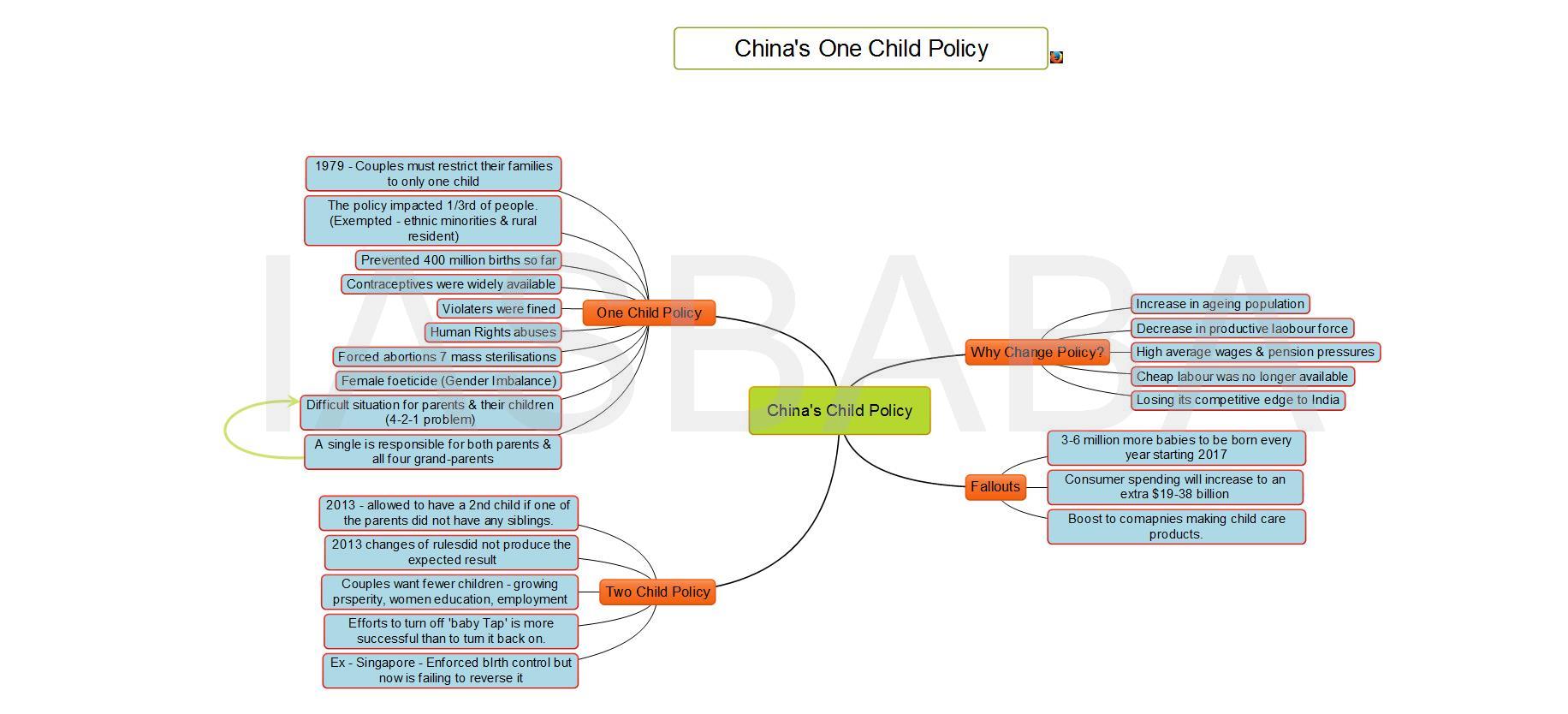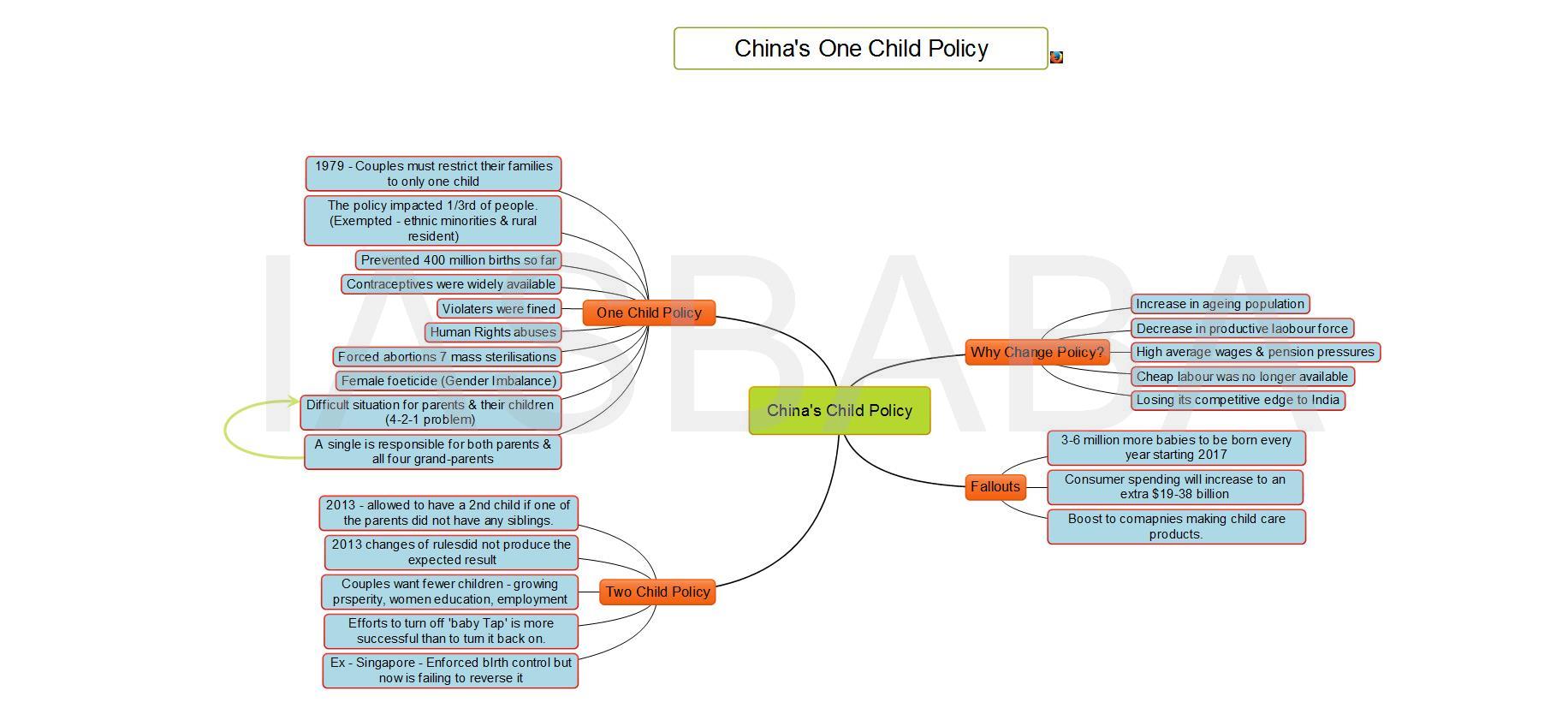 Live Mint- ART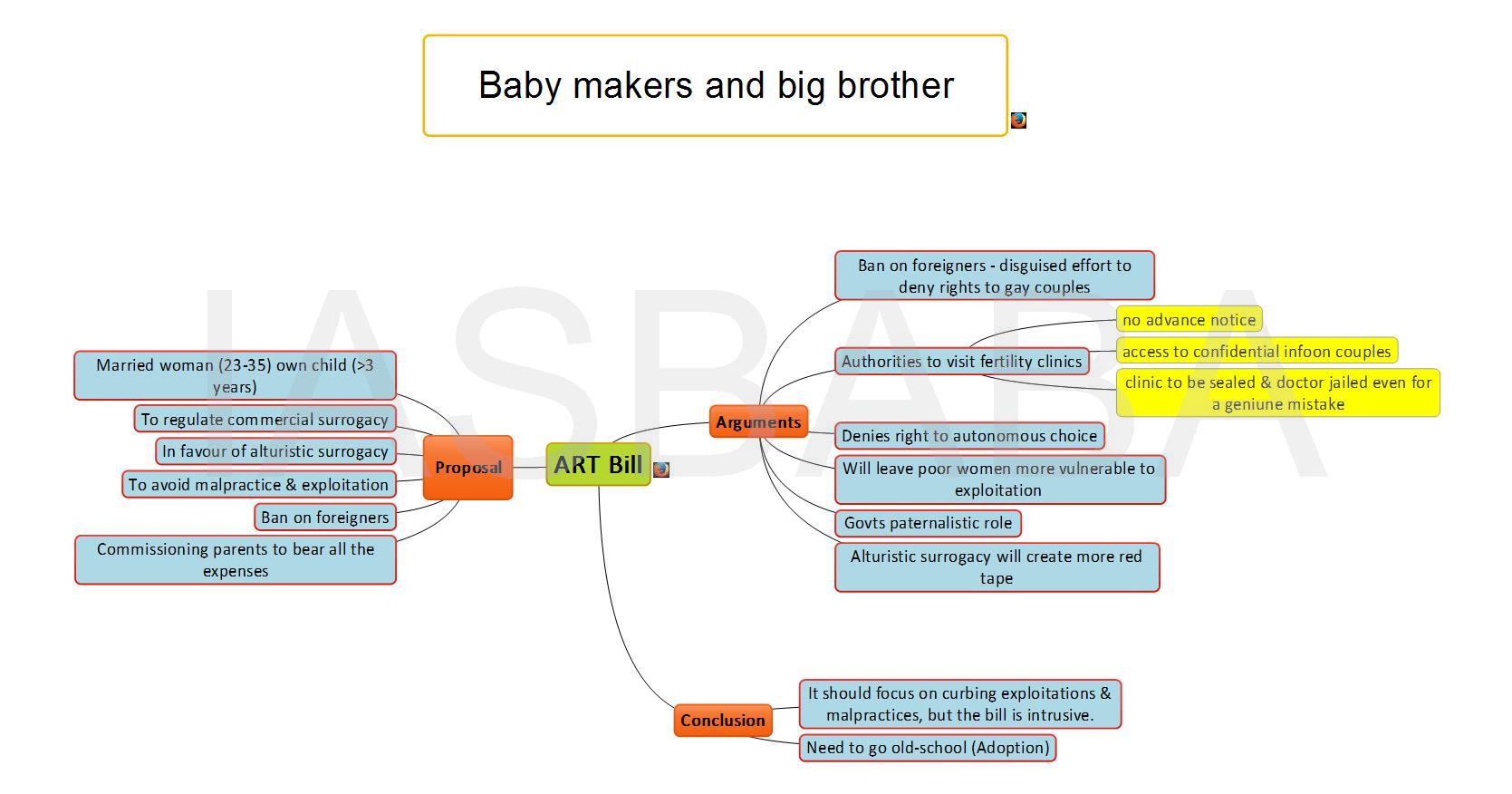 Business Standard- Fiscal Framework for Missions


For a dedicated peer group, Motivation & Quick updates, Join our official telegram channel – https://t.me/IASbabaOfficialAccount
Subscribe to our YouTube Channel HERE to watch Explainer Videos, Strategy Sessions, Toppers Talks & many more…