IASbaba's Daily Current Affairs – 25th December, 2015
ENVIRONMENT
TOPIC:

General Studies 3: Conservation, environmental pollution and degradation.
General Studies 2: Bilateral, regional and global groupings and agreements involving India and/or affecting India's interests.
Post Paris Summit: Roadmap of India— Climate Change
India being a big, complex and the emerging leader for economic growth in the world, needs to choose its path for development judiciously as this will also shape the global energy markets.
Reality Noted:
Within Asia, 24 per cent of deaths due to disasters occur in India, on account of its size, population and vulnerability. Floods and high winds account for 60 per cent of all disasters in India" [Tenth Five-Year Plan (2002–07)]
But this points out towards many How's:
How's of approach of the government
How's of reality
How's of aspirations
National Clean Energy Fund (NCEF)
India has taken a number of concrete steps to enable the transition towards a cleaner environment and NCEFis one of the major initiatives taken, to provide an impetus for the development of clean energy
Introduced in the 2010-2011 budget
Objective: 'funding research and innovative projects in clean energy technologies'
Progressive Steps—
Allocation and disbursement strategy: Need to be revisited annually to ensure balanced distribution of resources between the identified thrust areas
Strengthening of the institutional set-up: To improve the effectiveness and performance of the Fund
Raising awareness and strengthening broad-based support and action:
By bringing Industry and research institutions on board
Encouraging collaborative efforts to scale up impacts
Operational processes be streamlined:
To reduce procedural delays
Enhance effectiveness- Rule based + Transparent + Time-bound
Categorisation of projects should be introduced: To maintain a balance in the distribution of resources
Consistent monitoring and evaluation: By employing clearly defined metrics to evaluate progress
Ensure adequate allocations are made in the Union Budget keeping in mind anticipated revenues, with necessary corrections made in the supplementary budget
National Mission for Enhanced Energy Efficiency (NMEEE)—
The key focus for government action for energy efficiency and is divided into four components:
Perform, Achieve and Trade (PAT): A scheme for trading in energy efficiency certificates; mandatory for all large industrial units and facilities in thermal power, aluminium, cement, fertilizers, chlor-alkali, steel, paper and pulp, and textiles
Energy Efficiency Financing Platform
Market Transformation for Energy Efficiency
Framework for Energy Efficient Economic Development
Case Study- India
Odd-even numbered vehicle
Objective: To arrest the rising levels of air pollution in the capital
Reason behind ownership of 2 cars or maybe more:
Safety, especially for women
Lack of end-to-end connectivity through public transport
Lack of cycling tracks
Government needs to:
Build a comprehensive plan towards public transportation
Incentivise future-fit solutions like private electric vehicles
Disincentivise diesel-run private vehicles that only make the air quality worse
LED lighting programme:
Addressed
Reality of need: By providing a modern energy source to everyone
Reality of aspiration: By making LEDs an elite product and ensuring that its energy-saving benefits are highlighted
Results:
India transitioned from high-energy consuming incandescent bulbs to low-energy consuming LEDs
Created a working business model for its success
For a robust energy policy
Firstly, we need to make sure the ratchet mechanism sustains pressure on developed countries to ramp up their efforts:
By upgrading our ability to analyse other country contributions
Actively shaping the fine print of implementing language for the Paris Agreement in the coming years
Secondly, we have to build a robust and ongoing national process:
To examine our energy and climate future
To replace India's current ad hoc, disconnected, process of energy planning and policy
To develop more cogent system of energy information gathering and analysis
Exploring actions that bring synergies across development and climate outcomes (such as energy efficiency and public transport) and those that come with direct costs to the economy
Key Issues
Stakeholder support: Necessitate improved coordination
Infrastructural hurdles:
Land issues
Difficulties pertaining to obtaining Right-of-Way, power evacuation facilities and transmission lines to substations
Lack of availability of skilled labour
Issues regarding obtaining finance:
Prevailing high interest rate in India as technological Development for climate technologies require large amount of capital
Indian banks reaching their sectoral limits for the renewable energy sector
Lack of availability of non-recourse funding
Capacity building for the financial community:  Financial institutions & Banking industry need to
Increase information sharing through networking
Initiate capacity building activities within the financial community
Towards a Low-Carbon Future
Clean energy- Centre-piece of India's commitment
Aims to install 175 gigawatts (GW) of renewable energy by 2022 and generate 40 percent of its power through non-fossil fuel sources by 2030
Plans to increase forest and tree cover to create an additional carbon sink of 2.5 to 3 billion tonnes of carbon dioxide (CO2) equivalent by 2030
Strengthening its comprehensive approach through its key missions on:

Energy efficiency
Solar energy- Targeting 100GW of solar by 2022
Wind: Aims to install an additional 60 GW by 2022
To achieve the 175 GW clean energy target:  Seeking up to $100 billion in investments by 2022
Promoting Green Buildings and Efficiency Standards
Indian cities are projected to increase by more than 400 million people by 2050, triggering extraordinary growth in energy-intensive construction and infrastructure and therefore,
Mandatory nature of Energy Conservation Building Code (ECBC) to spur energy-saving building construction
Adopting green building programs that require Green Rating for Integrated Habitat Assessment (GRIHA) certification for new buildings
Estimated 3,453 TWh of cumulative electricity could be saved by 2030, the equivalent of powering as many as 358 million Indian homes annually between 2014 and 2030
Work on Climate Finance
Create an independent coordinating agency: Plan, access, mobilise, disburse, and track climate finance at the national level
Undertake detailed quantitative needs assessment and cost-benefit studies to prioritise mitigation and adaptation actions, and provide detailed cost estimates for their implementation
Step up private sector engagement
Strengthen the capacity of DFIs to design, select, and fund national and state-level climate change projects or programmes: To increase the coverage of climate-related activities and to develop bankable projects to attract further investment
Should include the use of public funds and instruments (grant, loan, equity, debt) of finance when allocating funds to implementing entities
DFIs should develop minimum accreditation standards for accessing and delivering climate finance from international funding streams
Overall—
Effective regulation to protect fragile ecosystems
Regulating and guiding urban regional planning
Limiting Urban growth- Evidence that the economic, social and environmental cost of unstructured urban growth outweighs the benefits of urbanization
Invest in Natural Infrastructure-
Integrated Watershed Management
Plant trees
Leverage ecosystem services
Restoration of degraded landscapes and watersheds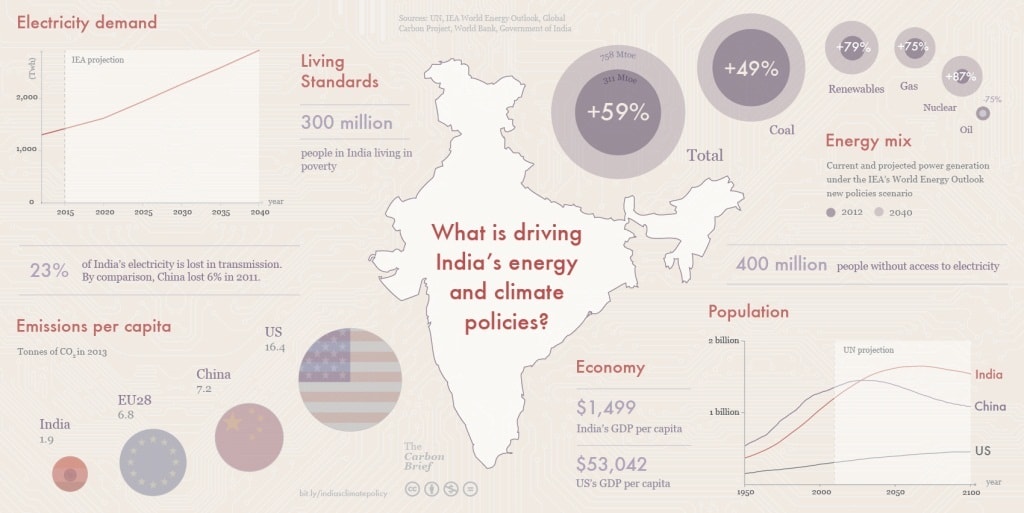 IASbaba's 'Climate Change' Series- MUST READ
http://iasbaba.com/2015/12/iasbabas-daily-current-affairs-14th-december-2015/
http://iasbaba.com/2015/10/iasbabas-daily-current-affairs-24th-october-2015/
http://iasbaba.com/2015/10/iasbabas-daily-current-affairs-9th-october-2015/
http://iasbaba.com/2015/10/iasbabas-daily-current-affairs-2nd-3rd-october-2015/
http://iasbaba.com/2015/11/iasbabas-daily-current-affairs-24th-november-2015/
http://iasbaba.com/2015/07/iasbabas-daily-current-affairs-01st-july-2015/
http://iasbaba.com/2015/11/iasbabas-daily-current-affairs-10th-november-2015/
http://iasbaba.com/2015/12/iasbabas-daily-current-affairs-2nd-december-2015/
NATIONAL
TOPIC:   General Studies 2

Functions and responsibilities of the Union and the States, issues and challenges; Government policies and interventions for development in various sectors and issues arising out of their design and implementation. 
Important aspects of governance, transparency and accountability, e-governance- applications, models, successes, limitations, and potential; citizens charters, transparency & accountability and institutional and other measures.
UNDP & NITI- Good Practices
In collaboration with the UNDP, Niti Aayog brought out a book titled Good Practices Resource Book 2015 which focusses upon the social-sector delivery of services, which is an integral part of the Niti mandate (dissemination of good practices)
Social-sector public expenditure (and delivery) is most of the times taken up as a State subject and covers subjects befitting the broader 'social security canvas' like- education, health, child protection, environment, financial inclusion, food security and public distribution, infrastructure and development, local governance, social security, water and sanitation, and women's empowerment
A look into the various arms of the measures developed:
Child protection — Sampark (Odisha)
Education —
Migration cards (Gujarat),
Porta cabins (Chhattisgarh),
Pratibha Parv (Madhya Pradesh)
Saakshar Bharat (Andhra Pradesh)
Environment —(Update it in the Climate Change Notes)
Avadi sewage treatment plant (Chennai),
Dhara Vikas (Sikkim),
Environment management (Andaman and Nicobar Islands),
Forest-produce tracking system (Karnataka),
Integrated basin development and livelihood promotion (Meghalaya),
Lake restoration (Rajasthan and Karnataka),
Well recharging (Kerala),
Air quality forecasting (Delhi),
Plastic waste management (Himachal Pradesh)
Financial inclusion — Panchayat Banks (Jharkhand)
Food security and Public Distribution —
e-PDS (Andhra),
Annashree Yojana (Delhi),
e-Uparjan (MP)
Health —
Care project for the chronically ill and infirm (Kerala),
Healthcare for all (Sikkim),
Decentralisation of ICDS (Odisha),
Indira Bal Swasthya Yojana (Haryana),
Preventing vision loss in premature infants (Karnataka),
Malaria protection for pregnant women and children (Odisha),
NRHM improvements (Assam)
Infrastructure and Development — Public transport (Mysore)
Local governance —
24X7 metered water (Punjab),
Entitlement-based district planning (Bihar)
Social security —
Aam Aadmi Bima Yojana (Andhra),
Rehabilitation of manual scavenging (Uttar Pradesh),
Land deeds to tribal people (Tripura),
Placement-linked skill development (Jammu and Kashmir),
Early intervention for disability (MP)
Water and Sanitation —
Community-managed water supply (Gujarat),
Open defecation-free villages (Jharkhand)
Women's empowerment —
Joint house ownership by husband and wife (Maharashtra),
Organic rice production (Maharashtra)
Interventions & Documentation
The specific interventions should be properly framed and documented so that we have not only success stories to emulate and innovate upon but also failure stories to keep reminding ourselves of practices that went wrong and need not be emulated.
Documenting is also more about driving entrepreneurship as a social enterprise model and synergising existing public expenditure schemes with the initiatives
To disseminate and advocate its replication to eliminate the same problem being faced somewhere else thus utilizing the available resources and eliminating the barrier towards development. For example, the Badaun district initiative: The Daliya Jalao initiative of Badaun is now being tried in 15 other UP districts
More so, these interventions specifically, imparts an element of optimism to the development and governance discourse which is of utmost importance in an atmosphere tainted with doubts and pointed figures
Connecting the Dots:
Enumerate the difficulties that a body/social enterprise can face while emulating the above mentioned principles from the compilation of the good practices followed.
MUST READ
NOTE: Detailed analysis on 'India-Russia relationship' will be published in a few days
Disaster Management: Shock, but no awe
Cess proceeds in a black hole
Putting the House in order
A Question For Parliament-Can the House deal with disruption instead of being held hostage to it?
Related Articles:
Parliament stalemate : An analysis
Rajya Sabha and Bad Monsoon memories
Misdiagnosis of the Rajya Sabha malfunction: Legislative productivity vis-à-vis legislative dissent
The Missing Engagement and the upcoming Winter
Liveable Cities Mission is what we need
For Detailed Analysis on  'Smart Cities', refer the below link
http://iasbaba.com/2015/09/iasbabas-daily-current-affairs-16th-september-2015/
http://iasbaba.com/2015/09/iasbabas-monthly-yojana-september-smart-city/
http://iasbaba.com/2015/05/big-picture-smart-cities/
Upside down state- We seem happy to hollow out the public sector where we shouldn't and regulate the private in harmful ways
Centre planning to replace RGESS with more 'flexible' equity scheme
Smart City project may give municipal bonds fresh lifeline– Issuances likely in five to six months; government working on pilot project
India's Nepal problem-Unending turmoil and sputtering democratic transition has made Nepal a playground for powers hostile to India
Related Articles:
http://iasbaba.com/2015/09/iasbabas-daily-current-affairs-28th-29th-september-2015/
http://iasbaba.com/2015/10/iasbabas-daily-current-affairs-11th-12th-october-2015/
http://iasbaba.com/2015/08/iasbabas-daily-current-affairs-4th-august-2015/
For a dedicated peer group, Motivation & Quick updates, Join our official telegram channel – https://t.me/IASbabaOfficialAccount
Subscribe to our YouTube Channel HERE to watch Explainer Videos, Strategy Sessions, Toppers Talks & many more…