IASbaba's Daily Current Affairs – 2nd February, 2016
INTERNATIONAL
TOPIC: General studies 2:

India and its neighborhood- relations.
Bilateral, regional and global groupings and agreements involving India and/or affecting India's interests.
Effect of policies and politics of developed and developing countries on India's interests, Indian diaspora.
Important International institutions, agencies and fora- their structure, mandate.
Seizing the 'One Belt, One Road' opportunity
Recent conversations with Chinese scholars, Communist Party of China members and officials indicate that the 'One Belt, One Road' (OBOR) initiative of Xi Jinping's government in china is likely to become the pivotal key of Chinese engagement with the world.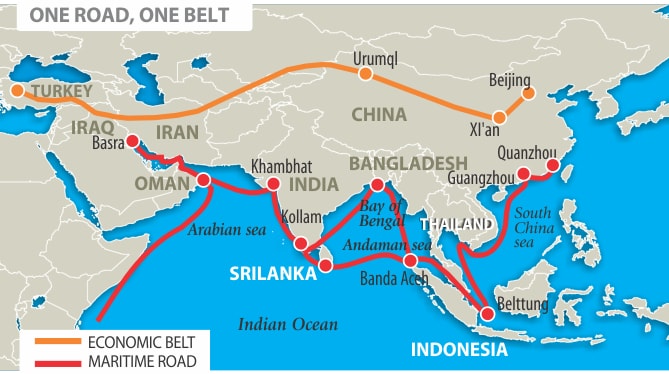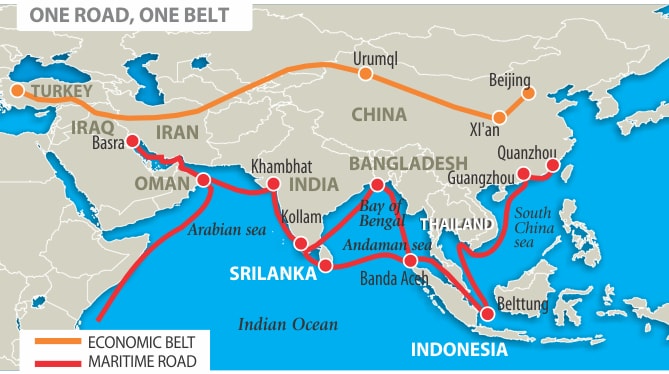 Why in news?
At the third edition of the India-China Think-Tank Dialogue in Beijing, hosted in early January, a cross-section of Chinese scholars and officials discussed India-China relations and prospects for regional cooperation.
Unlike at previous meets, this time the conversation was not on the usual tensions in the bilateral relationship; instead, the centrepiece of all discussion was the OBOR initiative.
A Chinese story:
Some facets of the new formulations that are giving shape to china's vision for OBOR and Asia could be explained as below
The first is the novel idea of 'entity diplomacy'
This construction argues for engaging within and across regions to secure the best interests of an entity that is necessarily larger and with interests broader than those of any sovereign.
This follows from the argument of a revival of 'continentalism' as the Eurasian landmass deepens linkages and 'Asia' emerges.
OBOR segues perfectly into this framework.
It becomes, for the Chinese, an Asian undertaking that needs to be evaluated on the gains it accrues to the entity, i.e. Asia, as opposed to China alone.
It therefore follows, from Beijing's perspective, that Indian and other Asian nations must support and work for the OBOR initiative.
Second is the establishment of "one economic continent"
OBOR , becomes a vehicle that promotes alignment of infrastructure, trade and economic strategies.
Indeed, for some Chinese speakers, India is already part of the initiative, as its own projects like Project Mausam and economic initiatives such as Make in India and Digital India complement and complete OBOR.
Indian participation in the Asian Infrastructure Investment Bank and joint ownership of the New Development Bank only reaffirm India's partnership in this Asian project.
The third is that of a mutually beneficial 'swap'
India protecting Chinese interests in the Indian Ocean, and China securing India's essential undertakings in their part of the waters, read the South and East China Seas.
However, there was unambiguous clarity that if India cannot assume more responsibility in the Indian Ocean, China will step in.
Core conflicts:
Structural challenges confront the Chinese formulations and the OBOR proposal
The perception, process and implementation to date do not inspire trust in OBOR as a participatory and collaborative venture.
The unilateral ideation and declaration and the simultaneous lack of transparency further weaken any sincerity towards an Asian entity and economic unity.
The Chinese participants explained that china is committed to pursuing wide-ranging consultations with the 60-plus nations OBOR implicates;
an 'OBOR Think Tank' is also being established to engage scholars from these countries.
The second challenge deals with the success of the 'whole' scheme, given that the Chinese vision document lays out five layers of connectivity: policy, physical, economic, financial and human.
While no developing country will turn away infrastructure development opportunities financed by the Chinese, they may not necessarily welcome a rules regime built on a Chinese ethos.
Finally, how can this initiative navigate the irreconcilable geometries of South Asia that prevent India from providing full backing to OBOR?
A formal nod to the project will serve as a de-facto legitimisation to Pakistan's rights on Pakistan-occupied Kashmir and Gilgit-Baltistan under the China-Pakistan Economic Corridor (CPEC) that is "closely related" to OBOR.
Options for India:
Fundamentally, India needs to resolve for itself whether OBOR represents a threat or an opportunity.
The answer undoubtedly ticks both boxes.
Chinese political expansion and economic ambitions, packaged as OBOR, are two sides of the same coin.
To be firm while responding to one facet, while making use of the opportunities that become available from the other, will largely depend on the institutional agency and strategic imagination India is able to bring to the table.
As soon as possible India should come up with a decision regarding OBOR, as whether to support it or not.
Connecting the dots:
Explain the concept of one belt one road initiative of china and its impact on the growth and security of South Asian continent.
India today seems to be sceptical about one belt one road (OBOR) initiative of china. Explain the reasons for the same and what should be the future course of action by India towards OBOR initiative. 
NATIONAL
TOPIC:

General studies 2: Government policies and interventions for development in various sectors and issues arising out of their design and implementation. 
General studies 3: Infrastructure: Energy, Ports, Roads, Airports, Railways, etc; Investment models. 
PPP Model- Rural Broadband Network
(Coverage- Very specific)
Telecom Regulatory Authority of India (Trai): Has recommended a public-private partnership (PPP) model for BharatNet, an ambitious project involving setting up a broadband network in rural India
BharatNet:
Previously known as: National Optical Fibre Network
Project cost: Has increased to about Rs 70,000 crore
Handling the rolling out the Optical Fibre Network:
Special purpose vehicle, the Bharat Broadband Network Limited (BBNL)
BBNL- Under the Telecom Ministry
Executing Agencies: By BSNL, Railtel and Power Grid
Appropriate Model:  Private Incentives + Long-term service delivery
Why PPP—
Instrument for easing finance and capacity constraints
Combines the private sector's capacity for delivery with the Government's role as an enabler and regulator to overcome market failures
Effective tool towards ensuring competition in service delivery and improvement in quality of service
Concessionaires be given the job of:
Deploying the optical fibre cable and other network infrastructure
Operating the network during the period of contract
Contract Period: 25 years which can be further extended in block of 10, 20 or 30 years
Selection of Concessionaire: Reverse Bidding
Ensure 'no discrimination' by them:

Arm's length relationship between concessionaire and service providers
50 per cent of the optical fibre should be reserved for telecom and cable service providers
Government should become a minority partner of the concessionaire with 26 per cent stake (Will lower financing cost and risk as well as keep a tab on their monopolistic behaviour)
Funding— To bridge the loss incurred due to higher operational expenses and lower commercial accruals
There is a need to focus on:
The design of the finance and investment model for future roll-out of broadband
The central and state governments become anchor clients of this project and purchase a bandwidth of 100 megabytes per second at market rate.
Bringing down the 'Internet Divide' between Rural and Urban India

The total number of broadband (defined as download speeds >=512 Kbps) subscribers stood at 120.88 million
Largely concentrated in Andhra Pradesh, Delhi, Karnataka, Kerala, Maharashtra and Tamil Nadu), with only 27.20 million rural subscribers
Important—
Rural broadband access will help address multiple service deficits that arise due to other infrastructure related constraints widespread among the rural population and the potential gains from increasing such access are tremendous
Report of the Committee on NOFN: An additional 25 million Internet users by 2018-19 would result in economic benefits of Rs 66,465 crore due to the direct, indirect and spill over benefits of Internet access.
Connecting the dots:
What do you mean by an EPC Model? List out the salient features of both PPP and EPC Model?
According to TRAI a PPP model works better than EPC model. Do you agree? Explain
MUST READ
Don't shoot the messenger, Israel
A test of dignity and democracy
Towards a law on euthanasia
Over the barrel: Waiting for a big bang- The global economy is in trouble but India is attracting positive comment. Finance minister must make the most of the moment
A scheme for change- Ten years on, MGNREGA requires constant review. And consistency in political support
Related Articles:
MGNREGA : Don't dismantle, Reform
Clean up the books- Government setting up an asset reconstruction company is a good idea. But test will lie in giving its managers a free hand
Parthasarathi Shome: Taxation: Interpretative & administrative issues
MIND MAPS
1. Free Speech


2. Financial Inclusion


For a dedicated peer group, Motivation & Quick updates, Join our official telegram channel – https://t.me/IASbabaOfficialAccount
Subscribe to our YouTube Channel HERE to watch Explainer Videos, Strategy Sessions, Toppers Talks & many more…