IASbaba's Daily Current Affairs – 5th February, 2016
ECONOMICS
TOPIC:
General studies 2:
Government policies and interventions for development in various sectors and issues arising out of their design and implementation. 
Issues relating to development and management of Social Sector or Services relating to Health, Education, Human Resources. 
Issues relating to poverty and hunger. 
General studies 3:
Indian Economy and issues relating to planning, mobilization of resources, growth, development and employment. 
Inclusive growth and issues arising from it. 
Major crops cropping patterns in various parts of the country, irrigation, agricultural produce and issues and related constraints; e-technology in the aid of farmers.
Agricultural issues: Going against the grain
Recent reports say India has become the world's fastest-growing economy in terms of GDP growth, overtaking China.
While this may be the case, we must pause and reflect over what this means for the 800 million-plus population that lives and works in our rural areas.
An outlook of agricultural performance in India:
Between 2003 and 2012, there was a clear turnaround in our agricultural performance.
But the rate of growth in agriculture and allied activities is down from about 4 per cent per annum in the 11th Plan period to just 1.7 per cent in the first three years of the 12th Plan (2012-15).
Crises deepens in Indian agriculture:
Over 300,000 farmers have committed suicide in the last decade, and in Maharashtra alone, over 2,000 such cases have been reported last year.
Worse, India is currently reeling under the impact of an unprecedented drought.
For the second year in succession, rainfall in the monsoon season has been less than normal; 302 districts in the country have been declared drought-hit.
Since agriculture is the source of livelihood for millions in rural India, droughts push the already precarious lives of smallholder farmers and agricultural labourers to the brink, leading to massive rural distress.
Why does agricultural growth matter?
The World Bank's World Development Report 2008 shows that agricultural growth is at least twice as effective in reducing poverty compared to growth originating in non-agricultural sectors.
In India, too, 80 per cent of the people officially counted as poor lived in rural India in 2011-12.
This means that for making a significant dent in poverty, rural incomes have to grow at a faster rate.
The gap between urban and rural consumption levels has increased over the years.
Recent studies have shown that despite the spurt in rural incomes between 2005 and 2012 caused by a rise in commodity prices and favourable terms of trade for agriculture, the level of non-farm incomes is at least three times that of farm incomes even today.
The changing rural economy:
The rural economy in its current juncture is a lot less "agricultural" than it used to be earlier.
With the fall in the average size of landholding, over 90 per cent of farmers are now in the small and marginal category and they cultivate over 50 per cent of the cropped area.
Smallholder farmers are increasingly forced to combine non-farm work with work on their own land.
Data from the 68th round of the National Sample Survey (2011-12) show that about 36 million workers have shifted from agriculture to non-agricultural sectors between 2004-05 and 2011-12, meaning that a major part of their income comes from work outside agriculture.
On account of this inter-sectoral movement, the share of agriculture in the total workforce has fallen below the 50 per cent mark for the first time after Independence.
While this number has been contested, the fact remains that sectors like rural construction are now the sites employing substantial numbers of workers.
Given the poor working conditions in these sectors and the overall decline in quality of employment in the economy, this is likely to be the result of a swapping of low-income farm work for low-quality non-farm work, as many observers point out.
The huge challenge of employment generation:
As the Economic Survey 2014-15 shows, regardless of the data source used, employment growth (1.40 per cent) has lagged behind growth in the labour force (2.23 per cent) between 2001 and 2011.
Clearly, employment elasticity of growth, showing the effectiveness of the economic system in generating employment, seems to have declined over time.
The Mahatma Gandhi National Rural Employment Guarantee Act (MGNREGA) has provided relief employment to around 5 crore rural households per year over the last decade.
However, since 2012, both the number of households covered and the number of person days of employment generated under MGNREGA in the country as a whole has undergone a steep decline.
Public investment the key:
Public investment holds the key to addressing the long-term structural constraints of the rural economy.
Official land use statistics show that 55 per cent of cultivated area still has no access to irrigation.
Variations in the pattern of seasonal rainfall themselves create extreme vulnerability in this rainfed segment of Indian agriculture.
The experience of watershed projects over the last three decades has shown that local harvesting of monsoon run-off can be a good drought-mitigating mechanism as it provides supplemental irrigation to crops at crucial periods of plant growth.
Investments under MGNREGA and watershed programmes need to be converged in this overall framework of drought-proofing rainfed agriculture.
Since rainfed agriculture produces about 40 per cent of our foodgrain and a major share of pulses, millets and oilseeds, investments are urgently required from the point of view of food security.
Promoting crop diversity:
Crop diversification is another big challenge.
Even with changing consumption patterns, pulses are the main source of protein for the poor.
They have a crucial place in the country's food security architecture.
Millets impart greater resilience to the cropping systems against climate risk in traditional millet-growing areas.
Minimum Support Prices (MSPs) have been beyond the reach of most of the farmers growing pulses or millets, and there has been no system of public procurement of these crops.
The recent experience of States like Madhya Pradesh is useful in organising decentralised procurement of pulses and millets in those rainfed States where they constitute a major share of the cropped area.
Such procurement of local foodgrain, feeding into programmes providing supplementary nutrition like the Mid Day Meal Scheme (MDMS) and Integrated Child Development Services (ICDS) Scheme, can be effective in reducing pervasive under nutrition among children, adolescent girls and pregnant women in India.
Connecting the dots:
Critically examine the factors which influence agricultural productivity in India.
To what extent does increasing investment in agriculture promote agricultural growth and socio economic development of rural folk in India.
INTERNATIONAL
TOPIC:
General studies 1:
Effects of globalization on Indian society.
General studies 2:
Government policies and interventions for development in various sectors and issues arising out of their design and implementation. 
Issues relating to development and management of Social Sector or Services relating to Health, Education, Human Resources. 
Zika Virus— Public Health Emergency
Terror of Aedes continues:
Zika virus disease is an emerging viral disease transmitted through the bite of an infected Aedes mosquito and also transmitted via sexual contact. Therefore,
AEDES= Zika, Dengue, Chikungunya, Yellow Fever and West Nile disease
1st identified: Uganda, 1947; was first isolated from Rhesus monkeys in Zika forest near Lake Victoria in Uganda (monitoring network of sylvatic yellow fever)
Locate it
Horrifying effect on pregnant women:
Babies born with birth defects- Microcephaly— a shrunken head, an under-developed brain and disorders of the central nervous system.
Zika found in: Amniotic fluid of foetuses, indicating it can cross the placenta barrier and get to foetuses in the womb
Associated Syndromes:
Microcephaly in the new-born and
Other neurological syndromes like Guillain BarreSyndrome- a condition in which the immune system attacks the nervous system, sometimes resulting in paralysis
A majority of those infected with Zika virus disease either remain asymptomatic (upto 80%) or show mild symptoms of fever, rash, conjunctivitis, body ache, joint pains.
Should be suspected in patients reporting:
Acute onset offever,
Maculo-papular rash and
Arthralgia
War against Zika and dengue
Major constraint: The vector's resistance to widely used insecticides such as organophosphates and pyrethroids
Can insecticide-treated bed nets help—
Of little use in keeping the Aedes mosquito species, which are aggressive daytime biters, at bay
Urbanisation– Aedesaegypti mosquitoes, found in tropical and sub-tropical countries, breeds in diverse water-bodies and even indoors
Two new approaches for mosquito eradication—
Genetic modification leading to premature death
Introduction of a lethal bacterial strain
Usage of genetically modified male Aedesaegypti mosquitoes that carry a dominant lethal gene—
As male mosquitoes do not bite humans, the release of genetically modified males will not increase the risk of dengue
Advantage of using this technique: Its species-specificity
Mutant Aedesaegypti released into the wild will not breed with another species of Aedes
Short-term suppression of Aedesaegypti population will not lead to abundance of Aedesalbopictus (Asian tiger mosquito)
But—To be effective, genetically altered male mosquitoes need to be released in large quantities at regular intervals so they compete with the wild normal male insects for mating
IASbaba's Views:
Component of Project Mitigation should include—

Eradication of the Aedesaegypti
Developing diagnostics tests, vaccines and cures
There is a need for an integrated pest management programme that can help reduce the mosquito population and sustain the gains
Also, WHO should set up surveillance centres in different countries to study the possible linkages between microcephaly and Zika as well as accelerate the approvals process and encourage research on an urgent basis (redoubling efforts)
International airports should be instructed to put up signs asking incoming passengers to report conditions like fever, body rash, joint pains and conjunctivitis – the usual symptoms of Zika infection
Lifting the ban on dichloro-diphenyl-trichloroethane or DDT, the most powerful and effective pesticide against mosquitoes
Usage of the recently evolved genetically modified mosquito that can inhibit the growth of its own species; carries a lethal gene which causes its offspring to die before being able to bite human beings
MUST READ
Protecting India's trade interests- Only a cohesive trade policy approach on the international and domestic front will help the country mitigate projected losses from the Trans-Pacific Partnership agreement
Related Articles:
Trans-Pacific Partnership (TPP) & India
A racist turn in Bengaluru
Anatomy of the revenue deficit
Removing constraints in higher education- The argument that foreign investment benefits only a minority is flawed
Monetary and fiscal policies go together – An 'independent', inflation-targeting RBI, immune from accountability, is a bad idea. Yet we seem besotted by it
MIND MAPS
1. Right to Education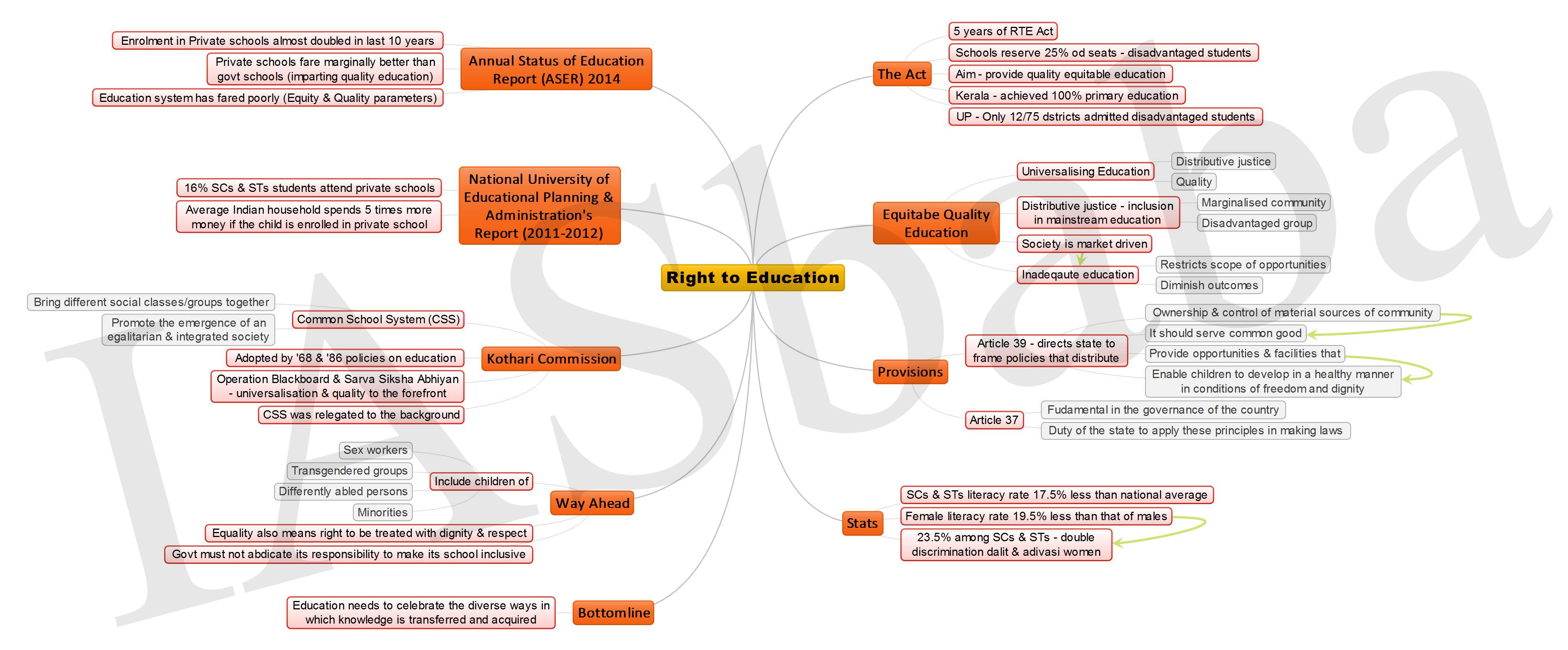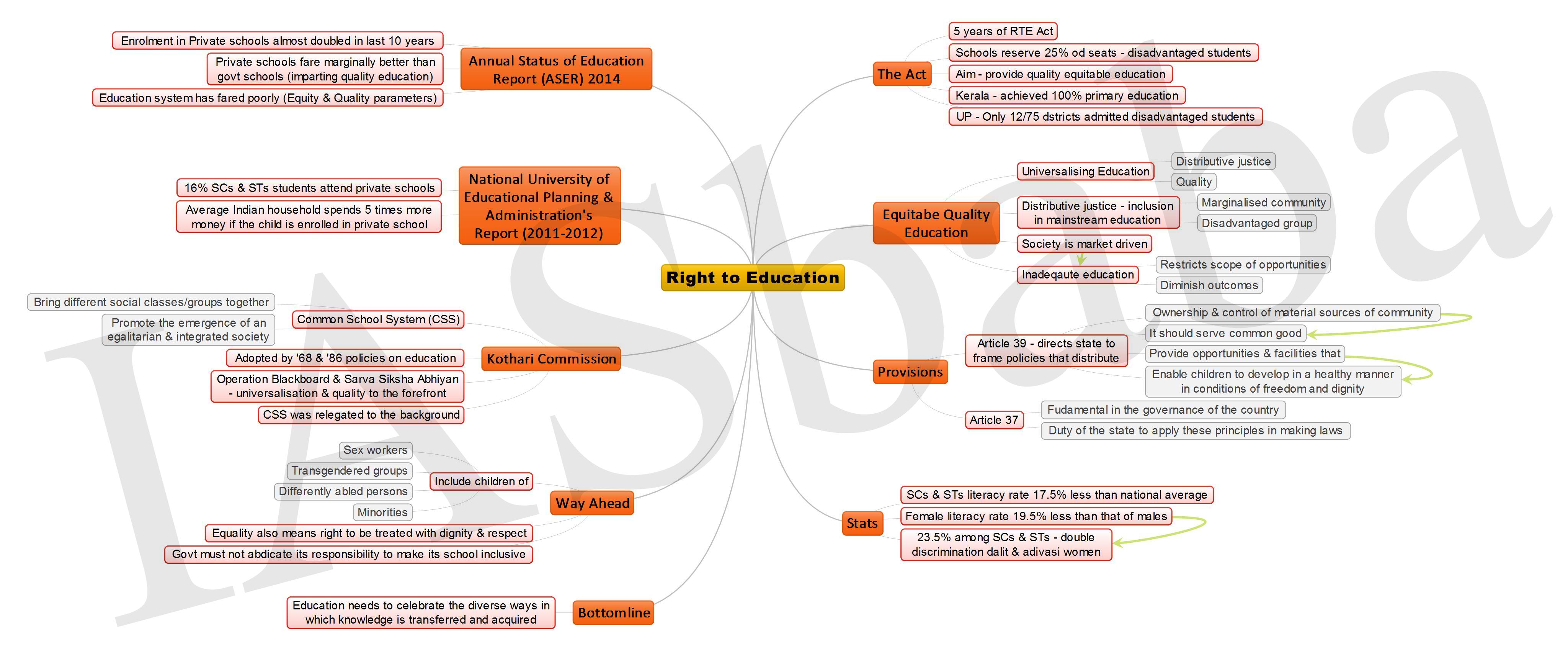 For a dedicated peer group, Motivation & Quick updates, Join our official telegram channel – https://t.me/IASbabaOfficialAccount
Subscribe to our YouTube Channel HERE to watch Explainer Videos, Strategy Sessions, Toppers Talks & many more…