IASbaba's Daily Current Affairs – 28th March, 2016
NATIONAL
TOPIC:   General Studies 2

Government policies and interventions for development in various sectors and issues arising out of their design and implementation
Important aspects of governance, transparency and accountability, e-governance-applications, models, successes, limitations and potential
Updating Aadhar for better privacy
Aadhaar Project: An ambitious project that seeks to provide unique identification numbers to each individual in a country of over a billion people, collecting demographic and biometric information in the process
Aadhaar (Targeted Delivery of Financial and Other Subsidies, Benefits and Services) Bill, 2016: To provide for "efficient, transparent, and targeted delivery of subsidies, benefits and services"
Privacy with Aadhaar—
The issue is related here with the fundamental view of how data are to be accessed and used
Perspective behind UID's design should assume the worst, and try to prevent linking of databases by third parties, or unintended usage
If not, it could lead to not only an abstract violation of privacy but also very specific and troubling asymmetries in commercial transactions and citizen empowerment/rights, including through profiling
Aadhar Bill says—
Provision of privacy protection
Use limitation— it can only be used for the purpose for which the user gives consent
Collection limitation— no information other than demographic (name, address, date of birth, sex and, optionally, email id/ mobile number) and biometric (photo, fingerprint and iris scan) will be collected. No other personal information of an individual will be in the Aadhaar database
Access and Rectification— the user can access his own information and has an obligation to rectify it if it needs updating
No demographic information or identity information received from the Unique Identification Authority of India can be displayed publicly
Only exception to certain confidentiality (but not security) obligations is national security: Provided an order to disclose information is issued either (limited time period)-
By a court or
By a joint secretary or
Higher officer, and
Vetted by a high-powered committee headed by the cabinet secretary
-No core biometric information can be shared is a principle without exception — people saying that core biometric information will be shared are wrong because Clause 29(1) is not overridden by Clause 33(2)
-Bill includes stringent penalties, including imprisonment for breach of privacy and other violations
What if we could have a UID that was never inter-linkable across users, but yet at the same time uniquely linked to the person through biometrics?
Possible through a base UID (like we have today) plus modifications per user (if not per use); would use a one-way hash that would be irreversible so that the longer number or code couldn't reveal the base UID number
Benefits:

A corporation or other user could not create a linked database for profiling — they would all have different UID+ numbers
To even get the UID+, the cryptographic process could be restricted to authorised users; thus, preventing the UID from becoming a casual identifier
Connecting the Dots:
What do you mean by Digital Colonization? What are the steps that India can take to overcome the danger of digital colonisation?
Related Articles:
INTERNATIONAL
TOPIC:   General Studies 2

India and its neighborhood- relations
Bilateral, regional , global groupings and agreement involving India and affecting its interest
Effect of policies and politics of developed and developing countries on India's interests, Indian Diaspora.
India- Nepal: No zero sums in this great game
Nepal is celebrating the outcome of Prime Minister K.P. Sharma Oli's China visit as a major landmark in the evolution of its foreign policy. 
It is driven by two objectives:
One is domestic, of consolidating the Oli regime's support from the 'nationalist' constituency that stands for reducing dependence on India and keeping Madhes and Janjatis marginalized in Nepali polity.
The other is of sending a strong message to India that Nepal has a viable option in mobilizing support from China to counter any pressure generated from the southern neighbor.
Both objectives had been triggered by India's support for the Madhes agitation against a discriminatory constitution adopted in September 2015.
India's support had resulted in restricted supply of essential goods to Nepal for nearly six months, causing unprecedented hardship to Nepal's people and generating strong anti-India sentiments among the country's hill communities.
Are there any historical occasions showing Nepal getting inclined towards china to secure the regime?
Recall King Mahendra's use of the China card when he had pitted himself against democratic forces seeking and securing Indian support during the early 1960s.
A desperate King Mahendra had then breached the Himalayan barrier by making China build a road between Kathmandu and Kodari. He flouted the India-Nepal Treaty of 1950 by soliciting Chinese support as a security protector of Nepal.
His successors, King Birendra and King Gyanendra, made similar moves during 1988-89 and 2005-06, respectively, when faced with popular struggles against their authoritarian governance.
There is a set pattern of the Kathmandu regime flashing the China card whenever it runs into difficulties with its own people and India lends support to the Nepali people's cause. Struggling popular democratic forces of Nepal sought and secured Indian support on these occasions.
The underlying thread in all these royal moves was to whip up anti-India nationalism, garner external/Chinese support and erode traditional ties with India to ensure regime security.
What are the fields in which MOU were signed between Nepal and China?
Transit and trade
Rail and road connectivity and infrastructure
Energy exploration and storage
Banking
Scholarships and training.
How do these agreements appear from Nepal's perspective?
Agreements are projected as historic and unprecedented, particularly those related to transit through China and rail and road connectivity between Nepal and China. This, in principle, breaks Nepal's complete dependence on India for all its imports.
On close look, these agreements appear to be higher on symbolism than on substantial commitments for delivery. Take, for instance, the agreement on transit through China where China has agreed to provide the Tianjin seaport for transit of Nepali goods imported from third countries.
MOU's without firm commitment:
Nepal's infrastructure in its northern region to connect with the proposed Tianjin transit facility is still not in place, and will take effort and investment to be operational. This facility would come in handy in the event of a complete blockade of transit routes from India for Nepal, but in such a situation, carrying perishable and essential goods like foodstuffs and petroleum products will cost Nepal heavily in time and money.
Under the present MoU on rail connectivity, Chinese commitments are for feasibility studies and technical support only. Only by 2020, as per the current Chinese plans, will this line be brought nearer the Nepal border within Tibet. 
No firm commitment yet on how it will then be extended within Nepal linking Kathmandu with Pokhara and Lumbini as proposed by the Nepali side. Also in building this link, the track will have to scale mountains as high as 6,000 m, either through tunnels or winding channels, involving heavy costs, time and effort.
What is the probable outcome of Tibet-Nepal rail connectivity which seems to be political issue for the China?
Besides the constraints of costs and terrain, rail connectivity between Tibet and Nepal is also a political issue for the Chinese authorities.
They have to decide on the extent to which Tibet can be opened up to the outside world through land connection. The proposed rail could not only facilitate the flight of disaffected Tibetans to Nepal, but also bring in Nepalese and other foreigners into Tibet.
What is china's approach in accommodating Nepal in to One belt, one road initiative?
South Asia is a vital link in the Chinese OBOR plan. It is a region that borders on China's vulnerable periphery of Xinjiang and Tibet. Its 1.6 billion people, growing steadily by 4-5 per cent on average, constitute a huge economic opportunity that China cannot ignore.
China has been both calculating and careful in accommodating the Nepali agenda. It has bound Nepal to "synergize" its "development planning, formulate appropriate bilateral cooperation programmes and carry out major projects under the framework of the Belt and Road initiative
Nepal's infrastructure and connectivity projects will have to be subjected to Chinese 'One Belt, One Road' (OBOR) Nepal will also have to facilitate and encourage Chinese investment.
Most of the Chinese commitments are loans, of which only 25 per cent will be interest free. As China's dwindling growth rate and growing debt/GDP ratio does not allow China to write free cheques any longer.
Nepal must also be aware of the unease and discomfort that countries like Sri Lanka and Myanmar experienced in their deepening economic engagement with China. China's economic projects invariably come with strategic underpinnings and heavy debt burden.
China also does not want to ruffle Indian feathers on Nepal as India, besides other considerations, is a much bigger and promising market for Chinese products and services as compared to Nepal.
What could be India's probable reaction to Nepal's so-called flashing of the China card?
India need not press the panic button or employ knee-jerk and ill-conceived diplomatic moves as it did in response to Nepal's constitution and the Madhesi agitation
Nor should it make an unethical compromise with Kathmandu on the legitimate interests of Madhesis and other marginalized groups.
Resorting to pushing for a Hindu state agenda and revival of the monarchy in Nepal to contain Chinese influence will prove counter-productive.
India has to sit up and take a serious note of the Chinese push into South Asia, which is not simply limited to Nepal but covers all other neighbours as well.
Way ahead:
India has to deal with its immediate neighbours with prudence and sensitivity and ensure that they are not alienated.
There is scope also for exploring the possibility of making calibrated use of the region's infrastructure development under OBOR.
Internal and trans-border connectivity of Nepal, Sri Lanka, Bangladesh or even Pakistan may in fact facilitate such economic integration to the long-term advantage of India as well.
At the same time India has to guard its vital strategic space and interests, as well as those of its neighbours that China may seek to erode under the cover of its regional economic engagement.
Connecting the dots:
What is China's approach in accommodating Nepal in to 'One belt, one road' initiative? What could be India's probable reaction to Nepal's so-called flashing of the China card? discuss
Related Articles: India-Nepal Relationship and Issues
http://iasbaba.com/2015/09/iasbabas-daily-current-affairs-28th-29th-september-2015/
http://iasbaba.com/2015/10/iasbabas-daily-current-affairs-11th-12th-october-2015/
http://iasbaba.com/2015/08/iasbabas-daily-current-affairs-4th-august-2015/
MUST READ
Hasty cure for a familiar malady -President's Rule in Uttarakhand
Pay consumers to take back e-waste
Related Articles:
Solid Waste Management: Waste not, want not
Did climate change cause those floods?
Steep fall in oil prices takes a toll on remittances– Indian expatriates sent home $15.8 billion during the third quarter of fiscal 2016, the lowest in 18 quarters
Can gains in the poverty battle be sustained?- Government estimates show a steep decline in poverty from 37.2% in 2004-05 to 21.9% in 2011-12. What can be done to continue the process?
How external directors can support growth in family-owned SMEs- Outside board members can be particularly effective at coaching and guiding owners to address mental barriers to grow
MIND MAPS
1. Satluj-Yamuna Link Canal (Part 2)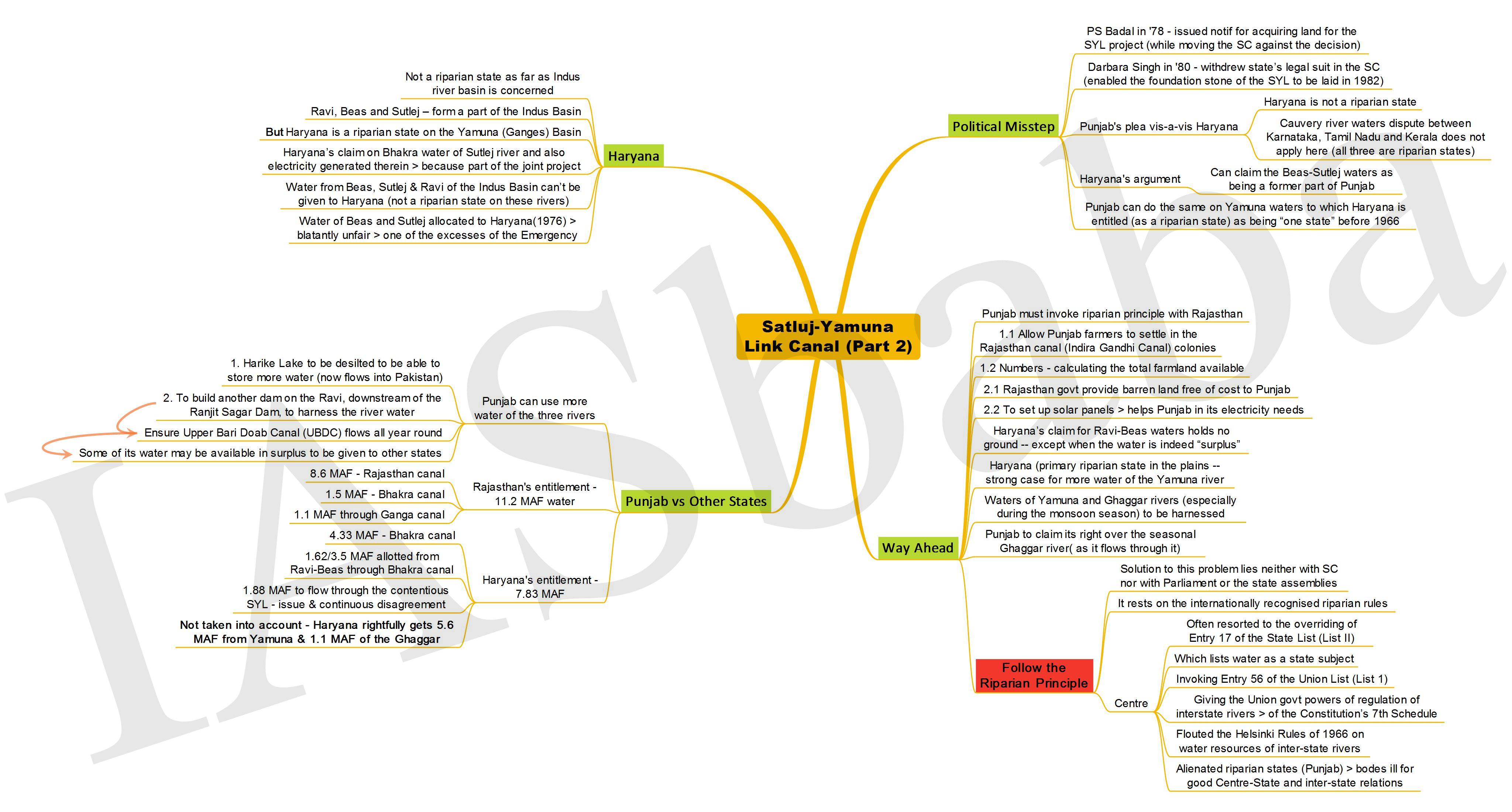 For a dedicated peer group, Motivation & Quick updates, Join our official telegram channel – https://t.me/IASbabaOfficialAccount
Subscribe to our YouTube Channel HERE to watch Explainer Videos, Strategy Sessions, Toppers Talks & many more…