IASbaba's Daily Current Affairs – 14th April, 2016
NATIONAL/HISTORY
TOPIC:  General studies 1

Modern Indian history from about the middle of the eighteenth century until the present significant events, personalities, issues.
The Freedom Struggle – its various stages and important contributors or contributions from different parts of the country
Babasaheb Ambedkar – 125th Birth Anniversary
(Please note this is a comprehensive article sourced from The Hindu, Business Standard, Indian Express, Business Line, Live Mint. We have tried our best to cover the article comprehensively)
The 125th birth anniversary of Dr. B.R. Ambedkar is an apt occasion to assess and reassess his thoughts and ideology and their relevance in India and the world today
Democracy—
Democracy is not merely a form of government. It is primarily a mode of associated living of conjoined communicated experience. It is essentially an attitude of respect and reverence towards fellow men
A society based on liberty, equality and fraternity should be the only alternative to a caste society, and that is why he attached greater importance to the principle of "one man, one vote; one man, one value"
Political democracy cannot last unless there lies at the base of it social democracy—It means a way of life which recognizes liberty, equality and fraternity as the principles of life. These principles of liberty, equality and fraternity are not to be treated as separate items in a trinity. They form a union of trinity in the sense that to divorce one from the other is to defeat the very purpose of democracy.
He followed the words said by the Irish Patriot Daniel O'Connell—
No man can be grateful at the cost of his honour, no woman can be grateful at the cost of her chastity and no nation can be grateful at the cost of its liberty
Nationalism—
Argued very passionately for adequate representation of the untouchables in the legislature, executive and public service
Usage of 'nationalism' as the core plank to take a stand against the struggling humanity within the country and thereby creating fertile conditions for the upsurge of rank communalism
The governing class in India always raised the cry of 'nationalism/Bharat mata is in danger' whenever the exploited classes demanded justice and fair and equal treatment and affirmative action for representation in the legislature, executive and public service
The governing class was aware that class ideology, class interests, class issues and class conflicts would spell disaster for its rule and therefore always side-tracked the issues and interests of the exploited masses by playing upon the sentiment of nationalism and national unity
Society—
Caste is a notion; it is a state of the mind. The destruction of Caste does not therefore mean the destruction of a physical barrier. It means a notional change.
Believed that the annihilation of caste and negation of capitalism are imperatives for change and taking India and the world forward, declaring at the same time, that the bourgeoisie (capitalism) and Brahminism are the twin enemies of the people
On demands of untouchables demanding separate electorates and being described as anti-national in spirit- Ambedkar rejected the description by stating that separate electorates for Muslims, Sikhs and Christians did not make them anti-nationals and also mentioned that nationalism and anti-nationalism have nothing to do with the electoral system and they are the results of the extra-electoral forces
Social Justice-

Caste is described as being anti-national and he wanted to address the scourge of caste discrimination and exclusion through the instrumentality of law, which he poetically described as "the greatest disinfectant against inequality"
Key components of social justice are liberty, equality and fraternity
In his speech in the Constituent Assembly, while stating that India is an integral whole, he cautioned, "The sooner we realise that we are not yet a nation in the social and psychological sense of the word, the better for us. For then only we shall realise the necessity of becoming a nation and seriously think of ways and means of realising the goal." Therefore, he stressed on justice, not only political and economic but also social justice.
Hindu Code Bill: To achieve gender equality and women's empowerment in full measure
Muslim Society in India: Afflicted by the same social evils as afflict the Hindu Society but, maybe, a bit more— The Purdah System and its deteriorating effects upon the physical constitution of Muslim women—

Deprives Muslim women of mental and moral nourishment
Usually victims to anaemia, tuberculosis and pyorrhoea
Bodies are deformed, with their backs bent, bones protruded, hands and feet crooked and ribs, joints and nearly all their bones ache
Heart palpitation is very often present in them and the result of this pelvic deformity is untimely death at the time of delivery. Purdah
Hardly any organized movement of social reform among the Musalmans of India on a scale sufficient to bring about their eradication
So what then is an ideal society— Existence of social endosmosis
An ideal society should be mobile, should be full of channels for conveying a change taking place in one part to other parts
In an ideal society there should be many interests consciously communicated and shared
There should be varied and free points of contact with other modes of association. In other words there must
Statistics:

Almost 38 per cent of the SC community lives below the poverty line,
Only 43 per cent own permanent homes
only 17.7 per cent own homes in rural areas
Socio-Economic and Caste Census Data 2011: less than 1 per cent of the SC community in rural areas had a member earning more than Rs. 10,000 a month
Economic—
Analysed nationalism in the context of the demand of the Indian commercial community/class that sought to replace Europeans in the field of trade and commerce –critically observed such profit-seeking orientation of the commercial class and disapproved of their predatory economic pursuits under the garb of nationalism
He had made his viewpoint clear that the national movement was dominated by an elite, of which the masses were the first victims. For, as he said in 1943 before trade union activists, the working classes "often sacrifice their all to the so-called cause of nationalism. [But] they have never cared to enquire whether the nationalism for which they are to make their offerings will, when established, give them social and economic equality
Statistics:

Economic survey of private enterprise in 2005 revealed that the share of the SC community in total private enterprise was a mere 6 per cent in urban areas and 10 per cent in rural areas, far lower than their population
The 2005 Economic Census shows that dalits in India own just 9 per cent of enterprises despite constituting 16 per cent of the population; a majority of these are small, single-person businesses
THE CRITIC OF GANDHI: Age of Ranade and the Age of Gandhi
In the age of Ranade the leaders struggled to modernize India. In the age of Gandhi the leaders are making her a living specimen of antiquity.
In the age of Ranade, leaders depended upon experience as a corrective method to their thoughts and their deeds. The leaders of the present age depend upon their inner voice as their guide.
Not only is there a difference in their mental make-up there is a difference even in their viewpoint regarding external appearance. The leaders of the old age took care to be well clad while the leaders of the present age take pride in being half clad
If the India of Ranade was less agitated it was more honest and that if it was less expectant it was more enlightened. The age of Ranade was an age in which men and women did engage themselves seriously in studying and examining the facts of their life, and what is more important is that in the face of the opposition of the orthodox mass they tried to mould their lives and their character in accordance with the light they found as a result of their research.
In the age of Ranade there was not the same divorce between a politician and a student which one sees in the Gandhi age
This 'Gandhi age' is the dark age of India- It is an age in which people instead of looking for their ideals in the future are returning to antiquity. It is an age in which people have ceased to think for themselves and as they have ceased to think they have ceased to read and examine the facts of their lives.
Ambedkar& WW II—
Dalit Issue: Continued to collaborate with the colonial power in exchange for concessions to Dalits and the working class at large
Religion of Humanism: Opposing Mahatma Gandhi's decision, in August 1942, to launch the Quit India Movement, he declared that the "patriotic duty of all Indians" was rather to prevent such movements from creating "anarchy and chaos which would unquestionably help and facilitate the subjugation of this country by Japan"
In July 1941, he joined the Defence Advisory Committee that had been set up by the viceroy to involve Indian leaders in the war effort and to give to this forced participation of India in the conflict a greater legitimacy.
In 1942, he entered the executive council of the viceroy as labour member- developed social legislation

Managed to have passed the Indian Trade Unions (Amendment) Bill, making compulsory the recognition of a trade union in every enterprise under certain conditions
Also introduced the Payment of Wages (Amendment) Bill and numerous Factories (Amendment) Bills — which were all passed

Obtained a larger recruitment of Dalits in the army and, in particular, the reinstatement of the Mahar battalion
ECONOMICS
TOPIC: 
General studies 2:
Issues relating to development and management of Social Sector/Services relating to Health, Education, Human Resources.
Government policies and interventions for development in various sectors and issues arising out of their design and implementation.
General studies 3:
Indian Economy and issues relating to planning, mobilization of resources, growth, development and employment.
India will struggle to cash in on its demographics
India's working-age population hasn't grown fast since 2006; the growth rate is in fact steadily falling; in 2027 the annual increase is projected to drop below 1%.
Census 2011 data shows that India's working age population (15-64 years) is now 63.4% of the total population, as against just short of 60% in 2001.
Over the next decade, India is expected to be the leader is growth in terms of working-age population among the world's 10 biggest economies.
India is home to 18% of the world's working-age population.
There is a immediate need to have 2% annual growth in a country's working-age population to have a sustained economic boom but India's working-age population hasn't grown that fast since 2006. The growth rate is in fact steadily falling; upon that in 2027 the annual increase is projected to drop below 1%.
What does Demographic Dividend mean?
Demographic dividend, as defined by the United Nations Population Fund  (UNFPA) means, "the economic growth potential that can result from shifts in a population's age structure, mainly when the share of the working-age population (15 to 64) is larger than the non-working-age share of the population (14 and younger, and 65 and older).
Why Demographic Dividend is vital for India?
A country with both increasing numbers of young people and declining fertility has the potential to reap a demographic dividend.
Due to this Demographic dividend there is a great potential for economic gains, which has been termed the "demographic gift".
In order to realize this "demographic gift", younger population must have access to quality education, adequate nutrition and health including access to sexual and reproductive health.
Upon that by 2030, India is projected to reach its demographic sweet spot i.e majority of its population will be working age, with a relatively small share of children and elderly to care for.
Why are we not able to reap dividends out of demographic dividend yet?
Major portion of working-age Population are not working — at least not in ways that bring economic growth and social progress.
Lack of quality education and increased dropout rates in schools.
Rural regions still largely cut off from the national economy
Relatively affluent urban residents who fall working age group see no point in looking for jobs.
In India women being major part of labour force are not able participate to their full potential.
Labour-force participation among working-age women is too low.
Mismatch between worker's skill and job market's requirement.
Due to automation and mechanization in middle skill occupations such as operating machinery, driving vehicles, doing clerical work has squeezed workers out of their jobs
Legal uncertainty and misguided government policies discourage job creation, while the transportation infrastructure and educational system are in need of giant upgrades.
What are the mechanisms through which benefits can be reaped?
During the course of the demographic dividend there are four mechanisms through which the benefits are delivered.
The first is the increased labour supply. The magnitude of this benefit appears to be dependent on the ability of the economy to absorb and productively employ the extra workers rather than be a pure demographic gift.
The second mechanism is the increase in savings. As the number of dependents decreases individuals can save more. This increase in national savings rates increases the stock of capital in developing countries already facing shortages of capital and leads to higher productivity as the accumulated capital is invested.
The third mechanism is human capital. Decreases in fertility rates result in healthier women and fewer economic pressures at home. This also allows parents to invest more resources per child, leading to better health and educational outcomes.
The fourth mechanism for growth is the increasing domestic demand brought about by the increasing GDP per capita and the decreasing dependency ratio.
What happens if we neglect to strengthen demographic dividend?
India's youth bulge could just as easily turn into a youth bomb. If policies are implemented ineffectually, or are not enough to cater to a large enough section of the population, the result will be an over-abundance of young people who have not been educated adequately and are unemployed or under-employed.
This in turn could build resentment as well as force this section of the population into illicit activities leading to a rise in crime and terrorism.
What are the initiatives taken by the government to realize full potential of Demographic dividend?
Increase in the investments on Public health, Education and creation of jobs (Make-in-India).
Effort to connect more Indians to the national economy through the Aadhaar national identification number system, which is now being followed up with a project to link all Indians in a digital-payments network.
Digital India to bridge Digital divide to reap benefits out Demographic dividend
Way ahead:
Given that India's working age population will continue to be over 50% of the total population till the end of the 21st century, there is enough time to exploit it fully for the benefit of the country.
Connecting the dots:
What does demographic dividend mean? Is India's Demographic Dividend a Liability or an asset? Critically Examine.
MUST READ
The art of leapfrogging
Evaluating India's well-being– The past decade has seen significant improvements in India's health indicators, but it still lags other Asian countries
Related Articles:
Contraception—a woman's burden
Just the tip of the money-laundering iceberg- The Panama Papers leak is not representative of the fact that countries have become smarter at detecting money laundering. The global financial system continues to favour those with the means to hide their money
Related Articles:
AIR Debate – Panama Paper leak
Narendra Modi to launch digital platform for trading farm produce today- The e-platform called National Agriculture Market will connect 21 mandis or markets from eight states in the first phase
Social boycott to be a crime in Maharashtra-Maharashtra passes bill that aims to crack down on extra-judicial bodies that promote social discrimination
Wealth, happiness and liberty- Restricting liberty to prevent self-destruction has the makings of a nanny state that can lead to unhappiness
Govt plans merger of anti-dumping, import safeguard bodies-The single entity will be called Directorate General of Trade Remedies, which will be similar to US International Trade Commission
More rains won't fix India's water crisis-India is in the unenviable position of making a big bet on coal-fired power plants just as climate change raises the threat of once highly improbable events
MIND MAPS
1. Prenuptial Agreement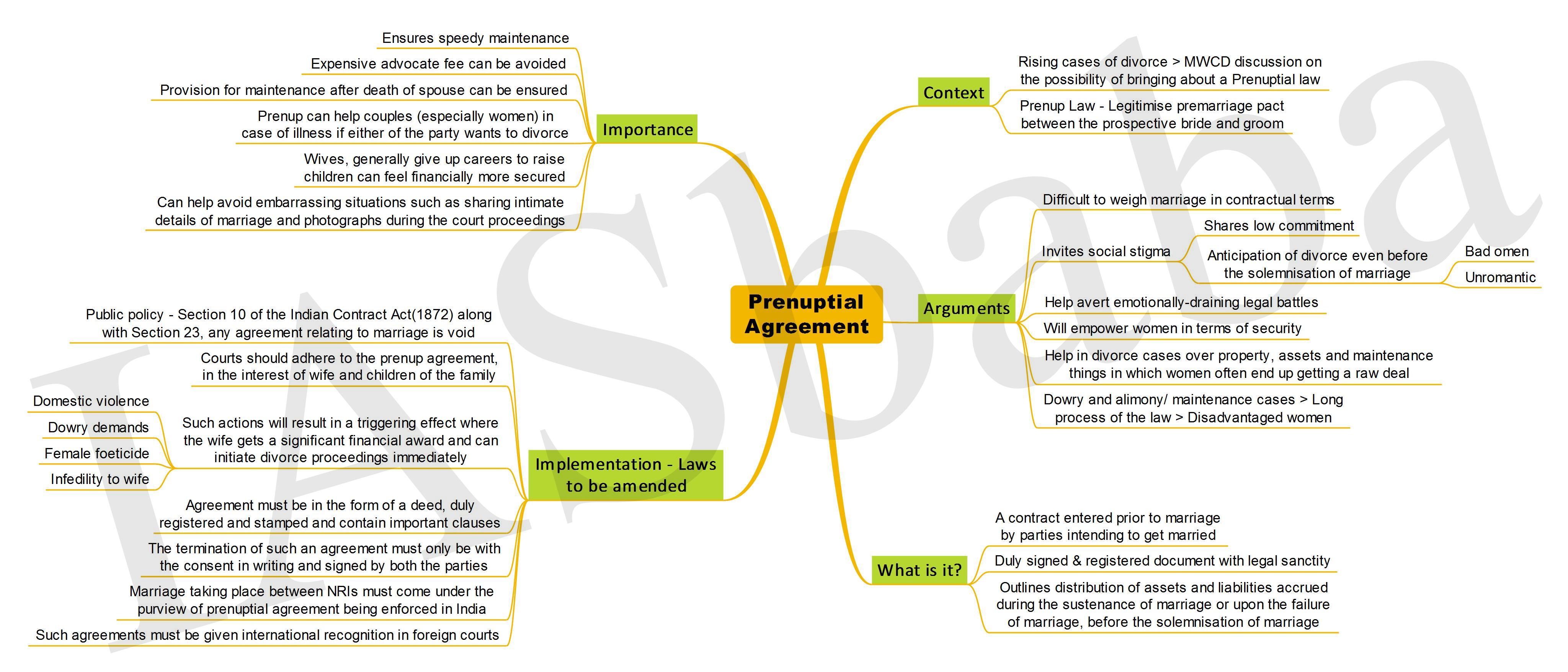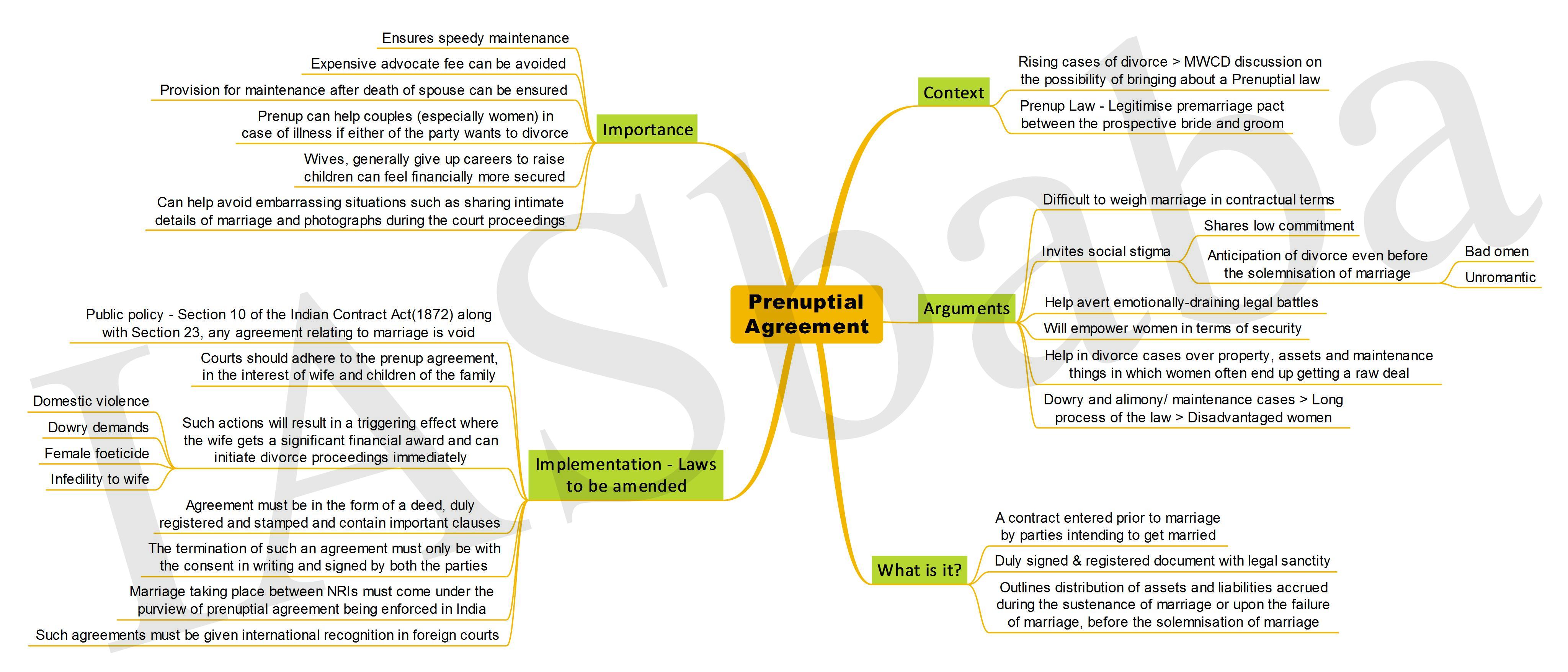 For a dedicated peer group, Motivation & Quick updates, Join our official telegram channel – https://t.me/IASbabaOfficialAccount
Subscribe to our YouTube Channel HERE to watch Explainer Videos, Strategy Sessions, Toppers Talks & many more…