IASbaba's Daily Current Affairs – 27th April, 2016
NATIONAL
TOPIC:
General studies 1:
Indian culture will cover the salient aspects of Art Forms, Literature and Architecture from ancient to modern times.
General studies 2:
Government policies and interventions for development in various sectors and issues arising out of their design and implementation.
Important International institutions, agencies and fora- their structure, mandate.
Indian Culture:  Apathy towards Antiquities
Why in news?
The centre recently told Supreme Court that the Kohinoor diamond was neither "forcibly taken nor stolen" by British rulers, but given as a "gift" to East India Company by rulers of Punjab.
And also added that India should not stake claim to Kohinoor because other countries may start pressing India for return of their items.
An historical study of India's stand on Kohinoor:
Till the 1980s, India did not ask for the return of the Kohinoor diamond.
By 2000 it changed its position and tried to "satisfactorily resolve" the issue.
However, in 2010, after U.K. Prime Minister David Cameron visited India, it again changed its stand.
To a question raised in Parliament in August 2010, the government categorically stated that Kohinoor was not covered "under the UNESCO's Convention 1970 dealing with the restitution of cultural property", and hence the question of recovery "does not arise".
Now india is not interested in recovering Kohinoor from the UK government.
What does UNESCO's convention say?
The 1970 UNESCO Convention prohibits illicit trading and transfer of ownership of cultural properties including antiquities.
However, it does not cover any recovery claims of antiquities either smuggled or exported before 1970.
This instantly puts a significant number of antiquities lost by colonised countries beyond any hope of return.
Indian government as per this convention is not interested to recover Kohinoor and hence that statement was given to the Supreme Court recently.
A greater worry in India is its apathy towards antiquities
It seems unlikely that India will get the Kohinoor back.
But the greater worry is its apathy towards antiquities.
While countries such as Italy have not only successfully pursued stolen artefacts abroad but also effectively protected them locally, India, which is equally archaeologically rich and a victim of illicit trading, is far from it.
India lacks information on theft
India lacks anintegrated database of existing and stolen artefacts.
Providing sufficient information regarding theft cases has been a struggle in India.
A case study of Italy:
Comparing this with the accomplishment of the cultural heritage squad of Carabinieri, the Italian armed police force.
It has built an impressive database of about 1.1 million missing artefacts.
Set up in 1969, the Carabinieri is the most acclaimed police force in protecting antiquities.
The officers are well-trained in art history, international law, and investigative techniques. In the last 45 years, the force has recovered more than 8,00,000 stolen artefacts within the country.
The squad is also known for its aggressive pursuit of restitution cases.
Indian investigative agencies are poor performers in this regard:
At the national level, the Central Bureau of Investigation handles antiquities theft as a part of its special crimes division.
The division also handles cases of economic offences as well as those relating to dowry deaths, murders, and so on.
It has not built the capacity to deal with stolen antiquities.
A few State governments have special wings as part of their police force, but these are also understaffed and unqualified.
A non helping national law:
The Antiquities and Art Treasures Act, 1972, mandates compulsory registration of antiquities.
However, the process is so cumbersome that not many antiquities are registered.
There is also fear that registration would attract unnecessary government attention, and prevent the legitimate transfer of the objects.
As a result, a large number of private collectors do not register antiquities in their possession.
Though the Justice Mukul Mudgal committee submitted a report recommending changes in 2011, the government is yet to take action.
A bad state of India's museum:
The state of India's museums is another sad story.
The Comptroller and Auditor General of India's Performance Audit of Preservation and Conservation of Monuments and Antiquities in 2013 had scathing remarks about the country's poor acquisition, documentation and conservation systems.
The audit also raised serious concerns about the "discrepancies in the number of antiquities reportedly available in museums" including the National Museum in Delhi.
Under performing National Mission on Monuments and Antiquities:
In 2007, the Ministry of Culture launched the National Mission on Monuments and Antiquities to complete documentation of about 70,00,000 antiquities.
Until 2014, it had documented only 8,00,000 artefacts.
Connecting the dots:
Write a note on National Mission on Monuments and Antiquities.
Interview question: Imagine yourself as the Prime Minister of India. What measures do you take in order to get back Kohinoor, which is a symbol of our national wealth.
INTERNATIONAL
TOPIC:  General studies 2

India and its neighborhood- relations.
Bilateral, regional and global groupings and agreements involving India and/or affecting India's interests.
Effect of policies and politics of developed and developing countries on India's interests, Indian diaspora.
China's Water Hegemony in Asia
China has emerged as the upstream water controller in Asia through a globally unparalleled hydro-engineering infrastructure centred on damming rivers—
Released some dammed water for drought-hit nations in the lower Mekong river basin
Exhibition of significant utility of its upstream structures in fighting droughts and floods
Power to control the flow of a life-sustaining resource
Own reliance on Beijing's goodwill and charity— With a further 14 dams being built or planned by China on the Mekong, this dependence on Chinese goodwill is set to deepen—at some cost to their strategic leeway and environmental security.
Lancang-Mekong Cooperation (LMC) initiative—
An alternative to the lower-basin states' Mekong River Commission
Designed to overshadow the US-sponsored Lower Mekong Initiative, which seeks to overcome Chinese opposition to the Mekong treaty by promoting integrated cooperation among Cambodia, Laos, Thailand and Vietnam
China— A dialogue partner but not a member of the commission (stay clued in on the discussions, without having to take on any legal obligations— had refused to join the Mekong Treaty in 1995)
Rivers dammed by China— The Mekong (Southeast Asia's lifeline that is running at a record low since late last year), the Brahmaputra, the Arun, the Indus, the Sutlej, the Irtysh, the Illy, the Amur and the Salween
Fundamental Change in Asia's Water Map—
Before the communists seized power— China had only 22 dams of any significant size (Today: China surpasses 90,000)
After the communists took power in China in 1949—
Guns establishing China's chokehold on almost every major transnational river system in Asia
By forcibly absorbing the Tibetan plateau (the giant incubator of Asia's main river systems) and Xinjiang (the starting point of the Irtysh and the Illy), China became the source of transboundary river flows to the largest number of countries in the world, extending from the Indo-China peninsula and South Asia to Kazakhstan and Russia.
China's dam frenzy—
Dam builders are presently shifting their focus from the dam-saturated internal rivers (some of which, like the Yellow, are dying) to the international rivers— raising fears that the degradation haunting China's internal rivers could be replicated in the international rivers.
Started erecting mega-dams— Latest dams on the Mekong:

the 4,200-megawatt Xiaowan (taller than the Eiffel Tower in Paris)
the 5,850-megawatt Nuozhadu, with a 190 sq. km reservoir
Water-sharing:
China has simply ignored the idea of a water-sharing treaty with any neighbour, thus, sparking concern, growing among downstream neighbours over China- seeking to turn water into a potential political weapon (China has much leverage over its neighbours who are reeling under very low freshwater availability)
Mekong basin:
China has denied that it is stealing shared waters or that its existing dams have contributed to river depletion and recurrent drought in the downstream region.
By ramping up construction of additional giant dams, it has virtually ensured long-term adverse impacts on the critical river system
Landlocked Laos also plans to build more Mekong dams in order to make hydropower exports, especially to China—the mainstay of its economy (with Chinese assistance)
Connecting the Dots:
Can China's 'dam-frenzy' be contained? What is the approach that the downstream countries need to adopt to co-opt China in to rules-based cooperation?
MUST READ
A drought of action – India has a lasting infrastructure of public support that can, in principle, be expanded in drought years to provide relief. But business as usual seems to be the motto
Related Articles:
Permanently fighting drought in India
MGNREGA : Don't dismantle, Reform
This reform must begin within
The Malegaon reminder
Make The Link- Inter-linking of rivers holds the key to addressing water scarcity.
Related Articles:
Interlinking of Rivers: Challenges 
Buck stops at bench- Judiciary is part of the problem of judicial vacancy and case pendency. It must also be part of the solution
Related Articles:
India's overburdened and understaffed Judiciary
India is the biggest virtual exporter of water-Except for Brahmaputra and Mahanadi, all river basins with a population of more than 20 million face water shortage for the major part of the year
FDI inflows: short-term gain, long-term pain?- It would be prudent to separate current foreign direct investment inflows from related outflows in future that contribute to current account deterioration instead
MIND MAPS
1. Shanghai Cooperation Organization (SCO)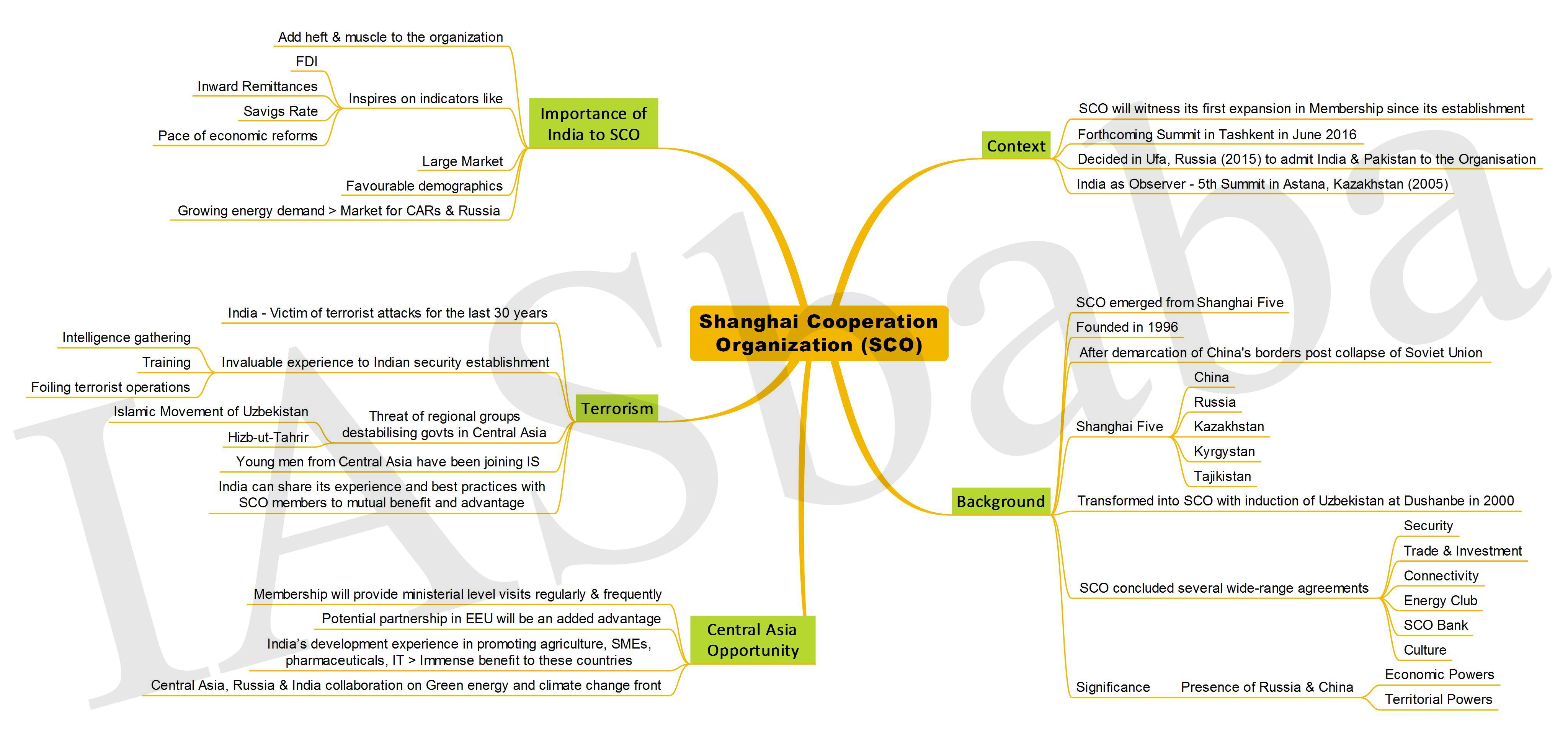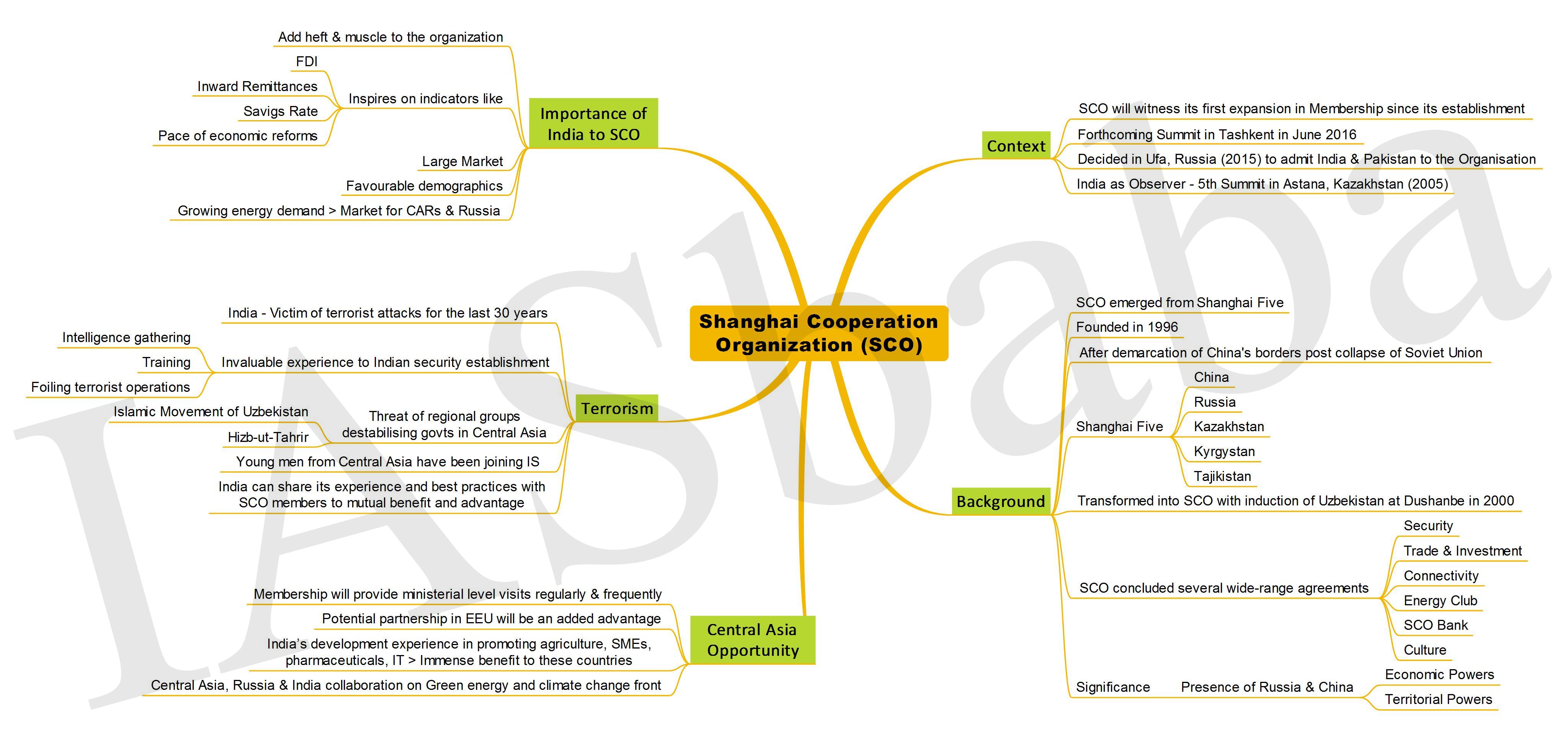 For a dedicated peer group, Motivation & Quick updates, Join our official telegram channel – https://t.me/IASbabaOfficialAccount
Subscribe to our YouTube Channel HERE to watch Explainer Videos, Strategy Sessions, Toppers Talks & many more…