SYNOPSIS- IASbaba's TLP 2016 [5th April] – UPSC Mains GS Questions [HOT]
---
1. The fusion of Indian classical dance forms with popular Western culture is an innovative approach and must be explored further to enhance their reach and popularity. Do you agree? Critically examine.
Introduction:
Various cultures in the world are expressed by many aspects, one of those is dance. These cultures have preserved, nourished and took pride in respective dance forms. With globalization, changing times, popular culture and media, etc. these traditional boundaries of dance forms are getting thinner. The fusion of Indian classical dance forms (Bharatnatyam, katthak, etc.) with popular western culture is an innovative approach and this can be explored further to enhance their teach and popularity.
Do you agree?
Yes or no
Critical analysis:
Pros:
Soft diplomacy will be enhanced.
Popularity of art will attract tourists. Ex: popularity of kaalbeliya dance gave the initial push to attract tourists to Rajasthan.
Revival of the art form.
Many classical dancers are deprived of adequate earning. The promotion of fusion will give them an opportunity to earn.
It glorifies Indian tradition and culture all over the world. It helps Indian dances to get a place in UNESCO Intangible Cultural Heritage Lists.
Influx of foreign students to learn the dance forms.
Attract the youth to the waning popularity of classical dances.
Cons:
Fusion may suppress our Indian classical dance's uniqueness and elegance. Western dance forms like hip-hop with their new generation appearance many invite more popularity than difficult Indian dances.
It can be a hindrance to the livelihood of traditional artists.
Along with fusion dance forms it invites other bad habits like drug use to Indian youth.
European dance forms like ballet with more exposing dressing style may invite opposition from extremist groups.
It may hurt religious views since many Classical dance forms are associated with religious beliefs such as BharathNatyam.
Conclusion:
Reiterate your stand.
Indian classical dance is soft and calm whereas western dance is energetic and fast. When these two would meet they would balance each other. It would promote multi-culturism and would be beneficial for economy also. But if this balance is disturbed then it would be a clear deterioration to both styles of dances. So care has to be taken that fusion should never be turned into confusion.
Best answer: Naveen
http://a.disquscdn.com/uploads/mediaembed/images/3455/40/original.jpg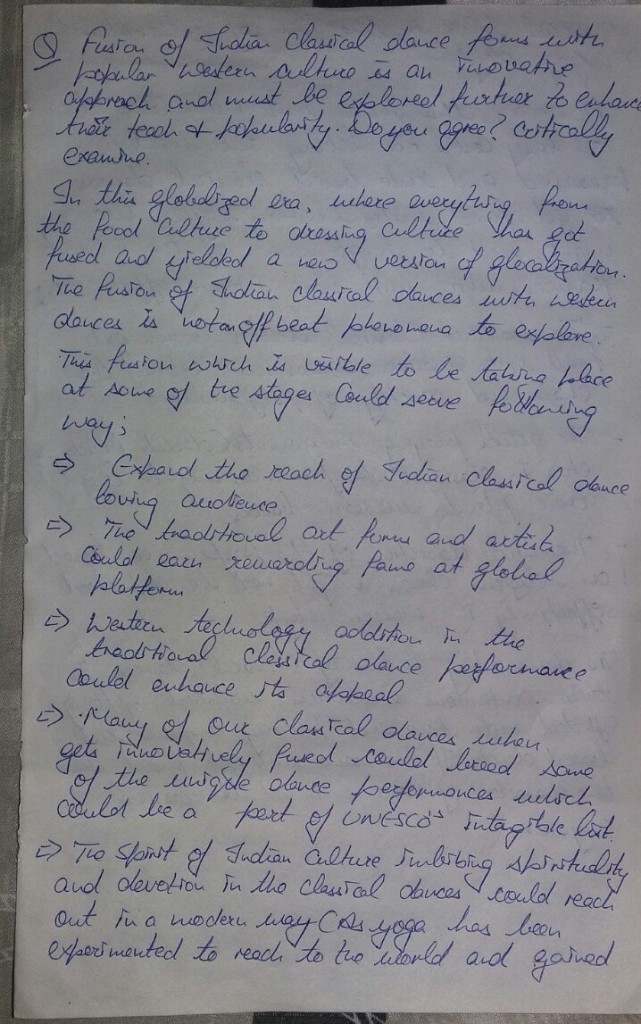 http://a.disquscdn.com/uploads/mediaembed/images/3455/42/original.jpg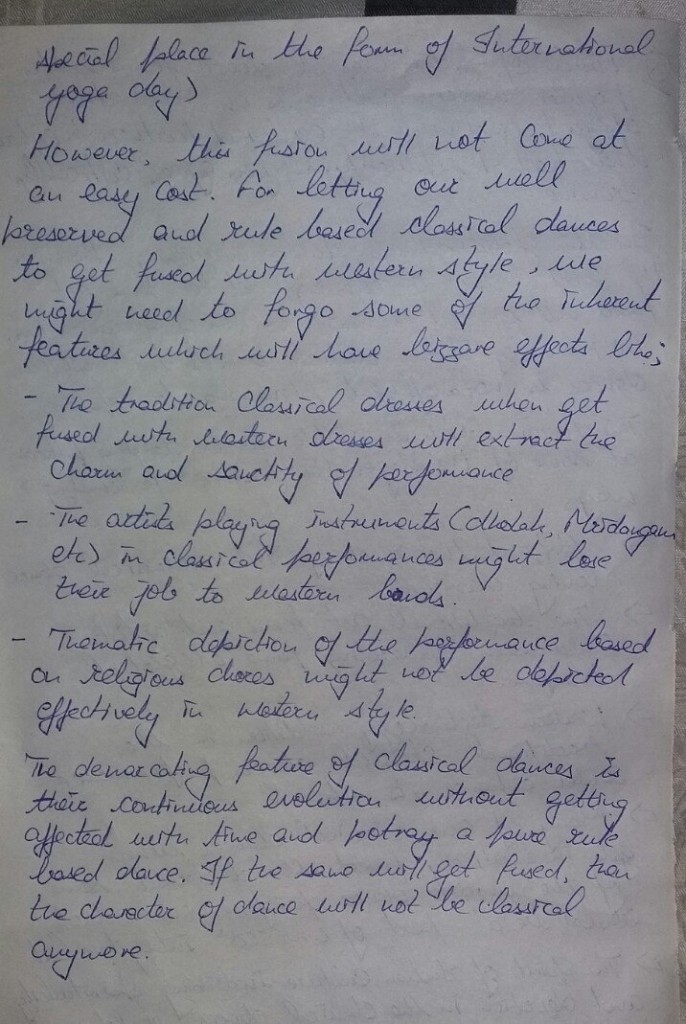 ---
2. The regulatory framework of an economy comprises various bodies, statutes and regulations. However, the pace of change has been so rapid particularly in service delivery like banking, e-commerce and app based services that the regulators are finding it difficult to cope up. Analyze by giving examples.
Write briefly about the sectors and the regulators, how the rapid changes in service industry is have led to legal and regulatory vacuum
Why the regulation is lagging behind:
The basic reason for this can be attributed to the lack of a holistic framework of rules and regulations in order to regulate the online and mobile based services. For example , the app based cab services, they do not come under any regulatory framework. Being app based taxi aggregators , there is no provision for their registration under the Motor Vehicle Act. As a result there have been cases of sexual assault on passengers, due to lack of background checks and accountability of drivers. Peak hour /rush hours charges are completely arbitrary, a 200rs ride may cost 800rs.
Wide array of financial technology start-ups have started to build a financial system for the digital age. For e.g. – digital wallets which enable easier money transactions (bill payments , money transfers , recharges etc.). With a large number of such app based services , regulation is becoming tougher by the day with increasing fraud cases , leakage of account and personal details etc. recent RS49 withdrawal scam using Mobikwik in Bangalore is a case in point.
E-commerce industry is another such example where regulations came in very late, the e-commerce providers started giving huge discounts to capture market share, these predatory practices have generated unequal playing field for the traditional brick and mortar stores. The competition commission of India and the Government of India are yet to come up with comprehensive guidelines and laws regarding these players
Taxation issues: since most of the e-commerce players operate on All India level, sales tax collection becomes confusing for the respective states, as there are no proper regulation in place,eg: recent order of government of Karnataka to levy sales tax on place of origin.
Inter-state tax division is also a point of contention in the absence of clear laws. As both the states of origin and state of consumption claim to have jurisdiction on the sales taxes.
Consumer complaints: in case of delivery or substandard of duplicate goods the consumers are most effected as their district or state Consumer Forum will not have jurisdiction over the seller who is situated in some other state
Problems faced by the regulators
Absence of regulators because of absence of law, since there is no law regarding e-commerce industry, there is no regulator.
Lack of jurisdiction, as many players change their business models very often, the regulators need amendment of the law to increase their jurisdiction
Lack of manpower as almost all the regulators in India are understaffed and overburdened.
Lack of technology and technological expertise of the manpower employed with the Regulators.
Briefly write your opinion and conclude the answer.
Best answer: Gaurav
Strong regulatory framework is sine qua non for effective and efficient working for any sector, particularly more so in those areas which has direct impact on day to day life of people. Regulations impart accountability, transparency in the system, brings level playing field and establishes adherence to principles.
Indian economic system is fine examples of healthy regulatory framework where consortium of RBI, SEBI, CCI, IRDA, PFRDA covers wide range of activities from banking to security trading to online financial transactions. This has overall imparted a stability to economic fundamentals of the country and ensured that system is able to handle global vulnerabilities without major debacles.
However recent times has witnessed swift pace of technological changes which are bringing widespread disruption in the mainstream economic ecosystem. E-commerce, app based transactions, complex financial transactions, personal mobile banking are some of the examples. These changes however have brought their own set of challenges and regulators are finding it difficult to cope up. For .eg-
1.It took months for SEBI to come out with norms related to Initial Public Offer of technology intensive firm which were unsuitable to register in current format on stock markets
2.Complex financial instruments involving multiple operations are difficult to be covered under single regulator and this can be seen from Sharda, Satyam Scam
3. Mobile wallets initially were not under the definition of RBI and took a while before coming up with guidelines
4.Cyber fraud is rampant in India and regulators are finding it difficult to cover them
Clearly the response of regulators to "new issues" has been ad-hoc without a comprehensive framework. Besides regulators suffer from multivariate challenges-
1. Technology handicap
2. Skilled manpower and human resource training
3. Lack of co-ordination among other agencies
4. Anachronistic guidelines which do not meet demand of time
In this regard suggestion of FSLRC report by Justice BN Shrikrishna can be adopted which recommended formation of Unified Financial Agency by merger of IRDA, SEBI, FMC and PFRDA which will impart necessary teeth to tackle the new challenges of internet age.
---
3. Border management strategies should not only focus on strengthening the border protection forces but also on generating goodwill with the people residing in the border regions. Do you agree? Analyse in the context of India.
Introduction
India has extremely complex borders. From Sir Creek to the Bay of Bengal, India's land borders present a geographical diversity of a unique kind. Much of its borders are topographically difficult.
Challenges in border management are peculiar like; some stretches of border are porous and easily negotiable; some stretches of border are un-demarcated etc. Border is physically unguarded at many places due to terrain constraints and lack of approachability. Also, these border regions have their own ethnic, cultural, religious and racial configurations distinct from the mainland and in some areas depicting an unmistakable affinity with those of across the borders.
India's neighbourhood is in turmoil. Several of India's neighbours are undergoing political and economic instability. India also has continuing border disputes with several of its neighbours. Uncertain borders not only raise bilateral tensions but also facilitate cross border infiltration, illegal migration, smuggling and crime. Illegal migration has emerged as one of the major national security challenges.
The remoteness of local administration, its low visibility, illegal immigration, smuggling of arms ammunition and narcotic substances require number of measures from the point of view of national security.
Frequent shelling from across the border, thinly spread out administration and inadequate social and economic infrastructure make life difficult in these area. Concerted efforts are being made by our hostile neighbours through allurements, subversion and promotion of religious fundamentalism to generate a feeling of alienation among the border population.
Often, the criminals with vested interests work against Border Guarding Forces (BGF) personnel and exploit the situation to their disadvantage. Local population because of various reasons including hidden economic benefits, local social pressure comes in support of such vested interests. Hence, BGF sometimes face gheraos, demonstrations etc, quite often, when they make any seizure/apprehension. Sometimes force personnel have been even lynched. Criminals often ensure that such incidents result in a confrontation between the BGF and the public.
There is often a lack of communication between the local people and the BGF causing conflict/distrust. Hence, a communication gap exists which is detrimental to a congenial working environment.
The border population faces many other disadvantages as vulnerability to actions of border criminals, restriction/control over movement by forces, lack of infrastructure, means of communication, education, medical, water and remoteness.
Therefore, integration of local community in border management, preventing alienation of border population, winning their hearts and minds by formulating people inclusive border management policies is of paramount importance. (Cite some recent examples such as Civic Action Programmes (CAP) and population support measures)
Benefits:
Reporting of any illegal activities and infiltration along the border.
Keeping allotted areas under surveillance.
Reporting of any abnormal activity especially in rugged terrain.
Reporting of subversive activity being carried out by the enemy.
Employed in construction of roads, tracks and maintenance of border fencing.
In times of peace as well as hostilities, local population can provide invaluable information regarding enemy build-up and activities.
Protection of villages against criminals/dacoits etc from across the border.
Provide guides to the Armed Forces whenever required.
Conclusion:
Hence, considering the above aspects it is widely agreed that border management strategies should not only focus on strengthening the border protection forces but also on generating goodwill with the people residing in the border regions.
Best answer: Mahi
India's territorial borders both land and sea suffers from diverse physical ethnic and cultural contradictions. While the state has a major role in securing the frontiers, local people living there, too can play an important role in securing our interests.
The local population suffers a lot in terms of causalities due to cross border fire, restriction on movement by forces, lack of employment and infrastructural facilities etc. The border guarding forces have to develop ways and means to involve local people in border management as they can be very helpful in
Reporting of any illegal activities and infiltration along the border.
Can help in construction of roads and other infrastructure in border areas which is very crucial for safe and secure border
Can help forces both in time of peace and hostilities by providing information about enemy hideouts and movements
As a guide to forces in hilly and forested terrain where there local knowledge is very instrumental in neutralising the enemy threat
The support of local people can greatly boost the moral of border guarding forces and they can efficiently do their work
However , before their help can be taken it is necessary that their problems are addressed properly. They must not be harassed by draconian provisions of AFSPA which create a bad image of forces, they must be provided proper livelihood and employment opportunities and steps must be taken to generate good will amongst the local populations by forces.
Not only this, there should be proper channels of communication between the locals and forces. Forces should try to learn local language and try to create positive image among them. The problems of naxalism and insurgency could have been athing of past if tribals and villagers aspirations have been taken on board.
Knowing fully well the importance of local population in border management border guarding forces must devise ways and means to mainstream local people in border management.
For a dedicated peer group, Motivation & Quick updates, Join our official telegram channel – https://t.me/IASbabaOfficialAccount
Subscribe to our YouTube Channel HERE to watch Explainer Videos, Strategy Sessions, Toppers Talks & many more…