IASbaba's Daily Current Affairs – 4th May, 2016
NATIONAL
TOPIC: 
General studies 1:
Indian culture & Heritage – the salient aspects of Art Forms, Literature and Architecture from ancient to modern times.
General studies 2:
Government policies and interventions for development in various sectors and issues arising out of their design and implementation.
Fire at the National Museum of Natural History
Established in 1972, the National Museum of Natural History in New Delhi is one of two museums focusing on nature in India
Functions under the Ministry of Environment and Forests
The Fire—
The fire that broke out in the early hours of April 26, spread to five of the six floors that the museum occupies, and large parts of its collections were destroyed
Took three and a half hours to bring the fire under control and another three hours of cooling down operations— used 6 cars with hydraulic platforms to douse the fire in the top floors and 200 fire fighters were rushed in from different parts of the capital
Rapid Spread of Fire: The wooden partitions to separate different wings of the museum on each of the four floors as well as the specimens, the stuffed animals and the chemicals that were all highly combustible
Fire safety measures— Present but ineffective and not functional in the FICCI building
The building did not have a fire clearance certificate
NOC (no objection certificate) from the fire department was approved only for the auditorium
The pumps were not working when the fire personnel needed water
Museums in India: Aesthetics first, disaster management last
Most of the museums in the country have been designed with aesthetics uppermost on the minds of their architects and without any disaster risk management plan
Issues—
Fire safety and disaster management plans are drafted in retrospect, after museums or public spaces have already been designed and constructed – they are not factored in at the design stage thereby making the implementation difficult
Circulation, ventilation, light and safety are the usual casualties, as planned features — exit points, staircases, landings, windows, open-to-sky areas — are encroached upon or closed off for space, sometimes "security", reasons
"Temporary" construction— often with cheap and harmful materials like asbestos, adding further to the risk
Maintenance is never adequate and regular fire and safety drills are rare
Sanitation facilities—Toilets are filthy, galleries damp and dusty
Therefore, need for the Government to give more weightage to careful planning and ensure the durability of display cases in the event of a blast or fire
Reorientation of the evacuation routes for a safer and timely evacuation (The museum was believed to be more makeshift in nature with poor visitor facilitation plan for movement from one gallery to another)
There should be different fire-fighting systems in different galleries because the libraries and the exhibits can be destroyed as much by water as by fire
Other disasters—
Fire, water leakages and flooding that can wreak enormous and immediate damage, to museum collections and the public.
Inappropriate sewage and drainage systems, unhygienic and offensive garbage disposal arrangements, including heaps of junk and malba (left to lie around for months and years), mosquito-infested environments—pose health and safety hazards in government museums.
Wrong storage, handling and display, the dust, the humidity, the insects, the incomplete accessioning of invaluable objects, theft—plague our public museums and that slowly, often not so slowly, destroy the treasures held in the collections
Architecture of the Museum to be blamed—
Was housed in a building not designed for it with various additions and changes made over time in completely arbitrary ways—without any reference to original design and function
More makeshift in nature with poor visitor facilitation plan for movement from one gallery to another
Way Ahead—
Fire safety audit need to be made compulsory for all the museums or for that matter all the important public buildings
Rule bending—a serious offence: The National Building Code, prepared under the guidance of the Bureau of Indian Standards and updated periodically, which lays down the ground rules for correct building practice and maintenance, including detailed guidelines for fire safety needs to be seriously followed and mandatorily implemented.
Competence of Ministry— Bringing all museums under one ministry would be of help only when:
Ministry develops a certain amount of competence in the areas where new development is required and is happening
Rules and practices related to domain expertise and scope to standardise and streamline rules and procedures, including safety protocols are well-formulated taking on board all the stakeholders involved
The concerned ministry could then become an advisory and watchdog body for the adoption and upgrade of museum best practice across all public museums
Implementation of best practice—
Requires a thorough overhaul of the fundamental structure of the public museum
With autonomy being the key, the museum has to be run with a vision, a long-term plan, and the freedom to hire the best professionals
Audit and accountability are critical, alongside a work ethic that valorises output and makes inaction culpable
Should be government-funded but not government-administered, and must have a very carefully designed constitution that allows the selection of appropriate trustees and their independence
Initiate an enabling environment for both national and international talent to flourish
Need to explore public-private partnerships:
To raise the quality of output, transparency and accountability
Contribute significantly to the income that a museum is able to generate on its own 
Connecting the Dots:
Keeping in mind the recent fire at the National Museum of Natural History, do you think that our public museums have the potential to become sites of interesting, enriching, pleasurable, clean and safe experience? Critically examine.
Related Articles:
IASbaba Mindmap on the above link: http://iasbaba.com/wp-content/uploads/2016/01/State-of-Indias-museum-JPEG.jpg
ECONOMICS
TOPIC:  General studies 3

Infrastructure: Energy, Ports, Roads, Airports, Railways, etc.
Facilitating trade in Indian ports
Why in news?
Recently the Bureau of Research on Industry and Economic Fundamentals (BRIEF) conducted a study titled 'Bridging Infrastructural Deficits at Select Trade Ports in India'.
The study observed that seaports displayed specific patterns of issues based on differences in geography, infrastructural capacity, operational aspects, contractual arrangements, and so on.
What does the study say wrt each port in India?
Refer:  the case studies part of http://www.thehindu.com/todays-paper/tp-opinion/facilitating-trade-in-indian-ports/article8553021.ece
How important is port sector to India?
The Indian port sector plays a vital role in sustaining growth in the country's trade and commerce.
According to the Ministry of Shipping, around 95 per cent of India's trading by volume and 70 per cent by value is done through maritime transport.
It also has an important role in fulfilling India's dream of achieving greater global engagement and integration with its trading partners.
Much of India's port-led development initiative is expected to revolve around growth in maritime trade, given its share in terms of both volume and value in the country's overall trade statistics.
Sagarmala project:
The prime objective of the Sagarmala project is to promote port-led direct and indirect development and to provide infrastructure to transport goods to and from ports quickly, efficiently and cost-effectively.
Therefore, aim to develop access to new development regions with intermodal solutions and promotion of the optimum modal split, enhanced connectivity with main economic centres and beyond through expansion of rail, inland water, coastal and road services.
For more information with respect to the concept and implementation: refer http://pib.nic.in/newsite/PrintRelease.aspx?relid=117691
 Way ahead:
As India tries to grow big in port-led activities in the country, there is a need for the Central government to undertake measures to facilitate trade through Indian ports, either in terms of building and maintaining infrastructure for handling desired capacities or undertaking relevant policy and regulatory reforms.
For more information on port sector: refer http://www.ibef.org/industry/ports-india-shipping.aspx
Connecting the dots:
To what extent do you think sagarmala project is essential to realise the objectives of blue revolution in India.
Critically examine the importance of port sector in realising make in India project.
Related Articles:
Maritime India Summit 2016: Taking initiatives to push maritime trade
MUST READ
A job for every Indian
Related Articles:
All India Radio- LABOUR LAWS AND TRADE UNIONS
Growing back our broadleaf forests – Forest fires highlight a larger cycle of threats in the western Himalaya. Increasing the area under broadleaf forests throughout is the only way forward
Related Articles:
The indirect benefits transfer
Related Articles:
The curious case of the missing Indian taxpayers
Beijing's terror conundrum- China's counter-terror relationship with Pakistan will continue to test China-India relations.
Don't undermine the strides made by Jan-Dhan– Paucity of information regarding the progress of financial inclusion in India has been a major challenge. The situation is now changing, with data being made available online
The falling buoyancy in state tax collections- Just like for the Centre, a shortfall in tax collections can lead to higher fiscal deficit for states as well
India's problem with the girl child- Anandiben Patel has set the wrong example for approaching the issue
Wrong recipe – The Food Security Act has further messed upour public distribution system
MIND MAPS
1. Act East Policy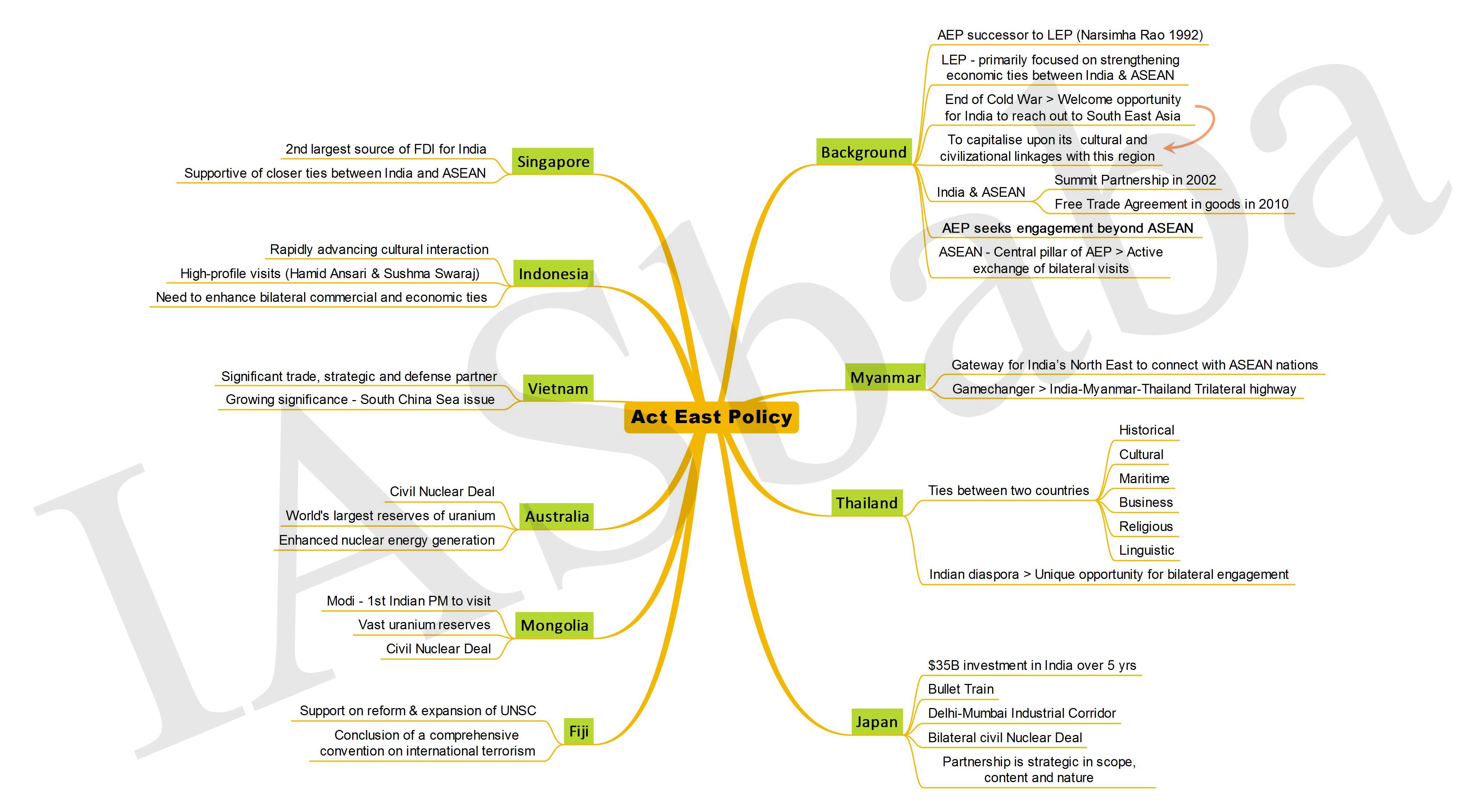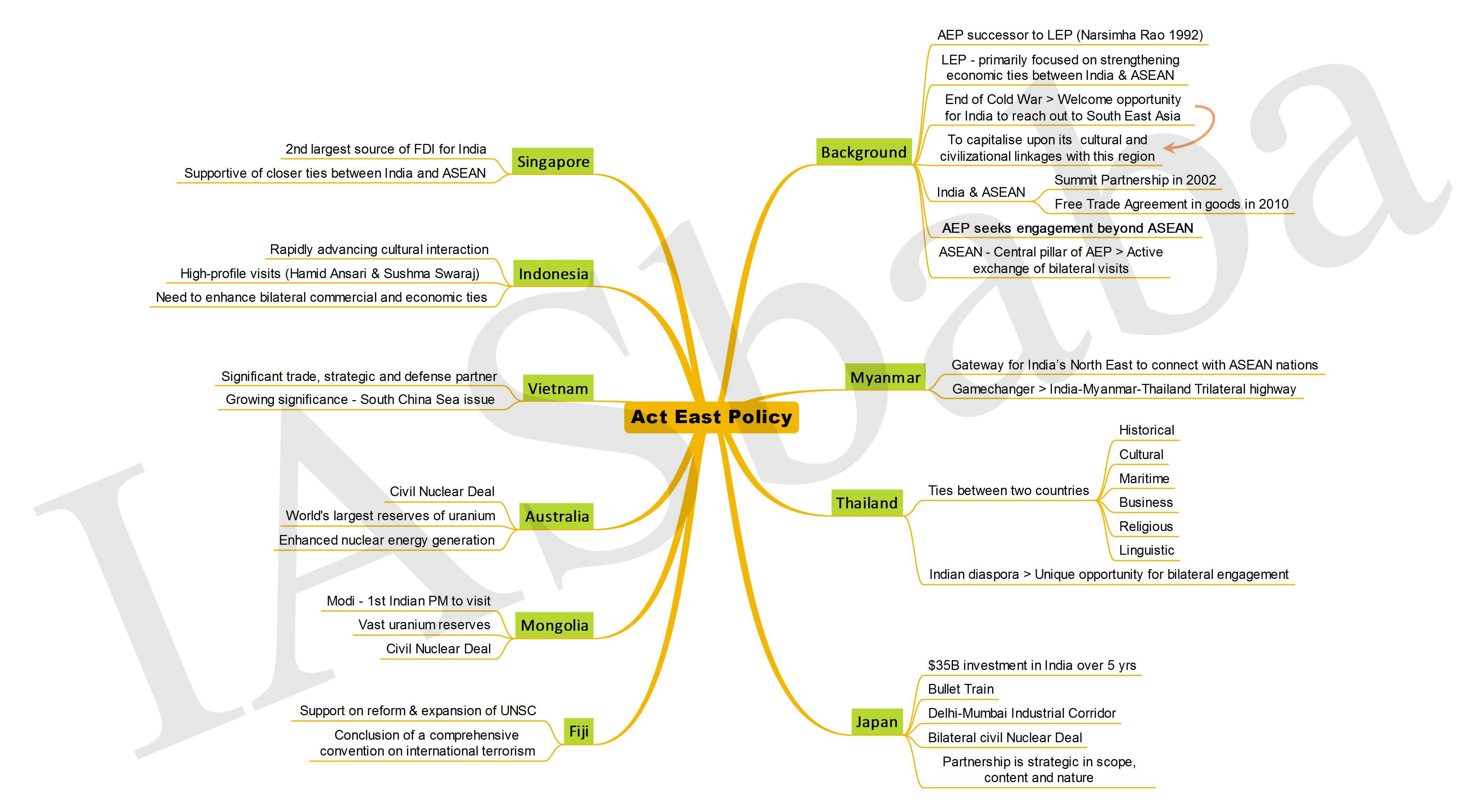 For a dedicated peer group, Motivation & Quick updates, Join our official telegram channel – https://t.me/IASbabaOfficialAccount
Subscribe to our YouTube Channel HERE to watch Explainer Videos, Strategy Sessions, Toppers Talks & many more…