IASbaba's Daily Current Affairs – 26th December 2016
INTERNAL SECURITY 
TOPIC: General Studies 3

Challenges to internal security through communication networks, role of media and social networking sites in internal security challenges, basics of cyber security.
Data Privacy- A matter of concern
Issue Involved- Consumer Privacy has been one such issue in India which has not received sufficient attention in India corresponding to the critical nature of the matter. The problems with respect to privacy include:
Lack of awareness among people with respect to breach of privacy and the utilisation of data.
Recent examples of privacy breach also show that India economy is thoroughly unprepared for safeguarding data privacy.
Lack of regulations based on global standards.
Obsolete principles guiding privacy in India based on recommendations of the Ajit Prakash Shah Committee.
Justice A P Shah Report on Privacy
The panel headed by Justice A P Shah was constituted after concerns were raised about the impact on privacy on the data of individuals due to emergence of several national programmes such as Unique Identification number, NATGRID, DNA profiling, most of which will be implemented through information and communication technology (ICT) platforms.
The recommendations included an over-arching law to protect privacy and personal data in the private and public spheres and suggested setting up privacy commissioners, both at the Central and State levels. It additionally enlisted nine principles to guide privacy and data use along with exceptions to the right to privacy. The nine principles pertain to notice, choice, collection limitation, purpose limitation, disclosure, access, security, openness, and accountability.
Contemporary Analysis of the Principles
Notice and choice
These two principles together create the "notice and choice model" of consumer privacy. As we all have experienced while accessing services of websites and mobile applications, service provider provides notice in the form of a privacy policy and we as consumers exercise choice by agreeing to and accepting the terms and conditions. In a competitive market, various service providers should have ideally competed to provide the best privacy. However, the same has not been held true. In fact privacy policies have always been complex for a layman which may be attributed to the complex nature of commercial transactions themselves.
There has been a major failure in terms of awareness where the consumer would have demanded better and higher privacy from the service providers. This is also due to lack of any "choice" available with the consumers.
Big Data and the Principles of Limitation
Big Data are extremely large sets of data that are usually collected in massive quantity and then analysed computationally to reveal patterns, trends, and associations, especially relating to human behaviour and interactions.
The problem arises when the same data is used for purposes other than those for which the same is collected. Further, it is obvious that more the data more will be the uses that it will serve. Therefore, this urge for more and more data is endangering the privacy of consumers.
Herein the principle of collection limitation and purpose limitation are bound to be violated.
Smart Data and the Principle of Disclosure
Other than big data, smart data which is referred to as the operational element of big data endangers the remaining principles. Smart data can be understood in the light of the Internet of Things (IoT).
Data collected usually through sensors, cameras, radio frequency identification readers (RFID) etc consists of smart data. As and when the IoT becomes operational in a more efficient manner sensors will be ubiquitous, connected, and freed from human interaction.
As the IoT grows, all devices whether wearable on the body or the home devices or even the remote devices will be connected to each other. In a digital age where data sharing is so quick, the principle of disclosure which restricts data sharing without necessary permissions will be moulded as per needs and preferences. This shall also threaten consumer privacy.
Smart Data and the Principle of Access
As India aspires to go digital through the Digital India Programme, smart data will be integrated into all digital mission such as Smart Cities project. In such a situation, people will not be able to review their personal data which is being collected through the digital networks.  The principle of access and data security will take a major blow in this case as data sharing increases.
Conclusion
The Shah principles are on the verge of obsolescence in this digital era. It is not possible for them to pass this test with the increasing significance of big data and the increasing need for smart data.
The need of the hour is to modify these principles wherever they are still relevant. In other areas, a new and contemporary approach is needed.
Instead of the notice and choice model, India needs to introduce a model focused on data use. A use-focused model will categorize data uses on the basis of harm to privacy. In this model, data can be tagged at the moment of its creation with a list of permissible uses thus allowing better judgment to the consumers as well in terms of threat to their privacy. For example, a phone's roving location could be shared in real time with other phones to plot travel times and for efficient transport management but will not be shared with the employer of the individual.
Other than data use, data collection also needs to be regulated. Designing devices that minimize data collection but are compatible with the IoT is another solution. This will keep a check on the data collection.
For the segment of population which is not interested in sharing the data or do not want to be a part of this data exchange, their data should not be collected by default. In fact the default mode should be now changed to non-collection unless consumers opt in.
Hence, data collection has to be understood in conjunction with privacy. Privacy encompasses a number of inter-related values, rights and interests unique to individuals. These may be the right to be left alone, the right to control personal information, the freedom from surveillance and integrity of one's body. As we move towards a Digital India, it is very important to respect these values and rights.
Connecting the dots
As India is undergoing an era of digital transition, discuss why consumer data privacy is a challenge that needs to be addressed? Also suggest measures to safeguard consumer's right to privacy.
INTERNATIONAL
TOPIC: General Studies 2

India and its neighbourhood- relations.
Effect of policies and politics of developed and developing countries on India's interests
Speak up for the Rohingyas
In October 2016, Myanmar soldiers went to Rakhine and killed over 130 Rohingyas and torched dozens of the villages on the basis of suspicion of Rohingya insurgents killing the Burmese policemen.
As per UN, about 30,000 Rohingyas have been displaced by the ongoing violence in Rakhine.
As a result, Myanmar called for a special meeting with Foreign Ministers of ASEAN recently as a response to protests in East and South Asia and beyond over the deteriorating Rohingya situation in Rakhine.
The Rohingya crisis
Rohingya, a heavily-persecuted ethnic Muslim minority of around one million people live in Rakhine, a restive state in Western Myanmar.
The Myanmar government has forcibly segregated Rohingya from the rest of the population in Rakhine state since 1982 when the government stripped them of their citizenship.
The 1982 Burma citizenship law excluded the Rohingya from a list of 135 officially recognized ethnic groups as the government insists that Rohingyas are illegal immigrants from neighbouring Bangladesh and have no history in the country.
The Rohingya face long-standing ethnic and religious tensions with the Buddhist majority in Rakhine State, which views them as unwanted interlopers.
Since decades they are living in ghetto-like enclaves, from which they aren't allowed to leave. They have very limited access to basic services and viable livelihood opportunities due to strict movement restrictions.
The U.S. State Department's latest human rights report states that more than 100,000 Rohingya have fled Rakhine State since 2012. This exodus is "facilitated by [Myanmar] military and security forces and criminal smugglers and traffickers," who subject the migrants to further abuse and exploitation.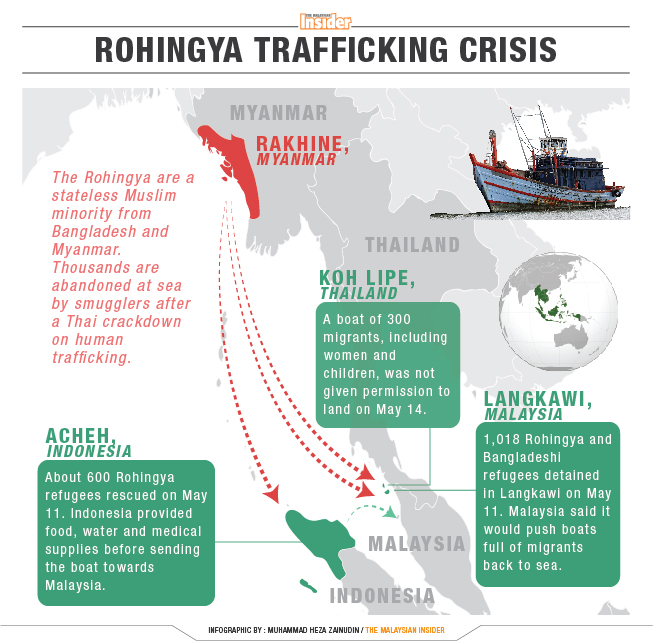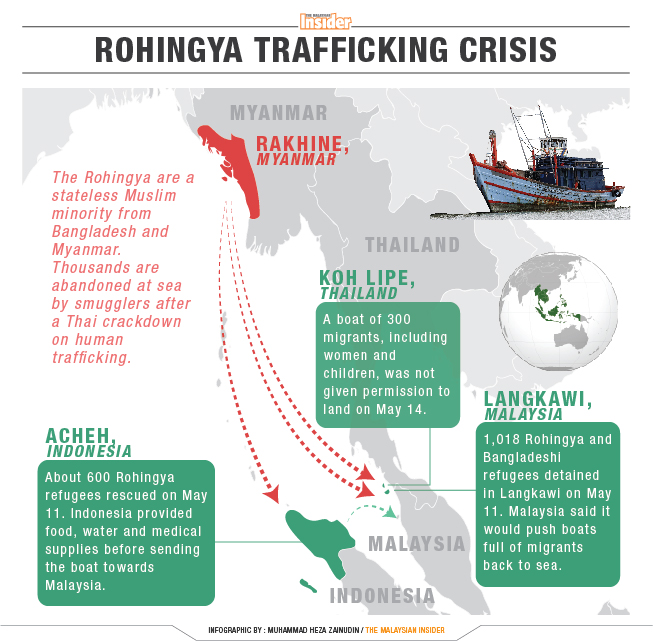 Picture Credit: http://www.franciscansforjustice.org/wp-content/uploads/2015/06/graphic_Rohingya_trafficking_crisis_heza_150515_cs6_english.jpg
Managing the crisis
The crisis shows that people facing persecution will flee borders, regardless of exogenous factors. This is most certainly true for the Rohingyas.
Around 30000 Rohingyas have been displaced internally and thousands have tried to flee to neighbouring countries, especially Bangladesh, through perilous routes.
During the European migration crisis, the leaders of the European Union have proactively debated and responded somewhat positively to finding a humane solution to it, even though the problem still persists.
Contrary to this, the emerging leaders in Asia such as China and India have remained mostly passive on the long-standing Rohingya refugee crisis as it has direct geopolitical implications on it.
China and India share a border with Myanmar and have vested economic interests in the country owing to trade and investment ties.
India, Myanmar and Rohingyas
The building relationship
India has been trying to build a strong relationship with Myanmar in recent years, both on the economic and strategic fronts, by seeking to enhance connectivity through the Northeastern States.
In addition, India has also been assisting Myanmar with capacity building in areas such as English language training and Information Technology.
Under the Indian Technical and Economic Cooperation Programme, 500 slots have been reserved for Myanmar nationals with the goal of strengthening human resource capacity.
This clearly shows that India would like to play a constructive role in Mynamar's transition to a robust democracy.
Dealing with internal affairs
India's relation with Myanmar are recently taking an upward turn. When the military took over the Myanmar leadership, India suspended its relations with the neighbouring country. This is when China made inroads into Myanmar.
India has played a constructive role in other crises such as the Yemen civil war and the Nepal earthquake. But, India has been silent in the context of the Rohingya crisis.
As Indian leadership has highlighted in the UNGA- that 'Vasudhaiva Katumbakam' — the whole world is one family — is India's philosophy, India can take certain steps with respect to Rohingyas

It can contribute to the rescue efforts of the International Organization for Migration, which has already collected $I million for rescue efforts.
It can express displeasure against the atrocities on the Rohingya community, especially since it believes in democracy, liberalism and pluralism.
An unstable Myanmar is likely to have strong security implications for India. Hence, India needs to assure that its eastern neighbourhood is secured.

India has supported the Hindu minorities from Bangladesh and Pakistan. Even during the 1971 war, India provided shelter to millions of East Pakistani refugees. At the end of war, there was one of the most orderly and peaceful return of refugees to their land from India.
India can play a constructive role in maintaining the security stability in the region as the persecuted Rohingya Muslims are likely to provide fertile recruiting grounds for extremist groups.
Hence there should also be similar approach of India towards Rohingyas and project itself as a regional leader who rises above narrow economic and geopolitical interests and take a stance consistent with the moral and spiritual values with which it is identified.
Conclusion
India has welcomed Rohingyas as long as they obtain a valid visa and have a refugee card. Without a refugee card, the Rohingyas can't claim land, health benefits or education for their kids. According to a Reuters report, only 9000 of the 36,000 Rohingyas who live in India are registered. Thus, though in principle, all refugees in India have access to government health and education services, many Rohingyas struggle for these as they don't have an official refugee status.
Considering India's most mature democracy in Asia with much-touted pluralistic and secular ideologies, India should respond on humanitarian grounds to not allow the security and economic implications for the region spiral out of control.
Connecting the dots:
What is the significance of neighbourhood stability with respect to India's internal security? Discuss.
In order to establish India as a regional power, India has to make a space for itself in economic, political as well as security issues. Do you agree? Support your stand with suitable example.
MUST READ
Indictment by abstention
An era of Caesars
Challenge of digital black economy
Cashless economy: A distracting mirage
Atal Bihari Vajpayee's politics of agreement
Stop blacklisting arms companies
Challenges of 2016 will spill over to 2017
To get India's clinical research sector live and kicking, again
For a dedicated peer group, Motivation & Quick updates, Join our official telegram channel – https://t.me/IASbabaOfficialAccount
Subscribe to our YouTube Channel HERE to watch Explainer Videos, Strategy Sessions, Toppers Talks & many more…