IASbaba's Daily Current Affairs – 22nd March 2017
HEALTH CARE
TOPIC: General Studies 2

Issues relating to development and management of Social Sector/Services relating to Health
Development processes and the development industry the role of NGOs, SHGs, various groups and associations, donors, charities, institutional and other stakeholders
HIV Bill
Introduction
HIV is a crucial concern for India and receives highest policy attention. It has seen phase wise attention with NACO as the nodal institution. The new HIV bill has raised interest and concerns simultaneously.
Issue:
The long-awaited HIV Bill, a crucial public health legislation guaranteeing equal rights to India's HIV community, was passed by the Rajya Sabha on Tuesday.
India's HIV community, however, confessed itself 'disappointed' as the Bill places an obligation on the State governments to provide treatment "as far as possible", making it weak and open to interpretation.
"India's HIV community cannot and will not accept this Bill, if the contentious clause 'as far as possible' is not removed.
This HIV Bill, instead of protecting and safeguarding our welfare is now protecting the government.
The Health Minister's verbal assurance that no one will be denied treatment is welcoming but this has no constitutional or legal status.

The community wants concrete assurance and safeguard of our treatment in the Indian Constitution said a patient-activist with the International Treatment Preparedness Coalition (ITPC).
Concern:
There are approximately 21 lakh persons estimated to be living with HIV in India and the percentage of patients receiving anti-retroviral therapy (ART) treatment currently stands at a mere 25.82% as against the global percentage of 41%, according to the 2015 Global Burden of Diseases (GBD).
Budget cuts
The Bill was approved by the Cabinet in October and was expected to guarantee the rights to treatment but Clause 14(1) of the Bill pertaining to prevention of spread of the virus included a phrase 'as far as possible.'
The Bill comes at a time when the NATIONAL HIV PROGRAMME has weakened due to budget cuts, with –

India currently facing nationwide stock-outs of diagnostic kits and pediatric formulations of anti-retrovirals (ARTs).
Conclusion:
The government is trying to wash its hands away by giving more responsibility to states and with no clear framework. For a deep rooted concern like HIV which is desiring global action the need is to act at the earliest and with long term goals. A policy framework which looks an eyewash should not be desirable.
Connecting the dots:
HIV was part of MDGS. India has high incidence of HIV infected patients. Elaborate on the policy actions initiated both at state and central level w.r.t. HIV.
INTERNATIONAL
TOPIC: General Studies 2

Bilateral, regional and global groupings and agreements involving India and/or affecting India's interests
Effect of policies and politics of developed and developing countries on India's interests
India's trade: Balancing between two major powers
Recently, all founding nations of TPP met barring USA with presence of China. It is evident from the fact that China is trying to step into US's shoes with the remaining TPP partner developing nations eager to finalise the partnership as they have invested time, resources and political capital—especially on beyond-the-border issues like labour standards, environment rules and intellectual property laws and would like to see them reaping benefits.
This will likely see changes in alternative Asia-Pacific trade agreement which is the oldest preferential trade agreement among developing countries in Asia-Pacific.
Now there are hopes of a new pact which will be built on the back of Latin America's four-country Pacific Alliance and South-East Asia's Regional Comprehensive Economic Partnership (RCEP).
This shows that USA and China have both crowded India's geostrategic space. India is now experiencing cramping from both the sides as both seem to dictate separate trade policies which affects India's economic and trade interests.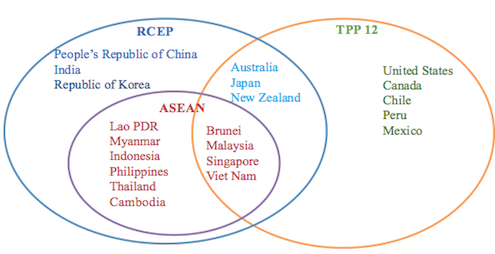 Picture Credit: http://asiafoundation.org/wp-content/uploads/in-asia/2015/09/TPPRCEPChart.png
Mongolia will become seventh member soon.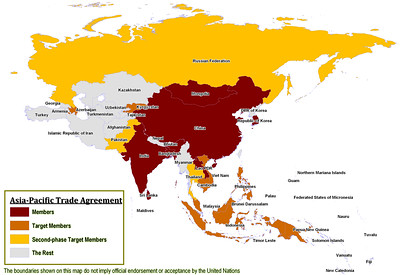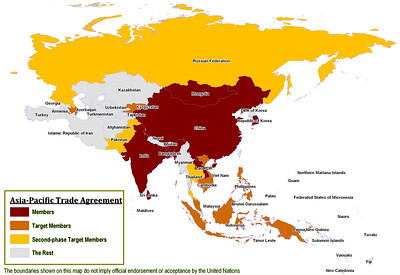 Picture credit: https://photos.smugmug.com/photos/i-6zGQFzL/0/S/i-6zGQFzL-S.jpg
India's global trade prospects
India is part of the RCEP trade and investment initiative being negotiated between 16 countries—10 countries from the ASEAN (Singapore, Malaysia, Thailand, Indonesia, Cambodia, Vietnam, Laos, Myanmar, Brunei and the Philippines) and six others with which the ASEAN has a free trade agreement (India, China, Japan, South Korea, Australia and New Zealand).
There are common TPP members too — Australia, Brunei Japan, Malaysia, New Zealand, Singapore and Vietnam.
RCEP provides India the platform to market and establish its strategic and economic presence across the Asia-Pacific.
It also provides India an opportunity to bring multilateralism back to centre stage.
With TPP out of sight for a while, India has a significant opportunity to spread its outreach to the South East Asian and Pacific countries.
The tussle and the result
China is keen at assuming the leadership of RCEP and its role is already acknowledged in Asia-Pacific alliance.
Thus, it will be important to know the shaping up of new trade and investment agreements, especially who gets to set standards and the nature of standards finalized.
On the other hand, TPP which was left to be doomed is expecting a survival chance. However, its insistence on standardized labour, environment and intellectual property right (IPR) regulations and other issues too conflict with notions of sovereignty.
With China being a part of both important regional trade partnerships, it is to be known if it will take a similar approach or not while dealing. Though it has endorsed WTO compatible trade agreements, it needs to be known if it will selectively pick rules to suit its own interest.
India's trade relation with:-
China
India and China share an uneasy geostrategic relationship, especially in trade. The total India-China bilateral trade in 2016 amounted to $70.8 billion, a decline of 2.1%. Also, India's trade deficit with China mounted to a whopping $46.56 billion in 2016.
RCEP is a mega trade deal that aims to cover goods, services, investments, economic and technical co-operation, competition and intellectual property rights.
As the domestic industry has apprehensions over a deluge in imports from countries such as China after the duty cut under the agreement, India wants certain deviations for such countries.
However, India's three-tiered tariff proposal for the RCEP has already met with disapproval (India is willing to let go of the three-tier structure for tariff reduction for goods if it gets commitment on foreign direct investment in services from its 15 partners.) and India's push for inclusion of trade in services faces multiple opposition.
USA
In recently concluded G20 meeting, US's intention to pursue protectionism and refusal to commit itself to free trade marks the first step down a dangerous road.
US President Donald Trump's administration has repeatedly emphasized that it prefers bilateral agreements over multilateral compacts.
Its 2017 Trade Policy Agenda makes it official: "The overarching purpose of our trade policy…will be to expand trade in a way that is freer and fairer for all Americans…these goals can be best accomplished by focusing on bilateral negotiations rather than multilateral negotiations—and by renegotiating and revising trade agreements when our goals are not being met."
India does not have a free trade agreement with the USA. The negotiations over a bilateral investment treaty between the two countries is stuck. BITs impose obligations under international law on host states to protect foreign investment from the other state.
In the IPR norms, India claims its IPR regime is compliant with the WTO's Agreement on Trade-Related Aspects of Intellectual Property Rights (TRIPS) while the US insists on a WTO-plus framework. This has prompted the US to unilaterally include India in its "Priority Watch List" under Special 301.
The investor-state dispute system where foreign investors can sue sovereign countries in a third country through international arbitration is also a contentious issue.
However, India's home-grown BITs version — called Bilateral Investment Promotion and Protection Agreement (BIPPA) — has been revised to allow foreign investors to opt for international arbitration only after exhausting all domestic legal options. The draft model agreement is awaiting finalisation.
Conclusion
India hopes to have an RCEP membership to keep its geostrategic ambitions afloat. Incidentally, it will have to contend with China's growing dominance and increasing pressures to further reduce tariffs. China has accused India of blocking RCEP pact, but India will have to find its hold and way through the hard negotiations. India's trade deficit with China is continuously growing and a reversal seems nowhere near. On the other hand, India will have to also contend with US' insistence on bilateral treaties and a re-examination of all existing trade relations against India's choice for multilateralism. Ironically, India enjoys a trade surplus with the US—in 2015, it touched $30 billion. Concludingly, there is a need of some dexterous negotiations to manage these two trade partners and contradictions and maintain and grow India's presence in the intended regions.
Connecting the dots:
India faces twin challenges from China and USA in terms of trade and economic relations. Examine.
MUST READ
A brief history of the past 70 years
What goes around must come around
Diplomacy for New India
Objection, my lord
Why EVMs are win-win
On Ganga and Yamuna
Why India needs a new logistics network
Monumental efforts to erase history
Profit or loss?
For a dedicated peer group, Motivation & Quick updates, Join our official telegram channel – https://t.me/IASbabaOfficialAccount
Subscribe to our YouTube Channel HERE to watch Explainer Videos, Strategy Sessions, Toppers Talks & many more…