IASbaba's Daily Current Affairs – 19th May 2017
ENERGY SECURITY
TOPIC: General Studies 3

Technology, Energy Security
Achievements of Indians in science & technology; indigenization of technology and developing new technology.
India's Nuclear Power expansion plans
Introduction:
As of 2016, India has 22 nuclear reactors in operation in 8 nuclear power plants, having an installed capacity of 6780 MW (megawatts) and producing a total of 30,292.91 GWh of electricity.
The country's nuclear power sector is set to undergo the biggest expansion in its history with the cabinet recently clearing 10 new reactors, each with a capacity of 700 MW (mega watts of electricity).
The proposed new reactors will amount to 7,000 MWe (megawatt electric), i.e. will more than double the country's current installed nuclear capacity of 6,780 MWe.
India has a flourishing and largely indigenous nuclear power programme and expects to have 14.6 GWe nuclear capacity on line by 2024 and 63 GWe by 2032. It aims to supply 25% of electricity from nuclear power by 2050.
India's energy consumption demand has more than doubled since 2000. According to the International Energy Agency's World Energy Outlook 2015, the country's power sector needs to almost quadruple by 2040 to keep pace with electricity demand that — boosted by rising incomes and new connections to the grid — will increase at almost 5 per cent per year. The decision on the new reactors signals the government's zeal to look beyond traditional sources of electricity.
Story of nuclear plants in India
Nuclear power is widely regarded as a cleaner source of energy than fossil fuels like coal. Unlike renewable energy sources such as solar power which needs large tracts of land, nuclear plants work on a smaller area to produce larger amounts of power. They have been marketed as the cheapest alternative to coal-based generation plants.
However, the story of nuclear plants in India has been fraught with delays, opacity and large-scale local dissatisfaction. Not just this, performance of some of the plants has been poor. In addition, India's nuclear plants do not function transparently. Most technical information relating to the plants are beyond public scrutiny owing to security concerns.
Without addressing the concerns about the safety and efficiency of India's existing nuclear plants, the government's large-scale nuclear expansion will only invite further distrust.
Development of nuclear power in India:
India's currently has 22 nuclear power units.
Tarapur Atomic Power Station (T.A.P.S.)
The first pair – is located in Tarapur, Maharashtra
It uses enriched uranium and incorporates U.S. nuclear technology
These two reactors have operated safely and reliably for the past 47 years and supply the lowest cost non-hydro power
Rajasthan Atomic Power Station (R.A.P.S)
The second pair – is located in Rawatbhata, Rajasthan
It uses natural uranium and is based on Canadian technology
The first unit of this pair has been out of service for some years due to deficiencies in some key equipment; the second unit has been operating satisfactorily
Commencing from 1983 and over a span of two and a half decades, India built 16 nuclear power units using its own technology, materials and equipment. These reactors use natural uranium as fuel. Fourteen of them have a size of 220 MW and two are of 540 MW.
During the period 2000-2010, India designed a nuclear power unit of 700 MW capacity, using natural uranium. Construction work on two such units in Kakrapar (in Gujarat) and two in Rajasthan was taken up. These four units will go into operation in the next three years. Work on two similar units has been taken up at a site in Haryana.
All equipment and materials for these larger units will come from Indian suppliers. In recent years, two 1000 MW VVER power units have come up in Kudankulam, Tamil Nadu, using Russian technology. They use enriched uranium supplied by Russia.
In 2016, work on two more such units was commenced. When all these units go into operation, India will have 30 reactors with a capacity of 13,000 MW. By then some of the earlier units will be reaching their retirement age.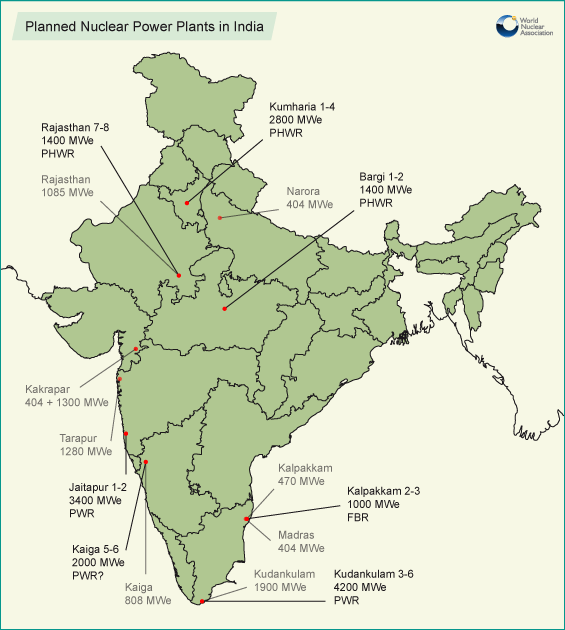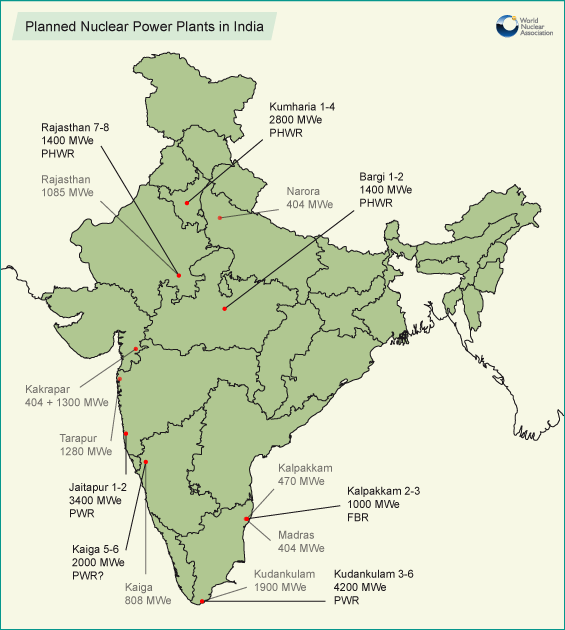 Link: http://www.wwfenvis.nic.in/WriteReadData/UserFiles/image/envis/page%204.png
Because India is outside the Nuclear Non-Proliferation Treaty due to its weapons programme, it was for 34 years largely excluded from trade in nuclear plant or materials, which has hampered its development of civil nuclear energy until 2009.
Moreover, due to earlier trade bans and lack of indigenous uranium, India has uniquely been developing a nuclear fuel cycle to exploit its reserves of thorium.
India's domestic uranium reserves are small and the country is dependent on uranium imports to fuel its nuclear power industry. Since early 1990s, Russia has been a major supplier of nuclear fuel to India.
However, recently large deposits of uranium, has been discovered in the Tummalapalle belt and in the Bhima basin at Gogi in Karnataka by the Atomic Minerals Directorate for Exploration and Research (AMD) of India. The Tummalapalle belt uranium reserves promises to be one of the top 20 uranium reserves discovery of the world.
Following a waiver from the Nuclear Suppliers Group (NSG) in September 2008 which allowed it to commence international nuclear trade, India has signed bilateral deals on civilian nuclear energy technology cooperation with several other countries, including France, the United States, the United Kingdom, Canada and South Korea.
Present scenario
India has been in discussions with Areva of France on building six EPR reactors of 1600 MW at Jaitapur, Maharashtra. The first such reactor in Finland has been greatly delayed and may go into operation in 2018. There is a pending arbitration case between Finland and France regarding who is to bear the resulting cost increases. In addition, Areva has suffered heavy losses post-Fukushima when the uranium market bottomed and even Westinghouse which was also scheduled to build nuclear reactors in India, went into financial crisis.
The way ahead:
Anticipating some of these difficulties, the nuclear community in India has been looking at other options to expand the nuclear capacity.
The fleet of pressurised heavy water reactors (PHWR), of our own design and construction, have performed well. During the last five years, the cumulative capacity factor has been 78%. The reactors have operated continuously for periods exceeding 300 days quite regularly and one of our reactors was on line for 765 days, the second-longest run in the world. The cost of power has been less than from coal in the same region.
Given the context, the recent Union Cabinet's nod for ten 700 MW PHWRs is timely. Indian industry is well placed to supply all the components and materials required for these reactors. Russia is willing to supply two more 1000 MW VVER units for Kudankulam and continue the cooperation to build six 1200 MW VVERs at a second site, to be identified by India.
Our reactor designers at Bhabha Atomic Research Centre and NPCIL have completed the design of a 900 MW reactor using enriched uranium as fuel, designated as the Indian Pressurised Water Reactor (IPWR). Our industry is keen to mobilise and build up the capacity to make components for this design. Enriched uranium fuel can be sourced from international suppliers, as such reactors can be placed under International Atomic Energy Agency safeguards.
By about 2025 or so, India may itself supply enriched uranium from its own enrichment facilities. The government's push for 10 IPWRs will secure India a position of nuclear power plant supplier not only for application in India, but also as a potential exporter. While our earlier plans on expanding nuclear power have not materialised, the alternative plan suggested now, which envisages building 28 units with a total capacity of about 25,000 MW in 15 years from now, can still ensure that nuclear power remains an important part of our strategy to minimise carbon emissions in the long run.
Connecting the dots:
Critically analyse the need for making India independent in nuclear energy capabilities. Throw light on the recent progress of nuclear development in India.
Between nuclear and renewable energy, which is the suitable energy for a sustainable energy scenario in India? Comment on the power crises in India.
MUST READ
Where the jobs are: on the unemployment rate
Triple talaq issue: The courts and matters of faith
How to build the new city
Aadhaar, then and now
Civil society and state must join hands to battle sexual crimes against children
Big Data's big governance impact
Rural consumers are not urban's poorer cousins
Hidden peril
Sharing Teesta's a murky business