Bilateral Agreements between India and Israel
Search 6th July 2017 http://www.newsonair.com/Main_Audio_Bulletins_Search.aspx
TOPIC: General Studies 2

Bilateral, regional and global groupings and agreements involving India and/or affecting India's interests
Effect of policies and politics of developed and developing countries on India's interests, Indian diaspora.
India recognised Israel and established diplomatic ties in 1992. So these countries are now celebrating 25 years of diplomatic relations. India and Israel are known for their defence cooperation aspect. Defence relations are now a decade old. 10 billion dollars' worth of equipment are already purchased. Now the focus is shifting on make with India and make in India. Here, to form partnerships between Israel companies and Indian companies manufacturers will take some time.
National interest first
PM modi's visit is standalone to Israel. This means that India has de-hyphenated the relationship between India and Palestine. India's foreign policy is evolving. Most of the countries have good relations with India, even if those countries may bilaterally have difficulties. Hence the policy directive is to move for India's national interest.
India stands by two-state solution.
Seven pacts signed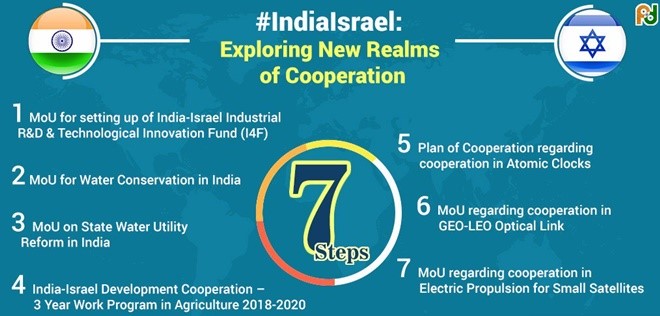 Photo credit: http://images.financialexpress.com/2017/07/modi-netanyahu-seven-deals.jpg
A new innovative partnership goal has been 40 million dollar India Israel Research Fund. If we look at India's development story then innovation has been missing and evolution in space, R&D does not have industrial application. They have huge number of startups despite small population. They have 13 Nobel laureates and India doesn't have one. There is something lacking for which such partnership is required. So India has to tap Israel's experience and R&D with industrial application. India Israel industrial R&D and Technological Innovation Fund (I4F) will be used for cooperation in the fields of science and technology by extending support to joint projects for innovative or technology-driven new or improved products, services or processes. This is expected to foster and strengthen the eco-system of innovation and techno-entrepreneurship in India and will contribute directly to the Start-up India programme.
Water management
This time an important aspect of relationship is water conservation and management and the agriculture sector. This is decided to be called as strategic partnership because of impact of such collaboration. Israel is known to convert its desert into gardens. 85% of water is recycled. In India there is no shortage of total precipitation but there are floods and droughts, water conservation is not there, preservation and water harvesting is not there. There is great shortage of water. Thus, it is a good direction to go ahead with Israel in this rea. Micro irrigation, drip irrigation and how to use water to maximum effect and how to have good produce with less use of water, targeted use of micro can be few areas to begin with. Government wants that farmers income should double in 5 years. There is going to be new products, olives, floriculture, tea.So the direction is clear. Israel has lot of experience which they are willing to share.
Security
Security and defence collaboration two governments have been going strong. Israel has over time acquired lot of time and technology in dealing with real time terrorist situation. With collaboration between anti-terror forces, there will be lot of learning. Terrorism is major area of collaboration. The declaration includes terrorism, network supply, financial help should be tackled as they don't want that terrorists get their hands on WMD technology.
People to people contact
The civilizational aspect of relationship between both countries has come forward. The synergies that have been existing have been highlighted.
India is one of the few countries where the Jews were never persecuted. Among people of India, there is great admiration for people of Israel that in a hostile geography they survived and have been able to make it a democratic country.
Indians have sacrificed themselves for preservation of Israel. In 1918, Indian soldiers fought the World War I alongside British forces. The British were in war with the then Ottoman Empire, who controlled a large part of West Asia. Haifa was part of the Turkish empire. While soldiers from Jodhpur and Mysore took field in the actual war, those from Hyderabad were employed in maintaining communication channels and serving the injured. About 900 Indian soldiers died fighting on the soil of Israel during World War I. In their memory, Haifa memorial is present in Israel.
India-Israel CEO forum
Synergies in businesses, globally the trend is make in china, make in US. Now Israel has their own technology. So they will be more open to share their technology to bring manufacturing in India and make with India.
However, the trade is very low, at just 5 billion dollars. This needs to be boosted along with strategic interest.
India and Israel have elevated their ties to the "strategic partnership" level with a vow to do "much more together". Implementation in these sectors is a necessity for growth of relationship between two nations.
Connecting the dots:
India and Israel are celebrating 25 years of diplomatic relations. Highlight the relations between two nations with areas needing more focus and improvement.
Also read:
RSTV- The Big Picture: Curtain Raiser on PM's Israel Visit
For a dedicated peer group, Motivation & Quick updates, Join our official telegram channel – https://t.me/IASbabaOfficialAccount
Subscribe to our YouTube Channel HERE to watch Explainer Videos, Strategy Sessions, Toppers Talks & many more…