Political consensus on India-China Doklam standoff
Search 15th July 2017 http://www.newsonair.com/Main_Audio_Bulletins_Search.aspx
TOPIC:
General Studies 2
India and its neighbourhood- relations.
Bilateral, regional and global groupings and agreements involving India and/or affecting India's interests
General Studies 3
Security challenges and their management in border areas;
Background: China's policy in the last decade has been to gradually expand in all directions and change the facts on ground. They are not being challenged and getting away with it. This is seen in SCS where many rocks have been converted into islands and there are air bases on them. So whole thing is of militarization expansion.
This is the same broad policy which they are executing against a small country like Bhutan. It is clear that the tri-junction area is an area on which there is no agreement between Bhutan and China. China is trying to change the facts on ground by building that road when they had a clear negotiation that status quo will continue till they agree what is the exact international border between Bhutan and China.
On 16th june, construction work started in Bhutanese territory by the Chinese group. When Bhutan soldiers confronted Chinese army, there was no paying heed to them. So Bhutan consulted Indian soldiers. There is an understanding between India and Bhutan that both countries will closely with each other on issues related to national interest will be together.
The tri-junction territory that China is trying to occupy has vital significance for India. It is like a dagger at the heart of siliguri corridor. It is vital for India's security and thus India had to take the step of stopping the Chinese soldiers.
In last one year, relations between India and China have deteriorated despite the best efforts of Indian government. Some of the main interests of India has been vitally affected by Chinese stand in cases such as NSG and Masood Azhar. Terrorism is an emotional issue and they are backing Pakistan. Yet it promotes CPEC goes through PoK which is India's territory. When China is sensitive to its own territorial claims like Taiwan or other islands with japan, they have shown total insensitivity towards Indian concerns.
The place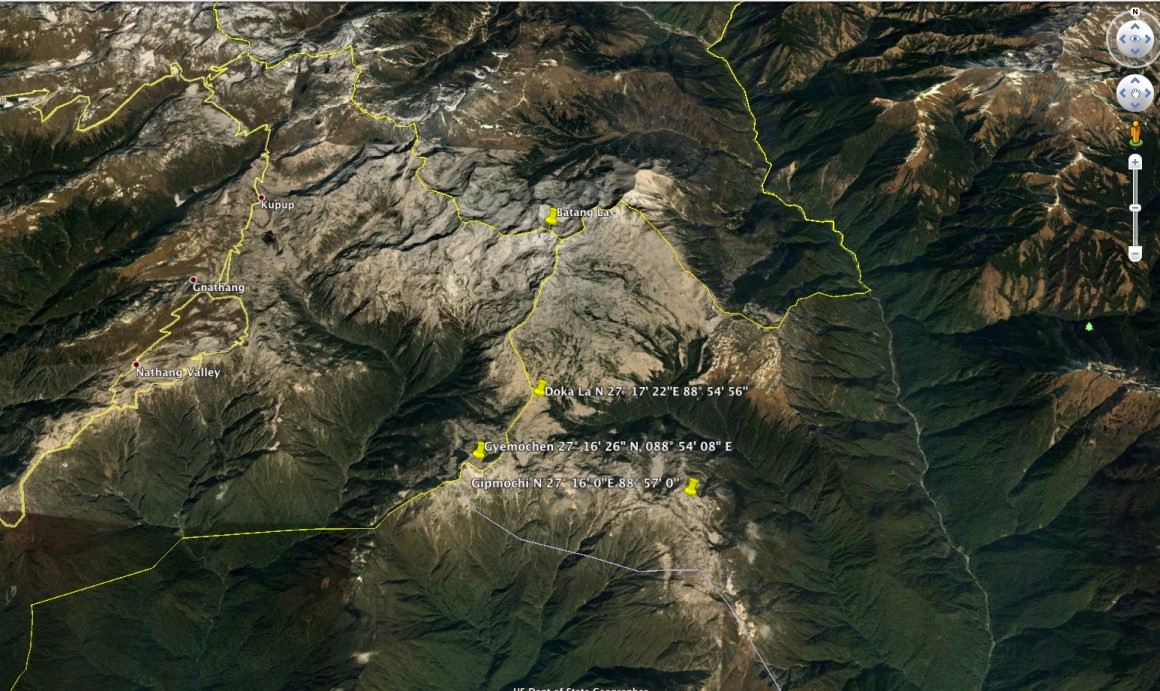 Picture credit: https://i1.wp.com/thewire.in/wp-content/uploads/2017/07/11-Screenshot-of-the-area.jpg?resize=1160%2C691&ssl=1
There is a 6.2 km gap in understanding the situation. China says its Gyemochen whereas India says its Batang La. In 1890, the demarcation took place where the water shed principle was agreed upon. It is clear that if that is followed then the tri junction should be batangla which is 6 km north of place China is claiming.
The response
China did not expect such a quick reaction by Indian army. Bhutanese immediately sensitized India about the situation. It has bullied many small countries in SCS and now they are towing the Chinese line. Thus, India has to clear to world that China is trying to bully Bhutan and India is trying to come to assistance of it. Also because of history shared and treaties agreed upon, India has given support to Bhutan.
It is important that whole country is united in this episode in the issue. When there is national interest involved and difference with another country, media has many misinformation. Hence, for government to reach out to people and opposition is good idea. China has strategy to wage a media war and a psychological war. Chinese official media has been quite aggressive. Indian side response is restrain. The government is clear that this issue can be resolved diplomatically. The government doesn't want differences to become disputes.
How to deal with China?
China has long term vision and plans. What they do, their objective is of 10-15 years down the line. Their establishment, media, party, diplomats, journalists speak same voice. Any agreement with Chinese should be taken in writing. Privately sometimes they agree to something and later they revile from that stand. Though it is difficult to negotiate with them, they respect if other country takes a stand and if they have some principles on which they abide.
Conclusion
India and China can resolve this issue. Chinese should stop road construction and India will withdraw from Bhutanese territory. Diplomatic engagement can open a way to solutions provided the parties to the conflict come on same table with rational points.
Connecting the dots:
India has had lukewarm-cold relation with china since long time. Yet India shares huge trade relations with China. Examine the prospect of economic relations vis-à-vis national security issues.
For a dedicated peer group, Motivation & Quick updates, Join our official telegram channel – https://t.me/IASbabaOfficialAccount
Subscribe to our YouTube Channel HERE to watch Explainer Videos, Strategy Sessions, Toppers Talks & many more…