IASbaba's Daily Current Affairs [Prelims + Mains Focus] – 12th May 2018

IASbaba's Daily Current Affairs (Prelims + Mains Focus)- 12th May 2018
---
(PRELIMS+MAINS FOCUS)
---
India-Nepal Relations
Part of: GS Prelims and Mains Paper II – India and Nepal; India and its neoghbours; IR
In News:
Yesterday, we had covered editorial on India-Nepal Relations. (

Scaling up of India-Nepal bilateral relationship

)

Nepal government's vision is to transform their land-locked Himalayan nation into a land-and-water-linked country and looks up to India to meet that vision.
Key areas:
Cultural Linkages
Sita temple in Janakpur

– Modi will be the first Indian prime minister to visit this temple, the mythical birthplace of Sita.

Muktinath temple

– revered by both Hindus and Buddhists.

Ramayana circuit

– Modi will kick-off the Ramayana circuit; inaugurate a bus service between Janakpur and Ayodhya (UP), the mythical birthplace of Rama.
Energy
Arun-III (900MW) hydel project

India-sponsored Raxaul-Birgaunj integrated check-post

Work has also started for the laying of an oil pipeline to Nepal.

India also plans to build a rail link to Kathmandu.
Do you know?
The government has identified 15 destinations in India for development under the Ramayana Circuit theme — Ayodhya, Nandigram, Shringverpur and Chitrakoot (Uttar Pradesh), Sitamarhi, Buxar and Darbhanga (Bihar), Chitrakoot (Madhya Pradesh), Mahendragiri (Odisha), Jagdalpur (Chhattisgarh), Nashik and Nagpur (Maharashtra), Bhadrachalam (Telangana), Hampi (Karnataka) and Rameswaram (Tamil Nadu).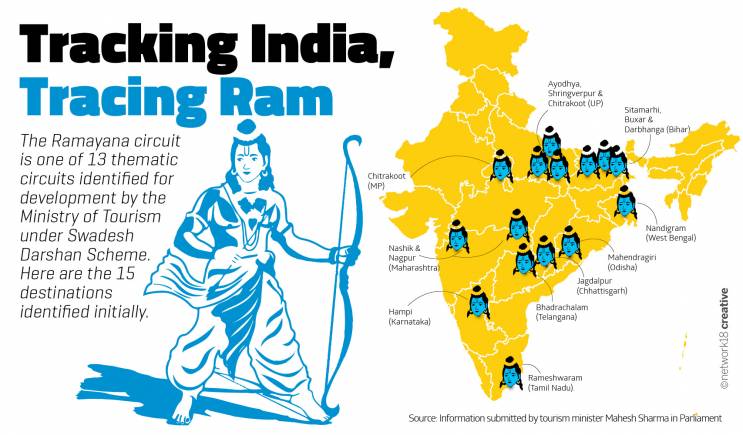 Pic link: https://static-news.moneycontrol.com/static-mcnews/2017/08/Ramayana-circuit-743×435.jpg
---
Sexual harassment probe panels in courts soon
Part of: GS Prelims and Mains II – Social and Welfare issue; Women safety
In news:
Supreme Court asked Chief Justices of High Courts across the country to set up anti-sexual harassment at workplace committees in High Courts and district courts within two months.

The committees should be constituted in accordance with the mandate of

The Sexual Harassment of Women at Workplace (Prevention, Prohibition and Redressal) Act

of 2013 and the

Vishaka case guidelines

of the Supreme Court to protect women in workplaces.
Important Value Additions:
The Supreme Court-issued

Vishaka Guidelines in 1997

that outlined procedural guidelines to be followed by establishments where a case of sexual harassment had occurred.

In December 2013, Vishakha was superseded by the

Sexual Harassment of Women at Workplace (Prevention, Prohibition and Redressal) Act

, which kept the essence of the Guidelines and added more provisions.

The Act mandates that employers must constitute a four-member

internal complaint committee (ICC)

in any branch or office that employs more than 10 people of any gender.

The law imposes a penalty of upto Rs 50,000 on employers who do not implement the Act in the workplace or even fail to constitute an ICC.
Article link: Set up sexual harassment probe panels in courts … – The Hindu
---
India and Myanmar
Part of: GS Prelims and Mains Paper II – India and its neoghbours; IR
In News:
India urges Myanmar to ensure the safe return of Rohingya citizens now staying in refugee camps in Bangladesh.

A landmark land border-crossing agreement with the country was sealed.

The agreement will allow people from both sides to cross the border with passport and visa for health and educational needs and tourism.
Bangladesh has repeatedly urged India to intervene and pressure Myanmar to take back its citizens who are living in difficult circumstances on Bangladeshi territory.
Both Myanmar and Bangladesh are members of the BIMSTEC (Bay of Bengal Initiative for Multi-Sectoral Technical and Economic Cooperation) regional grouping, which is expected to hold a summit later this year.
Important Value Additions:
Myanmar is witnessing a brutal episode of violence since August 25, 2017 between Rohingya Muslims and Rakhine Buddhists.

Some 2600 houses have allegedly been burnt, more than 100,000 Rohingyas have been forced to flee to neighbouring Bangladesh and approximately 1000 lives have been lost. Given the scale of death and destruction in such a short span of time, this latest phase of internal violence can easily be termed as the most horrifying in Myanmar's recent history.

The systematic deprivation and gross violations of basic human rights have forced Rohingyas to flee their native land and seek refuge in neighbouring states including Bangladesh, Indonesia, Thailand, Malaysia and India.

They have been unable to rebuild their lives in most of these countries due to the lack of opportunities provided by the host nations to contribute to the economy of that country even through semi-skilled and unskilled labour work as well, due to the growing fear of their linkages with Islamic extremism.
About BIMSTEC:
The Bay of Bengal Initiative for Multi-Sectoral Technical and Economic Cooperation (BIMSTEC) is a regional organization comprising seven Member States namely Bangladesh, Bhutan, India, Nepal, Sri Lanka, Myanmar and Thailand.
The regional group acts as a bridge between South and South East Asia and represents a reinforcement of relations among these countries.
---
Unseen for decades, rare butterflies re-emerge
Part of: GS Prelims and Mains III – Environment and Ecology; Biodiversity
Key pointers:
Unseen for decades, rare butterfly "

Black windmill

" (Byasa crassipes) spotted in Arunachal Pradesh's Dibang Valley.

"Siren butterfly"

(Hestina nicevillei) was spotted in the Daranghati Wildlife Sanctuary in Himachal Pradesh in 2012.

The species was being photographed for the first time in history, and being sighted for the first time in India since 1917.

Both butterfly species are listed under Schedule I of India's Wildlife Protection Act (1972), which ensures the insects the same protection as that given to tigers.

"Frosted duskywing"

(Erynnis pelias) was spotted in Arunachal Pradesh.
Article link: Click here
---
(MAINS FOCUS)
---
INTERNATIONAL
TOPIC: General Studies 2:

Bilateral, regional and global groupings and agreements involving India and/or affecting India's interests
Effect of policies and politics of developed and developing countries on India's interests
India blocks Australia from Malabar naval exercise
In news:
Indian government decides to go ahead with this year's 'Malabar' naval exercises trilaterally without including the Australian Navy.
For three years, Australian officials have been lobbying to take part in the annual Malabar Exercise – but India has refused, under pressure from China.
The war-gaming exercise includes the US and Japan and will take place off Guam this June.
Key pointers:
The annual Malabar exercise started in 1992 as a bilateral event between the navies of India and the United States. It was an important step in the process of reviving India's relation with USA, as both countries had occupied opposite ends of the spectrum during the Cold War.

Malabar exercise is done annually between India and US Navy. Earlier it was carried on west coast but from 2007 onwards, India is holding exercise in Bay of Bengal and alternatively in Sea of Japan.

Japan have joined exercise 7 times before, but in 2017 they were formally inducted into the exercise. Malabar 2017 featured 95 aircraft, 16 ships and two submarines, making it one of the largest naval exercises in the region in recent times.

Experts views:
Australia's exclusion has been viewed by experts as a casualty of India's warming ties with China and a blow to efforts to revive the Quadrilateral Security Dialogue, which the Australian Turnbull government has been keen to promote.

Australian experts have said if all four quad countries — India, Australia, the US and Japan — were to be involved in military drills such as Exercise Malabar it would bolster the grouping.

There is a fear that including Australia in the Malabar exercises will come out as signal against the Chinese. (says Experts)
"Pitch Black" Air exercises
India has stepped up bilateral naval exercises with Australia in the past two years, with the Indian Air Force will be taking part in the "Pitch Black" Air exercises in Australia for the first time in August 2018.
In June 2017, the two nations held the AUSINDEX naval drills off the Western Australian coast, with a focus on increasing interoperability between their navies.
Conclusion:
In a way, the Indian government appears to be backtracking on the Quad while keeping bilateral defense ties with Canberra, Tokyo and Washington alive. India is playing a delicate geopolitical game, in which it has to take China's perceptions into account. And New Delhi's vetoing of a quadrilateral framework for naval drills with the US, Japan and Australia should be read as a sign of its unwillingness to join a multilateral front that Beijing could perceive as hostile.
Connecting the dots:
The Malabar exercise is a critical security exercise between countries who see china as a fierce challenger. Do you agree? Give reasons for your answer.
---
NATIONAL
TOPIC: General Studies 2:

Functions and responsibilities of the Union and the States, issues and challenges pertaining to the federal structure, devolution of powers and finances up to local levels and challenges therein.
Separation of powers between various organs dispute redressal mechanisms and institutions.
Inter-State Water Dispute
Cauvery riverine ecosystem on decline
Introduction:
The Cauvery has become a never-ending water-sharing dispute between Tamil Nadu and Karnataka. The complete riverine ecosystem in terminal decline.
Problems at the source:
The loss of forest cover and change in land use has meant a decline in rainfall levels, adversely affecting the inflow of water into the Cauvery and its tributaries upstream.
A rise in temperature has been caused due to the rapid loss of tree cover due to reckless urbanisation in the town. A research shows how the doubling of land under coffee plantations, and developmental projects such as the construction of dams and roads, has resulted into the loss of 28% of the forest cover during the 30-year study period starting in 1977.
Inter-State dispute:
The inter-State water dispute is over a century old. The fight is over an overexploited river basin where demand has far outstripped the supply of water.
Despite many attempts at resolving the dispute, neither the orders of the Cauvery Water Disputes Tribunal nor those of the Supreme Court have been implemented faithfully.
The Centre has not yet framed a Cauvery 'scheme' despite the court's orders.

Political parties and farmers in Tamil Nadu have been pressing hard for the constitution of a Cauvery Management Board.




According to the court, the Board's mandate is to manage the distribution of water between the States during distress periods and control the schedule of release of water from the reservoirs.
Concerns:
Deep borewells- Excessive withdrawal of groundwater using bore wells has caused a significant decline in the base flow of the river.




The Bengaluru-based environmental research organisation ATREE has documented how the Arkavathi, a major tributary of the Cauvery in Karnataka, has been sucked dry by farmers using deep bore wells.

Reclamation of riverbed- In the Cauvery delta districts of Tamil Nadu too, similar unsustainable farm practices are common.




With the riverbed remaining dry for most of the year, farmers are reclaiming it for cultivation. In the 25-km stretch from Melur in Tiruchi to the Grand Anicut, there are several banana plantations and coconut trees on the riverbed, irrigated by motor pumps sunk deep into the river.
The riverbed is heavily encroached on both sides in several stretches. In Tiruchi, for instance, large chunks of the riverbed have been taken over for construction of residential apartments and hotels.

In parts of Kodagu, sand mining on the banks has widened the course of the river, reducing its pace.




While sand mining on the riverbed was a major issue in Karnataka and Tamil Nadu until recently, judicial interventions and a concerted effort to switch to M-sand (manufactured sand produced from crushed granite) for construction has curbed this menace to a considerable extent.

Hydel power projects on the river are also diverting too much water into reservoirs, thereby affecting the natural flow of the river.




In 2013, the South Asia Network on Dams, Rivers and People drew attention to how 98 mini-hydel power plants commissioned or allotted on the Cauvery basin were diverting drinking water meant for Bengaluru.

Construction of dams on the river- A Central Water Commission report in 2015 pointed out that sediment flow to the Cauvery delta has stopped due to siltation in the dams.
Way ahead:
Sustainable alternatives such as getting factories to use recycled industrial waste water and rainwater harvesting for domestic use, should be explored.

Rain harvesting- In the Cauvery basin in Karnataka, at present only 23% of rainwater is harvested. In Tamil Nadu too, rainwater run-off flowing towards Kerala in the Cauvery basin has not been adequately tapped.

The issue of rampant groundwater extraction, which directly impacts the flow of water in the river, has remained outside the purview of the Tribunal and the court. This needs to be checked by involving all the stakeholders, most importantly, the farmers.
Connecting the dots:
The complete Cauvery river ecosystem is on decline. Discuss the reasons behind.
---
(TEST YOUR KNOWLEDGE)
Model questions: (You can now post your answers in comment section)
Q.1) Which of the below given pairs is/are correct?
(Piligrim place) : : (Associated State)
Bhadrachalam : : Andhra Pradesh

Hampi : : Karnataka

Buxar : : UP

Mahendragiri : : Odisha
Choose the appropriate answer:
1 and 2 only

2 and 4 only

1, 2 and 3

2, 3 and 4
---
Q.2) Consider the following statements:
Under the Swadesh Darshan scheme, thirteen thematic circuits have been identified, for development.

Ramayana Circuit is part of this Swadesh Darshan scheme.

Under Swadesh Darshan scheme, the Ministry of Tourism provides Central Financial Assistance (CFA) to State Governments/Union Territory Administrations, for various tourism projects.
Which of the above statements is/are correct?
1 and 2 only

2 only

1, 2 and 3

None
---
Q.3) Exercise MALABAR is a joint military exercise between which of the following given countries:
India, USA, and Indonesia

Japan, India, and Australia

India, USA and France

India, Japan and USA
---
Q.4) "Pitch Black" Air exercise is between which of the following given countries:
India and USA

India and New Zealand

India, USA and Australia

India and Australia
---
Q.5) Vishaka Vs State of Rajasthan case deals with –
2012 gang rape case which involved a rape and fatal assault.

Enforcement of the fundamental rights of working women under Articles 14, 19 and 21 of the Constitution of India.

Landmark judgment which declared that Preamble is part of the Constitution.

Landmark judgment which played the most significant role towards the transformation of the judicial view on Article 21 of the Constitution of India so as to imply many more fundamental rights from article 21.
---
Q.6) Sexual Harassment at Workplace Act 2013, was passed to protect women from sexual harassment. Which of the following statements are correct regarding this act?
It is compulsory for an organization with atleast 100 or more employees to set up an internal complaints committee for addressing complaints of sexual harassment.

It covers all kinds of work places including non – traditional ones as well as transport provided for work.

It includes, unwelcome physical, verbal or non-verbal conduct of sexual nature, showing pornography, physical contact or advances, and making sexually-coloured remarks.
Select the code from following:
1 and 2

2 and 3

1 and 3

All of the above
---
MUST READ
A time to think fast
In state of energy poverty
Prosperity for peace
A challenging time for US, EU relationship