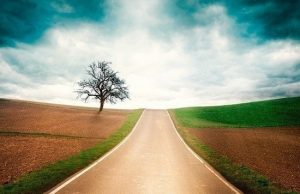 Pick your routine:
There is no happy ending for the various episodes of life; in fact there is no ending at all. Life and its worth are not measured in what you accomplish, it is measured in the paths you take and how you choose to walk it. Life is very easy to understand as an experience, but extremely difficult to understand as a process with something at the end of it to attain to.
The journey is our destination. Only when we pay attention to the journey we will understand the true meaning of progress. When we take eyes off the road and look too far ahead, it is very likely that we will meet with an accident. The destination manifests itself only for those who are willing to pay attention to the journey.
Too many of us are simply obsessed about getting somewhere. We do not realize the importance of the process we need to follow to get somewhere. The answer to all our questions is in the process of life, and not in the destination. So what is this journey, what is the process that will help us to understand life fully?
Process of life is picking a simple routine of activities that will help you to move closer to your goals. The process of life should always be simple, monotonous and most of the time even boring. Process need not entertain you; it is need not entice and engage you. Process of your life is the routine you have chosen for yourself.
The first thing one has to understand about life is that only when you pick a certain routine for yourself and stick to it; you can begin to understand what life is. Without a fixed routine, you are simply all over the place. There is no possibility of understanding yourself and your life's journey without picking and sticking to a routine.
Once you have finalized on the routine that you want to follow, the true process of life is learning how to stick to it. This is where one has to understand that there is absolutely nothing more important in life than sticking to the routine you have picked. All your happiness and sadness, your accomplishments and failures, your rights and wrongs, your successes and failures, everything you do in life has to be bound within the routine you have picked up.
It is your routine of life and how well it is directed towards a certain goal that determines your success and failure. If you have not finalized on a routine and have not made a firm resolve to stick by it at any cost, then there are too many paths you can take and get lost in the maze of life. The difference between those who succeed and those who fail is just in the routine. Successful people have a successful routine and failures simply don't have a routine.
"This article is a part of the creative endeavor of The Ahamo Movement and IASBABA."
For a dedicated peer group, Motivation & Quick updates, Join our official telegram channel – https://t.me/IASbabaOfficialAccount
Subscribe to our YouTube Channel HERE to watch Explainer Videos, Strategy Sessions, Toppers Talks & many more…