Dear Friends,
At the outset, we at IASbaba would like to congratulate all our followers for making ILP a big success over the last couple of years and even bigger this year!
Nothing can replace quality, passion and pedigree for which IASBaba has become the name for!
Since launching ILP, we have received couple to hundreds of emails asking for :
Is it the right time to join ILP?
It is already September and I haven't even covered half the syllabus. Should I join ILP/AIPTS? How will ILP/AIPTS be beneficial at this stage?
How do I go about my preparation if I join ILP/AIPTS now?
ILP is an intensive programme having daily coverage and regular tests. I am already lagging behind. How should I go about this?
---
We have tried to address those queries personally. However, here, we are trying to dispel the most prevalent doubts that we have received from our followers. We hope that these clarifications would make you take the right decision and you would start with a new zeal and energy.
Firstly, we have students who have taken ILP till the month of March, April, few of them even in May and be able to utilise it to the best outcome! 
So we see no reason why cannot you use it to the fullest even now! Even as we speak close to half a hundred aspirants subscribe every day and start their journey. 
Further, ILP is not a Prelims Test Series only. It consists of
Micro-level Plan

– Both Prelims and Mains- Block Wise Manner

Prelims Tests and Mains Mocks with Synopsis
Prelims Value Add Notes

topic wise as per the plan

Mains Value Add Notes

topic wise as per the plan

Babapedia-

Current Affairs for prelims

Mind Maps-

Covering Mains Issues from Current Affairs

Our guidance and push

all the time

through motivational and strategic write-ups
Dedicated Platform for all ILP users

having

Forums/Answer Writing, Essay guidance and Confession forum

where they discuss their daily strategy and achievements of the plan and help each other.
---
Let us give you a glimpse of our ILP-2019 Platform, its features and feedback from ILP 2019 students who are part of it. 
After login to the ILP 2019 platform, you will have access to the platform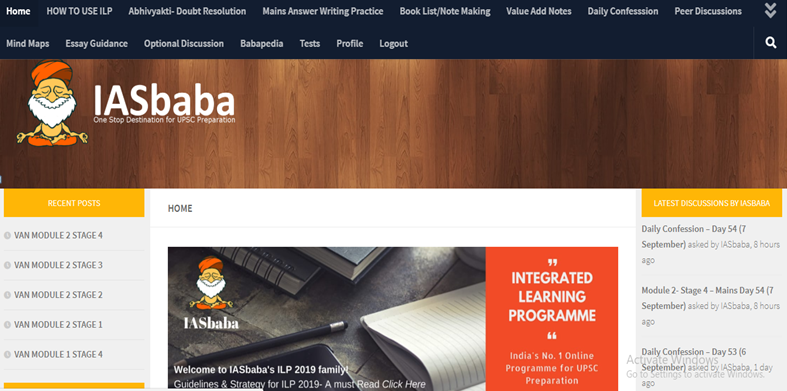 Look at the Menu Bar carefully. You will find
---
How to Use ILP Platform
---
Abhivyakti-Doubt Resolution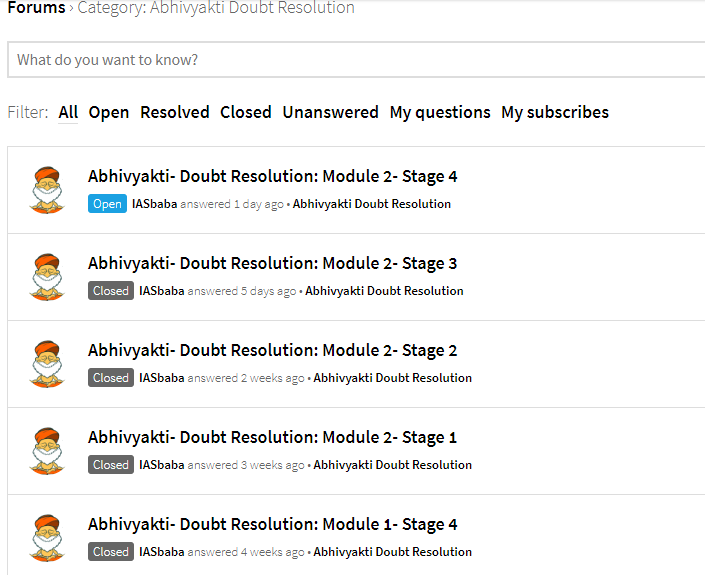 ---
Mains Answer Writing Practice 
---
Booklist and Note-Making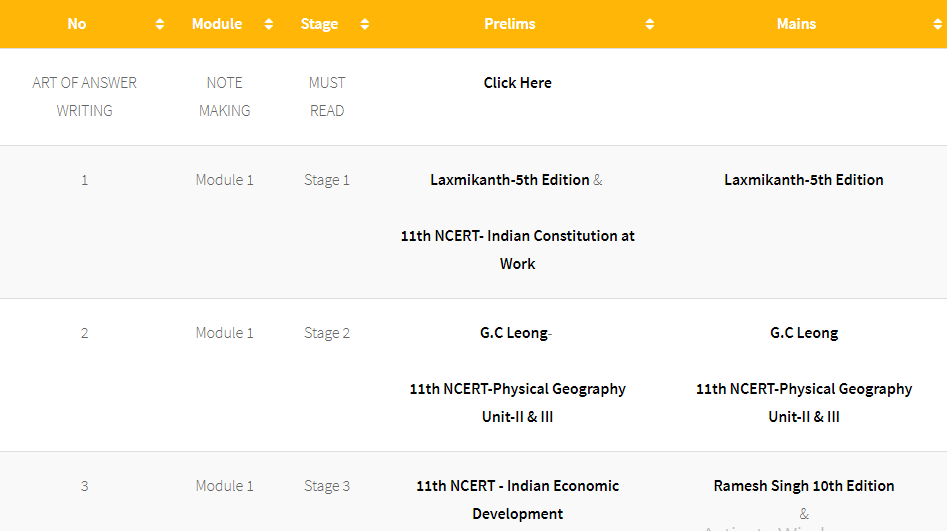 ---
VALUE ADD NOTES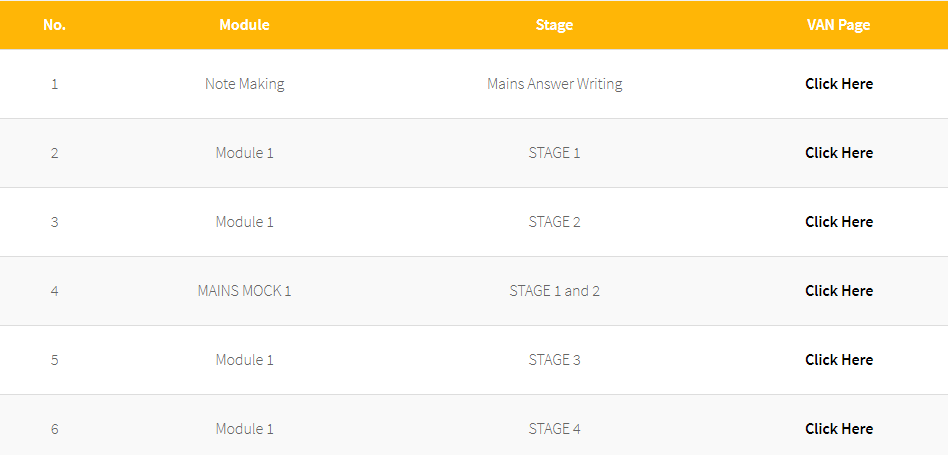 ---
MIND MAPS
---
ESSAY GUIDANCE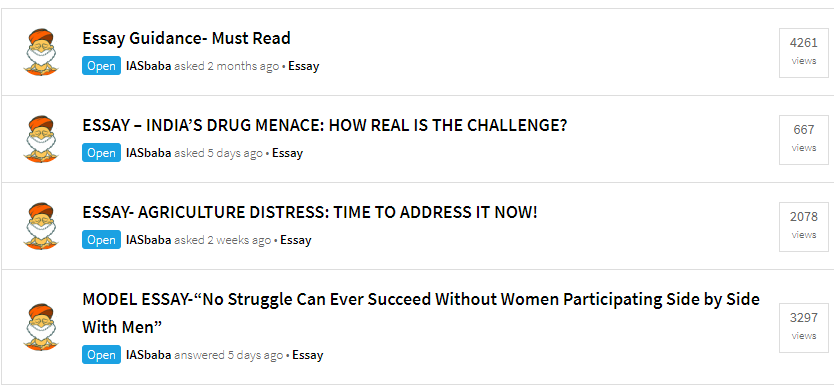 ---
BABAPEDIA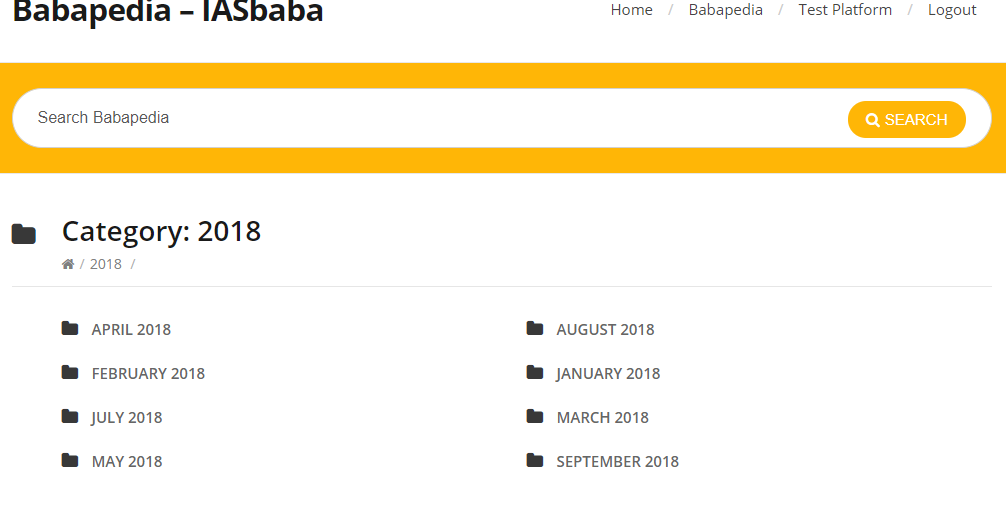 ---
MOTIVATION AND GUIDANCE ON MAINS ANSWER WRITING/NOTE MAKING ETC. (FEEDBACK of STUDENTS)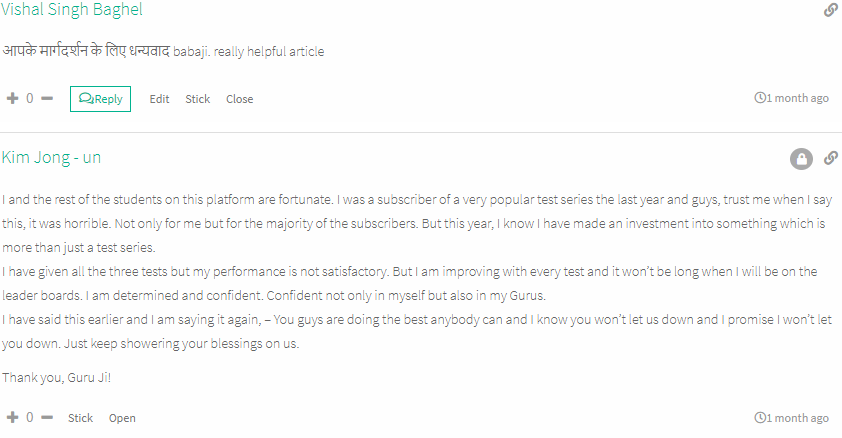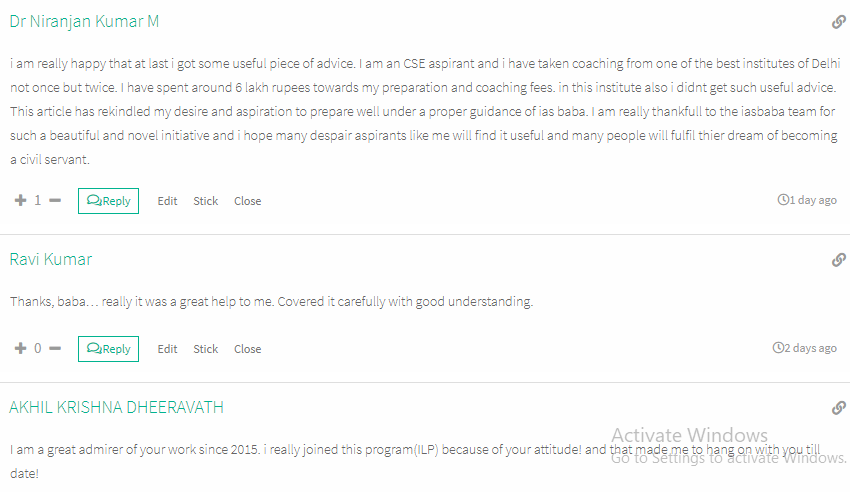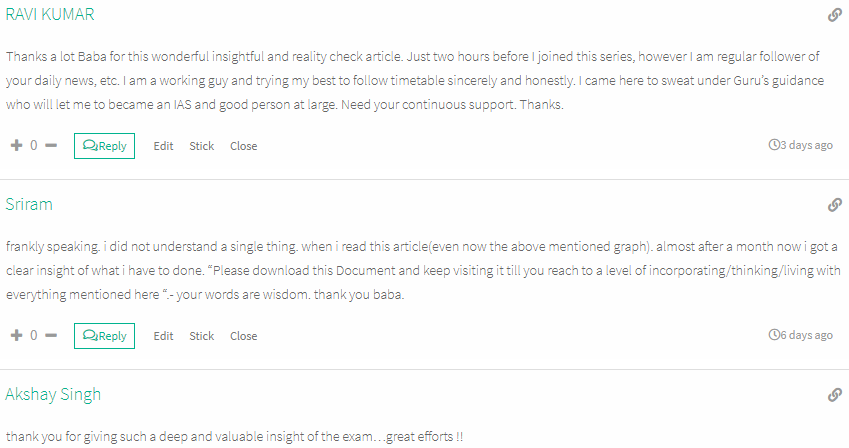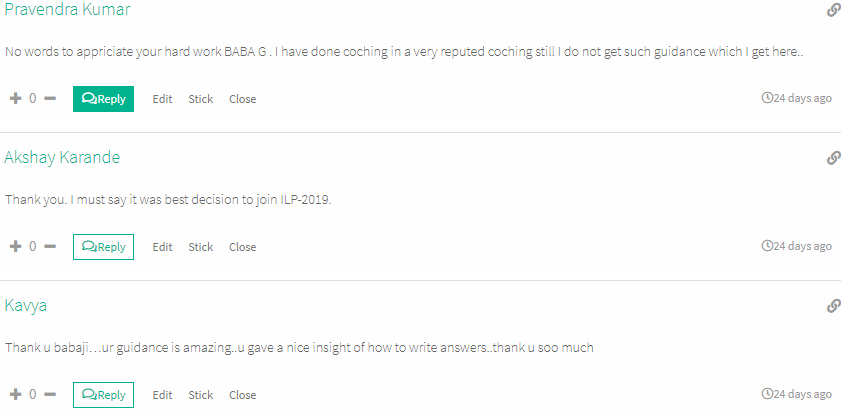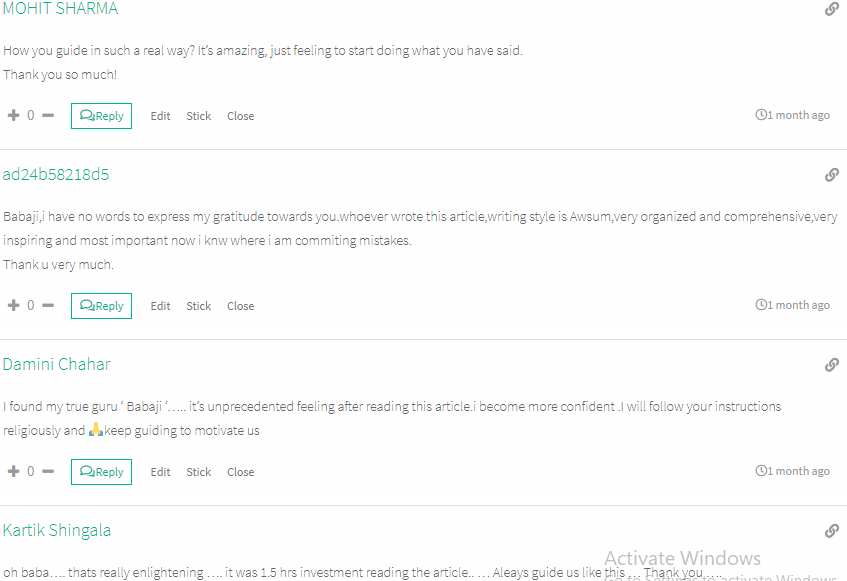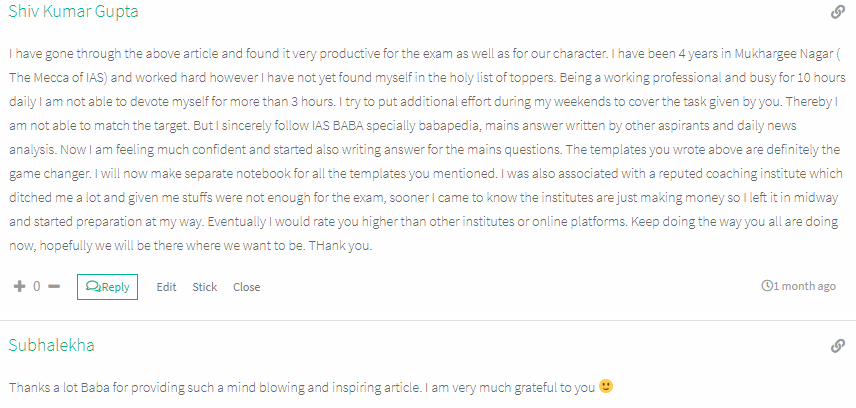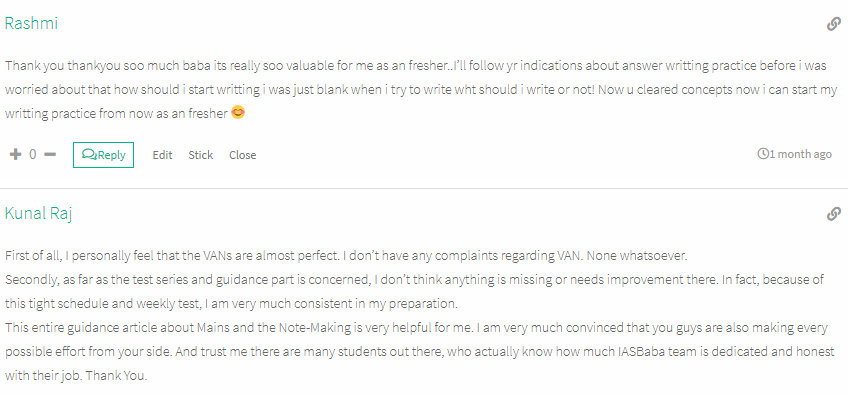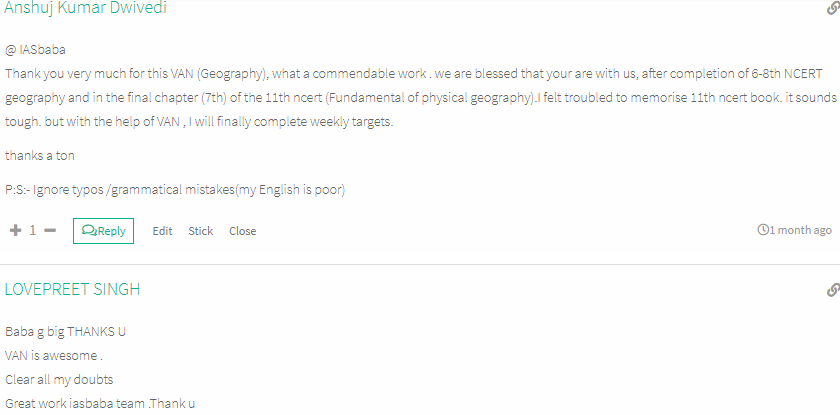 Similarly, other features are given in Menu Bar. 
---
GUIDANCE/ADVICE FOR LATE JOINERS
Irrespective of the situation, if someone is determined to attempt UPSC 2019 at this stage, will have to work equally hard and compete with others who have started the preparation earlier. UPSC's parameters remain the same and whatever be the case, one has to equip him/herself with everything that is required to crack this exam.
The only way to compensate the time factor is more effort with sincere commitment and dedication. Nothing else will come to rescue. By being part of ILP/AIPTS-2019 you already have got that extra support for quality content and guidance. You need not spend much time in quality content consolidation. Cannot you focus on it and be more aggressive in covering the syllabus in whatever time you are left with?
You are still in doubts, pondering over things not in control and busy in speculations. Why not focus on preparation instead? Is it too hard to follow your dream? Yes, it is. Not everyone has guts to follow their own dream (though everyone is blessed to dream)
ILP and AIPTS will play a vital role in your next attempt provided you are honest with it and your effort. And if you want to regret later, then most welcome to be in the state you are in.
We want to convey only one thing in the last- every moment in the life is a fresh beginning. Don't lose your precious time in thinking too much about your past efforts or the lack of it. Just focus on the present and make it count by giving your 100%.
Kindly bear in mind that, it is not too late even now. If you are determined to do it, just do it. Either start with the present plan and simultaneously finish the missed portions. Or start from the beginning depending on your convenience. Ultimately, before the exam, you must be prepared well.
Are you prepared to embrace the sunny side of your life and flash it to the world?
Oho, just get going already!
---
NOTE- IF YOU ARE JOINING ILP 2019, NO NEED TO JOIN AIPTS-2019
---
Go through full details of ILP 2019 and AIPTS 2019 before joining. 
---
---
AIPTS 2019 FULL PLAN- CLICK HERE
---
---
---
FEE OF ILP 2019- 9999/- PLUS 18% GST
FEE OF AIPTS 2019- 5999/- PLUS 18% GST
---
---
For a dedicated peer group, Motivation & Quick updates, Join our official telegram channel – https://t.me/IASbabaOfficialAccount
Subscribe to our YouTube Channel HERE to watch Explainer Videos, Strategy Sessions, Toppers Talks & many more…