Hi Friends,
TOPPER'S STRATEGY: An Inspiring Story of a Parent, a Working Professional – SAURABH BHUWANIA, Rank 113 UPSC CSE 2018, IASbaba's ILP Student!!
A real inspiration – MUST READ for all the UPSC Aspirants, especially Married and Working Professionals!
I can in no words show my gratitude for the support from IASbaba in this journey of mine of having secured Rank 113 in CSE 2018. I am writing now to ensure that all the Working Professionals who are in full-time job can breathe easily and can be single-mindedly focused at their goal. In fact, I must admit that being in full-time job, at times, inspired me to push myself extra hard in order to ensure that I am ready for the challenge.
In no time I will give my background so that it might be easy for you to relate to my situation. I began my preparation when I was approaching 30 (years old), I was married for more than 7 years and was about to be a father in next few months and had no choice but to be in a full-time job at RBI. So, despite these, if I could manage to find my name in pdf, there is no reason for anyone else to do the same.
As for my strategy, I was too determined to study minimum 4-5 hours daily on weekdays and 7-9 hours on weekends. I also tried to squeeze some 15 minutes here and there at offices in bunches to be more effective. The time in transit can be used optimally by listening to story-type videos on Modern History or World History. Also, I divided my papers into three tranches – 1. Essay and Ethics 2. GS1, GS2 and GS3   3.Optional papers. I ensured that I am being very regular with 2 and 3 on all weekdays and on weekends and holidays I devoted 2-3 hours on tranche 1. I have demonstrated this to show that a proper plan is very much needed before we embark on this journey. Cost-benefit analysis, not getting bogged down by the syllabus, maintaining mental fitness, curtailing the sources to just enough and remaining firm are certain traits which worked wonders for me.
My association with IASbaba was so helpful in the terms that I had to rely on very less material which will be just enough for the examination as I did not have the luxury to go deep in the subjects. PDFs, questions in prelims and mains and a directed approach helped me all through these 2 years to remain focused. For me, there was no choice to keep on compiling notes from various sources and in fact, this worked in my favour. I focused less on reading stuff and instead was working hard on how would I present my answer in the best possible way. I dwelt a lot on solving questions in prelims and doing answer writing practice in mains.
For the once who are married, support of their spouses plays a big role in determining the consequences. I did my entire preparation being at home and my spouse took the responsibility as a single mother all this while. The likes of us need to stop comparing with the ones who are doing coaching and studying 10-14 hours a day and instead need to see the positives of being in the job. I was less anxious in mains and interview just because I had a job in hand in case I don't make it to the list. This sense of security cannot be discounted at any cost.
In nutshell, all we need to do is to make the most out of which is there at our disposal. Collect all the energies, stay focused, draw a strategy, don't get cluttered with too much material and read and write and read and write. In the contemporary state of UPSC examinations, questions seem to have got more generalized which works in favour of working professional. So, just count on the positives and embark on the journey. All the best!
---
Below is my Detailed Strategy:
Background:
I am Saurabh Bhuwania and have secured Rank 113 in CSE 2018. My journey to UPSC has a great deal of destiny in it and will need some background. I was born and brought up in Dumka, Jharkhand before I came to Kolkata for further studies. I am a commerce graduate from St Xavier's, Kolkata and also have completed CA and CS. Even after I did MBA from FMS Delhi in 2015, I was cruising for a career in bank or investment firm. It was my selection in RBI which allowed me a faint thought of preparing for this exam. Joining RBI and coming across so many serious aspirants and at the same time a great deal of self-contemplation helped me figure out Civil services as my prime goal. I was almost 30 when I started and so I can talk on behalf of a person who wants to be a Civil servant and is also in a full-time job, is nearing the deadline age, is married for many years and a father of a child. My first attempt was in 2017 and due to a multiplicity of reasons including lack of writing practice, I failed to clear mains examination. My optional is Commerce & Accountancy.
Mistakes in my First Attempt and Learnings:
In my first attempt, I was definitely underprepared as it was less than 10 months with a full-time job since I started preparing. But the biggest crime according to me was lack of writing practice. I felt like a novice in the examination hall where I was searching for the right words, structure, balance in answers and also right speed. I was very determined to rectify this in 2018. I did a great deal of writing and even joined a test series for practice. Daily questions of IASbaba were a daily ritual for me. And I also used to read others' answers as a matter of reflection.
My General Studies (GS) Strategy:
I had to be very smart about these things. I had only 4 to 5 hrs at my disposal on weekdays. I had selected a few books and sources which I'll refer to. I avoided any duplicity just because I need to read more books. UPSC is more about wide coverage and not about research on all topics. I could not afford to make notes but relied a great deal on PDFs of online platforms like IASbaba and Vision IAS.
Prelims: Basics have to be covered and practising question-solving (Tests) is super helpful. It helps to develop a knack for eliminating the wrong options.
Mains: Write more and read less. I was more mindful of the way I will write an answer whenever I used to read any topic. Most of the times, I used to imagine a question and just roughly write it down on paper. It helped me develop the spontaneity during the exam hall where time is not a luxury.
One needs to balance the cost-benefit analysis topic wise and subject wise. In my case, I could not have dwelt much on Art and Culture. But I managed to have a fair idea by watching videos on YouTube and reading online PDFs from IASbaba. So, understanding the significance and ensuring that the preparation is exam-oriented holds the key.
My Optional Strategy – Commerce:
Commerce was an automatic choice for me. I was a CA and an MBA already and almost entire syllabus was within my reach. I simply focused on relying on my background instead of looking for an alternate lucrative optional. I will also advise believing in your strength and area of interest for choosing optional instead of a trend analysis of marks given by UPSC.
Paper 1: For any chartered accountant,  this will not be much of a challenge given the fact that the difficulty level of this paper is not more than PE II exam or B.Com. However one needs to respect the fact that almost everyone who has taken commerce optional is a commerce graduate or have some background in the paper. So it becomes important to emphasize on what UPSC is demanding. There are more theory questions in exams than practical ones which are not usual for a CA student. So being thorough with the theoretical part becomes pivotal. I depended primarily on Ranker's/Topper's notes and also took help from CA PE2 study material. Working on x-factors like structure notes to accounts, diagrams etc might add good value to the answers.
Paper 2: It is almost entirely theoretical in nature and for this paper, I depended again on Ranker's/Topper's notes. I also did some work on diagrams, charts, etc to enhance the quality of my answers. Small concise notes can do wonders in this paper given the fact that those last minutes notes can add value to the answers.
Time Management – between GS and Optional:
This question has to be the highlight of my preparation. My best time management could leave me with only 4-5 hrs of tangible study hours. However, I ensured that be it any festival or family occasion or mild health issues, I won't lose the momentum. So, consistency holds the key for someone who is starved of time. Even while going for my child vaccination, I could sneak in some prelims questions on the mobile app. This gave me the feeling that I am doing my optimum which helped in keeping my morale high.
The balance between GS and Optional is significant because GS normally fetches 40 to 45 per cent marks while Optional have the potential of 60% or more marks. Also, Ethics and Essay, though seem routine, are too technical and marks can improve if one keeps on practising and keeps on getting the feedback.
Role of IASbaba in my Preparation:
For a novice like me, something as readymade as Integrated Learning Programme (ILP) in 2017 was so important that I cannot stop thanking for. Even in 2018 preparation, I enrolled for the same and also wrote all the questions which were made available for practice.
Significance of ILP:
In my case, I couldn't afford any coaching which always leads to fear of going directionless while preparing such a myriad syllabus. ILP helped me set targets, maintain sanity in my routine and also helped me assess the level of preparation. Even for revision, I found the Value Added Notes (VAN) very useful for both Prelims and Mains. Within 2-3 months of starting preparation, I had started feeling that I have gained momentum and a lot of credit for that has to go to this program. I stayed very regular with the course structure which was set by them and it helped me remain in the domain of confidence during preparation.
My Final Gyan and few tips related to Prelims:
Don't see it as 1-year process and don't bother about the next process, next day or next anything. Life, if led in small fragments, becomes very easy. I was simply concerned about ensuring my daily target of studying whole-heartedly for 4-6 hrs and never cared about the lengthy process of this examination. Instead of reading or dwelling on bulky motivational quotes, one needs to stay simple and pragmatic.
Prelims has become trickier in the last few years. Practising Prelims questions (AIPTS/ILP of IASbaba) is important according to me along with regular revision. Mental health has to be ensured so that the efforts materialise in reality. I was one of the most unlikely aspirants who began preparation at the age of 30. If I could manage to do it with a full-time job and a small kid, so can you! Wish you all the best!!
MARKSHEET: MAINS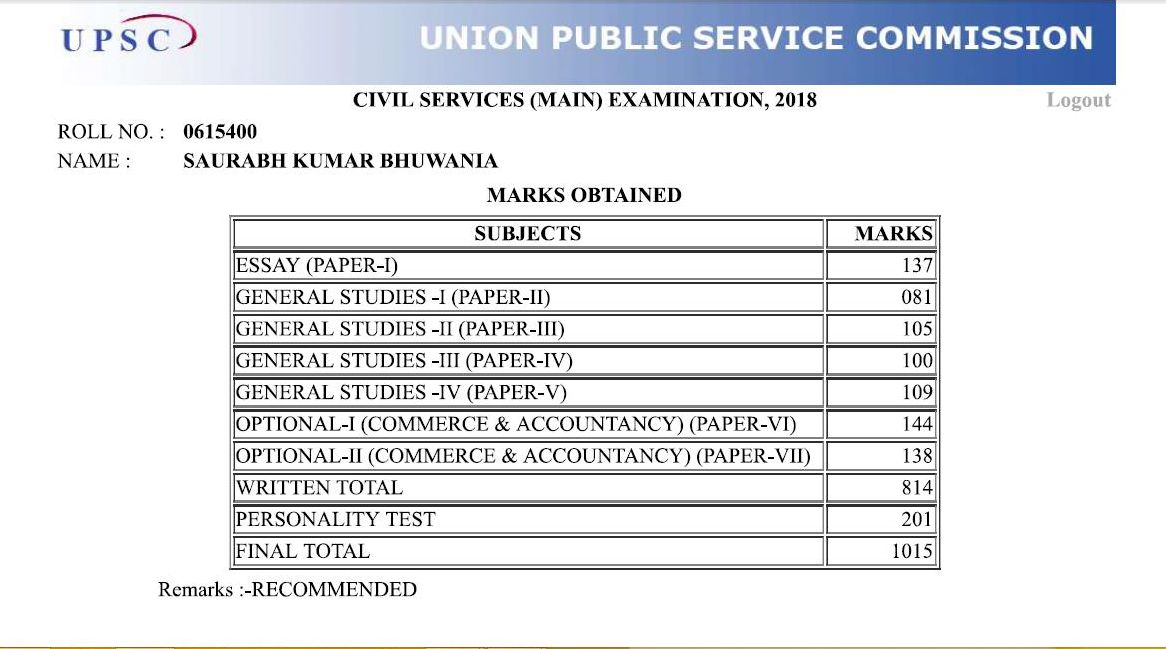 MARKSHEET : PRELIMS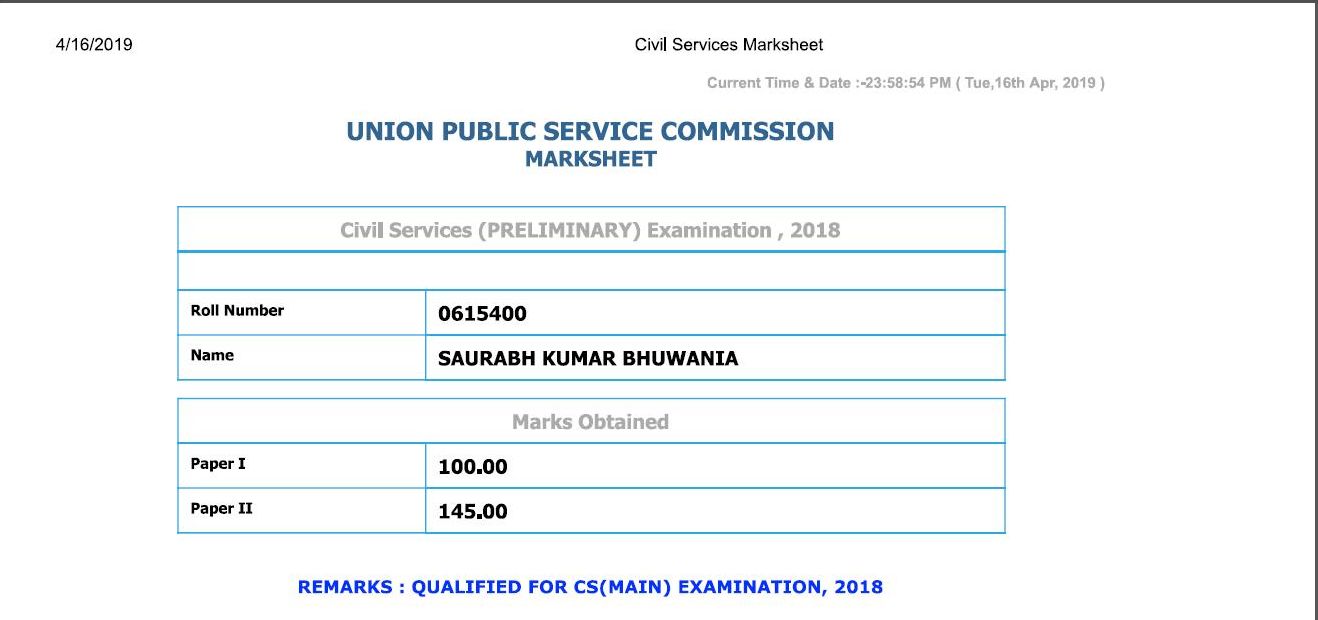 Regards,
Saurabh Bhuwania
For a dedicated peer group, Motivation & Quick updates, Join our official telegram channel – https://t.me/IASbabaOfficialAccount
Subscribe to our YouTube Channel HERE to watch Explainer Videos, Strategy Sessions, Toppers Talks & many more…