Significance of Shanghai Cooperation Organization summit
Search 29th April, 2019 Sptlight here: http://www.newsonair.com/Main_Audio_Bulletins_Search.aspx
TOPIC: General Studies 2:

India and its neighbourhood relations, International relations.
Bilateral, regional and global groupings and agreements involving India and/or affecting India's interests.
Effect of policies and politics of developed and developing countries on India's interests, Indian diaspora.
Important International institutions, agencies and fora- their structure, mandate.
Bishkek Shanghai Cooperation Organization Summit (SCO)
Date:

From June 13-14

Focus:

Radicalism and terrorism; this forum will also give India a chance to raise issues relating to terrorism, the stability of Afghanistan, and rising radicalism in Central Asian countries.

Bishkek is the capital of

Kyrgyzstan.
Shanghai Cooperation Organization
The Shanghai Cooperation Organization (SCO) has passed a consistent path of formation and in a relatively short historical period has demonstrated an effective model of multilateral cooperation based on mutual trust, equality, harmonious coexistence of different cultures and civilizations.
With the entry of India and Pakistan, the SCO has become the largest regional structure in the world, covering 60 percent of Eurasia's territory with a population of over 3.2 billion people, and the SCO member states produce almost a quarter of global GDP.
Members of the SCO:
Established in Shanghai in

2001

with China, Russia, Kazakhstan, Kyrgyzstan, Tajikistan and Uzbekistan as founding members.

China, Russia, India, and Pakistan and the Central Asian countries Kazakhstan, Kyrgyzstan, Tajikistan, and Uzbekistan whose main focus is to join hands together to fight terrorism, separatism, and extremism.

Both India and Pakistan became full members of the SCO in

2017

.
The total size of the national economies of the SCO members is more than 20 percent of world GDP. The International Monetary Fund predicts that by 2020 it will already be 35 percent. With such an impetus, the economies of the SCO member countries may increase to 38-40 percent by 2025. This pace is impressive, given today's mixed trends in the global economy.
Why does it stand out?
It can be considered as the first in the history of building an equal partnership of unbalanced, multi-scale states with different economic and political potential, cultural and civilizational features via
Voluntary membership

Equality of participants

A consensus model of decision-making
The SCO's driving philosophy — emphasises harmony, working by consensus, respect for other cultures, non-interference in the internal affairs of others, and non-alignment.
A Bearing Structure for Future World Order
The current global trends, the heightening of geopolitical tensions, the complex nature of threats and challenges, in fact, require collective efforts to create a more fair and polycentric model of the global structure. And SCO is becoming a bearing structure for future world order.
Fight against 'three evils': Against terrorism, separatism, and extremism
First of all, practical work is being conducted on the basis of the SCO Regional Antiterrorist Structure (RATS), which demonstrates significant results in countering terrorism, separatism and extremism.
In order to improve practical skills, joint anti-terrorism exercises are conducted through law enforcement agencies and the armed forces.

A significant place in the activities of the SCO is the problem of information security. Over the past years, in the framework of countering the use of the Internet for terrorism and extremism purposes, the RATS SCO has limited access to 80,000 Internet resources containing 500,000 materials and stopped the activities of 360 participants in Internet communities related to terrorism and religious extremism.
Contribute to global anti-drug efforts: Over the past five years, the competent authorities of the SCO member states have seized about 40 percent of the total amount of heroin and marijuana confiscated throughout Eurasia
Restore peace in Afghanistan: Among the topical issues on the international agenda of the SCO is to restore peace and stability in Afghanistan. In 2018, meetings of the SCO-Afghanistan Contact Group were held in Moscow and Beijing, which made an important contribution to common efforts at the inter-regional and international levels. In addition to facilitating the negotiation process, member states provide substantial material and technical assistance to Afghanistan, especially with regard to infrastructure and railway construction. Besides, hundreds of Afghan students go to universities in member states.
Explore the economic potential: As the key goals and objectives of the SCO economic agenda, the SCO Charter provides for the promotion of comprehensive and balanced economic growth, social and cultural development in the region.
In recent years, transport, energy, e-commerce, information and communication technologies, tourism, agriculture, banking and finance are considered as priority areas for the organization, with the prospect of expanding the use of national currencies in trade and investment activities.

Taking into account the unfavorable situation in the world market and growing protectionism on a global scale, it becomes clear how necessary it is to work together in the framework of the SCO.
The Way Forward for India
The summit provides an opportunity for the Indian and Pakistani leaders to meet informally on the sidelines of a multilateral event. The two sides are obliged to cooperate on issues of mutual interest without bringing in their bilateral disputes. Signing off on joint counter-terrorism exercises will be a new form of engagement between the two militaries.

When you have complicated ties with neighbours, it makes sense to strengthen ties with your neighbours' neighbours. The SCO's relevance for India lies in geography, economics and geopolitics. Its members occupy a huge landmass adjacent to India's extended neighbourhood, where India has important economic and security interests. Its Central Asian countries border Afghanistan, Pakistan and China. A narrow sliver of land separates southern Tajikistan from Pakistan-occupied Kashmir.

India has to carve out a political and economic space for itself in Central Asia, alongside Russia's role as net security provider and China's dominating economic presence. The Central Asian countries would welcome India breaking into this Russia-China duopoly.
Note:
SCO's Regional Anti-Terrorist Structure (RATS): RATS is a permanent organ of the SCO which serves to promote cooperation of member states against terrorism, separatism, and extremism and is headquartered in Tashkent.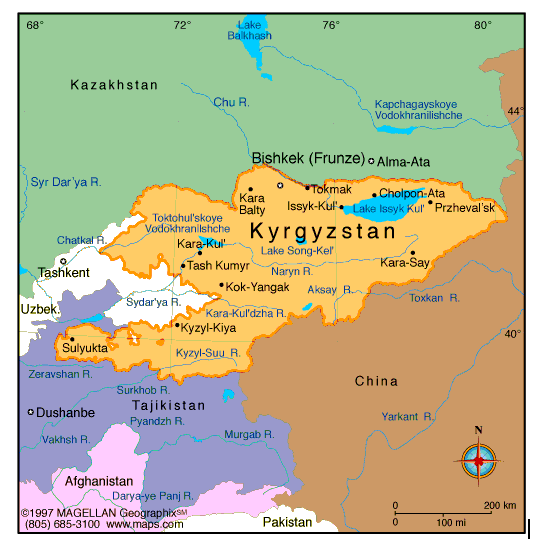 Location and neighbouring countries:
SECURE: PM Modi's mantra that is applicable to SCO
'S' for security of citizens,
'E' for economic development,
'C' for connectivity in the region,
'U' for unity,
'R' for respect of sovereignty and integrity, and
'E' for environmental protection
Connecting the Dots:
The SCO summit gives India an opportunity to showcase the kind of power it wants to be. Do you agree? Explain.
For a dedicated peer group, Motivation & Quick updates, Join our official telegram channel – https://t.me/IASbabaOfficialAccount
Subscribe to our YouTube Channel HERE to watch Explainer Videos, Strategy Sessions, Toppers Talks & many more…