TOPPER'S STRATEGY: Abhishek Kumar Singh, Rank 244 UPSC CSE 2018- a Regular Follower of IASbaba's initiatives (IAS baba's TLP Student)!
Hello fellow aspirants,
My name is Abhishek Kumar Singh (IAS baba TLP Student 2018), I have secured an All India Rank 244 in the Civil Services Examination 2018, and this feeling after failing twice in this examination before finally securing a rank is both overwhelming and incredibly rewarding at the same time. I am here to discuss my saga of efforts that helped me crack this examination.
Before I start, I would recommend every fellow aspirant to not to be driven by the strategy of other successful candidates, because your strategy and your success story should be unique and just yours. So why not create our own? Ofcourse, knowing about others and their personal battles can generate motivation and zeal to serve the country as a part of our bureaucracy.
MARKSHEET: MAINS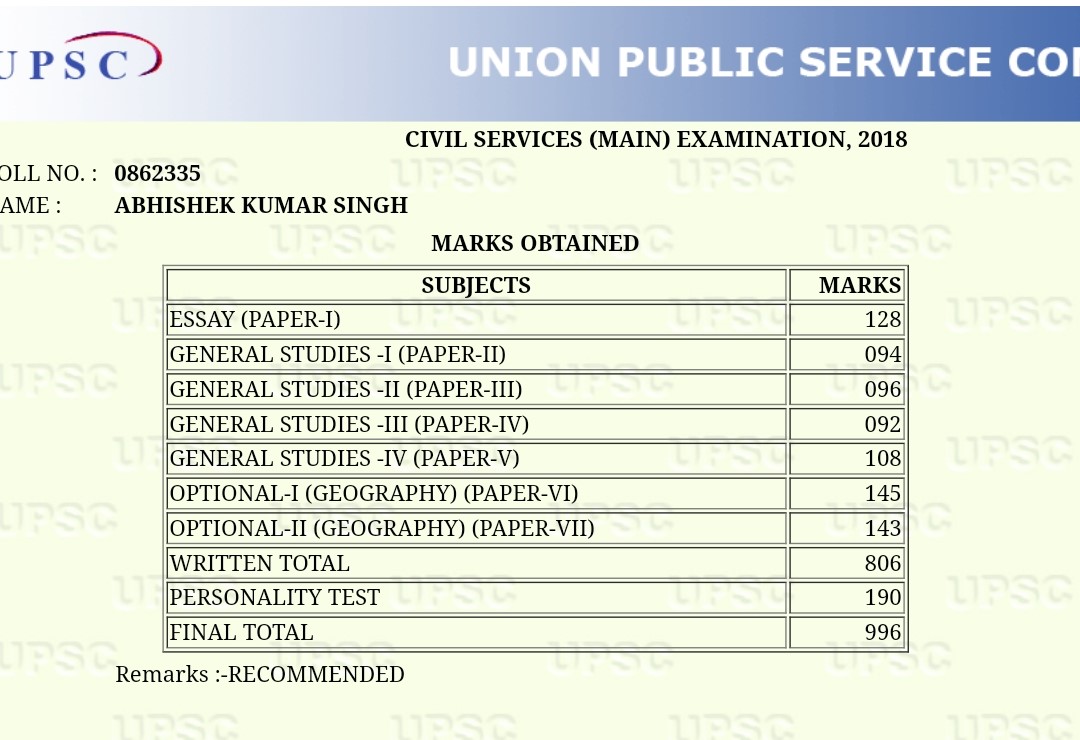 BACKGROUND: I belong to the city of Munger in Bihar and I come from a modest family background with just enough resources to make both ends meet. I had my schooling from Sainik School Tilaiya and Sainik school Kapurthala. With failures knocking the doors quite early in my career, I could not crack the UPSC NDA examination due to medical reasons. But the dream of serving the country runs deep in my family line, and that pushed me to aspire differently. I pursued Engineering in Bionformatics from Amity University, Uttar Pradesh and later joined various software firms post graduation. Preparations along with work comes with its own set of challenges but the very dream of serving the country kept my hopes high and my heart ignited.
Learnings from my Previous mistakes:
Previous Attempts : I have seen my fair share of failures in CSE examination, twice(UPSC) and otherwise, but it was very important for me to know why I failed and I worked on that constantly. It is okay to fail, but never let your instincts say that you can not clear this exam. I can tell this as I have always been an average student and had to work very hard to even get recognised as a good student at school and college level. So believe in your potential and do a regular SWOT analysis of yourself.
My Driving Force:
Your self-belief and the belief that the nation needs your services and you have a role to play if you dream of a better society for tomorrow. Plus a small pool of family and friends who are there to have your back when you fall is very crucial.
My father always said this and it became a MANTRA for my preparation: this examination is all about knowing your country, understanding our hurdles and having a vision for your motherland and its issues. While I studied, I used to keep this in mind, it actually made my answer writing skills better with each passing day.
GENERAL STUDIES (GS) Preparation:
MOST Critical part of preparation is mock tests and writing practise, target should be at least 10000 MCQs practise for prelims in these 12 months and at least 1 mains full length test series every week, for mains. Habit of writing even 2 answers daily and sticking to time limits, structure and demand of question will have a monumental impact on your mains Marks-sheet.
Prelims: Over the last couple of years, prelims has become more challenging, making informed guesses is a very important part of this. Solving mock question papers will nurture that aptitude that helps one attempt the right questions. One undermined aspect is the role of NCERTS. It is fundamental to our understanding of any question asked in prelims, the better one reads and understands NCERTS, better are his/her chances of solving even the questions which one is doubtful about.
Mains: Writing, reviewing and writing again, is the only mantra, sticking to time, well structured answers covering every dimension that is demanded in the question comes only when answer writing is done on a daily basis.
Ethics: Creating a set of examples, quotes and poems from school days books on each topic mentioned in the syllabus, and using them in answer writing practise is very crucial. Case studies need a well structured writing approach, real-life examples and giving a bureaucratic solution if possible in your answers will boost the quality of answers.
Interview: My interview was on 14th feb afternoon session. I was the first candidate. It was around 30 -35 minutes long. It was solely about my DAF and a few standalone current affairs questions. The Idea behind PI is solely to see the spark in you that says you have a bureaucrat in you. You have a vision and you possess officer-like qualities. Its a personality test and not a knowledge test. Be true to the best of your knowledge, in DAF and work on individual elements you have mentioned in DAF. Have a confident body language and maintain a humble and cheerful eye contact with all the panel members.
Making notes: The best study materials are your own notes. Use the least number of books to cover specific topics which is in the syllabus, more than reading a 1000 books, this exam is about your writing skills and to-the-point knowledge.
REDUCE the habit of buying every book suggested by toppers every year. Stick to one good book for each subject, may be 2  if you have a passion for reading.
REVISE NCERTs again and again, they are the key.
RETAIN the summary of every topic you read in the form of your own notes. During exam days going through your notes eases the stress and saves you a lot of time.
Sources and BOOKS:
GEOGRAPHY GS: NCERT 11 and 12 , 6th 7th and 8th if you want to start from scratch. GC Leong if you have enthusiasm and need more clarity.
History : NCERT 11th 12th, tamilnadu board history book is also very brief and good for revision, Spectrum for modern India or Bipin Chandra along with playlist on modern history of India by fantastic fundas and crash course world history (youtube)
Economy: Shankar Ganesh and NCERT MACROECONOMICS for basics, economic survey summary is a must read from any portals, and mrunal Patel sirs' playlist on surveys from youtube can be helpful in understanding few topics that are in focus.
Science and technology: basics from NCERTs 8th 9th 10th and biology from 12th, IAS BABA Daily current affairs and IASBABA Daily Quiz cover comprehensively S&T related topics in news.
Environment: any good theory book published by various institutes, and more importantly current affairs and MCQs practise is a must.
Polity: M. Lakshmikant is the most popular book, for GS answer writing in mains book on governance by Lakshmikant and Subash Kashyap is also a good read.
Others: International Relations– keep a tab on current affairs, use atlas on daily basis even for 10 minutes.  Generate a habit of map making.
Art and Culture: CCRT website, current affairs newspaper readings of tribes, festivals, researches if any on daily basis (Tally own notes).
For GS mains: Dutta and Sundaram is very helpful in GS paper 1,2 and 3.
For ethics: I focused on understanding and answer writing more than books. Lexicon is the only book I read a few times before exam.
Current affairs: make it a habit to read current affairs compilation of any renowned website like IAS BABA on daily basis. Also during the short time before prelims read any one good monthly CA booklet rather than many different institutes'. If time permits revise the same over and over again but do not change the source.
GEOGRAPHY OPTIONAL Preparation:
I chose Geography my optional subject due to my understanding that a logical and scientific discipline like geography seemed more relatable and relevant.
3 things one should keep in mind while choosing optional subject especially if your subject of specialisation is either not in the list of optionals or you do not feel too comfortable with it.
Familiarity : Going through the syllabus, keyword to keyword, and the previous year question papers of the subject, how familiar and comfortable you are with the demand of the subject.
Aptitude: While writing a specific subject's answer, your verbiage needs to conform to the technical language of the subject. This comes from reading and covering the syllabus. (For e.g.: a Law optional answer will have more legal terms and verbiage that gives it a legal outlook, while geography will have scientific-geographic terminologies and verbiage). You need to be aware whether you can develop and hone that skill after reading a certain subject you want to choose.
Interest: Perhaps the most important of all the three. How interested you remain in the subject as you proceed through the months of preparation, and how you handle temptation to switch from one subject to another just because you hear that a particular subject/faculty/institute has provided the topper this year, or any other fellow aspirant says that his optional subject is easy or interesting.
Nevertheless, selection of optional subject is one of the most important decisions you have to make as it will impact the majority of your marks and probably your final results the maximum.
Physical Geography: Savindra Singh
Human Geography : Majid Hussain 
Indian geography: Khullar's (do not switch from one book to another from time to time due to nervousness and fears read and re read)
Examrace playlist on geography optionals also.
Role of IASbaba in my Success:
It is important here to mention how IAS BABA and fellow aspirants help on a portal-based writing challenge like TLP. While you get reviewed instantly for what you have written, you learn a lot more from the answers of fellow aspirants on daily basis and that help one get better day after day.
Being a TLP student, this portal was one of the best things I banked on for my mains preparation. it is like a mentorship on the go and freely available to one and all. I used to write answers and make a diary of feedback given by fellow aspirants and faculties on daily basis. The goal was to keep in mind that specific feedback next day while writing answers.  It helped me improve on daily basis and seeing myself improve, it made me confident of good outcomes.
If coaching is compulsory for working aspirants: Not at all, but guidance is surely required. A good guide and a mentor is sin qua non to success in Upsc examination.
Time Management:
How long is it sufficient to prepare for CSE: For an average student who is willing to work hard and is motivated, 12 months are sufficient to be ready to take this exam.
How many hours of study: this is quite a common question and quite exaggerated one too but I seriously feel, 6 hours of studies plus an hour of current affairs daily upto 50 days from prelims examination and 10 hours (3 optional + 3 GS + 3 hours of answer writing + 1 hour for self review/ essay/ map work Diagrams for geography optional) is sufficient.  During exam days as well one should study only as much as our mind can retain.
NOTE: Number of hours are not important, sticking to a daily plan and finishing what you started is.
Time management: can be best learned by setting a 2 and half hours deadline to full length tests for mains. And writing on a daily basis will only help you reach that feat. It is most important to not leave any question in mains examination. Stick to word limits in every question.
For working professionals, it is very important to stick to to daily goals and not worry about number of hours one studies. Our daily target of covering certain topics should be met. Make a planner for a week and try to stick to it religiously. Review your plan in 15 days, make amendments and be very disciplined towards your daily targets.
My personal thoughts: Everyday that one does not study or meet his/her targets, deducts 10 ranks from the top(in your mind), charge yourself up to cover up for that lethargy and get back to the goal of this dream opportunity.
Stress/personal problems and the rollercoster of emotions: This examination is not just a career option, its a life lesson. To be a better citizen, a balanced individual and an emotionally intelligent human being are some of the other takeaways. Never forget the fact that the fear and stress of failing, losing your job, family and financial issues, lacking motivation for a few days are some of the challenges every single one of us face while preparing, even the toppers, you are not alone and so just like the toppers, you can handle them too. Never let that instinctive voice say to you that you can not clear this examination, and if your inner voice believes in your potential you will keep going.
Draw on motivations from your dreams rather than drawing fears out of your dreams. IF you are brave enough to dream of this pristine goal, YOU and only you can achieve it.
Say this to your self "My country needs me, if not me, then who else?". JAI HIND
Regards,
ABHISHEK KUMAR SINGH
For a dedicated peer group, Motivation & Quick updates, Join our official telegram channel – https://t.me/IASbabaOfficialAccount
Subscribe to our YouTube Channel HERE to watch Explainer Videos, Strategy Sessions, Toppers Talks & many more…