IAS UPSC Prelims and Mains Exam – 9th July 2020
---
(PRELIMS + MAINS FOCUS)
---
Part of: GS Prelims and Mains II and III – Polity, law, fundamental rights, NGOs; Economy
What is FCRA?
It is a law enacted by Parliament

to regulate foreign contribution

(especially monetary donation) provided by certain individuals or associations to NGOs and others within India.

FCRA Act was originally passed in 1976 and majorly modified in 2010.

The government has used the act over the years to freeze bank accounts of certain NGOs who it found were affecting India's national interest for wrong purposes.
Do you know?
As per the FCRA Act 2010, all NGOs are required to be registered under the Act to receive foreign funding.

According to terms stipulated in the FCRA, an organisation cannot receive foreign funding unless it is registered under the 2010 Act, except when it gets government approval for a specific project.

Under the FCRA Act, registered NGOs can receive foreign contribution for five purposes — social, educational, religious, economic and cultural.
Important value additions:
NGOs
The term 'NGO' is used to describe a body that is neither part of a government nor a conventional for-profit business organisations

Groups of ordinary citizens that are involved in a wide range of activities that may have charitable, social, political, religious or other interests.

Helpful in implementing government schemes at the grassroots.

In India, NGOs can be registered under Indian Societies Registration Act, 1860, Religious Endowments Act,1863, Indian Trusts Act, etc.

India has the largest number of active NGOs in the world.

NGOs receive funds from abroad, if they are registered with the Home Ministry under the Foreign Contribution (Regulation) Act (FCRA).
---
Part of: GS Prelims and Mains II – India and its neighbours; International Relations
In news:
Pakistan has claimed that former naval officer Kulbhushan Jadhav, who is arrested on charges of espionage and terrorism in 2016, has refused to file an appeal against his April 2017 conviction. 
Background:
India had moved the International Court of Justice in the same year for the "egregious violation" of the provisions of the Vienna Convention by Pakistan by repeatedly denying New Delhi consular access to Jadhav.

ICJ had ruled that Pakistan should "review and reconsider" Kulbhushan Jadhav's conviction and death sentence. 

It also ruled that Indian government should be given consular access to Kulbhushan Jadhav.
Important Value Additions:
ICJ is the "principled judicial organ of the United Nations" (ICJ, 1945), and is based at the Hague in the Netherlands.

Statute of the International Court of Justice, which is an integral part of the United Nations Charter established the ICJ.

The ICJ is made up of 15 jurists from different countries (elected to nine-year terms by Permanent members of the UNSC) and no two judges at any given time may be from the same country. The court's composition is static but generally includes jurists from a variety of cultures.

The function of the ICJ is to resolve disputes between sovereign states.
---
Part of: GS Prelims and Mains II – International Organization
In news:
Trump administration formally started the withdrawal of the U.S. from the World Health Organization (WHO), due to its failed response to the coronavirus.

WHO, the Geneva-based body, leads the global fight on maladies from polio to COVID-19. 

Trump had threatened to suspend the $400 million in annual U.S. contributions and had that US will withdraw from WHO.
Important Value Additions:
About WHO
WHO, founded in 1948, is a specialized agency of the United Nations with a broad mandate to act as a coordinating authority on international health issues.

The main decision-making body at WHO is the annual World Health Assembly (WHA), attended by all member-states. 

There is also the Executive Board (EB) comprising technically qualified persons from 34 countries, elected based on geographic representation from across the globe.
Consequences of the US decision
Politicization of the Pandemic

Reduces WHO's ability to coordinate the fight against pandemic in coming months

WHO's significance will decline in long run if the shortfall in funding is not addressed

Impacts the Public Health prospects of Africa: Half of all spending of WHO was in Africa.

Impacts Health programs of WHO: A quarter of WHO budget went to polio eradication, 12% on access to healthcare, 5% on outbreak prevention and control

It provides further scope for China to increase its funding and influence in WHO

Signals US intention of retreating from Global affairs thus creating vacuum in Global Leadership role
---
Part of: GS Prelims and Mains II – India and the World, International Relations; Policies of countries affecting India's interest
In news:
UAE is keen to have an open sky agreement with India.

India has a open skies policy with SAARC countries and those beyond the 5,000-km radius, which implies that nations within this distance need to enter into a bilateral agreement and mutually determine the number of flights that their airlines can operate between the two countries.

(as per National Civil Aviation Policy (2016))

It is this policy that the UAE Ambassador wants India to revisit.
About Open Sky Agreement
Open Sky Agreements are

bilateral agreements

that the two countries negotiate to provide rights for airlines to offer international passenger and cargo services. It expands international passenger and cargo flights.

India has Air Service Agreements (ASA) with 109 countries including UAE. But, India does not allow unlimited number of flights between two countries.

Open skies between India and UAE will allow unlimited number of flights to the selected cities of each other's countries.
---
In news:
Cabinet approved an affordable rental housing scheme for migrants who went back to their home states during the lockdown.
About Affordable Rental Housing Complexes (ARHCs) scheme
It is under the ministry of housing and urban affairs

It will be a sub-scheme under the Pradhan Mantri Awas Yojana (Urban) 

The scheme aims to cover nearly 3 lakh beneficiaries initially, with an estimated expenditure of around Rs 600 crore.

Targeted beneficiaries would be workers who come from rural areas or towns to work in manufacturing, hospitality, health, construction, etc.
2 components:
The ARHC scheme will have a two-pronged approach; first, existing vacant government funded housing complexes will be converted into ARHCs through a concession agreement for 25 years.

Secondly, special incentives like use permission, 50% additional Floor Area Ratio or Floor Space Index, concessional loan at priority sector lending rates, tax reliefs at par with affordable housing among others will be offered to private and public entities to develop ARHCs on their own available vacant land for 25 years.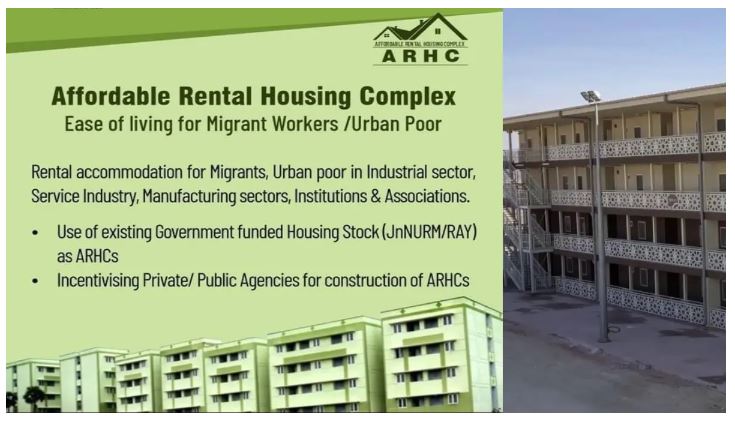 Pic: ARHCs
---
(MAINS FOCUS)
---
ENVIRONMENT/ GOVERNANCE/ ECONOMY
Topic: General Studies 2,3:

Conservation, environmental pollution and degradation, environmental impact assessment. 
Government policies and interventions for development in various sectors
Context: Projects in critical forest habitats are being considered or have been given clearance by the Environment Ministry endangering the ecological balance
Environment protection has become secondary to development process
Through the lockdown, 'expert' bodies of Union Environment Ministry have considered, and in many cases cleared, multiple industrial, mining and infrastructure proposals in critical wildlife habitats & forests. These include 

The Etalin Hydropower Project in the biodiversity-rich Dibang valley of Arunachal Pradesh

A coal mine in Assam's Dehing Patkai Elephant Reserve

A diamond mining in the Panna forested belt

A coal mine with a coal-fired power plant in Odisha's Talabira forests

A limestone mine in the Gir National Park

A geo-technical investigation in the Sharavathi Lion-Tailed Macaque Sanctuary in Karnataka

Authorities considered these projects via video-conferencing in contravention of environmental laws, and without all necessary documents or site inspections
Why 21st century has seen multiple lethal epidemics?
There has been an accelerated destruction of wild habitats, forests and diversified food systems for urbanisation, mining, and industry 

This means pathogens which were once largely confined to animals and plants in the wild are now better positioned to infect humans. 

The expansion of monoculture cropping and livestock farming systems, coupled with dense human settlements are eliminating the biodiversity and distance barriers that lent resilience to the human species 
Why government's draft EIA is being criticised?
Undermining Public Participation
No meaningful public consultation can take place amidst a pandemic and repeated lockdowns. 

MoEFCC had given June 30 deadline for feedback on its draft Environment Impact Assessment (EIA) notification, but it was extended through High Court Order to August 11
Subverting the spirit of EIA
As per the draft, starting a project before obtaining environmental approvals will no longer be a violation, and it can be regularised post-facto. 
Instead of strengthening EIA process, the draft notification proposes to exempt a wider range of projects from public hearings, including those which authorities can arbitrarily designate as 'strategic'. 

The draft even allows for a class of projects to secure clearance without putting out any information in the public domain.
Inadequate Focus on Monitoring
Despite demands from environmentalists, the draft notification says virtually nothing on improving monitoring & compliance with clearance conditions and safeguards.
Economic Agenda undermining Environmental safeguards
Green clearances for "seamless economic growth" seems to be the government's agenda in order to revive economy which is facing slowdown in recent quarters
Consequences of the above actions
Further environmental degradation. 

Development-induced displacement. 

Disproportionate impact on poor & weak: The effects of these are overwhelmingly borne by Adivasi and other marginalised groups

Further endanger habitats and lives, 

Intensifies human's vulnerability to infectious diseases and related socio-economic shocks.
Conclusion
These giant leaps backward (dilution of Environmental protection standards) will not make us atmanirbhar (self-reliant).
Connecting the dots:
Paris Climate Deal

Ease of Doing Business – Improvements by India
---
GOVERNANCE/ POLITY
Topic: General Studies 2:

Indian Constitution—historical underpinnings, evolution, features
Parliament and State legislatures— functioning 
Government policies and interventions for development in various sectors
Context: The committee on reforms in criminal law, set up by the Union home ministry, has started registrations for expert and public consultations on the changes to the criminal law system in India.
Why there is a need to reform Criminal Laws?
Long Pending

: The Indian Penal Code and its corollary laws, the Indian Evidence Act and the Code of Criminal Procedure, were all first enacted in the late 19th-century that have not undergone comprehensive revision
Colonial Hangover

: IPC & CrPC were largely formalised to aid the colonial government in India, over 150 years ago. They are still rooted in colonial ideas despite amendments & judgements
Lacks Adequate recognition of Individual agency:

IPC do not reflect the aspirations of a Constitution that gives primacy to liberty and equality. 
Still represent Victorian Morality:

While it took 158 years for the courts to decriminalise homosexuality (section 377 of IPC)  and adultery, there exists many provisions in the IPC that still echoes Victorian morality, which is especially true for women.
Ignorant of modern-age crimes

: New crimes need to be defined and addressed in IPC, especially concerning technology and sexual offences.Ex: digital technology facilitating gambling and betting
Way Ahead/Conclusion
The committee must cover a large and diverse landscape of 'offences' and criminal procedure to craft a criminal law system that is truly in tune with the times.Ex: Contempt of Court, marital rape, acid attacks, hate crimes etc

Government should not give in to populist demands and run the risk of excessive policing and over-criminalising 

Death Penalty needs a legislative approach and not just passing the buck to the judiciary.

On procedural aspects of criminal law, there is a need to harmonise the statute books with court rulings

Victim who are often on the margins of the justice process should not be burdened with institutional delays

Accountability, above all, must guide the balance between the rights of the citizen and imperatives of state.
Conclusion
There is a need to weed out outdated provisions, and update IPC to include modern day/hitherto excluded offences
Connecting the dots:
Charter Act of 1833

that established First law commission in 1834 under the Chairmanship of Lord Macaulay – recommendations led to drafting of IPC
---
(TEST YOUR KNOWLEDGE)
---
Model questions: (You can now post your answers in comment section)
Note: 
Correct answers of today's questions will be provided in next day's DNA section. Kindly refer to it and update your answers. 

Comments Up-voted by IASbaba are also the "correct answers".
Q.1 Consider the following statements:
It is mandatory that all the NGOs are required to be registered under Foreign Contribution Regulation Act (FCRA) to receive foreign funding. 

It is mandatory that all the NGOs are required to be registered under Indian Societies Registration Act, 1860 to carry out its functions in India.
Which of the statements given above is/are correct?
1 only

2 only

Both 1 and 2

Neither 1 nor 2
---
Q.2 Which among the following is incorrect statement about WHO?
It is a specialized agency of the United Nations responsible for international public health.

The WHO was established on 7 April 1948, which is commemorated as World Health Day.

Parent organization of WHO is United Nations Economic and Social Council

It is headquartered in Washington, D.C., US.
---
Q.3) Consider the following statements about United Nations
International Court of Justice and International Criminal court are the two dispute resolution mechanisms of UN.

All member states of UN are also members of UNESCO.

Economic and Social Council along with the Trusteeship Council are among the six main organs of UN.
Which of the statements given above is/are correct?
1 and 2

2 and 3

Only 3

1 and 3
---
Q.4 Government of India has launched an ambitious scheme called Pradhan Mantri Aawas Yojna. Which of the following statements regarding PMAY are correct?
It aims to provide every family a pucca house with water connection, toilet facilities, 24*7 electricity supply and access.

In the first phase the scheme is targeting the construction of houses in urban areas.
Select the code from following:
1 only

2 only

Both 1 and 2

Neither 1 nor 2
---
ANSWERS FOR 8th July 2020 TEST YOUR KNOWLEDGE (TYK)
---
Must Read
About extension for MGREGA:
About Social Contract in post-COVID-19 world:
About India-China Economic relations:
For a dedicated peer group, Motivation & Quick updates, Join our official telegram channel – https://t.me/IASbabaOfficialAccount
Subscribe to our YouTube Channel HERE to watch Explainer Videos, Strategy Sessions, Toppers Talks & many more…