Hello Everyone,
YASHPRATAP SHRIMAL Rank 192, UPSC CSE 2019 Cracks UPSC Exam in 6th Attempt (LAST ATTEMPT). IASbaba's TLP Studnet with Sociology has his Optional Subject.
Experience Speaks!! After scoring 60 Marks in his 1st Attempt in Prelims, he has consistently scored well 120+ in Prelims, 425+ in GS (MAINS)
YashPratap shares his Preparation Strategy with Mohan Sir (IASbaba Founder). Here in this video, he discusses very important points like-
How he scored only 60 Marks in his 1stAttempt in Prelims and Next Attempt 138 🙂
How he scored 120+ in Prelims , 425+ GS consistently in last 3 attempts
Mistakes he committed in every attempt & how did he improve upon it
How was he able to score consistently well in Essay and Ethics?
Mistakes committed in his 4 Attempts in Sociology Optional
Strategy for the Next 50 Days..!! Upcoming Prelims Exam
Kudos and Salute to his unwavering faith, consistent efforts, determination and hard work which has helped him to achieve Rank 192.
Standing true to its Tagline – One Stop Destination for UPSC/IAS Preparation!! IASbaba has proved time and again how it has played a crucial role in helping one reach the destination.
---
You can check Final Results of UPSC CSE 2019 – CLICK HERE
---
100+ Ranks UPSC CSE 2019 Topper's from IASbaba – 5 in Top 20 Ranks makes it even more Special! -> CLICK HERE
---
Hear the Success Story of YASHPRATAP SHRIMAL Rank 192, UPSC CSE 2019 –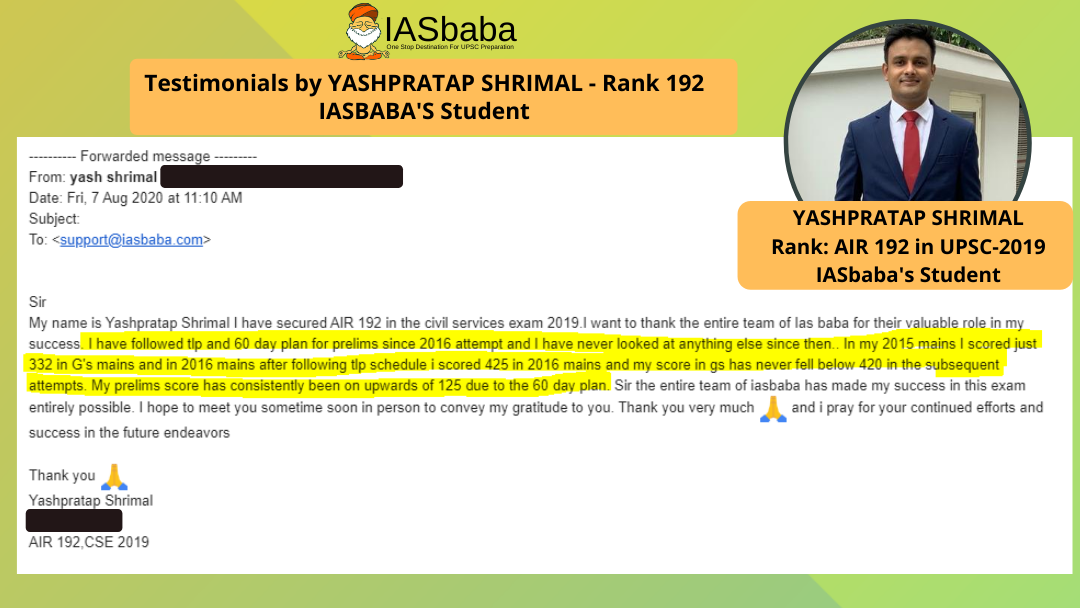 IMPORTANT TIMELINES:
00:23 – Introduction
01:21 – Cracks UPSC Exam in 6th Attempt (last Attempt), SOCIOLOGY OPTIONAL
01:54 – Learnings from Previous Attempts – What to do & What Not to do?
02:29 – What was the Motivation which kept you going throughout this 6 Attempts?
02:43 – Support from my Parents & Friends
02:49 – Guidance from Mentors of IASbaba
03:03 – Hardwork and Acknowledgment of my mistakes & improved in every attempt
03:41 – Do you think putting 6 years in UPSC in worth it?
04:19 – Preparation Strategy – Prelims, Mains, Interview.. How did you improve yourself in each attempt and from reserved list in the 5th Attempt got 195th Rank?
04:59 – Scored only 60 Marks in my 1st Attempt in Prelims and Next Attempt 138 J
05:27 – In the 2nd Attempt did not practice Answer Writing
05:42 – In the 3rd Attempt followed IASbaba's TLP Program and scored 425 Marks in GS
06:12 – In the last 2 Attempt's focused on value-additions and enrichment in the answers
06:43 – In the last attempt, improved my Interview Score with the IASbaba's IMP (Interview Mentorship Program) & interaction with my friends
07:02 – Exclusive PRELIMS Strategy
07:27 – Revision a Must!
07:50 – Solving Prelims Tests made be score 120+ in Prelims
08:21 – What was your Approach on the D-Day of the Exam? What was your thought process? How many questions did you attempt?
08:53 – Solved the Prelims Paper through 3 Iterations?
09:47 – Tried to get Max questions correct in my 1st Iteration (round) – Then Probability of Clearing the Exam increases
10:22 – This Strategy was perfected through the Test Series
10:34 – MAINS Strategy
10:45 – Importance of Answer Writing
10:55 – Crucial Role -Importance of IASbaba's TLP – Mains Answer Writing Program
12:10 – Essay and Ethics Strategy .. Yash Pratap had scored consistently well in Essay & Ethics!
13:33 – Approach to Case Studies
14:37 – INTERVIEW Preparation
16:09 – Notes Making & Current Affairs Strategy – How did you manage Multiple Sources?
16:24 – Importance of Notes Making
17:44 – OPTIONAL Strategy – What was your criteria of choosing the Optional? Do you Believe in few Optionals have an edge over other Optionals?
20:01 – Choose Optional based on your INTEREST!
20:16 – Mistakes done in my 4 Attempts in Sociology Optional
22:32 – Time Management .. How was your Daily Schedule like? How many hours did you study per day?
24:48 – Importance of Revision – Should it be daily, weekly or monthly basis?
26:25 – Role of IASbaba in your Success?
26:39 – IASbaba's TLP & 60 Day Plan have been pivotal in my Success! Consistently scored well in my GS (above 425)
27:00 – Quality of Questions in TLP is closest to UPSC standards!!
27:29 – Importance of IASbaba's Motivational Articles
28:04 – Best Program for Prelims – IASbaba's 60 Day Plan! Both TLP & 60 Day Plan are FREE Initiatives on the website
28:35 – TLP Schedule – a very Practical Schedule!
29:33 – Final Words/Advice to fellow aspirants who are preparing for the UPSC Exam – Never get swayed by Rumors! Have Faith in yourself! Be Flexible!
30:43 – Strategy for the Next 50 Days..!! Upcoming Prelims Exam – Revision & Mock tests are the Key! MUST DO -IASbaba's 60 Day Plan
---
Email : support@iasbaba.com
Thank You
IASbaba
For a dedicated peer group, Motivation & Quick updates, Join our official telegram channel – https://t.me/IASbabaOfficialAccount
Subscribe to our YouTube Channel HERE to watch Explainer Videos, Strategy Sessions, Toppers Talks & many more…