Monitoring China's Moves on Brahmaputra
Topic: General Studies 2, 3:

Effect of policies and politics of developed and developing countries on India's interests 
Challenges to security in border areas
In News: Amidst reports that China plans to build a major dam on the Brahmaputra, India said it "carefully monitors" all developments relating to the river, and that it intends to remain engaged with China on the issue of trans-border rivers to safeguard its interests. 
Geopolitics in India China relations is not only limited to land disputes or competition in the oceans but also river disputes such as the one associated with the Brahmaputra basin. The water dispute between the two countries traces its origin to many decades, with China intending to start projects in the Tibetan Plateau surrounding the river since 1958 when Chairman Mao giving ideas regarding the Three Gorges Dam project on Yangtse river which after many years of difficulty, was finally constructed in2006. Following the construction of this dam, the Chinese government turned its focus to the Yarlung Tsangpo river projects, likely driven by challenges of water shortage it faced.
In contemporary times, the divergence between India and China over Brahmaputra is primarily driven by construction of hydropower power projects by China as well as the lack of transparency over hydrological data by the country. As a lower riparian state, India is at a disadvantaged position vis-à-vis China, which possesses the capability constructs dams as well as change the course of the river. These possibilities have direct implications for India's North East region, where economic opportunities are already scarce. An alteration in the course of the river that feeds large swathes of land in the region could severely impact the residents of these states. Moreover, opaque data practices by China pose additional threats to India's North East region that is home to many flood prone areas along the Brahmaputra basin.
India's Stand
The Chinese side has conveyed to India on several occasions that it was only undertaking run-of-the-river hydropower projects, which do not involve diversion of the waters of the Brahmaputra. 

Noting that issues relating to trans-border rivers are discussed with China under the ambit of an institutionalised expert level mechanism which was established in 2006 as well as through diplomatic channels, the MEA spokesperson said, "we intend to remain engaged with China on the issue of trans-border rivers to safeguard our interests." 

As a lower riparian State with considerable established user rights to the waters of the trans-border rivers, the government has consistently conveyed its views and concerns to the Chinese authorities and has urged them to ensure that the interests of downstream States are not harmed by any activities in upstream areas
China's Stand
In Beijing, the Chinese foreign ministry said there is no need to have "any anxiety" over the project and that China will continue to have "good communication" with lower riparian states – India and Bangladesh.

Hydropower development in the lower reaches of Yarlung Zangbo river is China's legitimate right. When it comes to use and development of cross border rivers, China always acts responsibly.

We have a policy featuring development and conservation and all projects will go through science-based planning and assessment giving full consideration to impact downstream and accommodating the interests of upstream and downstream regions.
Peculiar characteristics of Brahmaputra River that is cause of concern
The Brahmaputra river, known as the Yarlung Tsangpo in China, originates from Tibet and flows into Arunachal Pradesh and Assam and later drains into the Bay of Bengal through Bangladesh.
It originates under the name of Siang or Dihang, from the Chemayungdung glacier of the Kailash range near the Mansarovar lake. 

It enters India west of Sadiya town in Arunachal Pradesh.

Tributaries:

Dibang, Lohit, Siang, Burhi Dihing, Tista, and Dhansari.

It is a perennial river.

On reaching the Namcha Barwa (7757m), it takes a 'U' turn and enters India in Arunachal Pradesh through a gorge.

The Brahmaputra has a braided channel in its entire length in Assam and forms many riverine islands.

Right bank tributaries of Brahmaputra are

Kameng River, Manasarover, Beki River, Raidak River, Jaldhaka River, Teesta River, Subansiri River.

Guwahati, Dibrugarh, Tezpur are the main cities developed on the banks of Brahmaputra river.

National Waterway 2 is being developed – Dhubri to Sadiya
Causes of concern
Two Floods:

 Inhabitants along the river have to deal with two floods annually, one caused by the melting of the Himalayan snow in summer and the other due to the monsoon flows
Dangers of Climate Change:

 The frequency of these floods have increased and are devastating due to climate change and its impact on high and low flows.

Dynamic in nature:

 The river is in itself dynamic as frequent landslides and geological activity force it to change course very often.
India has long expressed concerns over dam-building on the Brahmaptura. In 2015, China operationalised its first hydropower project at Zangmu, while three other dams at Dagu, Jiexu and Jiacha are being developed. Indian officials have said the dams are not likely to impact the quantity of the Brahmaputra's flows because they are only storing water for power generation. Moreover, the Brahmaputra is not entirely dependent on upstream flows and an estimated 35% of its basin is in India. India does not have a water-sharing agreement with China, but both sides share hydrological data.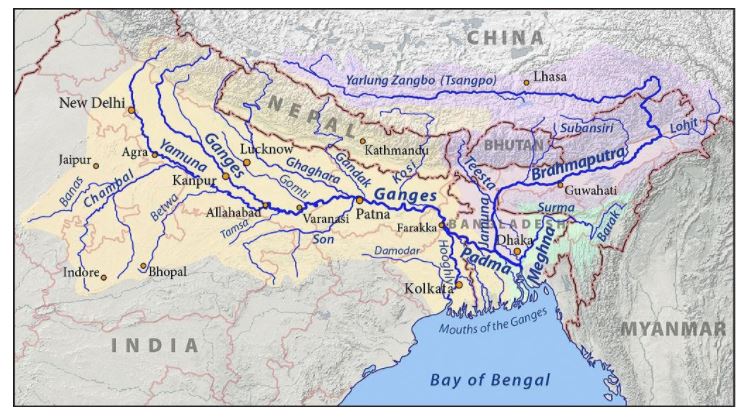 Pic Source: WikiCommons
Water Issues of China 
Resource Constraints

: China, which is home to close to 20 per cent of the world's population, has only 7 per cent of its water resources. 

Consequence of Industrialisation

: Severe pollution of its surface and groundwater caused by rapid industrialisation is a source of concern for Chinese planners. 

Regional Imbalance within China:

 China's southern regions are water-rich in comparison to the water-stressed northern part. The southern region is a major food producer and has significant industrial capacity as a consequence of more people living there.

River interlinking Plans

: China has an ambitious plan to link its south(water rich) and north(water stressed) through canals, aqueducts and linking of major rivers to ensure water security

International Ramifications: 

In pursuit of above goals, China, being an upper riparian state in Asia, has been blocking rivers like the Mekong and its tributaries, affecting Southeast Asian countries like Thailand, Vietnam, Laos and Cambodia.  It has caused immense damage to the environment and altered river flows in the region

Geopolitical Tool:

 Such projects by China has the potential to significantly change the flow rate during times of standoffs and high tensions. In fact, during the 2018 Doklam border standoff between India and China, China stopped communication of water flow levels from its dams, effectively rendering India blind to floods during the standoff.

Hegemonic Attitude:

 

 

China sees such projects as a continuation of their historic tributary system as the smaller states have no means of effectively resisting or even significant leverage in negotiations. Chinese projects in the Himalayas have only recently begun to operate amid protests from India.
Challenges posed to India
There are now multiple operational dams in the Yarlung Tsangpo basin with more dams commissioned and under construction. These constructions present a unique challenge for Indian planners because –
It will lead to degradation of the entire basin

: Massive amounts of silt carried by the river would get blocked by dams leading to a fall in the quality of soil and eventual reduction in agricultural productivity. 

Impact on Ecological Diversity

The Brahmaputra basin is one of the world's most ecologically sensitive zones. It is identified as one of the world's 34 biological hotspots. 

This region sees several species of flora and fauna that are endemic to only this part of the world — the Kaziranga National Park houses 35 mammalian species out of which 15 are listed as threatened in the IUCN conservation list. 

The river itself is home to the Gangetic river dolphin, which is listed as critically endangered

Reduction in flow of waters downstream will have negative consequences of the flora and fauna of the surrounding ecosystem

Prone to Disasters

The location of the dams in the Himalayas poses a risk. Seismologists consider the Himalayas as most vulnerable to earthquakes and seismic activity. 

Landslides resulting from earthquakes pose a significant threat — the 2015 Nepal earthquake and the resultant landslides wiped out several dams and other facilities. 

The sheer size of the infrastructure projects undertaken by China increases the vulnerability of the region to earthquakes and landslides

Lives & Livelihoods are in danger

Close to a million people live in the Brahmaputra basin in India and tens of millions further downstream in Bangladesh. 

The projects in the Himalayas threaten the existence of hundreds of thousands of people.
The Way Ahead:
India needs to find more about activity in China affecting quality, ecological balance, and flood management – the topographic condition of the whole basin. There needs to be a closer study on not just the quantity of water flow but also the quality which can be extremely detrimental in the long run. It can have an impact on people's lives in downstream regions. There is very little information and understanding of the region.

Scientists, researchers need more access to the areas and require more data to understand short and long term impact to aid in better policymaking.

Engagement of both countries in a sustained dialogue to secure a water-sharing treaty to get rid of any ambiguous views and discretions on both sides, serving the interest of both the countries. If there are joint constructions, responsibilities are also shared to safeguard installations on either side.
Connecting the Dots:
China's dams in Tibet may pose threat to India's water supply. Comment.

Essay: Weaponsing Water
For a dedicated peer group, Motivation & Quick updates, Join our official telegram channel – https://t.me/IASbabaOfficialAccount
Subscribe to our YouTube Channel HERE to watch Explainer Videos, Strategy Sessions, Toppers Talks & many more…