INTERNATIONAL
Topic: General Studies 2:

Important International Events and their impacts. 
US Capitol Violence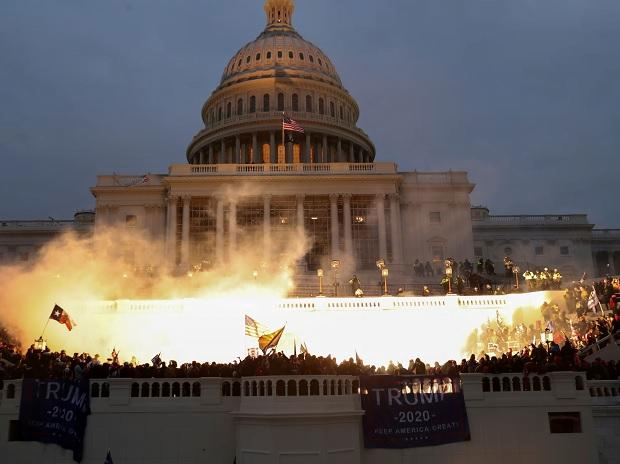 Context: A ceremonial session of Congress to formally declare President-elect Joe Biden's victory devolved in an instant into a scene of violence and mayhem in the Capitol on Wednesday when a pro-Trump mob stormed the building, halting the counting of electoral votes.
What were the protesters targeting?
Allegation of Fraud in Election

: Mr Trump has refused to concede the 3 November election, repeatedly alleging fraud without providing any evidence.

Opposition to results by Republicans

: A joint session of Congress was being held to certify Mr Biden's election victory on 3 November. The proceedings are usually brief and ceremonial but Republican lawmakers have been objecting to some results.

Pressure from Trump:

For days Mr Trump, who has lost the election, had also been putting pressure on Mr Pence (acting Vice-President), who is presiding over the session, to block certification of the result

Mobilisation of Trump Supporters

: The protesters arrived at the Capitol from a "Save America Rally", where Mr Trump had urged them to support those legislators opposing Mr Biden's confirmation.

Obstructing Certification Process

: The protestor's attack on the capitol forced lawmakers to flee the US Capitol and resulted in the death of one woman, disrupted the process of certification of Biden as the winner.

Demands of Protestors to restore Trump:

The conviction of protestors is that the election was stolen from President Trump, and the lawmakers inside the building should do their duty and somehow award the election to him.

Incitement by Trump:

Even though Mr Trump recorded a video message on Twitter calling on supporters to leave the Capitol, but he continued to make unsubstantiated claims that Democrats had stolen the election. There are also reports of protests at state legislatures around the country
How is the situation now?
Election result is secured

: As lawmakers and staff rushed out, aides grabbed hold of the boxes containing the Electoral College certificates, making sure that the vandals could not literally steal the results of the election.

Curfew by Mayor

: Troops and police were mobilised in neighbouring states, and the FBI was deployed to help Capitol police. Mayor of the city announced curfew to help bring the situation under control.

Action by Social Media Platforms

: Trump's Twitter and Facebook account was locked for 12 hours after he pushed baseless claims about the election, and the social media platform warned him of permanent ban if he didn't remove his rule-breaking tweets

Judiciary's Actions:

Multiple state and federal courts, including the US Supreme Court, have already dismissed or ruled against Trump and his allies in the Republican Party in lawsuits seeking to change the election results. 
Critical Analysis of episode:
International Reaction:

Several world leader including UK Prime Minister Boris Johnson, New Zealand Prime Minister Jacinda Ardern and UN Secretary-General Antonio Guterres expressed their shock over the incident.

Shows Unpredictable Behaviour of Mr Trump:

His use of tariffs as a political weapon against trade partners like Europe and China, his divisive rhetoric since long before his election in 2016, and his refusal to accept electoral loss in 2020, are continuation of his unpredictable behaviour. The violence is unlikely to be the last such challenge by Trump to established US System.

Sets Dangerous Precedent:

Pro-Trump supporters efforts to overturn a U.S. election would send its democracy into a death spiral.

Investor Sentiment tested:

America is a safe haven for financial investors around the world. The violence puts the United States and its sanctuary status to a serious test

Faith in US Institutions put to test

: If Washington gets back to work quickly, faith in U.S. institutions may be strengthened, else the credibility of US system, which is torchbearer of Democracy in the world, will be hampered.

Fault lines in Society:

Biden has called for peace and unity, but fractures in U.S. society remain. Pro-Trump supporters are not in mood to accept the defeat of Mr. Trump (that is partly aided by Trump's unfounded allegations & rumours). This has further widened the faultlines in US Society.
Conclusion
Institutional integrity, a robust system of checks and balances, mostly means that people do their jobs. For the most part, it doesn't require heroism or bravery.
Connecting the dots:
Violence US Capitol has seen over the years: Click

here
For a dedicated peer group, Motivation & Quick updates, Join our official telegram channel – https://t.me/IASbabaOfficialAccount
Subscribe to our YouTube Channel HERE to watch Explainer Videos, Strategy Sessions, Toppers Talks & many more…