Hello Friends,
When we started our journey in June 2015, we wanted to transform the way people approached the preparation for civil services. We started with a determination that would enable a person sitting in the remotest corner of the country to have a crack at rank 1 in the civil services examination. For the past 5 years, we have broken many barriers that used to stifle to dreams of thousands of students.
After a break of one year from the offline mode of classes, with new energy and vigour, we are happy to announce the commencement of admissions for Baba's Foundation Course (Baba's FC) 2022 – Classroom Programme For Fresher's (OFFLINE & ONLINE).
Baba's Foundation Course (Baba's FC) is a Comprehensive Classroom and Mentorship-Based programme designed to meet all your preparation needs starting from prelims, through mains till interview in an integrated manner!
We at IASbaba have a single guideline before starting any initiative;
"Can we at IASbaba, do the best in comparison to any existing system, can we redefine the way things are delivered"
---
Yes, if we are doing a classroom programme, then we would want it to be the best!
---
Most structured and at the same time the one which can bring any ordinary person to UPSC standards in the shortest time.
---
This was the motto with which we started IASbaba 6 years back. And you can see where IASbaba is today!
Normally, students waste almost a year in the streets of Delhi/Bangalore at random institutes. Later they realise that they have wasted their time and money and in the end they are still not confident. They hardly get regular test practice and the mains portion is rarely touched. In the end they are left with nothing but despair.
At IASbaba, the focus will be on the foundation right from the beginning and all the aspects of the exam will be kept in mind. There will be regular prelims and mains tests and mentors will guide at every stage to enhance the performance of the students. In short, we can say –
IASbaba's Guidance + Your Dedication = A rank in Top 100!
Every Online and Offline programme of IASbaba is meticulously designed to suit the
requirements of UPSC.
Why is the 60 Day Programme so famous and most trusted? The answer is its QUALITY and its relevance to UPSC Questions and standard.
Integrated Learning Programme (ILP) ONLINE;  Today it is the number 1 Online Programme that provides the best guidance for not only Prelims but Mains as well. Quality and affordability, are it's USP.
Our Classroom programme, which is the best programme in terms of quality and the largest offline programme in Bangalore is known for imparting individual attention to students. This is the most structured offline classes- starting from classes on day 1 to answer writing in month 3.
Further, testimony to the above can be seen in following feedback.
What Makes Baba's Foundation Course (Baba's FC) so Special?
Well! The answers to this question are many. But before we answer that question, let us tell you something about the values we believe in. Quality of guidance, sincerity in efforts and innovation in pedagogy are our core values.
The last four years of this programme have attracted students from different parts of the country (from 22 States) and the number of enrolments has been increasing year by year.
This program is meant for those who have completed 0% of syllabus yet determined to succeed in the first attempt itself.
We believe in smart work. Our classes and materials guide aspirants to get the best results with minimal time and effort.
In order to achieve this, we have devised a new way which we call Baba's 8-Fold Path:
BABA's EIGHT-FOLD Path to Success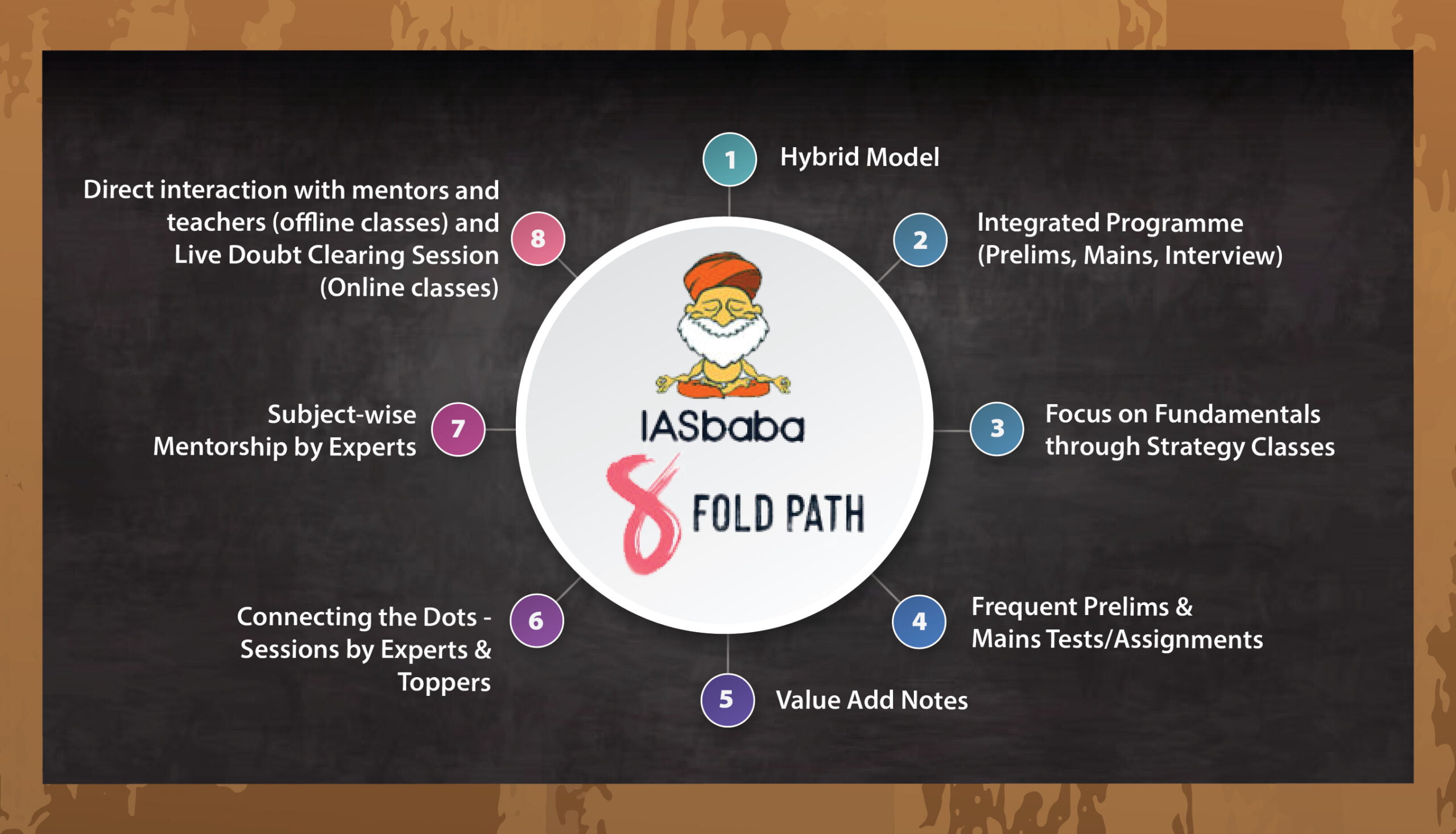 Features of Baba's Foundation Course
Integration of Online Programme with Offline Classes:  Offline Classes will be complemented with Online Content which would contain Babapedia (Current Affairs) and 'Value Add' Notes (VAN). For Online Students all these features will be available in their Dashboard.
Weekday and Weekend batches: Two batches will be available. (Weekend Batch is available only in Bangalore.)
This is an Incentive-Based Programme: wherein – The first 15 Months (April 2021-June 2022) will be common to all students, wherein the entire syllabus of both Prelims and Mains will be covered!
The next 6-7 months (July 2022- September 2022) will be based on your performance in Prelims and Mains. TLP+ (MAINS -2022) Program & Interview Mentorship Program (IMP) along with Mock Interviews will be FREE for those who are clearing Prelims and Mains respectively.
Catering to Prelims, Mains and Interview: The classes will be conducted keeping all the 3 Stages of the examination (Prelims, Mains, Interview) in mind. All GS papers will be covered before Prelims.
Prelims and Mains Tests: Prelims (GS + CSAT) and Mains Tests are incorporated into the programme. The tests will be designed keeping a fresher's preparation in mind. Accordingly, there will be a gradual increase in the difficulty level of the test. The test series has been designed keeping the 'learning-curve' of the students in mind so that there is an improvement in their performance in every single test.
GS & Current Affairs Test: Students will have a weekly GS test of 50 questions and Fortnightly Current Affairs test of 50 questions. That means you will be solving 300 questions per month.
Prelims Tests: 24 Subject Wise Mini Tests + 27 Current Affairs Tests + 9 Full Revision Tests + 5 Mock Tests + 10 CSAT Tests – A total of 75 Tests 
Mains Tests: 24 Mains Test + 10 Essay Tests – A total of 34 Tests
Daily Mains Answer Writing: Daily one Mains question will be discussed in the class by the mentor. Daily Mains Answer Writing Practice (150+Questions) (Including Current Affairs).
Weekly Current Affairs Classes: In tune with the demand of UPSC, there will be weekly Current Affairs Classes/Discussions and Test.
Mentorship: We have the best mentors for the programme who will guide you throughout with the best possible support.
Library & Reading Room: Library Facility with WiFi and AC. This is where you get to meet veterans many of them who are rank holders and accelerate your preparation. (It will be separately charged)
High Calibre Faculty: IAS rank holders, IIT, IIM, NIT, and RV College alumni who are extremely talented, experienced, dynamic, friendly and accessible who will be providing vastly superior inputs.
Unique Pedagogy: End to end integrated preparation with tests, discussions, and quizzes modelled in the programme.
Module wise completion of the syllabus: Highly focused and micro module planning with an aim to cover your syllabus in an integrated manner by the end of February 2022 so that you get adequete time for revision and solving mock tests.
Online support: IASbaba is the only institute to sync offline and online programmes in the most systematic manner.
Series of Interactive Lectures: Eminent personalities from various fields and previous year toppers invited to take value add sessions on important issues to enrich your preparation.
Extracurricular activities: To make the classroom a vibrant and energetic place, extracurricular activities will be arranged during the course duration.
Hybrid Model: Online classes will be held on the hybrid model. That is, pre-recorded lectures will be uploaded daily as per the given schedule. Apart from that, frequent live doubt clearance sessions will be held so that students can interact with the teachers directly and ask subject-wise doubts.
The Eligibility Criterion to Join Offline Classes
We do not have the "X" criterion of the syllabus that needs to be completed and 'X' books to be read to join our programme. An aspirant with Basic English and Aptitude is all we are looking forward to.
Any aspirant who has the passion, zeal and perseverance to clear the exam in his/her 1st attempt, one who is honest and dedicated to putting in that extra effort can join our Offline Programme. There are many students who are in their final year of graduation who joined the weekend batch and are ready to ace.
We believe in the practical transformation of an individual who has no skill and wants to assist/impart the required skill in the process.
If you have sorted all your queries, you can directly register/pay through the payment link GIVEN below
By The End of This Programme:
You will understand the importance and meaning of smart work.
How to analyze an issue and present your answer in line with the demand of the question
Write UPSC level answers in a mere 3 months into the course.
Take a stand on diversified opinion and issues which will help you in your Interview
In short, you will come to know, what it takes to be on the coveted list of successful candidates!
"Super 100" Scholarship Test
Like other initiatives of IASbaba, a scholarship test to select "Super 100" will be conducted.  Based on the performance in the Test,
Rank 1 to 25 – 100% Discount
Rank 26 to 50 – 50% Discount
Rank 51 to 100 – 25% Discount
The test will be held on 11th April 2021. The test will be conducted in ONLINE MODE (ONLY).
Note: If you have already paid the fees, and if you are selected through the scholarship, your fee will be refunded.
Details of Super 100 Test:
All the students will be eligible for the test. No pre-conditions. FREE Registration!! (Please find the registration link below)
The Scholarship Test will be an Objective Test.
Objective Test -100 MCQs from Current Affairs, General Awareness, and CSAT (January 2021 – March 2021). Time Duration – 90 minutes
The test will be on the lines of UPSC Prelims.
The Test will be held on 11th April 2021.
Last Date to Register 9th April 2021 (by 10 Pm).
Interested aspirants, kindly fill the form below. Selected candidates will be intimated through email. Please do not call us or mail us.
Discretion lies with IASbaba on admission to this program.
Register for "Super 100" -> Click Here
Please note that All the students who have enrolled/paid for Baba's FC course will also be eligible for the scholarship test. If you qualify, the complete fee amount will be refunded!!
New Batch starts from 16th August, 2021
Considering the present situation, the comprehensive features, support, quality, and duration of the program, we have kept the price to the bare minimum.
Fees:
Online Programme:- Rs.70,000 + 18% GST
Offline Programme:- Rs.84,000 + 18% GST
In case you are not able to pay full fees, then 2 Instalments will be provided. The 1st installment (50%) needs to be paid upfront to confirm your seat. 2nd installment (50%) should be paid 1 Month after the Program starts (i.e., by 23rd September 2021).
GS + Optionals Combo (Online & Offline)
Following Optional Subject's Classes are available
Geography Optional
Sociology Optional
Public Administration Optional
Political Science & International Relations Optional
Anthropology Optional
Kannada Literature Optional
As an early bird offer, we are providing Baba's Foundation Course along with Optional Subjects Foundation Course at a discounted price.
Fees:
Online Programme:- Rs.1,18,000 Rs.1,06,000 (Including 18% GST)
Offline Programme:- Rs.1,34,520 Rs.1,21,000 (including 18% GST)
Online Mode Payment Links
Offline Mode Payment Links
IASbaba's Faculty Profile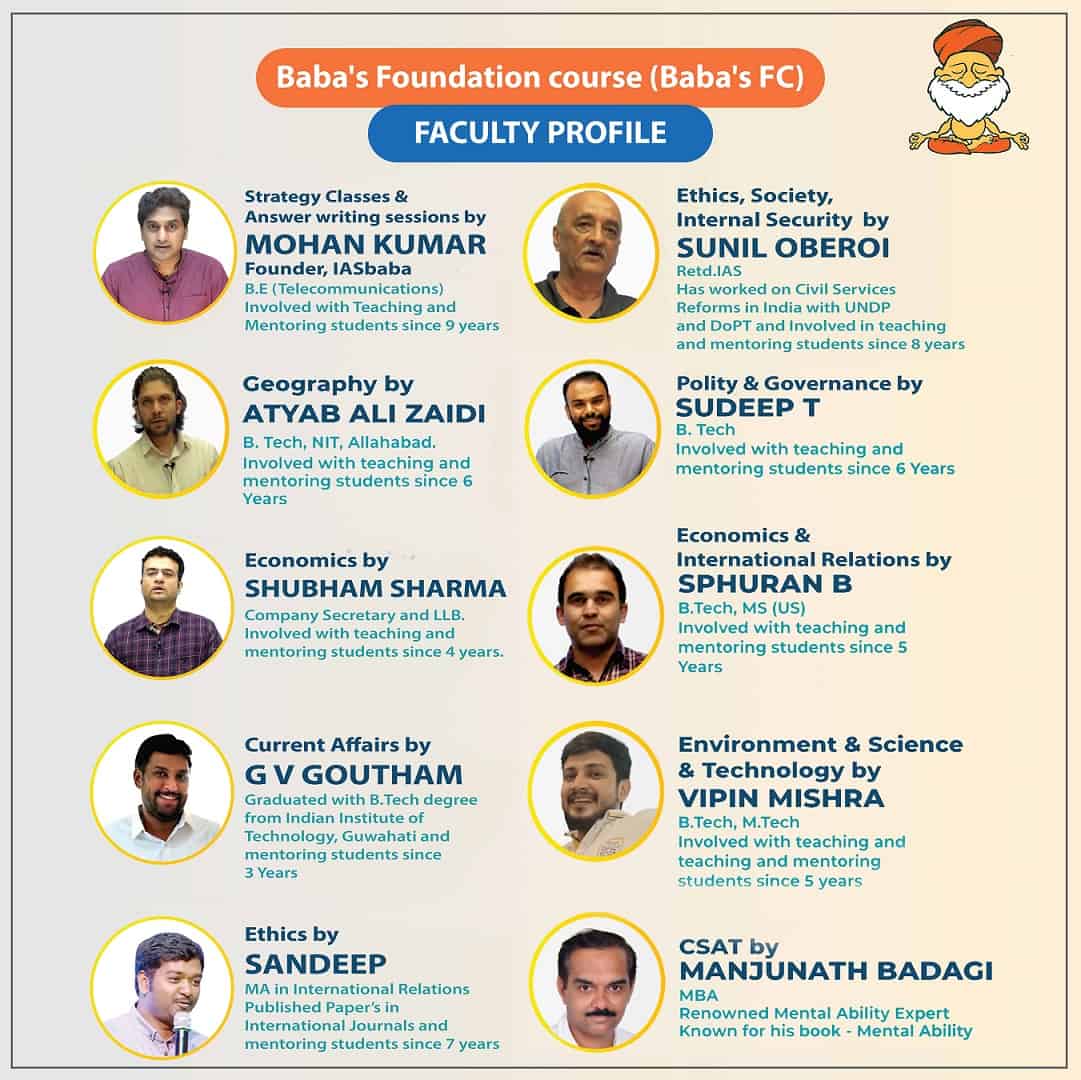 For any queries (Related to BFC - 2022)
Please fill the form with your details and our team will get back to you within 24 hours

-> Fill The Form 
Alternatively;
Email id: offline@iasbaba.com / support@iasbaba.com
Mobile No: 84296 8885 / 91691 91888 (Please call between 10 am – 6 pm ONLY)
Office Address:
BANGALORE CENTRE: IASbaba – Admission Centre, No.38, 3rd Cross, 1st Phase, 2nd Stage, 60 Feet Mains Road, Chandra Layout, Bengaluru – 560040. Landmark: Opposite to BBMP Office/ CULT Fitness
DELHI CENTRE: IASBABA, 5B, Pusa Road, Karol Bagh, New Delhi – 110005. Landmark: Just 50m from Karol Bagh Metro Station, GATE No. 8 (Next to Croma Store)
LUCKNOW CENTRE: IASBABA, B-1/66, Sector J, Aligunj, Lucknow – 226024  Landmark: Near Mr Brown / Opp to Sahu Studio
All the Best
IASbaba Team