Dear Students
Hope you and your family are doing good and are staying safe.
ILP 2022 – the Most Comprehensive ONLINE Programme for UPSC aspirants which caters to all the stages of the exam (Prelims, Mains & Interview) starts from 2nd August.
If you are one sincere candidate and are seriously aiming for UPSC CSE – 2022, ILP 2022 is a one-stop destination for General Studies (Prelims + Mains) needs.

INTEGRATED LEARNING PROGRAMME (ILP) – 2022 IN A NUTSHELL!!
COMPREHENSIVE PROGRAM Covering Prelims, Mains, Interview
DETAILED STUDY PLAN (≈ 1 Year) with DAILY TARGETS/PLANNING
VALUE ADD NOTES (VAN) – MAINS + PRELIMS
BABAPEDIA – One-Stop Destination of Current Affairs Preparation
MAINSPEDIA – Mains Current Affairs (GS1, GS2, GS3, GS4 & Essay)
PRELIMSPEDIA – Prelims Current Affairs
BABA's PRELIMS TEST SERIES (PT)
TOTAL PRELIMS TESTS – 63 Tests
CURRENT AFFAIRS TESTS – 22 (50 Questions)
MODULE WISE TESTS – 17 (100 Questions)
SUBJECT WISE REVISION SECTIONAL TESTS – 6 (100 Questions)
EXCLUSIVE TESTS (MAP BASED, ECONOMIC SURVEY & BUDGET, GOVERNMENT SCHEMES & POLICIES) – 3 (100 Questions)
FULL-LENGTH TESTS – 5 (100 Questions)
CSAT FULL-LENGTH TESTS – 10 (80 Questions)
ALL INDIA RANKING
SELF-ASSESSMENT SYSTEM
MAINS TESTS & SYNOPSIS
TOTAL MAINS TESTS – 66 TESTS
MODULWISE TESTS – 24 TESTS (10 Questions)
CURRENT AFFAIRS TESTS – 22 TESTS (10 Questions)
FULL-LENGTH TESTS – 10 TESTS (GS1, GS2, GS3, GS4, Essay – 2 CYCLES)
ESSAY TESTS – 10 TESTS
MIND MAPS for GS MAINS
ESSAY GUIDANCE
Theme wise Directional Videos
Model Essays/Best Evaluated Essay Answer Copies/Topper Copies
Mainspedia Content
STUDENTS FORUM for Peer Discussion
ASK BABA and resolve your Doubts/Queries with respect to USPC Preparation
ILP 2022 is 'Not Just a Test Series' it is much more than that, which makes it a one-stop destination for UPSC-CSE 2022.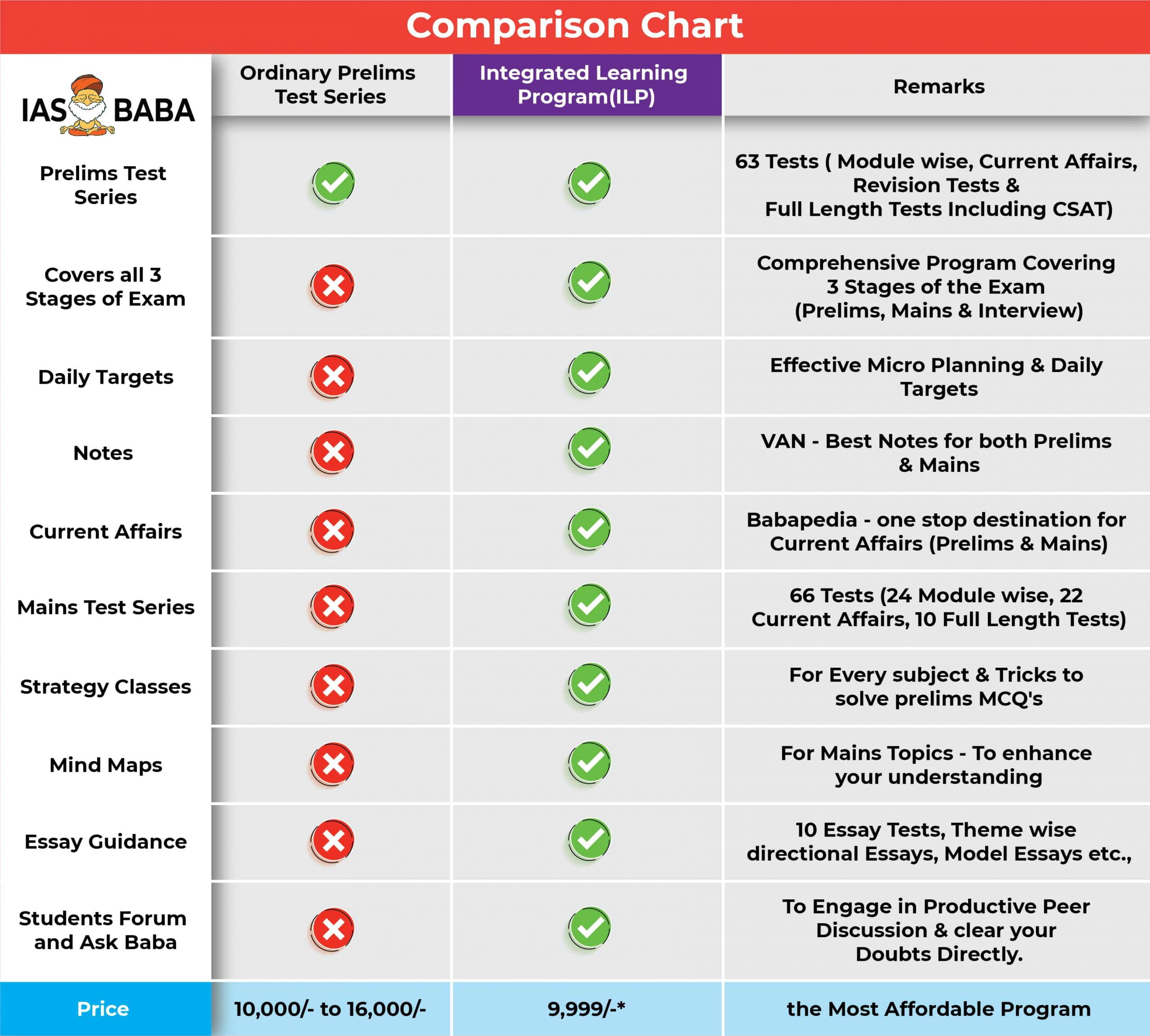 NOTE –
ILP 2022 is available in both English and हिंदी.
इंटीग्रेटेड लर्निंग प्रोग्राम (ILP) 2022 will start from 22nd August
STILL HAVE QUERIES?
Fill this form, our team will get back to you soon: Click Here To Fill The Form.
Email us on: ilp@iasbaba.com
Call us on: +91 91691 91888
Thank You!
IASBaba