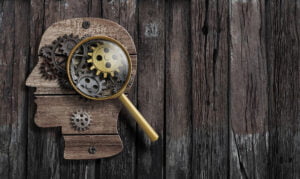 The Power of You:
The Sanskrit word "Viveka" means "Ability to discriminate between Truth and untruth."  Use of "Viveka" or the power of discrimination, will help you to separate yourself from everything that you are not. You can use the power of discrimination as a sharp knife to dissect your moment-to-moment experience of life. Your intellect can be so sharp that it can cut through a lot of bondages to reveal the real you. With the help of "Viveka" you can clearly identify all that you are doing, and separate it from all that you are. Then the real question will slowly come to you, "Okay then, if I am not my mind and body, then what am I?" That is the question that will take you deeper into meditation.
You cannot realize the Self through the intellect. You cannot realize the Truth through intellectual inquiry alone. Yet, through the intellect, you can push away everything that is not you. Just through your intellect, and your ability to discriminate one thing from another, you can come to a clear, logical conclusion that you cannot just be your mind and body; there's got to be something more to you.
Let's look at an example to understand this line of reasoning. If you want to prove to yourself that your hand is not you, then every day, for one month, watch your hand while it's in action, as often as possible. At the end of one month, you will clearly see that you are something totally different from your hand. Even if you were to imagine that your hand is gone – try to imagine that you don't have a hand. Imagine that somehow, your hand has suddenly disappeared. How would this change the perception of you. Just because you don't have a hand, does it mean that you are a lesser person now? Do you experience yourself any differently now? Yes, you don't have a hand, but that doesn't mean that you are in any way diminished. You don't feel any less of an individual, do you? Something within you is still complete. This is just an example. You can use your intellect this way to separate yourself from your mind and body.
"This article is a part of the creative endeavor of Nirvana Foundation and IASBABA."
For a dedicated peer group, Motivation & Quick updates, Join our official telegram channel – https://t.me/IASbabaOfficialAccount
Subscribe to our YouTube Channel HERE to watch Explainer Videos, Strategy Sessions, Toppers Talks & many more…