Syllabus
GS-2: Structure, organization and functioning of the Executive
GS-2: Government policies and interventions for development in various sectors and issues arising out of their design and implementation.
GS-3: Security & issues
Context: Just before the Covid crisis at the end of 2019-20 financial year, India had around 403.5 million employed people and around 35 million (or 3.5 crore) openly unemployed people (those who are seeking work and not finding it) in the country.
Amidst this, the government has launched Agnipath recruitment scheme for soldiers that is being projected as providing employment opportunities for burgeoning youth.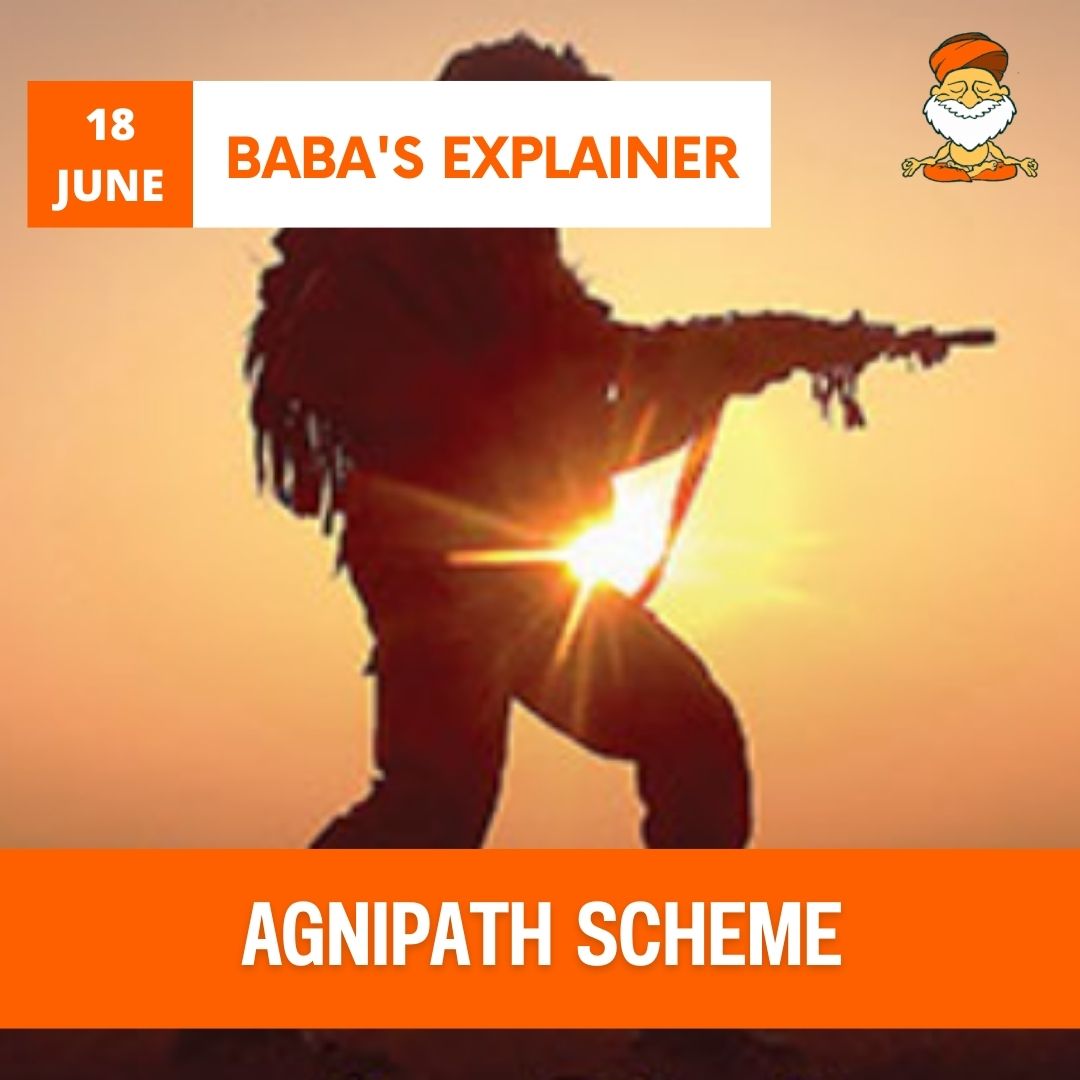 What are the issues that India faces with regard to unemployment?
Addition of Job Seekers Every Year: Given India's population growth, each year there are close to 20 million (or 2 crore) people who enter the working-age population of 15 to 59 years.
Recovery Post Pandemic: As of January 2021, India had only about 400 million employed (pre-COVID it was 403.5 million). At one level this is good news because far more had lost jobs and many seem to have regained employment as the economy has started recovering.
Steady Decline in number of Employed People: As per CMIE data since 2016, the total number of employed people in India has been steadily coming down. It was 407.3 million in 2016-17 and then fell to 405.9 million in 2017-18, and to 400.9 million at the end of 2018-19.
Unemployment has larger Impact on Society: Each unemployed person is part of a larger family — implying millions of families suffering from the lack of employment opportunities.
Falling Labour Force Participation rate: Even though people have skills they may not be in position to enter labour market for variety of reasons. For instance, if law and order is poor or if cultural mores can prevent women to seek work. Also, men can give up looking for work after repeated failed attempts. As a result, India's labour force participation rate (LFPR) falls. India's LFPR is about 40% (in most developed countries it is 60%)
Jobless Growth: Typically, fast economic growth takes care of unemployment worries. However, due to distorted economic structure (service led growth) India's growth has not translated into jobs. What was required is labour intensive manufacturing led growth providing jobs for millions
Technological Advancement & Unemployment: The GDP can continue to go up as more and more companies become more productive by replacing labour with capital (machinery) but that will only deepen India's unemployment problem.
Criticism of Government's role in Creating Jobs: The mantra of "minimum government" espoused in Union Budget for 2021-22 essentially undercuts the government's role in directly creating new jobs. While on paper this makes sense, the timing is questionable. That's because the Indian economy is quite weak and the private sector has already shown its preference by choosing to cut jobs and boost its profits
Does a satisfactory system of unemployment relief exist?
Unlike in China, the labour laws do not expressly provide for unemployment benefits. However, India does have various initiatives that provides unemployment relief
Employees' State Insurance Act (ESIA), 1948
Under the said act, the Rajiv Gandhi Shramik Kalyan Yojana (RGSKY) provides unemployment allowance to involuntarily unemployed insured persons who have made contributions for two years to ESI.
The cash relief is at the rate of 50% of the last average daily wages for the first 12 months and 25% for the next 12 months.
It covers unemployment due to retrenchment, closure or permanent invalidity.
It provides medical care during unemployment tenure and vocational training.
Atal Beemit Vyakti Kalyan Yojana (ABVKY)
It was introduced in 2018 under which unemployed insured persons are provided allowance at the rate of 50% of the average per day earning of the claimant.
Allowance is provided for 90 days.
It was launched on pilot basis for two years but was extended during the COVID-19 period.
Industrial Disputes Act (IDA), 1947
Industrial establishments employing 100 or more workers must pay retrenchment compensation of 15 days of average pay for the completed years of service to workers in case of they lose jobs due to closure.
Here, the burden of unemployment allowance is transferred to the employer. Employment-intensive industries like construction and services are excluded.
Social Security Code (SSC), 2020
Though SSC included unemployment protection in its definition of 'social security', it did not provide for a scheme for the same.
Government reasoned that Unemployment allowance is already provided for under the ESI Act and hence no need of separate scheme.
The SSC offers the vague promise of schemes to the unorganised workers.
Have the above schemes been successful?
ESIA, despite a more inclusive coverage of 10 or more workers than the Employees' Provident Fund Act (20 or more workers), covers fewer workers due to its limited and slow expansion of districts in India.
Under the RGSKY, 0.043% (13,341/3,09,66,930) of the employees availed of unemployment allowance during 2007-08 to 2019-20
Further, unemployment allowance's share in total cash expenditure of ESIC ranged from 0.25% to 0.99%. The incredibly low off-take means that RGSKY is not successful.
Under ABVKY, from July 1, 2018 to March 31, 2020, 120 claims were made, which means a meagre average daily cash relief of ₹73.33.
What is the Agnipath scheme?
The government has recently unveiled its new Agnipath scheme for recruiting soldiers across the three services.
The new defence recruitment reform, which has been cleared by the Cabinet Committee on Security, will come into effect immediately, and the soldiers recruited under the scheme will be called Agniveers.
Under the new scheme, around 45,000 to 50,000 soldiers will be recruited annually, and most will leave the service in just four years.
Of the total annual recruits, only 25 per cent will be allowed to continue for another 15 years under permanent commission.
The move will make the permanent force levels much leaner for the over 13-lakh strong armed forces in the country.
This will, in turn, considerably reduce the defence pension bill, which has been a major concern for governments for many years.
What is the eligibility criteria?
The new system is only for personnel below officer ranks (those who do not join the forces as commissioned officers).
Under the Agnipath scheme, aspirants between the ages of 17.5 years and 21 years will be eligible to apply.
The recruitment standards will remain the same, and recruitment will be done twice a year through rallies.
What happens after selection?
Training & decent salary: Once selected, the aspirants will go through training for six months and then will be deployed for three and a half years. During this period, they will get a starting salary of Rs 30,000, along with additional benefits which will go up to Rs 40,000 by the end of the four-year service.
Seva Nidhi Programme: Importantly, during this period, 30 per cent of their salary will be set aside under a Seva Nidhi programme, and the government will contribute an equal amount every month, and it will also accrue interest. At the end of the four-year period, each soldier will get Rs 11.71 lakh as a lump sum amount, which will be tax-free.
Insurance: They will also get a Rs 48 lakh life insurance cover for the four years. In case of death, the payout will be over Rs 1 crore, including pay for the unserved tenure.
Filtering for Career Progression: However, after four years, only 25 per cent of the batch will be recruited back into their respective services, for a period of 15 years. For those who are re-selected, the initial four-year period will not be considered for retirement benefits.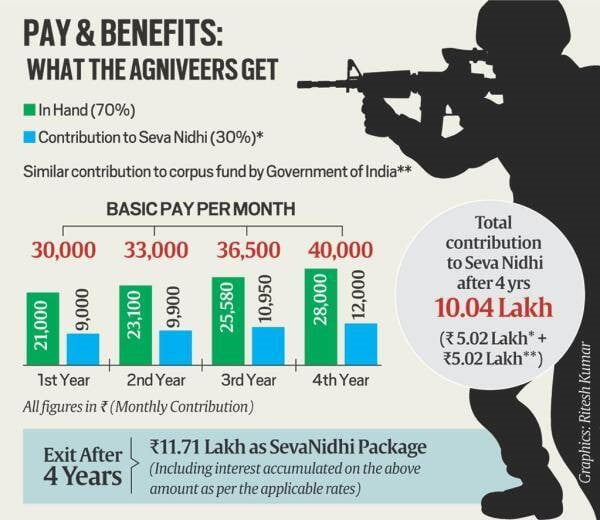 When will the recruitment actually begin?
Recruitment will begin within 90 days under the scheme which will bring "all India, all class" recruitment to the services.
This is especially significant for the Army, where the regiment system has region and caste bases, and with time that will be eliminated to allow anybody from any caste, region, class or religious background to become part of existing regiments.
How will the scheme benefit the armed forces and the recruits?
Reduced Average Age: The average age in the forces is 32 years today, which will go down to 26 in six to seven years, the scheme envisions.
Youthful Forces: A youthful armed forces will allow them to be easily trained for new technologies. Also, merit-driven selection procedure for 25 per cent of the Agniveers for permanent absorption will further improve the quality of permanent soldiers
Employable Skills imparted: The government also stated that it will increase employment opportunities and because of the skills and experience acquired during the four-year service such soldiers will get employment in various fields.

They will be provided with skill certificates and bridge courses. The impetus will be to create entrepreneur
Why the scheme can help cut the rising salary, pension bill?
The government has either allocated or paid more than Rs. 3.3 lakh crore in defence pension since 2020.
For years, because of the pension bill, the revenue component of the Ministry of Defence has been larger than the capital outlay for modernisation of the armed forces.
In the Budget presented in February, the total defence budget at Rs. 5.25 lakh crore was almost 10 per cent more than last year's allocation of Rs 4.78 lakh crore. Yet the revenue component of the budget continues to be more than capital outlay.
The total revenue component allocated this year is Rs 3.65 lakh crore, of which pension accounts for Rs 119,696 crore. The previous year — 2020-21 — the actual pension Bill was even higher — Rs 1.28 lakh crore.
In this year's Budget, defence pension accounts for just under a quarter of the total defence budget, similar to many recent years.
Similarly, salary paid to the forces has also been increasing over the years. The Army paid more than Rs 88,800 crore in salaries (actual) in pay and allowances in 2020-2021, which went up by Rs 10,000 crore last year.
The revised estimates for Army's pay and allowances for 2021-2022 was more than Rs 99,800 crore.
In 2022-23, the government has allocated Rs 1.07 lakh crore in Army's pay and allowances. The Army is the largest among the three forces with a strength of over 11 lakh officers and soldiers.
For Navy, pay and allowances went up from Rs 6,659 crore in 2020-21 (actual) to Rs. 7,832 crore in 2021-22 (revised) to Rs 9,133 crore (budgeted) this year.
Similarly, numbers for IAF have also been going up. The government has allocated Rs 18,346 crore in this year's Budget.
The total pay and allowances for the three services for this year comes close to Rs 1.35 lakh crore. Added to the Rs 1.2 lakh crore of pension, the government has allocated Rs 2.55 lakh crore for just salary and pension for FY23, which is higher than the Rs 2.33 lakh crore allocated for capital outlay, to be used for modernisation of the defence forces.

Ten years ago, the government had allocated Rs 39,000 crore for defence pension, Rs 56,000 crore for pay and allowances of the services, and nearly Rs 80,000 crore for capital outlay. The total defence budget for the year was Rs 2.38 lakh crore.

The Agnipath scene has been in the making for two years and has seen considerable refinement after in-house deliberations and a raging public debate led by the veterans.
The basic intent of the scheme is to reduce the burgeoning pension bill for better management of the defence budget and provide a youthful profile to the armed forces.
With reduction in revenue expenditure, the government can divert the funds to modernisation of defence forces with more infusion of funds into capital expenditure.
Spoiler title
Intent of bill: Politically it is being pushed by the ruling party as an employment generation scheme that clashes with the original intent of reducing the salary & pension bill. Hence, there is a political opposition that the scheme would be unjust to new recruits and will blunt the military's ability to deal with the security threats the country faces.
Changing Status Quo that has worked well: The veterans have been very critical and have perceived the scheme to be impinging on the time-tested caste/religion/region-based regimental system and unit/sub-unit cohesion, which is the primary motivator in battle.
Needs to be part of holistic reform: Unfortunately, the scheme is a standalone reformative decision delinked from the holistic transformation of the armed forces that must follow the time-tested sequence of a strategic review, conceptualisation of a formal national security strategy, defence policy and a time bound execution plan.

The scheme also needs to be linked to other manpower management-related reforms based on optimisation/reduction of manpower and restructuring/reorganisation.

Not attractive enough for success: A successful short-term engagement scheme requires adherence to two fundamentals. First, it must be financially and benefit-wise attractive both in service and post-retirement. Second, it must not appear to be exploitative in a welfare state. In its present form, the Agnipath scheme falls short on both these counts.

The starting pay package of Rs 30,000 with fixed annual increments and a substantial death/disability package is reasonable, but the denial of Dearness Allowance seems to be unfair.
Compared to the terms and conditions of the Central Armed Police Forces, where one can serve up to the age of 58, the Agnipath has turned out to be unattractive.

Post-retirement benefits: Keeping the tenure as four years and denying gratuity (which is as per current policy is authorised after 5 years of service) will remain a sore point as also the denial of ex-servicemen status for benefits/privileges along with a health scheme. Post-retirement incentives to the Agniveers remain a grey area and the issue needs to be addressed.
---
Mains Practice Question –

What is Agnipath scheme? Briefly elaborating on the merits of the scheme, outline the concerns expressed against it.
Note: Write answers to this question in the comment section.
---
For a dedicated peer group, Motivation & Quick updates, Join our official telegram channel – https://t.me/IASbabaOfficialAccount
Subscribe to our YouTube Channel HERE to watch Explainer Videos, Strategy Sessions, Toppers Talks & many more…