---
(PRELIMS & MAINS Focus)
---
India poised to become next global SaaS capital
Syllabus
Prelims – Science and Technology
In News: According to a study by Ernst & Young Global Limited (EY) and Confederation of Indian Industry (CII) titled "India: The next global SaaS capital", India is poised to become the next SaaS capital over the next few years.
The Indian software-as-a-services (SaaS) market is expected to grow multi-fold by 2025, accounting for almost 7 to 10 per cent of the global market from 2 to 4 per cent currently, said a report.
The report also stated that according to industry estimates, the market is expected to reach $20-25 billion by 2025 from $4-7 billion in 2020.
Compared to only 1 SaaS unicorn in 2018, India now has a total of 18, taking the third spot among the largest SaaS ecosystems in the world.
Further, funding has increased from $2.6 billion to $6 billion in the span of these two years, stated EY.
Software-as-a-services (SaaS)
SaaS is also known as "On-Demand Software".
It is a software distribution model in which services are hosted by a cloud service provider.
These services are available to end-users over the internet so, the end-users do not need to install any software on their devices to access these services.
Outlook, Hotmail or Yahoo! Mail are forms of SaaS.
There are the following services provided by SaaS providers –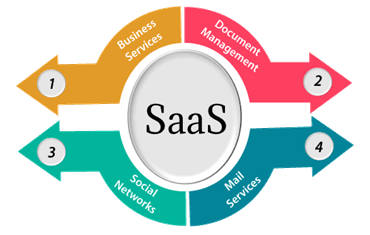 Business Services – SaaS Provider provides various business services to start-up. The SaaS business services include ERP (Enterprise Resource Planning), CRM (Customer Relationship Management), billing, and sales.
Document Management – SaaS document management is a software application offered by a third party (SaaS providers) to create, manage, and track electronic documents.
Social Networks – Social networking service providers use SaaS for their convenience and handle the general public's information.
Mail Services – To handle the unpredictable number of users and load on e-mail services, many e-mail providers offering their services using SaaS.
Advantages of SaaS cloud computing layer
SaaS is easy to buy
SaaS pricing is based on a monthly fee or annual fee subscription, so it allows organizations to access business functionality at a low cost, which is less than licensed applications.
One to Many
SaaS services are offered as a one-to-many model means a single instance of the application is shared by multiple users.
Less hardware required for SaaS
The software is hosted remotely, so organizations do not need to invest in additional hardware.
All users will have the same version of the software and typically access it through the web browser. SaaS reduces IT support costs by outsourcing hardware and software maintenance and support to the SaaS provider.
Low maintenance required for SaaS
Software as a service removes the need for installation, set-up, and daily maintenance for the organizations.
Multidevice support
SaaS services can be accessed from any device such as desktops, laptops, tablets, phones, and thin clients.
Disadvantages of SaaS cloud computing layer
Security
Data is stored in the cloud, so security may be an issue for users.
Latency issue
Since data and applications are stored in the cloud at a variable distance from the end-user, there is a possibility that there may be greater latency when interacting with the application compared to local deployment.
Therefore, the SaaS model is not suitable for applications whose demand response time is in milliseconds.
Total Dependency on Internet
Without an internet connection, most SaaS applications are not usable.
Switching between SaaS vendors is difficult
Switching SaaS vendors involves the difficult and slow task of transferring the very large data files over the internet and then converting and importing them into another SaaS also.
Source: Business-standard.com
Previous Year Question
Q.1) With reference to "Software as a Service (SaaS)", consider the following statements: (2022)
SaaS buyers can customise the user interface and can change data fields.
SaaS users can access their data through their mobile devices.
Outlook, Hotmail and Yahoo! Mail are forms of SaaS.
Which of the statements given above are correct?
1 and 2 only
2 and 3 only
1 and 3 only
1, 2 and 3
---
Arth Ganga
Syllabus
Prelims – Current Affairs – Government Schemes and Policies
In News: The Arth Ganga model was mentioned by Indian delegates at Stockholm World Water Week 2022.
Since 1991, the Stockholm International Water Institute has been organising the World Water Week every year to address global water concerns.
Arth Ganga Concept
Prime Minister of India first introduced the concept during the first National Ganga Council meeting 2019, where he urged for a shift from Namami Gange, to the model of Arth Ganga.
The latter focuses on the sustainable development of the Ganga and its surrounding areas, by focusing on economic activities related to the river.
At its core, the Arth Ganga model seeks to use economics to bridge people with the river.
Features
Under Arth Ganga, the government is working on six verticals.
The first is Zero Budget Natural Farming, which involves chemical-free farming on 10 km on either side of the river, and the promotion of cow dung as fertiliser through the GOBARdhan scheme.
The Monetization and Reuse of Sludge & Wastewater is the second, which seeks to reuse treated water for irrigation, industries and revenue generation for Urban Local Bodies (ULBs).
It involves Livelihood Generation Opportunities, by creating haats where people can sell local products, medicinal plants and ayurveda.
The fourth is to increase public participation by increasing synergies between the stakeholders involved with the river.
The model promotes the cultural heritage and tourism of Ganga and its surroundings, through boat tourism, adventure sports and by conducting yoga activities.
Lastly, the model seeks to promote institutional building by empowering local administration for improved water governance.
Arth Ganga Initiatives
Recently Jal Shakti Ministry unveiled many new initiatives under Arth Ganga
Jalaj initiative
Jalaj is being implemented in association with Wildlife Institute of India.
A trained cadre of Ganga Praharis have been created from among the local people by WII for biodiversity conservation and Ganga rejuvenation.
Jalaj, innovative mobile livelihood centre, are aimed at aligning the skill enhancement activities with Ganga conservation.
MoU was signed between NMCG and Sahakar Bharati
To achieve the vision of a sustainable and viable economic development by public participation, creation and strengthening of local cooperatives directing their cooperation towards realizing the mandate of Arth Ganga.
ImAvatar
A tourism related portal ImAvatar to promote livelihood opportunities along the Ganga basin by promoting Arth Ganga initiative through tourism, marketing of local products, both agriculture and handicrafts.
New course 'River Champ' on CLAP:
The continuous learning and activity portal (CLAP) is an online platform for raising awareness, actions and debates around river conservation in India.
Source: Indian Express
---
Manusmriti
Syllabus
In News: The Vice Chancellor of Jawaharlal Nehru University recently criticised the Manusmriti, the ancient Sanskrit text, over its gender bias.
VC said that the Manusmriti has categorised all women as "shudras", which is "extraordinarily regressive".
What is Manusmriti?
The Mānavadharmaśāstra, also known as Manusmriti or the Laws of Manu, is a Sanskrit text belonging to the Dharmaśāstra literary tradition of Hinduism.
Composed between the 2nd century BCE and 3rd century CE, the Manusmriti is written in sloka verses, containing two non-rhyming lines of 16 syllabus each.
The text is attributed to the mythical figure of Manu, considered to be ancestor of the human race in Hinduism.
What is the text about?
It covers the subjects such as the social obligations and duties of the various castes and of individuals in different stages of life, the suitable social and sexual relations of men and women of different castes, on taxes, the rules for kingship, on maintaining marital harmony and the procedures for settling everyday disputes.
The text is about dharma, which means duty, religion, law and practice.
It also discusses aspects of the Arthashashtra, such as issues relating to statecraft and legal procedures.
What is its significance?
By the early centuries of the Common Era, Manu had become, and remained, the standard source of authority in the orthodox tradition for that centrepiece of Hinduism, varṇāśrama-dharma.
It was a very significant text for Brahmin scholars — it attracted 9 commentaries by other writers of the tradition, and was cited by other ancient Indian texts far more frequently than other dharmaśāstra.
It was the first Sanskrit text to be translated into a European language, by the British philologist Sir William Jones in 1794.
Subsequently, it was translated into French, German, Portuguese and Russian, before being included in Max Muller's edited volume, Sacred Books of the East in 1886.
Why is it controversial?
The ancient text has 4 major divisions:
Creation of the world.
Sources of dharma.
The dharma of the four social classes.
Law of karma, rebirth, and final liberation.
The text is deeply concerned with maintaining the hierarchy of the four-fold varna system and the rules that each caste has to follow.
According to it the Brahmin is assumed to be the perfect representative of the human race, while Sudras, who are relegated to the bottom of the order, are given the sole duty of serving the 'upper' castes.
Some verses also contain highly prejudicial sentiments against women on the basis of their birth.
On December 25, 1927, Dr B R Ambedkar had famously burned the Manusmṛiti, which he saw as a source of gender and caste oppression.
Source: Indian Express
Previous Year Question
Q.1) According to Kautilya's Arthashastra, which of the following are correct? (2022)
A person could be a slave as a result of a judicial punishment.
If a female slave bore her master a son, she was legally free.
If a son born to a female slave was fathered by her master, the son was entitled to the legal status of the master's son.
Which of the statements given above are correct?
1 and 2 only
2 and 3 only
1 and 3 only
1, 2 and 3
---
Disqualification of MLAs
Syllabus
Prelims – Polity & Governance
Mains – GS2 (Polity and Constitution)
Context:  Recently, Election Commission (EC) recommended the disqualification of Jharkhand Chief Minister Hemant Soren as MLA under the Representation of the People Act, 1951.
Constitutional provisions:
Disqualifications under the Constitution, a person shall be disqualified for being chosen as and for being a member of the legislative assembly or legislative council of a state:
If he/she holds any office of profit under the Union or state government (except that of a minister or any other office exempted by state legislature),
If he/she is of unsound mind and stands so declared by a court,
If he/she is an undischarged insolvent,
If he/she is not a citizen of India or has voluntarily acquired the citizenship of a foreign state or is under any acknowledgement of allegiance to a foreign state, and
If he/she is so disqualified under any law made by Parliament.
Article 327 and 328 of the Constitution confers the power on parliament and state legislature respectively to make rules for election to Parliament and state legislature.
Apart from these, the Parliament has prescribed several additional disqualifications in the Representation of People Act (1951). These include,
He/she must not have been found guilty of certain election offences or corrupt practices in the elections.
He/she must not have been convicted for any offence resulting in imprisonment for two or more years. But, the detention of a person under a preventive detention law is not a disqualification.
He/she must not have failed to lodge an account of his election expenses within the time.
He/she must not have any interest in government contracts, works, or services.
He/she must not have been dismissed from government service for corruption or disloyalty to the state.
In such case of Disqualification, it is decided by the President/ governor for MP and MLA respectively and his decision is final. However, he/she should obtain the opinion of the Election Commission and act accordingly.
Anti – Defection Law – Disqualification on Ground of Defection
Source: Indian Express
Previous Year Question
Q.1) With reference to anti-defection law in India, consider the following statements: (2022)
The law specifies that a nominated legislator cannot join any political party within six months of being appointed to the House.
The law does not provide any time-frame within which the presiding officer has to decide a defection case.
Which of the statements given above is/are correct?
1 only
2 only
Both 1 and 2
Neither 1 nor 2
---
Battery Waste Management Rules, 2022
Syllabus
Prelims – Environment – Current Affairs
Mains – GS 3 (Environment)
In News: Ministry of Environment, Forest and Climate Change, Government of India published the Battery Waste Management Rules, 2022 to ensure environmentally sound management of waste batteries. These rules will replace Batteries (Management and Handling) Rules, 2001.
The rules cover all types of batteries, viz. Electric Vehicle batteries, portable batteries, automotive batteries and industrial batterie.
The rules' function based on the concept of Extended Producer Responsibility (EPR) where the producers (including importers) of batteries are responsible for collection and recycling/refurbishment of waste batteries and use of recovered materials from wastes into new batteries.
The rules will enable setting up a mechanism and centralized online portal for exchange of EPR certificates between producers and recyclers/refurbishers to fulfil the obligations of producers.
Mandating the minimum percentage of recovery of materials from waste batteries under the rules will bring new technologies and investment in recycling and refurbishment industry and create new business opportunities.
Prescribing the use of certain number of recycled materials in making of new batteries will reduce the dependency on new raw materials and save natural resources.
Online registration & reporting, auditing, and committee for monitoring the implementation of rules and to take measures required for removal of difficulties are salient features of rules for ensuring effective implementation and compliance
On the principle of Polluter Pays Principle, environmental compensation will be imposed for non-fulfilment of EPR targets, responsibilities and obligations set out in the rules. The funds collected under environmental compensation shall be utilised in collection and refurbishing or recycling of uncollected and non-recycled waste batteries.
Notification of these rules is a transformative step towards promotion of Circular Economy in full earnest.
Source: Pib.Gov
Previous Year Question
Q.1) In India, 'extended producer responsibility' was introduced as an important feature in which of the following? (2019)
The Bio-medical Waste (Management and Handling) Rules, 1998
The Recycled Plastic (Manufacturing and Usage) Rules, 1999
The E-Waste (Management and Handling) Rules, 2011
The Food Safety and Standard Regulations, 2011
---
Fuel Cell Electric Vehicle (FCEV)
Syllabus
Prelims – Science and Technology
Mains – GS 3 (Science & Technology; Environment)
In News: Recently hydrogen fuel cell bus developed by KPIT-CSIR in Pune was unveiled by Union minister of state for Science and Technology.
What is a hydrogen fuel cell?
The hydrogen fuel cell uses hydrogen and air to generate electricity, producing only heat and water in the process.
Fuel cells work in a similar manner to conventional batteries found in electric vehicles but they do not run out of charge and do not need to be recharged with electricity.
It continues to produce electricity if there is a supply of hydrogen. Just like conventional cells, a fuel cell consists of an anode (negative electrode) and cathode (positive electrode) sandwiched around an electrolyte.
Hydrogen is fed to the anode and air is fed to the cathode.
The electrons go through an external circuit, creating a flow of electricity that can be used to power electric motors. The protons, on the other hand, move to the cathode through the electrolyte. Once there, they unite with oxygen and electrons to produce water and heat.
What is the advantage of hydrogen FCEV?
The main of hydrogen fuel cell electric vehicles (FCEV) is that they produce no tailpipe emissions.
They are more efficient than internal combustion engine vehicles.
When it comes to refuelling time, which makes them more practical than battery-powered electric vehicles for public transportation purposes.
What are the challenges with FCEVs?
FCEVs do not generate gases that contribute to global warming; the process of making hydrogen needs energy — often from fossil fuel sources. This has raised questions over hydrogen's green credentials.
There are questions of safety — hydrogen is more explosive than petrol.
Hydrogen fuel tanks in FCEVs such as the Mirai are made from highly durable carbon fibre, whose strength is assessed in crash tests, and trials where bullets are fired at it, which makes vehicles, more expensive, and fuel dispensing pumps are scarce.
How environment-friendly are hydrogen fuel cell vehicles?
Using a battery-powered electric vehicle does not mean that the vehicles produce no emissions, but rather, that they produce no tailpipe emissions.
Since most of the electricity in the country comes from fossil fuels, and the biggest source of hydrogen in the world currently is also fossil fuels, these vehicles do cause many emissions with their usage.
However, just like we are moving towards renewable sources of electricity, we could also move towards renewable methods of generating hydrogen in the future.
So, even if these vehicles do contribute to emissions right now, the fuel that they need could be produced using renewable methods such as solar and wind energy.
Source: Indian Express
---
One Nation One Fertiliser scheme
Syllabus
Mains – GS 3 (Economy – Agriculture)
Context: The Ministry of Chemicals and Fertilisers announced it has been decided to implement One Nation One Fertiliser by introducing a "Single Brand for Fertilisers and Logo" under the fertiliser subsidy scheme named "Pradhanmantri Bhartiya Janurvarak Pariyojna" (PMBJP).
The memorandum stated the single brand name for UREA, DAP, MOP and NPK etc. would be BHARAT UREA, BHARAT DAP, BHARAT MOP and BHARAT NPK respectively for all Fertiliser Companies, State Trading Entities (STEs) and Fertiliser Marketing Entities (FMEs).
Under the new "One Nation One Fertiliser" scheme, companies are allowed to display their name, brand, logo and other relevant product information only on one-third space of their bags.
On the remaining two-thirds space, the "Bharat" brand and Pradhanmantri Bharatiya Jan Urvarak Pariyojana logo will have to be shown.
Government's argument for introducing this scheme
The government's logic for introducing a single 'Bharat' brand for all subsidised fertilisers being marketed by companies is as follows:
There are some 26 fertilisers (inclusive of urea), on which government bears subsidy and also effectively decides the MRPs.
The government is spending vast sums of money on fertiliser subsidy (the bill is likely to cross Rs 200,000 crore in 2022-23)
The government also decides where fertilizer has to be sold.
This is done through the Fertiliser (Movement) Control Order, 1973.
Under this, the department of fertilisers draws an agreed monthly supply plan on all subsidised fertilisers in consultation with manufacturers and importers.
Drawbacks of the scheme
A couple of issues are immediately apparent:
It will disincentivise fertiliser companies from undertaking marketing and brand promotion activities.
Companies will be reduced to contract manufacturers and importers for the government.
In case of any bag or batch of fertilisers not meeting the required standards, the blame will be fully on the government.
Source: Indian Express
---
India as a foreign policy leader and balancer
Syllabus
Mains – GS 2 (International Relations – Indian Foreign Policy)
India's Foreign Policy
A critical assessment of India's foreign policy during 1947–2022 should begin with the changing perceptions of this nation, internally and internationally.
A major stakeholder in the association of nations
India's ties with countries across regions — in the South Pacific, through Southeast and South Asia, in other parts of Asia, Europe, the Indian Ocean region, Africa, North America and Latin America — show it to be an aspiring, as well as a major player on the world stage.
A leading member of the UN, an oft-invitee to the G7, a founding member of the BRICS, and a pivotal part in G20, India has become a major stakeholder in the comity of nations.
National interest drives foreign policy, but more is at stake here:
The policy is anchored in a nuanced balancing of interests and values.
National security remains the key driver.
External relationships accelerate the country's economic progress.
Other motivations include the desire to enhance the nation's standing externally and the impulse to do good for the world — India did not hesitate to share Covid medicines and vaccines with over 90 countries within a month of their launch.
A balancer and leader
In the post-Cold War period, India has moved more time and resources to careful nurturing of relations with the major powers — the US, EU, especially France and Germany, the UK, Japan, Russia and China.
India's enhanced GDP and its IT prowess have positioned it in parallel with the apex group of leaders.
At the height of the Non-Aligned Movement and G77, India was the leader of the "have-nots".
By enjoying proximity with the West and demonstrating the capability to cooperate and communicate with the "other" side — Russia, the time-tested partner, and China, the principal adversary but also a consequential neighbour — India now acts as a balancer and leader.
Neighbourhood First Policy
The neighbours have not been ignored.
Equations with Bhutan, Bangladesh and Maldives are excellent.
The tide that ran against India in its ties with Afghanistan, Nepal and Sri Lanka in recent years seems to have turned since the Covid-19 pandemic.
More needs to be achieved in regional cooperation and integration.
Multilaternalism
The Indo-Pacific has emerged as a principal theatre for Indian diplomacy.
The increased emphasis on cooperation with Quad members
The combined impact of formations such as AUKUS, the Indo-Pacific Economic Framework, Partners in the Blue Pacific and India's continuing focus on ASEAN, despite the setback of its exit from RCEP, is a determined pushback to China.
Across the Western shores, prospects have improved with the establishment of I2U2 (India, Israel, U.S. UAE) — this became possible due to the progress in India-UAE, India-Israel and UAE-Israel relations.
Positioning Africa's eastern and southern flanks as a part of the Indo-Pacific could enable India to craft a series of initiatives to strengthen cooperation in maritime activity, economic development, and the blue economy.
Thus Indian Foreign policy making is aided by academia, think tanks, civil society and media more than ever before.
The increasing engagement of the wider public — especially the youth and business community — with foreign policy issues reflects the maturity and sophistication of Indian democracy. These trends must deepen and India's G20 Presidency provides a perfect opportunity and beginning for the next anniversary era.
Source: Indian Express
---
India-Nepal
Syllabus
Mains – GS 2 (INTERNATIONAL RELATIONS)
In News: Recently Nepal informed India that recruitment of Gorkhas under Agnipath scheme does not conform with provisions of the tripartite agreement signed by Nepal, India, and Britain on November 9, 1947.
Recruitment of Gorkhas from Nepal began in then British Indian army after the Treaty of Sagauli was signed in 1816 between the government of Nepal and the British East India Company.
And it became a tripartite arrangement in November 1947 after India became independent and Gorkhas in Nepal were given a choice to serve in the Indian Army or go to UK.
India-Nepal Relations
Founded on the age-old connection of history, culture, tradition and religion, these relations are close, comprehensive, and multidimensional and are pronounced more in political, social, cultural, religious, and economic engagements with each other.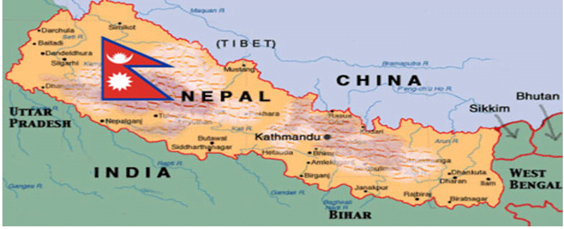 How have the Historical Ties been?
India and Nepal share similar ties in terms of Hinduism and Buddhism with Buddha's birthplace Lumbini located in present day Nepal.
The two countries not only share an open border and unhindered movement of people, but they also have close bonds through marriages and familial ties, popularly known as Roti-Beti ka Rishta.
The India-Nepal Treaty of Peace and Friendship of 1950 forms the bedrock of the special relations that exist between India and Nepal.
What are the Areas of Cooperation Between the Two Countries?
Trade and Economy:
India is Nepal's largest trade partner and the largest source of foreign investments, besides providing transit for almost the entire third country trade of Nepal.
Connectivity:
Nepal shares border with 5 Indian states– Uttarakhand, Uttar Pradesh, West Bengal, Sikkim, and Bihar. Hence an important point of cultural and economic exchange.
Nepal being a landlocked country many MOUs have been signed between both governments for better connectivity. For instance, laying an electric rail track linking Kathmandu with Raxaul in India.
Defence Cooperation:
The Gorkha Regiments of the Indian Army are raised partly by recruitment from hill districts of Nepal.
India from 2011, every year undertakes a joint military exercise with Nepal known as Surya Kiran.
Cultural:
There have been initiatives to promote people-to-people contacts in the area of art & culture, academics, and media with different local bodies of Nepal.
India has signed three sister-city agreements for the twinning of Kathmandu-Varanasi, Lumbini-Bodhgaya, and Janakpur-Ayodhya.
Humanitarian Assistance:
Nepal lies in the sensitive ecological fragile zone which is prone to earthquakes and floods causing massive damage to both life and money, whereby it remains the biggest recipient of India's humanitarian assistance.
Multilateral Partnership:
India and Nepal share multiple multilateral forums such as BBIN (Bangladesh, Bhutan, India, and Nepal), BIMSTEC (Bay of Bengal Initiative for Multi Sectoral Technical and Economic Cooperation), Non-Aligned Movement, and SAARC (South Asian Association for Regional Cooperation) etc.
Why is China's role in Nepal a matter of concern?     
An Agreement on Transit Transportation, a Protocol was concluded with China providing access to four sea ports and three land ports.
China has overtaken India as the largest source of foreign direct investment.
China is also engaged with airport expansion projects at Pokhara and Lumbini.
Thus Nepal is quietly tilting away from India.
Way Forward:
Dialogues for Territorial Disputes: The need today is to avoid rhetoric on territorial nationalism and lay the groundwork for quiet dialogue where both sides display sensitivity as they explore what is feasible.
Strengthening Economic Ties: The power trade agreement needs to be such that India can build trust in Nepal. Despite more renewable energy projects (solar) coming up in India, hydropower is the only source that can manage peak demand in India.
Investments from India: The Bilateral Investment Promotion and Protection Agreement (BIPPA) signed between India and Nepal needs more attention from Nepal's side.
Sensitising Towards Nepal: India should engage more proactively with Nepal in terms of people-to-people engagement, bureaucratic engagement as well as political interactions.
Source: Indian Express
---
India & Thailand
Syllabus
India and its neighbourhood
---
Daily Practice MCQs
Daily Practice MCQs
Q.1) Nepal borders with which of the following Indian states?
West Bengal
Assam
Bihar
Himachal Pradesh
Select the correct answer using the code given below:
1 and 2 only
2 and 3 only
1 and 3 only
2 and 4 only
Q.2) With reference to cultural history of India, consider the following statements:
Manusmriti has categorized all women as shudras.
The text is attributed to the mythical figure of Vishnu.
It discusses aspects of the Arthashashtra.
Which of the statement/s given above is/are correct?
1 only
1 and 3 only
2 and 3 only
1, 2 and 3
Q.3) The United Nations security council resolution 2623 often mentioned in news in the context of?
The situation in the middle East
Reports of secretary general on the Sudan and South Sudan
The situation in Afghanistan
Emergency special session on Ukraine
---
Comment the answers to the above questions in the comment section below!!
ANSWERS FOR '26th  August 2022 – Daily Practice MCQs' will be updated along with tomorrow's Daily Current Affairs.
---
ANSWERS FOR 25th August 2022 – Daily Practice MCQs
Answers- Daily Practice MCQs
Q.1) – b
Q.2) – d
Q.3) – c
For a dedicated peer group, Motivation & Quick updates, Join our official telegram channel – https://t.me/IASbabaOfficialAccount
Subscribe to our YouTube Channel HERE to watch Explainer Videos, Strategy Sessions, Toppers Talks & many more…