Context: India, the world's largest exporter of rice, has banned exports of broken rice.
Key details:
It has banned the exports amid a 6 per cent reduction in paddy acreage in the ongoing Kharif season and increase in rice prices.
It has also imposed a 20 per cent duty on exports of various grades of rice, except basmati.
Area sown under paddy has dipped by 2.2 million hectares this Kharif over the last amid a shortfall of rain in major rice-producing states like West Bengal, Jharkhand, Bihar, and Uttar Pradesh.
India exports 20-22 million tonne rice annually, including 4 million tonne basmati rice.
Rice Growing Regions of India:
The rice growing areas in the country can be broadly grouped into five regions as given below:
North-Eastern Region:
This region comprises of Assam and North eastern states.
In Assam rice is grown in the Basin of Brahmaputra River.
This region receives very heavy rainfall and rice is grown under rain fed condition.
Eastern Region:
It region comprises of Bihar, Chhattisgarh, Jharkhand, Madhya Pradesh, Orissa, Eastern Uttar Pradesh, and West Bengal.
In this region rice is grown in the basins of Ganga and Mahanadi rivers and has the highest intensity of rice cultivation in the country.
This region receives heavy rainfall and rice is grown mainly under rainfed conditions.
Northern Region:
This region comprises of Haryana, Punjab, Western Uttar Pradesh, Uttarakhand, Himachal Pradesh, and Jammu & Kashmir.
The region experiences low winter temperature and single crop of rice from May-July to September- December is grown.
Western Region:
This region comprises of Gujarat, Maharashtra, and Rajasthan.
Rice is largely grown under rainfed condition during June-August to October – December.
Southern Region:
This region comprises of Andhra Pradesh, Karnataka, Kerala, and Tamil Nadu.
Rice is mainly grown in deltaic tracts of Godavari, Krishna, and Cauvery rivers and the non-deltaic rainfed area of Tamil Nadu and Andhra Pradesh.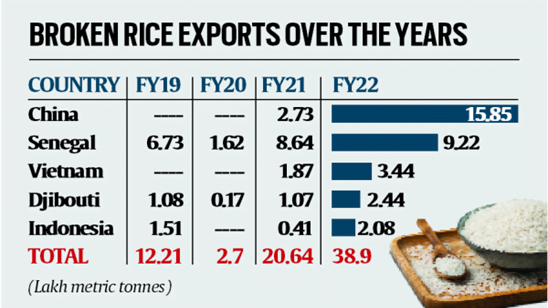 Why India is so crucial for global rice supply?
India's rice exports touched a record 5 million tonnes in 2021, more than the combined shipments of the world's next four biggest exporters of the grain: Thailand, Vietnam, Pakistan, and the United States.
India, the world's biggest rice consumer after China, has a market share of more than 40% of the global rice trade.
High domestic stocks and low local prices allowed India to offer rice at deep discounts over the past two years, helping poorer nations, many in Asia and Africa, grapple with soaring wheat prices.
India exports rice to more than 150 countries, and any reduction in its shipments would fuel food inflation.
The grain is a staple for more than 3 billion people, and when India banned exports in 2007, global prices shot to new peaks.
It would also allow rival suppliers Thailand and Vietnam to raise prices that are already more than 30% above Indian shipments.
Other than serving Asian buyers like China, Nepal, Bangladesh and the Philippines, India supplies rice to countries such as Togo, Benin, Senegal, and Cameroon.
Source: The Hindu
Previous Year Question
Q.1) Which of the following factors/policies were affecting the price of rice in India in the recent past? (2020)
Minimum Support Price
Government's trading
Government's stockpiling
Consumer subsidies
Select the correct answer using the code given below:
1, 2 and 4 only
1, 3 and 4 only
2 and 3 only
1, 2, 3 and 4
For a dedicated peer group, Motivation & Quick updates, Join our official telegram channel – https://t.me/IASbabaOfficialAccount
Subscribe to our YouTube Channel HERE to watch Explainer Videos, Strategy Sessions, Toppers Talks & many more…