In News: The Indian Space Research Organisation (ISRO) just declared that it has successfully demonstrated the new technology with Inflatable Aerodynamic Decelerator (IAD).
What is IAD?
IAD is a technique used for an atmospheric entry payload.
An inflatable envelope and an inflatant (anything that inflates the envelope, like air or helium) make up the inflatable aerodynamic decelerator.
While entering the atmosphere, it inflates like a balloon and decelerates the lander.
The inflatant is designed to fill the inflatable envelope to a condition such that it surrounds the payload meant to enter the atmosphere of a planet or satellite and causes aerodynamic forces to slow it down.
In simpler words, IAD is designed to increase drag upon entering the atmosphere of any planetary body, like Earth, Mars, or even Moon.
Its shape is maintained by a closed, gas-pressured body and the inflatant gas is also generated internally. Some versions also use ram air or both.
Some space agencies, including NASA, have already successfully tested advanced versions of the technology, including the supersonic and hypersonic variants.
However, for near future missions of ISRO, the current version that it tested is perfect.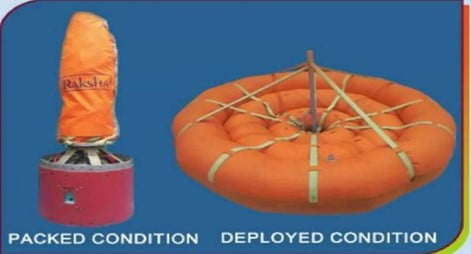 ISRO's IAD
ISRO's latest IAD has been designed and developed at Vikram Sarabhai Space Centre.
It also has a spin rocket that is ejectable.
The inflatable structure is made out of Kevlar fabric, which is a very strong synthetic fibre and also heat resistant to withstand atmospheric pressure and temperature changes.
On top of it, it's coated with polychloroprene, an oil and wax resistant rubber, which can also withstand extreme temperatures.
The Liquid Propulsion Systems Centre (LPSC), created the pneumatic inflation system for the IAD system.
In the inflation system, it uses compressed nitrogen stored in a bottle.
It has consistently decreased the payload's velocity through aerodynamic drag while maintaining the expected trajectory during the test flight.
Where does ISRO intend to use it?
The IAD will help ISRO in performing many space tasks effectively including recovery of spent stages of rockets, for landing payloads on missions to other planetary bodies.
Source: The Hindu
Previous Year Question
1) Which one of the following statements best reflects the idea behind the "Fractional Orbital Bombardment System" often talked about in media ?
A hypersonic missile is launched into space to counter the asteroid approaching the Earth and explode it in space.
A spacecraft lands on another planet, after making several orbital motions.
A missile is put into a stable orbit around the Earth and deorbits over a target on the Earth.
A spacecraft moves along a comet with the same speed and places a probe on its surface.
For a dedicated peer group, Motivation & Quick updates, Join our official telegram channel – https://t.me/IASbabaOfficialAccount
Subscribe to our YouTube Channel HERE to watch Explainer Videos, Strategy Sessions, Toppers Talks & many more…