In News: In a significant ruling on reproductive rights, the Supreme Court extended the right to safe and legal abortion up to 24 weeks of pregnancy to unmarried and single women, saying it is the "right of every woman to make reproductive choices without undue interference from the State".
All women are entitled to the benefit of safe and legal abortions.
The woman alone has the right over her body and is the ultimate decision-maker on the question of whether she wants to undergo an abortion.
Context:
The bench was ruling on a plea by an unmarried pregnant woman who had been in a consensual relationship but was denied the right to abortion because she was past the 20-week limit.
Medical Termination of Pregnancy (MTP) Act of 1971 was largely concerned with 'married women'.
However, the 2021 Statement of Objects and Reasons does not make a distinction between married and unmarried women. The provisions of the MTP Act 1971 cannot be interpreted to deny that right to single woman beyond 20 weeks of pregnancy.
This artificial distinction between married and single women is not constitutionally sustainable. The benefits in law extend equally to both single and married women.
Arguments by the bench:
The bench ruled pregnancy is the sole prerogative of a woman and the circumstances are unique and may vary for each with regard to economic, cultural or social factors.
If the benefits extended only to married women, it would perpetuate the stereotype and socially held notion that only married women indulge in sexual intercourse, and that consequently, the benefits in law ought to extend only to them.
Right to decisional autonomy means women choosing the course of their lives. Unwanted pregnancies may have cascading effects for the rest of her life by interrupting her education, her career, or affecting her mental well-being.
Right to Reproductive autonomy requires that every pregnant woman has the intrinsic right to choose to undergo or not to undergo abortion without any consent or authorisation from a third party
Right to bodily autonomy of the pregnant woman will ensure social justice.
Complicated life circumstances play a part in decision of abortion which only the woman can choose on her own terms without external interference or influence.
Constitutionality:
Article 21 of the Constitution "recognises and protects the right of a woman to undergo termination of pregnancy if her mental or physical health is at stake.
Article 51A states to renounce practices derogatory to the dignity of women. Depriving women of autonomy not only over their bodies but also over their lives would be an affront to their dignity.
History:
Abortions have been legal in India since 1971
But over the years authorities have made strict rules regarding terminate of pregnancy because of the abortions of millions of female foetuses, leading to a terribly skewed gender ratio in the country.
Traditionally, Indians have shown a preference for male children over daughters.
Medical Termination of Pregnancy Act, 1971
An Act to provide for the termination of certain pregnancies by registered Medical Practitioners and for matters connected therewith or incidental thereto.
It allowed abortion within 12 weeks of pregnancy requiring the opinion of one doctor and between 12 and 20 weeks requires opinion of two doctors.
The Bill sets up State level Medical Boards to decide if a pregnancy may be terminated after 24 weeks in cases of substantial foetal abnormalities.
An amendment in 2021 raised the ceiling for abortions to 24 weeks for special categories of pregnant women such as rape survivors, minors, women with mental disabilities, women with foetuses that had major abnormalities and married women whose marital status had changed during the pregnancy, with the approval of two registered doctors.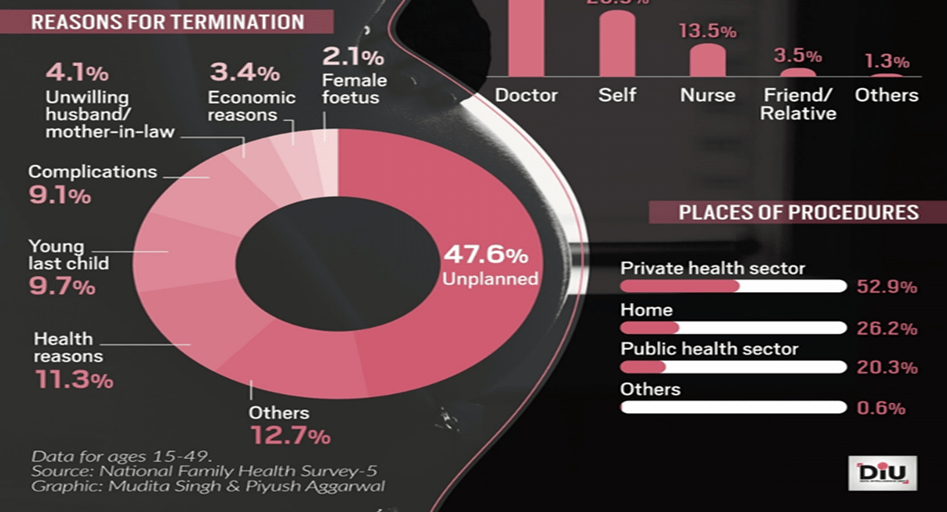 Abortion laws around the world:
Abortions are illegal in 24 countries –where about 90 million or 5 per cent of women of reproductive age reside.
Some of these include Senegal, Mauritania, Egypt, Laos, Philippines, Honduras and Poland. In El Salvador, women undergoing abortions have been found guilty of "aggravated homicide", including miscarriages.
US: Supreme Court has overturned the landmark 1973 Roe v Wade decision that established a constitutional right to an abortion. Henceforth, US has severely restricted access to the procedure.
Canada: The court ruled that the restriction to abortion law violated a woman's right to "life, liberty and security of the person" that was enshrined in Canada's Charter of Rights and Freedoms.
Most European countries permit abortions within gestational time limits, which most commonly is about 12-14 weeks. In the UK, pregnancy can be terminated right up until birth in cases of foetal disability.
New Zealand decriminalised abortions in 2020, extending the legal period to 20 weeks of pregnancy
In 2021, in Colombia, the Constitutional court voted to legalise abortion before 24 weeks of pregnancy as a result of efforts from human rights and civil society groups.
Status of Marital Rape in India:
Marital rape is the act of sexual intercourse with one's spouse without the spouse's consent. The lack of consent is the essential element and need not involve physical violence.
The bench said that the meaning of rape must include marital rape for the purpose of the MTP Act. Any other interpretation would have the effect of compelling a woman to give birth to and raise a child with a partner who inflicts mental and physical harm upon her.
Way forward:
Law must not remain static and its interpretation should keep in mind the changing social context and advance the cause of social justice. The interpretation of the MTP Act and Rules must evolve and consider the social realities of today.
Transformative constitutionalism promotes and engenders societal change by ensuring that every individual is capable of enjoying the life and liberties guaranteed under the Constitution
The law must remain cognizant of the fact that changes in society have ushered in significant changes in family structures.
Source: Indian Express         
For a dedicated peer group, Motivation & Quick updates, Join our official telegram channel – https://t.me/IASbabaOfficialAccount
Subscribe to our YouTube Channel HERE to watch Explainer Videos, Strategy Sessions, Toppers Talks & many more…