In news: The Indian Space Research Organisation (ISRO) is developing a rocket named Next Generation Launch Vehicle (NGLV) to replace its ageing workhorse the Polar Satellite Launch Vehicle (PSLV).
ISRO to develop a 'Bharat Krishi satellite' to study the growth pattern of crops, identify irrigation deficiencies and provide information that will help in pest-control and verification of farm insurance claims besides many other applications.
ISRO is also exploring the possibility of increasing civilian use of the country's indigenous satellite navigation system NaVIC.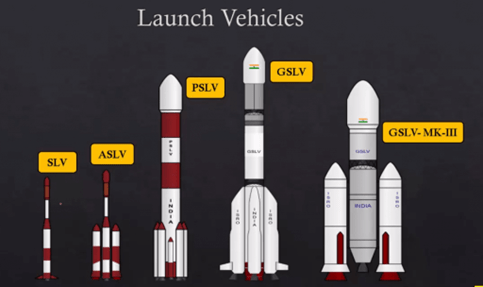 About NGLV:
NGLV will use 'semi-cryogenic' technology which is both efficient and cost-effective.
The new rocket could also be 'reusable'. A reusable rocket will have a smaller payload than an expendable one. If it is reusable, the payload will be around five tonnes and if it's expendable, it will go up 10 tonnes.
Participation of the industry would ensure that capability is created outside ISRO to build, operate and launch it on a commercial basis.
About PSLV technology:
Polar Satellite Launch Vehicle (PSLV) is the third generation launch vehicle of India.
It is the first Indian launch vehicle to be equipped with liquid stages.
It is a four-staged launch vehicle with first and third stage using solid rocket motors and second and fourth stages using liquid rocket engines.
The PS4 is the uppermost stage of PSLV, comprising of two Earth storable liquid engines.
The third stage of PSLV is a solid rocket motor that provides the upper stages high thrust after the atmospheric phase of the launch.
PSLV uses an Earth storable liquid rocket engine for its second stage, know as the Vikas engine, developed by Liquid Propulsion Systems Centre.
PSLV uses the S139 solid rocket motor that is augmented by 6 solid strap-on boosters.
PSLV uses 6 solid rocket strap-on motors to augment the thrust provided by the first stage in its PSLV-G and PSLV-XL variants. However, strap-ons are not used in the core alone version (PSLV-CA).
Initially, PSLV had a carrying capacity of 850 kg but has been enhanced to 1.9 tonnes.
It comes in the category of medium-lift launchers with a reach up to various orbits, including the Geo Synchronous Transfer Orbit, Lower Earth Orbit, and Polar Sun Synchronous Orbit.
All the operations of PSLV are controlled from the Satish Dhawan Space Centre, Sriharikota.
MUST READ: Indigenisation of PSLV technology
About GSLV technology:
Geosynchronous Satellite Launch Vehicle (GSLV) is an expendable space launch vehicle designed, developed, and operated by ISRO to launch satellites and other space objects into Geosynchronous Transfer Orbits.
GSLV is 49.13 m tall and tallest among all other vehicles of ISRO.
It is a three-stage vehicle with a lift-off mass of 420 tonnes.
Stages in GSLV
First stage – comprises S139 solid booster with 138-tonne propellant and four liquid strap-on motors, with 40-tonne propellant.
Second stage – is a liquid engine carrying 40-tonne of liquid propellant.
Third stage – is the indigenously built Cryogenic Upper Stage (CUS) carrying 15-tonne of cryogenic propellants.
 GSLV rockets using the Russian Cryogenic Stage (CS) are designated as the GSLV Mk I while versions using the indigenous Cryogenic Upper Stage (CUS) are designated the GSLV Mk II.
All GSLV launches have been conducted from the Satish Dhawan Space Centre in Sriharikota.
GSLV has the capability to put a heavier payload than PSLV.
PSLV can carry satellites up to a total weight of 2000 kg into space and reach up to an altitude of 600-900 km. GSLV can carry weight up to 5,000 kg and reach up to 36,000 km.
 PSLV is designed mainly to deliver earth observation or remote sensing satellites, whereas, GSLV has been designed for launching communication satellites.
GSLV delivers satellites into a higher elliptical orbit, Geosynchronous Transfer Orbit (GTO) and Geosynchronous Earth Orbit (GEO).
Mission Chandrayan-2 was launched by GSLV Mk-III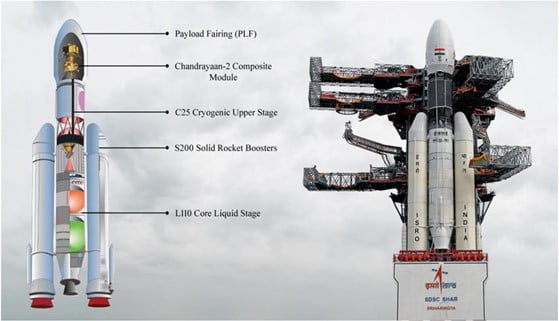 MUST READ: NaVIC
Source: New Indian Express
Previous Year Question
Q.1) With reference to India's satellite launch vehicles, consider the following statements: (2018)
PSLVs launch the satellites useful for Earth resources monitoring whereas GSLVs are designed mainly to launch communication satellites.
Satellites launched by PSLV appear to remain permanently fixed in the same position in the sky, as viewed from a particular location on Earth.
GSLV Mk III is a four-staged launch vehicle with the first and third stages using solid rocket motors; and the second and fourth stages using liquid rocket engines.
Which of the statements given above is/are correct?
1 only
2 and 3
1 and 2
3 only
For a dedicated peer group, Motivation & Quick updates, Join our official telegram channel – https://t.me/IASbabaOfficialAccount
Subscribe to our YouTube Channel HERE to watch Explainer Videos, Strategy Sessions, Toppers Talks & many more…