Let's ring in Diwali a bit early this year! Wondering how? Well, we are no Harry Potter. But we can still wave our wand to help you get what you truly really want – A Rank in UPSC!
So, if you are willing to witness the magic happen, click on the link and join the most comprehensive program to ace your Prelims – Prelims Exclusive Program (PEP) 2023.
But what's the magic you wonder- apart from the sure-shot formula to ace your Prelims, you get a special Diwali Discount on PEP! So, what are you waiting for? Join TODAY!
Prelims Exclusive Programme (PEP) – Most Comprehensive Mentorship-Based Program for UPSC PRELIMS 2023!
PRELIMS EXCLUSIVE PROGRAMME (PEP) – 2023 IN A NUTSHELL!!
1:1 Mentorship Every student will be provided with a Dedicated Mentor, who will monitor your progress, give you feedback, motivate and guide you on the Right Path! The students can contact his/her mentor for any difficulties regarding Prelims preparation.
Prelims Strategy Classes (10 Days Programme) on how to Prepare, How to apply Tricks/Techniques- Live (from well researched set of questions), How to read specific content (Economic Survey, Budget, Atlas (Maps), Current affairs, Government Schemes/Policies), How to Solve a Test, Time management.
This time, solving Prelims PYQ'S will be done by Prelims Experts who have cleared at least 4-5 Prelims.
125+ Daily Classes (Polity, Geography, Economics, History, Art & Culture, Science & Tech and Environment) Daily Class – 92 Classes and subject-wise Exclusive tests for specific Prelims topics for every subject for quick revision.
There will be 24 Current Affairs Specific Classes dealing with past one years Current affairs in a comprehensive manner.
Exclusive Classes on Mapping, Economic Survey and Budget
110+ Handouts Precise and to-the-point handouts on static subjects and current affairs will give you a ready reckoner. This tool will help you during your preparation, particularly near the exam as you grapple with the challenge of last-minute revision.
Prelims-oriented Current Affairs Tests & Handouts– 24 Tests and 16 Handouts
125+ Daily Tests By practising daily the thoroughly researched questions prepared by the IASbaba team, you will boost your confidence to tackle even the most unexpected paper set by UPSC.
3 Exclusive Tests on Map-based, Government Schemes/Policies, Economic Survey, Budget.
6 Revision Tests– Polity, Geography, Economics, Science & Tech and Environment, History, Art & Culture.
10 Full-Length Mock Tests
10 CSAT Tests + Practice questions in every class
125+ Classes and 125+ tests are included in the program.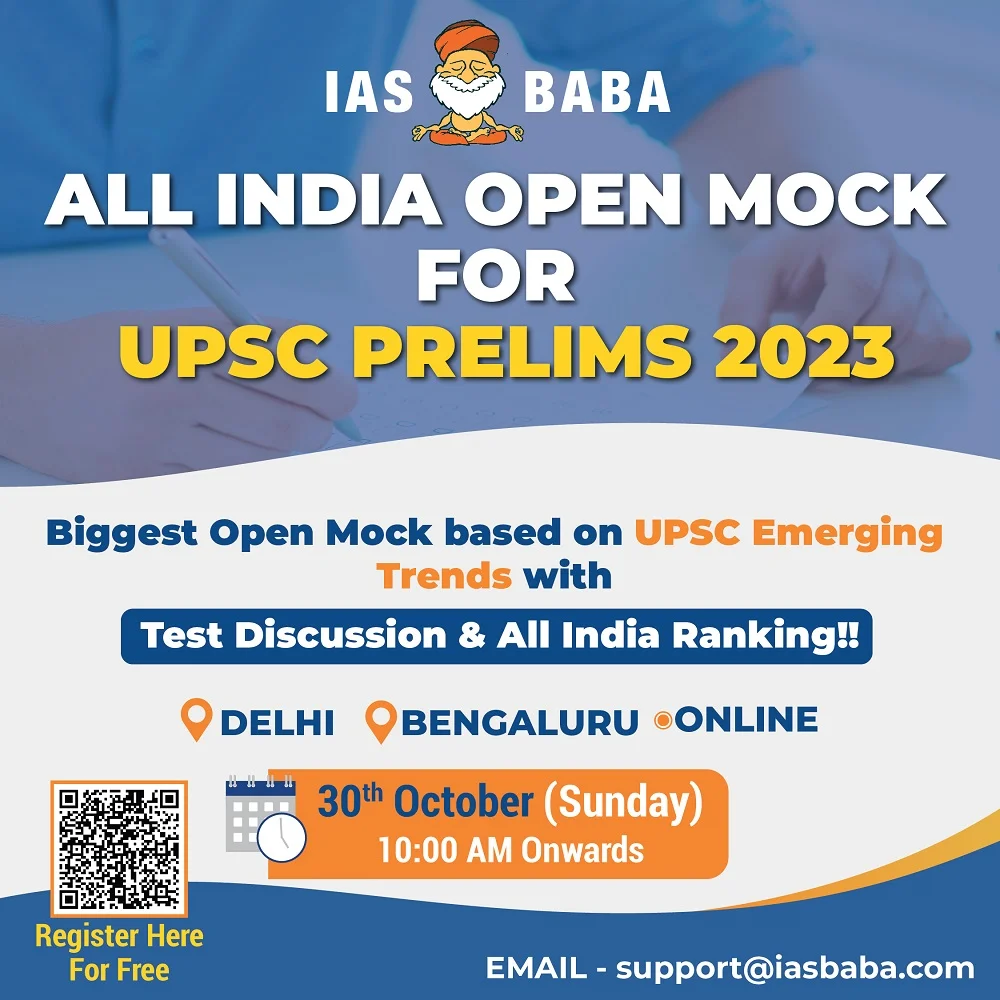 FREE PRELIMS OPEN MOCK TEST
The questions of these mocks will be made by an expert team which have been analysing the language and trend of UPSC. Hence you can be sure that these mocks will be closest to the language and difficulty level of UPSC.
The Mock Test can be taken in both ONLINE & OFFLINE (Bangalore & DELHI) along with Test Discussion by PRELIMS EXPERTS
. Results of these mocks will be published soon and All India Rank will be given. This will give you a very good idea to polish the sections where you are weak and areas where you need to focus. Since the seats are limited at any given centre, you must register soon through the following link.
Note:
The Last Date to Register for Free Open Mock Test is 29th October (6 PM)
The Login Credentials for ONLINE Test takers will be sent by 11 PM on 29th October
DATE & TIME: 30th OCTOBER (SUNDAY) at 10 AM.
Exam Centres:
Delhi: IASbaba, Plot 22-B, 3rd floor, Pusa Road, Bada Bazar Marg, Rajinder Nagar, New Delhi- 110060 (Landmark: Above Dominos)
Bengaluru: IASbaba TLP Centre: 2nd floor, Ganapathi Circle, Chandra Layout, Bengaluru, Karnataka 560072