Context: Recently an international network under Natural Livestock Farming Foundation (NLF) a non-profit has developed an effective methodology to support farmers in reducing their use of antibiotics and other veterinary drugs in smallholder and large-scale dairy systems.
About Antimicrobials and Anti-microbial resistance:
Antimicrobials – including antibiotics, antivirals, antifungals and antiparasitics – are medicines used to prevent and treat infections in humans, animals and plants.
Antimicrobial Resistance (AMR) occurs when bacteria, viruses, fungi and parasites change over time and no longer respond to medicines making infections harder to treat and increasing the risk of disease spread, severe illness and death.
As a result of drug resistance, antibiotics and other antimicrobial medicines become ineffective and infections become increasingly difficult or impossible to treat.
Factors that accelerates the emergence and spread of AMR: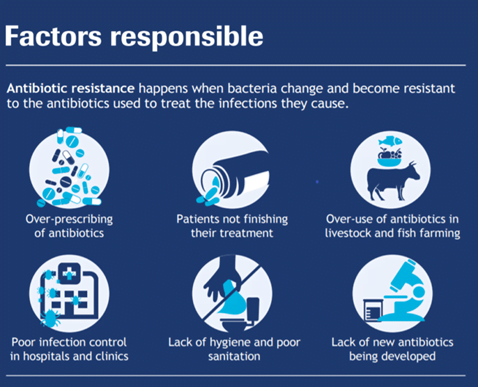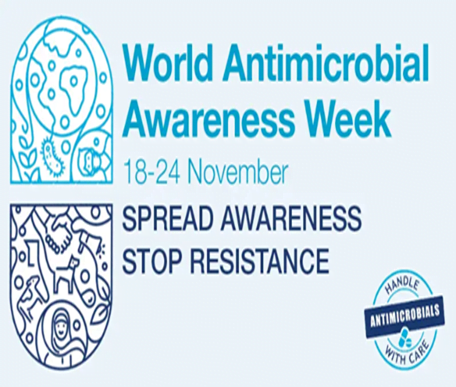 AMR occurs naturally over time, usually through genetic changes. Antimicrobial resistant organisms are found in people, animals, food, plants and the environment (in water, soil and air).
They can spread from person to person or between people and animals, including from food of animal origin.
The main drivers of antimicrobial resistance include the misuse and overuse of antimicrobials; lack of access to clean water, sanitation and hygiene (WASH) for both humans and animals; poor infection and disease prevention and control in health-care facilities and farms; poor access to quality, affordable medicines, vaccines and diagnostics; lack of awareness and knowledge; and lack of enforcement of legislation.
About Global Action Plan on Antimicrobial Resistance (GAP):
Globally, countries committed to the framework set out in the Global Action Plan1 (GAP) 2015 on AMR during the 2015 World Health Assembly and committed to the development and implementation of multisectoral national action plans.
It was subsequently endorsed by the Governing Bodies of the Food and Agriculture Organization of the United Nations (FAO) and the World Organisation for Animal Health (OIE).
Prior to the endorsement of the GAP in 2015, global efforts to contain AMR included the WHO global strategy for containment of Antimicrobial Resistance developed in 2001 which provides a framework of interventions to slow the emergence and reduce the spread of AMR.
World Antimicrobial Awareness Week (WAAW):
WAAW was previously called World Antibiotic Awareness Week. Since 2020, it has been called World Antimicrobial Awareness Week.
Held annually event since 2015, WAAW is a global campaign that aims to raise awareness of antimicrobial resistance worldwide and encourage best practices among the general public, health workers and policy makers to slow the development and spread of drug-resistant infections.
The Tripartite Executive Committee decided to set all future WAAW dates as 18 to 24 November. The overarching slogan used for the last 5 years was "Antibiotics: Handle with Care." This was changed to "Antimicrobials: Handle with Care" in 2020.
The Global Antimicrobial Resistance and Use Surveillance System (GLASS):
WHO launched the Global Antimicrobial Resistance and Use Surveillance System (GLASS) in 2015 to continue filling knowledge gaps and to inform strategies at all levels.
GLASS provides a standardized approach to the collection, analysis, interpretation and sharing of data by countries, territories and areas, and monitors the status of existing and new national surveillance systems, with emphasis on representativeness and quality of data collection.
About the National Dairy Development Board (NDDB):
The National Dairy Development Board initially registered as a society under the Societies Act 1860 was merged with the erstwhile Indian Dairy Corporation, a company formed and registered under the Companies Act 1956, by an Act of India's Parliament – the NDDB Act 1987 with effect from 12 October, 1987.
The new body corporate was declared an institution of national importance by the Act.
Its head office is in Gujrat.
The general superintendence, direction, control and management of NDDB's affairs and business vests with the Board of Directors.
The Dairy Board was created to promote, finance and support producer-owned and controlled organisations.
NDDB began its operations with the mission of making dairying a vehicle to a better future for millions of grassroots milk producers.
The mission achieved thrust and direction with the launching of "Operation Flood", a programme extending over 26 years and which used World Bank loan to finance India's emergence as the world's largest milk producing nation.
As of March 2019, India's 1,90,500 village dairy cooperatives affiliated to 245 milk unions & marketing dairies and 22 federations & apex bodies procured on an average 508 Lakh kg of milk every day. 16.9 million farmers are currently members of village dairy cooperatives.
Source: DownToEarth
Previous Year Questions
Q.1) Consider the following statements in respect of probiotics :
Probiotics are made of both bacteria and yeast.
The organisms in probiotics are found in foods we ingest but they do not naturally occur in our gut.
Probiotics help in the digestion of milk sugars.
Which of the statements given above is/are correct? (2022)
1 only
2 only
1 and 3
2 and 3
Q.2) Which one of the following statements best describes the role of B cells and T cells in the human body? (2022)
They protect the environmental allergens. body
They alleviate the body's pain and inflammation.
They act as immunosuppressants in the body.
They protect the body from the diseases caused by pathogens.
For a dedicated peer group, Motivation & Quick updates, Join our official telegram channel – https://t.me/IASbabaOfficialAccount
Subscribe to our YouTube Channel HERE to watch Explainer Videos, Strategy Sessions, Toppers Talks & many more…