Context: A recent excavation at Juna Khatiya village of Kutch district Gujarat has revealed some new findings on burial practice of Harrapan and early Harrapan times.
Juna Khatiya village is a biggest cemetery of Harappan era. It has around 500 graves from 3,200 BCE to 2,600 BCE era.
Important findings from the Juna Khatiya village: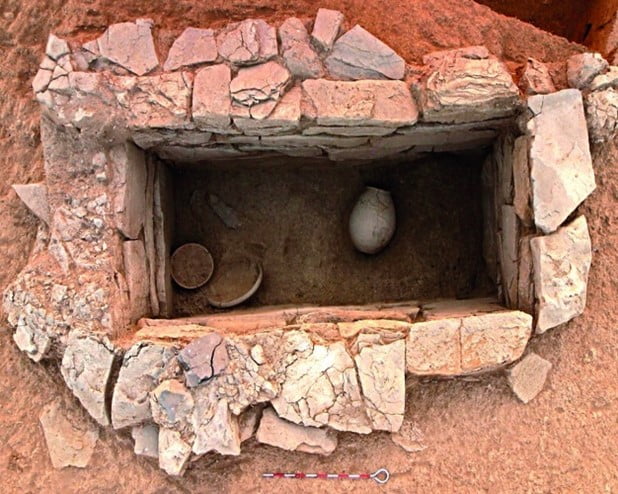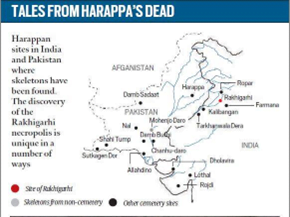 Burial structures, secondary memorials, cremation sites and pot burials.
Burial structures shapes vary from rectangular to oval or circular.
Rows of graves with- skeletal remains, ceramic pots, plates and vases, beaded jewellery, and animal bones that piqued their interest.
Region demonstrates transition from earth-mound burials to stone graves.
Pottery have features and style similar to early Harappan sites in Sindh and Baluchistan.
Rectangular graves were made of shale and sandstone, common rocks in the region.
They were cut into natural soil without stone facings.
Construction of cemetery: Pebbles of local rock, basalt, soil, sand, etc were used and clay was used to bind them together.
Items like clay bowls and dishes, prized possessions like beads and bangles of terracotta, seashells, and lapis lazuli were placed with dead.
Majority of burial pits had five to six pots.
There is no metal artefact found.
Some of burial structures have boulders of basalt as coverings.
In few cemeteries bases of the pits have stone paving too.
Bases of some pits are lined with soil that is different in colour and texture from other layers.
Burials were oriented in different directions – some are along east-west axis, some along north- south orientation.
Significance of findings in Juna Khatiya village:
Juna Khatiya can help in understanding cultural exchange between the Sindh and Gujarat regions in Early Harappan period due to the similar artefacts and customs.
Burial practices of Harappan/Indus Valley Civilization:
Specific individuals, communities, and societies had their own methods of burial which suggests religious and cultural diversity.
Three types of burial customs:
Complete burial of intact bodies.
Full cremation with burial of bones or ashes- most common.
Partial burials containing only the bones of the deceased.
Mohenjo-daro: Most cremation urns did not contain human bone remains, but ornaments possessed during life, animal bones, ash and charcoal were found.

Majority of corpses were mummified in the act of death, as opposed to being disposed of later.
Only few populations were buried formally in ground, which means those people enjoyed some important status in society.

Rakhigarhi (Haryana): Most of the burial pits were rectangular in shape, with vertically cut sides and flat bottoms.

They were generally arranged on the north-south axis with the head to the north.
Graves were humble in nature with exotic items like- inscribed seals or ritual objects.
High ranking individuals, including women were buried wherein the soil had been built up with pots upon which the body was laid.
These graves tended to be laid with bricks.
Many votive pots in male graves indicates women were not considered equal to male citizens.
Source: Times of India
Previous Year Questions
Q.1) According to Kautilya's Arthashastra, which of the following are correct?
A person could be a slave as a result of a judicial punishment.
If a female slave bore her master a son, she was legally free.
If a son born to a female slave was fathered by her master, the son was entitled to the legal status of the master's son.
Which of the statements given above are correct? (2022)
1 and 2 only
2 and 3 only
1 and 3 only
1, 2 and 3
Q.2) Which one of the following ancient towns is well known for its elaborate system of water harvesting and management by building a series of dams and channelising water into connected reservoirs? (2021)
Dholavira
Kalibangan
Rakhigarhi
Ropar
For a dedicated peer group, Motivation & Quick updates, Join our official telegram channel – https://t.me/IASbabaOfficialAccount
Subscribe to our YouTube Channel HERE to watch Explainer Videos, Strategy Sessions, Toppers Talks & many more…