IASbaba's Daily Current Affairs- 01st July, 2015
NATIONAL
Controversy over Land Bill 
The Joint Committee was formed to examine the Right to Fair Compensation and Transparency in Land Acquisition, Rehabilitation and Resettlement (Second Amendment) Bill, 2015.
After Recent meeting, the committee has now recorded a total of 52 depositions and is likely to begin clause by clause discussion on the amendments in next the meeting, sources said.
Former BJP general secretary told that the RSS is "dejected" and its "disenchantment" is finding expression in the opposition, for instance, to the controversial Land Bill with Sangh-affiliates such as the Swadeshi Jagran Manch, Bharatiya Kisan Manch, etc. speaking out against it.
Why is the Land bill in New Controversy?
The economic wing of the RSS, said that the re-promulgated Bill contains several detestable and unacceptable sections, even after incorporation of several amendments that have been included in the second amendment under intense public pressure.
It said that cultivable and arable land is under serious onslaught from multi-nationals and corporates, who with the help of governments are accumulating and taking over more arable land from the poor.
What are the new Amendments that are being demanded?
SJM has demanded that the government should re-introduce the clauses of social impact assessment and reinstate the land acquisition consent to 80% for private projects and 70% for public-private partnerships.
It has also asked the government to issue a white paper about acquisition of land by governments since 1947 stating its present status, unused land lying with government and also with big industries.
Connecting the Dots:
Is it necessary to re-introduce the clauses of social impact assessment and reinstate the land acquisition consent?
What are the features of Right to Fair Compensation and Transparency in Land Acquisition, Rehabilitation and Resettlement (Second Amendment) Bill, 2015?
Building India 2.0 
What is the unexceptionable set of goals under Building India 2.0?
One, it aims to build infrastructure and provide the internet as a utility to every citizen.
Two, it promises to improve service delivery by making services available online.
And three, it seeks to enable people to access the internet by building digital literacy.
What are the Initiatives under Building India 2.0?
Digital India claim and programme — following on the heels of Make in India and Skill India — is three-pronged.
Among the new initiatives aimed at reducing paperwork is the Digital Locker, which allows users to upload and store documents that can be shared with government agencies to expedite official applications for, say, marriage licences or LPG connections.
Aadhaar card holders will be able to authenticate documents using eSign, a digital signature application.
Another portal is eHospital, which will let citizens avail health services online, also issuing a unique health identification number piggybacked to Aadhaar.
What is the Role and status of Internet in Building India 2.0?
As a utility, the internet has tangible value. It could reduce leakages in welfare schemes and provide huge economic benefits by enabling better decision-making with improved access to information and markets.
Yet, there are several challenges, not least of them are bringing the digitally unempowered majority online.
Despite years of plans and schemes, attempts to connect remote rural areas to the internet have faltered.
What are the Drawbacks of Building India 2.0?
Only 9 per cent of those who live in rural areas have access to the internet, compared to 64 per cent of those who live in cities.
There is the lack of a legal framework to address concerns over privacy and data protection.
India also lacks a privacy law, without which initiatives like Digital Locker and eHospital are open to flagrant misuse by the state.
Finally, getting stakeholders to buy in could be a trial. As other programmes launched with much fanfare, like Swachh Bharat, have shown, it is difficult to sustain the initial impetus if surrounding structures are not sufficiently built up.
Connecting the Dots:
What is national optical fibre network project?
What measures should be taken to address concerns about privacy and data protection?
Write a note on digitally underpowered majority online.
INTERNATIONAL
A note about Green Climate Fund 
The $100-billion Green Climate Fund will soon become operational in India and the process of accrediting organisations which can access the funds is going on, Dipak Dasgupta, Alternate Director (India), Green Climate Fund Board and Chair, Investment Committee, says.
What is Green Climate Fund?
The Green Climate Fund (GCF) is a fund within the framework of the UNFCCC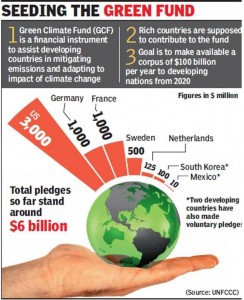 founded as a mechanism to redistribute money from the developed to the developing world, in order to assist the developing countries in adaptation and mitigation practices to counter climate change.
What is the role of India in GCF?
The first accredited Indian entity that will get access to Green Climate Fund's (GCF) resources to undertake clean energy projects in the country is likely to be announced soon.
This GCF was set up to help developing countries build resilience to climate-related disasters and reduces carbon pollution that drives climate change.
So, far 33 countries have pledged $10 billion.
IAS BABA'S Views
Countries spend trillions of dollars on waging wars, but they are reluctant to commit more to mitigate climate change and this is an imminent disaster.
The world is at an "important stage" to deal with climate change and should lay stress on "very strong" community- oriented activity to tackle the issue.
Connecting the Dots:
How long-term and sustained financing be restructured for mitigation and adaptation of climate change?
What is COP21 Dialogue?
What commitments and actions different parties observed to tackle climate change at the Paris meet?
For a dedicated peer group, Motivation & Quick updates, Join our official telegram channel – https://t.me/IASbabaOfficialAccount
Subscribe to our YouTube Channel HERE to watch Explainer Videos, Strategy Sessions, Toppers Talks & many more…