IASbaba's Daily Current Affairs- 5th

 August, 2015
NATIONAL
Smart City: Smart Living, People, Mobility Economy, Environment
Smart Cities are inevitable in the same way that Smart Grids are inevitable. But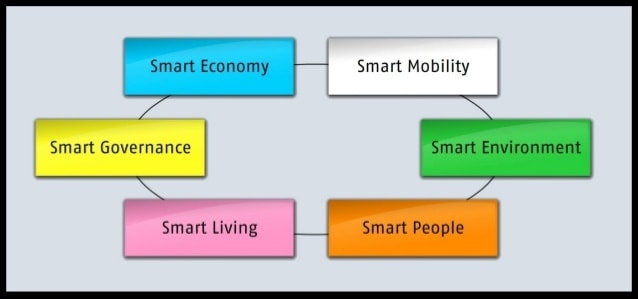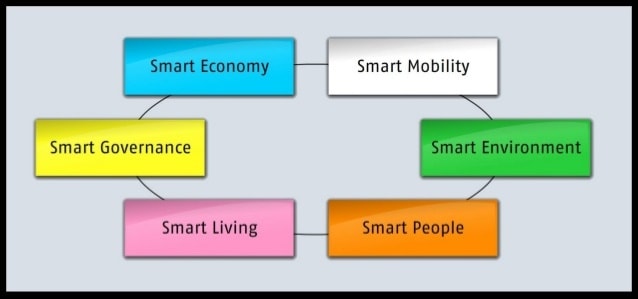 we need something new, something better, and something that works.
Private participation can ease the government's burden, particularly in the case of small-scale infrastructure projects.
Small-scale infrastructure projects developed on public-private partnership (PPP) can expedite development of smart cities.
What is a SMART City?
A city equipped with basic infrastructure to give a decent quality of life, a clean and sustainable environment through application of some smart solutions.
Assured water and electricity supply, sanitation and solid waste management, efficient urban mobility and public transport, robust IT connectivity, e-governance and citizen participation, safety and security of citizens.
Public information, grievance redressal, electronic service delivery, citizens' engagement, waste to energy & fuel, waste to compost, 100% treatment of waste water, smart meters & management, monitoring water quality, renewable source of energy, efficient energy and green building, smart parking, intelligent traffic management system.
What is the framework of System of SMART cities in India?
First step is identification of the 100 cities and for this a city challenge competition to be conducted by Bloomberg Philanthropies is envisaged.
The current plan looks to select 20 cities this year followed by 40 each in the next two years.
Smart Cities Council India has been formed which is part of the US-based Smart Cities Council, which is a consortium of smart city practitioners and experts, with a 100-plus member and advisor organizations operating in over 140 countries.
A Special Purpose Vehicle will be created for each city to implement Smart City action plan. The SPV will be signed with the urban local body, state government and the Centre for implementation of the project.
How will this work?
After government announces the guidelines, states will be asked to nominate names of cities for a 'City Challenge Competition' and the chosen ones will get Central fund of Rs 100 crore each year for 5 years.
What are the Considerations to build a SMART city?
Some of the considerations for building a smart city are:
Timely and strategic infrastructure upgrades
Connectivity evolution
Market challenges
Optimising Smart City Communications
Impact of Open Data, Big Data
Robust and Scalable Architecture
What is the Core Idea behind the SMART system?
The main aim of the government through the Smart Cities Mission is to improve the quality of life of citizens.
This implies providing better employment and investment opportunities and making the city more competitive by addressing the core issue of infrastructure gaps.
Smaller infrastructure projects can be developed with negligible public investment through PPP with quick turnaround time, going a long way in making cities better and safer.
How PPP is important in building SMART India?
We cannot build world-class cities with public funds alone.
PPPs facilitate economic growth on a scale and timeline that would be impossible without private capital.
It is not always necessary to develop big-ticket urban infrastructure projects that make smart cities.
There are several small-scale urban infrastructure projects that can innovatively be implemented through PPP.
They are economically viable and do not require any public investment. They do not have direct revenue streams but generate funds through improving efficiency and savings from system improvements.
IAS BABA's View
Ultimately, for a layperson, 'smart' is just the means through which he can get a 'good' city, one that is clean, safe, and offers opportunities.
By these measures, the West can boast of few cities that can already be called 'smart' for instance, where public transport is not just ubiquitous but your smartphone can even track the buses.
But Smart Cities must be more than this. They must offer transformation like the Internet, leading to empowerment.
Connecting the Dots:
If the benefits of a 'smart' system are apparent why don't we have more such systems?
Explain the limitations of Information and Communications Technology (ICT) in smart cities keeping rural India in mind.
Write a note on

AMRUT
Pradhan MantriAwasYojana
Indigenous medicine :  Natural way to Holistic Health
In the recent past, we have also seen a resurgence of interest in other forms of Indian system of medicine — ayurveda, yoga and naturopathy, unani, siddha and homoeopathy (AYUSH) — due to their immense utility in tackling lifestyle disorders, not only in India but all across the globe.
Although India has made significant progress in the last six decades in providing healthcare, we are witnessing a significant change in the disease pattern in the country, with an increasing number of people suffering from communicable and non-communicable diseases.
What is India's Rank in the world health Aspects?
India ranks somewhere at the bottom of 193 countries on various critical health parameters such as number of doctors, nurses, and beds.
We need to double the number of our doctors, from 0.7 to 1.5 million, for which we need at least 600 new medical colleges.
We also need to triple our nurses count and quadruple the number of paramedics. This will entail considerable investment of our scarce financial resources.
Further, this demands increased focus on preventive and promotive care.
How has the Mission AYUSH Evolved?
The Department of Ayurveda, Yoga and Naturopathy, Unani, Siddha and Homoeopathy, abbreviated as AYUSH, is a governmental body in India purposed with developing education and research in ayurveda (Indian traditional medicine), yoga, naturopathy, unani, siddha, and homoeopathy, and other alternative medicine systems.
Created in March 1995 as the Department of Indian Systems of Medicine and Homoeopathy (ISM&H), AYUSH received its current name in March 2003.
It operates under the Ministry of Health and Family Welfare.
GOI is promoting AYUSH and starting integrated courses for Indian system of medicines and modern science.The Department has been elevated to an independent Ministry w.e.f. 09.11.2014
What are the worrying questions that are swirling around the alternative schools of medicine?
NOT ALL'S well on the AYUSH front.
Despite the government's push to popularise AYUSH was made a full-fledged ministry in November last year, people's perceptions about the traditional forms of medicine are not that favourable, a trend underlined by the latest National Sample Survey Office (NSSO) data.
There is no credible evidence yet of the effectiveness of either homeopathic or Ayurvedic medicines and treatments.
How can AYUSH be mainstreamed into Traditional Health Practices?
With a new health policy on the anvil, we have an opportunity to mainstream the Indian system of medicine and integrate the available AYUSH infrastructure into the healthcare system.
The AYUSH sector has an estimated annual turnover of around Rs. 120 billion and more than 8,000 licensed manufacturing units involved in the country.
India, with a wealth of 6,600 medicinal plants, is the second largest exporter of AYUSH and herbal products in the world, estimated at Rs. 22.7 billion in 2013-14.
And yet, according to the recent NSSO survey, 90 per cent of the population, both rural and urban, prefers allopathy over AYUSH.
Is India one of the top destinations for alternative treatment?
According to the FICCI-KPMG report, the inflow of medical tourists into India is likely to cross 3.2 million soon, generating a market that may cross $4 billion in 2015.
Medical tourism in India started with AYUSH.
People from all across the world come to India for health-restorative cum alternative treatments through a combination of ayurveda, yoga, acupuncture, herbal massages, nature therapies, and some ancient Indian healthcare methods.
The time has come when all the stakeholders need to pool in their resources and move towards harnessing the vast potential of AYUSH.
The AYUSH industry looks forward to a regulatory regime with better clarity and a greater push from the government.
Connecting the Dots:
Why has India never conducted any systematic review of any of the systems of medicine under AYUSH?
Write a note on India's pluralistic health system.
Write a note on National Health Policy 2015
Government finally paves way for Land Acquisition Bill
Finally, the Government has agreed to drop key amendments, including those doing away with the so-called consent clause and social impact assessment in the controversial 2015 land acquisition bill, designed to address impediments to expanding manufacturing capacity in the country.
This had disrupted most of the budget session of Parliament and eventually forced the government to refer the bill to a parliamentary committee.
The joint committee of Parliament set up to study the controversial bill, moved a resolution to withdraw six controversial amendments that had been opposed vehemently by a united opposition led by the Congress.
The Land acquisition Act passed by Parliament in 2013, had 'replaced' an 1894 land acquisition act that was seen as anti- farmer and anti-industry at the same time.
Controversial amendments restored:
The consent clause in the 2013 law mandated that those acquiring land get the assent of 70% farmers for public-private partnerships (PPP) and 80% for private projects. This was removed by the NDA government to accommodate concerns of industry that the process of acquisition would be drawn out. It will now be reinstated.
Another key clause that has been reinstated is on social impact assessment. The industry lobby had argued that this would delay the process of acquisition.
Another amendment that sought to dilute stringent provisions that sought to punish officials for any malpractices during acquisition of land.
SIX AMENDMENTS
RESTORED
1.      Consent Clause
2.      Social Impact Assessment
3.      The term "private company" used in the 2013 law
4.      Any malpractice related to acquisition attributed to officials to be punishable under the Criminal Procedure Code
REMOVED
5.      Land acquisition on either side of industrial corridors

6.      New categories named in the 2015 Bill:

·         Projects vital to national security or defence

·         Rural infrastructure, including electrification

·         Affordable housing and housing for the poor

·         Industrial corridors

·         Infrastructure projects, including projects under PPP
For a dedicated peer group, Motivation & Quick updates, Join our official telegram channel – https://t.me/IASbabaOfficialAccount
Subscribe to our YouTube Channel HERE to watch Explainer Videos, Strategy Sessions, Toppers Talks & many more…