IASbaba's Daily Current Affairs- 6th

 August, 2015
NATIONAL
Peace accord signed between Centre and Naga insurgent outfit.
The government has signed a peace accord with the Nationalist Socialist Council of Nagaland Isak-Muivah(NSCN-IM), one of the largest insurgent outfits, which had been demanding a unified Naga identity in the form of 'Greater Nagalim' State for over six decades.
The move is expected to bring peace to the region driven by long time insurgencies and at the centre of Prime Minister NarendraModi's plans for sub-regional cooperation with Bangladesh, Bhutan and Nepal on the one hand and connecting northeast India with the key economies of Southeast Asia on the other.
It is a major development. One does not know the details of the agreement .The pact will allow the principal Naga rebel group to come into the political mainstream.
A struggle for identity by the Nagas: Timeline
1826: Annexation of Assam by British.
1881: Naga hill too became a part ofBritish India.
1918:Naga club was formedto resist the annexation and even told Simon commission in 1929 "to leave us alone to determine for ourselves as in ancient times".
1946: Formation of Naga Nationalist Council (NNC) which resolved to establish a "sovereign Naga state" and conducted a "referendum" in 1951, in which "99 per cent" supported an "independent" Nagaland .
1952: Formation of Naga Federal Government and Naga Federal Army which involved in violent clashes.
1958: Enactment of Armed Forces(special powers) Act by the centre to counter insurgency.
1975: Shilling accord between centre and NNC to give up armed conflict by nagas.
1980: ThuingalengMuivah rejected the accord and formed Nationalist Social Council of Nagaland (NSCN).
1988: Split in NSCN into NSCN(IM) and NSCN-K.
1990s: NSCN(IM) becomes the largest insurgent outfit in Nagaland demanding Greater Nagalim.
Background: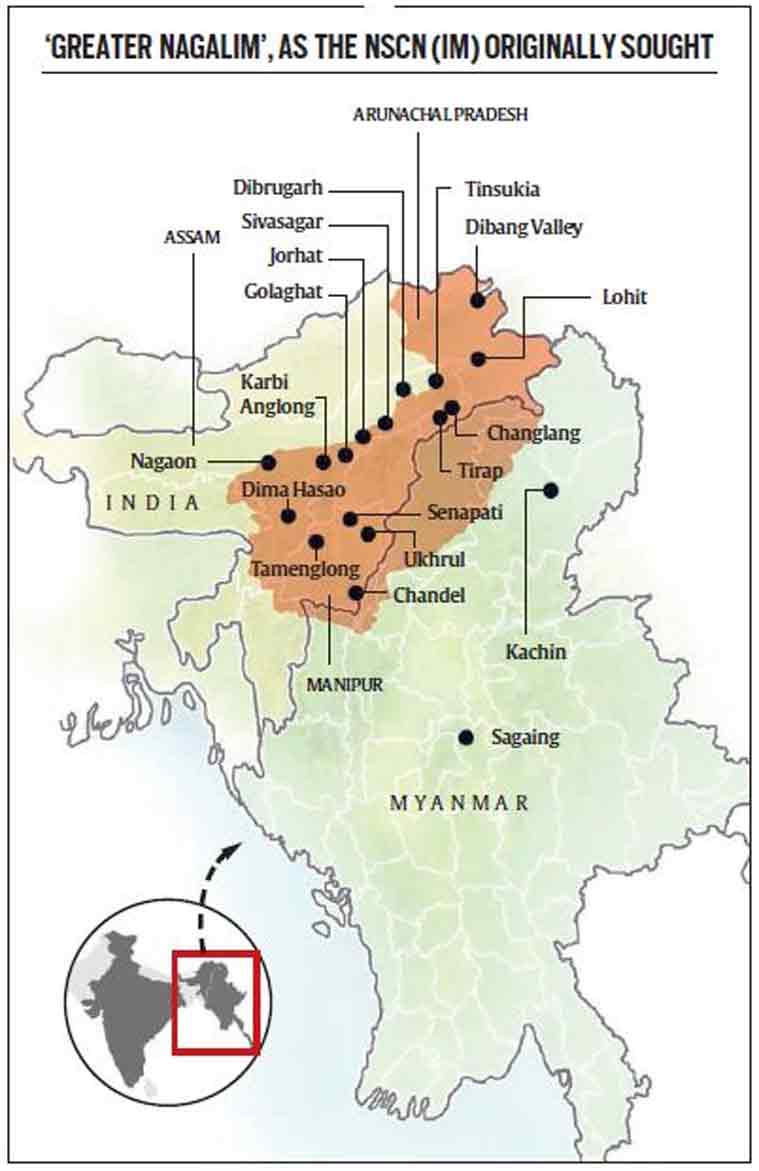 Nagas: The Naga peopleare a conglomeration of several tribes inhabiting the North Eastern part of India and north-western Burma. As of 2012, the state of Nagaland state officially recognises 17 Naga tribes. Prominent Naga tribes Poumai, Sumi, Angami, Ao, Chakhesang, Chang, Khiamniungan, Konyak, Liangmai, Lotha, Pochury, Rongmei,Zeme, Mao.
Greater Nagalim: A region carved out by integrating all Naga-inhabited contiguous areas under one administrative umbrella .It includes several districts of Assam, Arunachal and Manipur, as also a large tract of Myanmar. The map of "Greater Nagalim" has about 1,20,000sq km, while the state of Nagaland consists of 16,527 sq km .
Armed Forces(Special powers) Act:An act of the Parliament of India that grants special powers to the Indian Armed Forces in what the act terms "disturbed areas".
About NCSN-Khaplang (NSCN-K) :
The NSCN-Khaplang, or NSCN-K, another faction which had born out of a split of the NSCN in 1988. The Khaplang faction had entered into a separate ceasefire with the Indian government in 1998 that it had called off in 2012.
Khaplang faction triggered when it got to know the fact that the NSCN-IM was close to clinching a pact with New Delhi.
NSCN-K was responsible for the ambush in Manipur in June, 2015 that killed 18 Indian soldiers and is not yet brought to the negotiating table. The group is based in Myanmar.
The Shillong Accord (Meghalaya) was the basis on which the NSCN was formed by Isak Chishi Swu, Th. Muivah and S.S. Khaplang, among others.
What was the premise of Shillong Accord?
The Shillong Accord of 1975 was an agreement signed between the Government of and Nagaland's underground government (or Naga Federal government), to accept-
supremacy of Constitution of India without condition
surrender their arms and renounce their demand for the secession of Nagaland from India
representatives of the underground organisations should have reasonable time to formulate other issues for discussion for final settlement.
Criticism of the Shillong Accord:
Clause 3 that stated "reasonable time for the underground representatives to formulate other issues for discussion for the final settlement," still remained unimplemented – as most of the Naga people and the Naga National Council(NNC) leaders abroad didn't agree to endorse the agreement. They even criticized saying that the agreement was signed by 'representatives of the Naga underground,' rather than the organizations like NNC or the Federal Government of Nagaland(FGN).
Many Nagas, who were not reconciled being part of Indian union of states, condemned the agreement that ultimately created factionalism among the rebels.
Way forward:
In the short run, we could see an upscaling of the violence with the NSCN-K taking the space vacated by the IsakMuivah(IM) group. It would have been better if both were brought to the negotiating table together.
To end Peace in the region is vital for many key projects that PM has in mind like the Bangladesh, Bhutan, Nepal and India road connectivity project as well as one that will link India to Southeast Asia through Myanmar. Without peace in this region, these would just be a pipe dream.
Connecting the dots:
Historic Naga peace accord 2015 is like new wine in old bottle. Comment
Countering insurgency problems in Nagaland is only half done with the inking of peace accord with NSCN(IM).Critically analyse
Naxalism is the biggest treat to internal security of India. At this backdrop how naxalism is similar to/different from insurgency? Suggest measures taken by Government of India to tackle the problems of insurgency in North East.
Refugees as citizens
None can object to the Union government's move to grant citizenship to undocumented migrants who have come to India fleeing religious persecution in Pakistan and Bangladesh.
Not just Hindus but also Buddhists, Christians, Zoroastrians, Sikhs and Jains are eligible for citizenship under the proposed amendment to the Citizenship Act.
The government is planning to amend the Citizenship Act, 1955 to grant citizenship to Hindus from Pakistan, Afghanistan and Bangladesh seeking asylum in India.
What is the Citizenship Act, 1955?
The conferment of a person, as a citizen of India, is governed by Articles 5 to 11 (Part II) of Indian Constitution.
The legislation related to this matter is the Citizenship Act 1955, which has been amended by the Citizenship (Amendment) Act 1986, the Citizenship (Amendment) Act 1992, the Citizenship (Amendment) Act 2003, and the Citizenship (Amendment) Act, 2005.
Article 9 of Indian Constitution says that a person who voluntarily acquires citizenship of any other country is no longer an Indian citizen. Also, according to The Passports Act, a person has to surrender his Indian passport; it is a punishable offense under the act if he fails to surrender the passport.
What are the proposed Plans under Citizenship Act?
India plans to amend the Citizenship Act, 1955, to grant citizenship to undocumented migrants who fled religious persecution in Pakistan and Bangladesh.
It said the migrants include not just Hindus but also Buddhists, Christians, Zoroastrians, Sikhs and Jains.
There was no mention of Ahmedis in the published list or of Muslim sects facing the wrath of religious bigotry in the concerned countries.
The cut-off date proposed for victims of religious persecution from Pakistan and Bangladesh who can apply for citizenship is December 31, 2014. Citizenship by registration (a minimum stay of seven years) and naturalisation (a minimum of 12 years) will be the two routes.
Is the idea of Infiltration of illegal immigrants legitimate?
Estimates vary, but they all put the numbers of these infiltrators above two crore (20 million). Assam and West Bengal bear the major brunt of these infiltrators.
They affect the economy of these states and also the livelihood of the ordinary and poor people, thus causing major resentment and leading to severe unrest, of the kind being witnessed in the Bodo areas of Assam of late.
However, there is a small section of these migrants who cross over into India not for any economic reasons but due to extreme religious persecution in Bangladesh.
Globally, a distinction is made between the economic infiltrators, namely those who sneak into another country for economic reasons like jobs, livelihood etc without proper documents, and those who come seeking asylum.
In the light of this global scenario on infiltrations for economic gain what our present Government said in Assam and West Bengal recently was perfectly legitimate.
How does UNHCR (United Nations High Commissioner for Refugees) view the situation of refugees, asylum-seekers, stateless persons and the displaced in India?
India with its history, culture, traditions, is today an example of generosity in the way it has opened its borders to all people who have come looking for safety and sanctuary.
There are Tibetans, Afghans, Myanmarese in India and it has maintained an open door policy for all.
India has a generous approach in relationship to all people and a proof of that is the granting of long term visas and work permits to refugees. UNHCR consider India a more reliable partner in the world to guarantee that people who need help will find a place.
And more importantly at a time when there are so many closed borders in the world, and many people have been refused protection, India has been generous.
What is the Refugee Scene in India?
The most significant thing which deserves to be taken note of is that, there has not been a single occasion of any refugee originating from the Indian soil except the transboundary movement of the people during the partition of the country in 1947.
On the other hand, it has invariably been a receiving country and in the process, enlarging its multi-cultural and multi-ethnic fabric.
In keeping with its secular policies, India has been the home to refugees belonging to all religions and sects.
It is relevant to point out that since its independence India has received refugees not only from some of its neighbouring countries but distant countries like Afghanistan, Iran, Iraq, Somalia, Sudan and Uganda.
What are India's International Commitments w.r.t REFUGEES?
India does not have on its statute book a specific and separate law to govern refugees. In the absence of such a specific law, all existing Indian laws like The Criminal Procedure Code, The Indian Penal Code, The Evidence Act etc. apply to the refugees as well.
In order to get a clear understanding of the rights which devolve on the refugees on account of India's international commitments mentioned above and their relevance to law enforcement, it is pertinent to enumerate some of the more important rights accruing to refugees under the above mentioned Conventions. Article 13 of the Universal Declaration of Human Rights guarantees 'Right to Freedom of Movement', Article 14 'Right to Seek and Enjoy Asylum' and Article 15 the 'Right to Nationality.' Article 12 of the ICCPR deals with 'Freedom to leave any country including the person's own' and Article 13 'Prohibition of expulsion of aliens except by due process of law'.
Connecting the Dots:
Is India's refugee policy is an example for the rest of the world to follow?
Should India rethink on the religious identity basis of the migrants for deciding their eligibility for citizenship?
For a dedicated peer group, Motivation & Quick updates, Join our official telegram channel – https://t.me/IASbabaOfficialAccount
Subscribe to our YouTube Channel HERE to watch Explainer Videos, Strategy Sessions, Toppers Talks & many more…