Hi all
Note- Good news for SOCIOLOGY Optional candidates :). 
We are glad to share this write up given by Mr Atul Kulkarni (180 Rank-2014 UPSC). He had SOCIOLOGY optional and luckily he has agreed to guide you in Sociology preparation 🙂 We are extremely happy by his benevolence. Mr Atul is not only a successful candidate but he deserves all accolades for being such a nice and down to earth person. His personality reflects every possible aspect one would look for in an IAS officer.
Name : Atul Kulkarni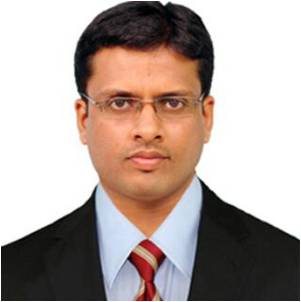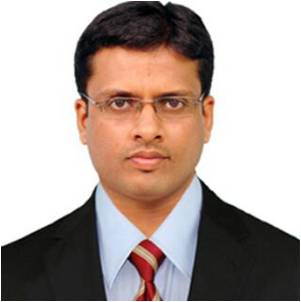 Rank : 180
Year : 2014
Exam: UPSC Civil Services Exam
Optional: Sociology
Marks Obtained
| | |
| --- | --- |
| Essay | 120 |
| GS Paper 1 | 90 |
| GS Paper 2 | 81 |
| GS Paper 3 | 78 |
| GS Paper 4 | 110 |
| Sociology paper 1 | 137 |
| Sociology paper 2 | 147 |
| Interview | 175 |
| TOTAL | 938 |
My background:
I was born in Belgaum and I did my initial schooling from small town, Gokak, Belgaum, Karnataka. Then at age of 8, due to various compulsions and acute difficulties in life we had to move to Bangalore. I joined Sudarshan Vidya Mandir school in Bangalore. Initially I found it difficult to adapt to English medium school, but here is where my teachers and Principal laid the foundation of my school life even though I faced several difficulties in my childhood days.
Later, I did my engineering from The National Institute of Engineering, Mysore in Computer Science, 2003-07. I then joined a software company, Mindtree Ltd, Bangalore. After one year of my work, I found the corporate world very stupid, boring and mundane.
Inspirations/Trigger events that made me to aspire for civil services:
My mother, she is a greater fighter and hard worker all her life. We both mutually inspire each other
In Mindtree I got an opportunity to be trained by my mentor Mr Prashanth Kamath, a differently abled person with cerebral palsy. Interaction with him showed me how with such disabilities he could do wonders since several of his software applications have got patents and awards.
I was also part of Mindtree Green community where I got exposed to several Environment NGOs in Bangalore and I started to volunteer over the weekends in various other NGOs in Bengaluru.
A great tragedy happened that I had a near death experience, which shook my sub-consciousness. This triggered the thought of being a civil servant to serve the disadvantaged sections of society and nation at large.
I was in the dilemma as to whether to
take a lucrative job offer in USA- a software company
do MBA or higher studies in USA
jump directly into preparation for CSE
join any professional social sciences college which would give to a proper foundation for civil services
I then decided to leave all the other options and joined Tata Institute of Social Sciences (TISS),Mumbai in 2010 with course on Urban Policy and Governance.
It was a wonderful journey in TISS. On one hand, we had scholars teaching us, on other hand, I was exposed to ground realities as we had field visits to slums, homeless, water issues, sanitation, poverty that opened up my eyes and shook my consciousness.
Field visits in TISS, Mumbai
Slum dwellers living on pipeline-
As we went around the slum dwelling we could observe the filth, dirt, and stinking smell. They have a low standard of living. They store water in drums which they got from the pipe leak of main pipeline. We could see few women crowded near this pipe leak where they were filling water. As we spoke to an old lady in one of the house she described that their diet is of low nutritional value and children often are mal-nutritional. This was an eye opener
Visiting Rag pickers- mostly women were involved and rag picking job didn't need any investment, no special skills and this was the easiest option available to them. They were informed about this rag picking job by others
Homeless people – We observed many women having 3-4 kids and we asked them as to why they have 4 kids since they can't even afford even for single meal. I was shocked at their replies: Homeless women at the age of 17, have no security, they have been teased by men in the street. She is scared to sleep alone in street. So she goes into a relationship with a man to get security. Then again other men molest, rape her and then she decides to have a child. So she carries the child and then for next 1.5 years and she feels somewhat secure. Then she again migrates to different area and then same story repeats and at the end she has 4 kids. This shook my consciousness and I wanted to serve these poor by being a civil servant
Field visits in Arghyam, NGO
Visit to Baigas, a Primitive Tribal Group in Chattisgarh -depending on forest products, and increasingly on agriculture. Depletion of forests and its natural resources has led to a threat like situation for survival of Baiga and other tribes of this region. Illiteracy, Hunger, malnutrition, illnesses and helplessness made them further vulnerable and weak. They faced acute water shortage problems and water quality which reflect in high mortality rates among children. This showed me a new perspective of looking at tribals in India
Villages around Dharward, Karnataka had high levels nitrate, flouride , TDS, bacterial contamination. In many families children were born with deformed body parts due to arsenic pollution and I cried for those families as we had no option to save them as technology to solve arsenic pollution has not yet evolved.
Such events became a routine part of my life and all these incidences shook my sub-consciousness to become a responsible citizen and motivated me to work for larger good of society and to be a good civil servant.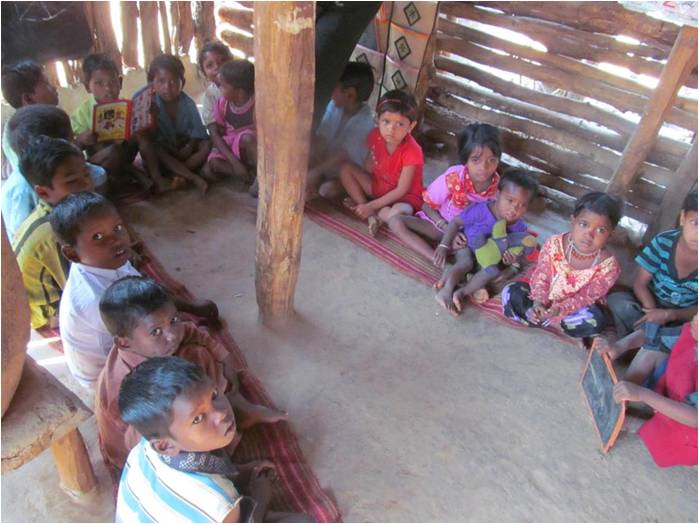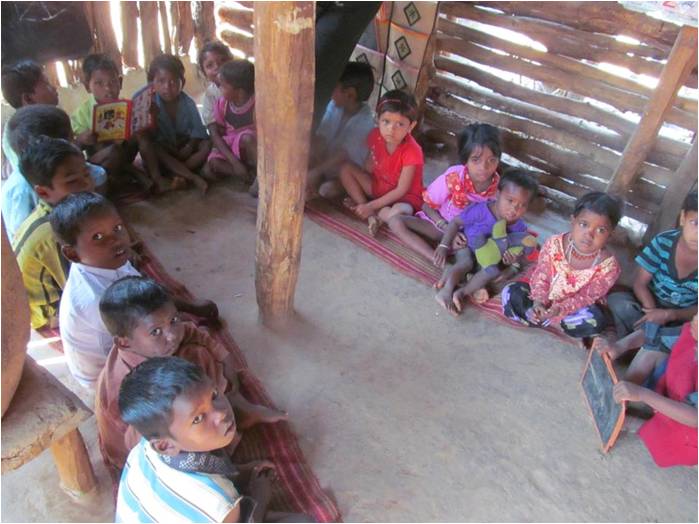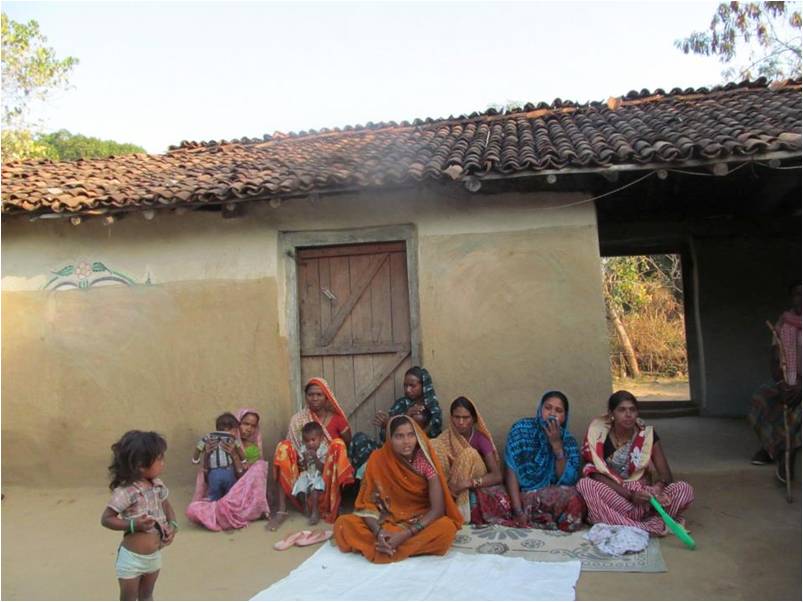 Achivements :
I also had several opportunities in TISS and also won many national awards, such as , I represented India in the 1st SAYC, 2011- South Asia Youth Conference(SAARC) held in IIM, Bangalore in 2011. I was Finalist in International Business Summit, IIM Calcutta, Antyodaya for a concept of "Environment Museum" on Sustainable development, selected for Tata Jagriti Yatra, 2010- is an ambitious train journey of discovery and transformation that took 400 of India's highly motivated youth on an 18 day national odyssey, National winner of Mahindra's "Spark The Rise" competition for project "Smart Sanitation and Solid Waste Management: A Holistic Approach", "Water Ambassador" by World Banking Water Hackaton event , winner in Vodafone Mobiles for Good programme 2012, project titled "Locating and Rating of Public Restrooms in Indian Cities" and many more.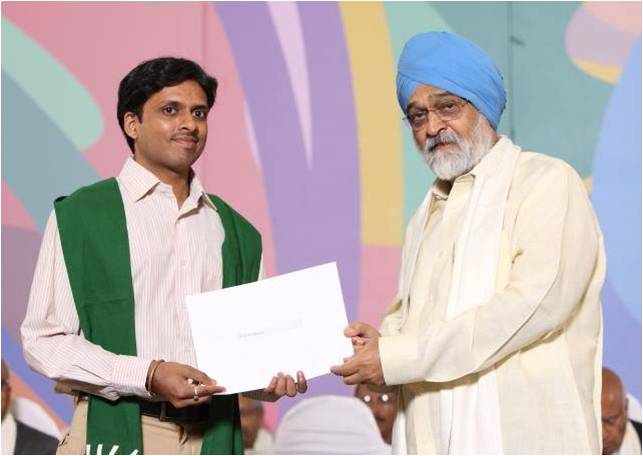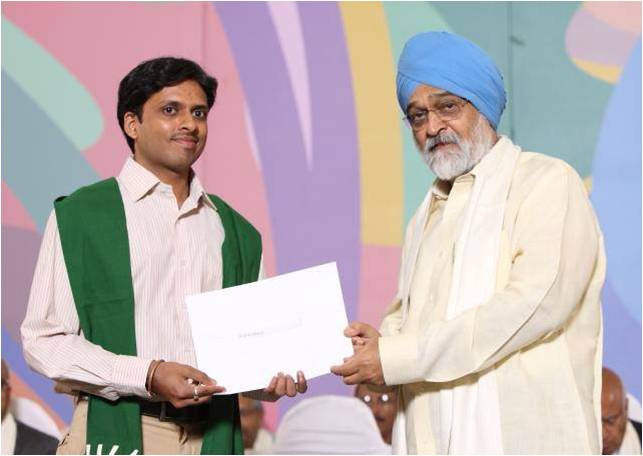 I did my thesis on lakes in Bangalore Title: "Land, Water and Local People: A Case Study of Bangalore Mysore Infrastructure Corridor"  which involved field visits to 10 villages around Bengaluru, mapping of the lakes in BMIC region, study of traditional water management, Water rights of lake users etc which won Best dissertation award in TISS, Mumbai and was published as a book in LAP LAMBERT Academic Publishing. This thesis won Best Dissertation award in TISS, 2012.
Job Experience:
I, then had opportunity to work in CRISIL Limited, Mumbai as a consultant at Nashik Municipal Corporation on JNNURM project. My job was to work with Municipal Administration headed by Commissioner, A senior IAS, to provide support and co-ordination with departments for implementation of reforms such as Administrative, E-Governance, Accounting and other reforms under JNNURM, attend various meetings at State/Central Government level etc. This gave a first hand experience on working on Government.
Later, I joined Arghyam, an NGO based in Bengaluru working on water and sanitation issues across India. I was working on projects such as Management of Water Quality through process re-engineering, diagnostic tool developed by the Water Integrity Network (WIN) to Assess Integrity and Governance of WASH interventions in Schools, Wastewater reuse network etc. I had the opportunity to visit more than 10 states across India. At certain junction, I realised that being outside Government I was not able to give solutions at larger scale. When I met a District Collector and presented our ideas, he willingly accepted the idea and scale it across the District and state level which could improve water situation for more than million lives. This fired the imagination of I becoming a District Collector and I discussed with my boss and he encouraged me to quit and do part time job along with preparation.
With just 1 month left for prelims 2013, I started my preparation, but missed prelims cutoff by just 0.66 marks. It was disheartening. With 2014 being my last attempt ( as I would cross age of 30 years by 2014, until recently it was increased by 2 more years) I took a hard decision to give it as 1st and last attempt and invest my time, energy, money, effort in my preparation along with independent consulting job. How many of you would quit a good job at age of 28 and give first and last best attempt? If your answer is "No", please move out of your comfort zones and be fully motivated for civil services. If I could do it, then everyone else at younger age can definitely do it!
Examination Framework and Study Strategy:
It is my pleasure to share whatever little I have and opine that the purpose is served if it helps the aspirants to whatever extent possible. Before starting the preparation, it is very important to have a complete understanding about the exam process, its structure and the various aspects related to the preparation.
Prelims stage:
The following points should be kept in mind while doing preparation:
The focus should be on gaining basic clarity in each topic, which will come only through lot of logical questioning. This is most important for clearing the prelims stage.
For any topic, try to do a horizontal and vertical reading of all the related topics which will definitely help to cover any topic holistically.
A thorough analysis of the previous year's question papers and the recent trends so that one is in tune with UPSC recent trends.
Discussing elaborately with teachers, successful candidates and seniors so that one is on track during preparations.
General Studies:
Newspapers, Magazines, Journals, Internet (Most Important), and books of general reading. NCERT school books of history, geography, polity, economics, sociology and all humanities and arts (excluding languages, mathematics and science) from class 7th to 12th. Science NCERT school books of only class 9th and 10th.
History – NCERT textbooks, history of modern India – Bipin Chandra and Spectrum publications and any other books on Indian history of general interest.
Geography – NCERT textbooks of class 11th and 12th, physical geography by Go Cheng Leong and an ATLAS. Referring maps is very important.
Polity – Indian Constitution by Laxmikanth or D.D.Basu, NCERT school texts.
Science and Technology – The Hindu S&T page (weekly), Science Reporter by C.S.I.R., What, How & Why by C.S.I.R., Internet, NCERT 8th to 12th science text books.
Economics – NCERT 10th, 11th & 12th texts, Economic Survey, Indian Budget, Sriram Class notes, Mrunal.org, Pratyogita Darpan special edition on Indian economy and any business daily.
General Knowledge – India year book, Manorama year book (Not to concentrate on unnecessary details)
Current Affairs – The Hindu, A business daily, Mrunal.org, Gktoday, InsightsonIndia, Frontline, Yojana, any competitive magazine, Websites – gov.in, India development gateway, Pib.nic.in, UNO website, Ministry websites, RBI, SEBI, etc websites, Indian Embassy websites and whatever other sites you can source authentic and concise information from.
Make use of Google Documents, Google Reader, News and such other internet tools to prepare notes online and for greater, better and easy accessibility. Making notes online helps in cutting down time and must be done on a regular basis without fail.
Mains Stage:
During preparation, one needs to focus on writing a good answer? So what is a good answer, is a million dollar question? Mains exam questions reveal many things about word limit, key words like analyse, critically comment etc, analytical demand of question etc.
I strongly recommend the future aspirants to take answer writing on daily basis very seriously and practice to improve their writing skills, structure, speed and time management so that one can get maximum marks in GS papers.
Few more points on mains preparation are:
More time should be spent on thinking about the topic and making innovations, rather than on reading too many study materials available in market.
The previous papers should be thoroughly analyzed to understand the trends and the expectations of the examination.
The preparation should be focused and all the hard work should be channelized in the right direction.
Common mistakes to be avoided while writing in GS mains papers:
First, try to address the question in the introduction rather than giving irrelevant answers
Second, A balanced approach in answers are usually missing, either it will be very critical or totally out of context.
Third, most of the times, aspirants are unable to fully understand the requirement of the question
Fourth, most of the times, only few of the required aspects/dimensions are answered.
Fifth, write in points so that you can more marks rather than writing same point in big paragraph.
Few tips for better GS Mains answers:
The competition is highly relative, our answers in the mains examination should not only be correct but also different with a touch of creativity and relevant to the question that is asked. Basics with clarity will come when there is lot of questioning while studying. The topic has to be studied in a logical manner.
The creativity and innovation is not something that you will get in the textbooks. They have to be developed on your own. It requires lot of thinking and observation. By innovation in answers what is meant is –
Catchy introduction which addresses the question head-on
Diagrams- so that one can break a monotonous answers
Graphs- to better represent data.
Flow charts
Maps- draw India or world maps in geography/history papers
Contemporary touch and applicability -use current affairs to strengthen your argument
Using Facts- it is important to mention the facts, it is equally important to handle various dimensions of your answer and write something different which makes your answer unique.
Catchy conclusion- giving solutions
Completing the GS papers:
I too wrote almost all my answers in points but still I gave a proper introduction, proper headings and sub-headings and then a conclusion.
As my writing speed in slow initally, one can complete 7-8 questions in 1st hour and compensate that in last hour. Thus one can finish the paper.
Make sentences short , carefully use tenses and appropriate prepositions.  Avoid unnecessary elongation of sentences which makes it hazy and equivocal rather use simple and straight forward presentations.
Books to read for mains:
GS Paper I
Art and Culture
NCERT Class VI – History – Our Past
NCERT Class VII – Our Past -I
NCERT  Class VIII – Our Past II and III
NCERT Class XII – Themes In Indian History I
NCERT Class-XII – Themes in Indian History – II
NCERT Class XII – Themes In Indian History III
Facets of Indian Culture – Spectrum Publications
Modern History
Comprehensive History of Modern India – Spectrum
Bipan Chandra ( if time permits)
Post-independence consolidation and reorganization within the country.
India Since Independence – Bipan Chandra
India After Gandhi: The History Of The World's Largest Democracy
World History
Mastering Modern World History by Norman Lowe
Arjun Dev – History of the World from the Late Nineteenth to the Early Twenty First Century
Old NCERT World History Class-X
Indian Society
NCERT – Indian Society Class 12 (Complete book without watermarks)
Indian Society – Ram Ahuja
World's physical geography
Certificate Physical and Human Geography 1st Edition
NCERT Class-XI – Fundamentals of Physical
GS Paper II
NCERT Class XI – India Constitution At Work
NCERT Class XII –  Political Science II
NCERT Class X –  Democratic Politics
Report of the 2nd Administrative Reforms Commission,
 Chand – Select Constitutions of the world
Indian Polity for Civil Services Examinations 4th Edition – Laxmikanth
International Relations
India and its neighbours – MEA Website
Rajiv Sikri – Challenge and Strategy – Rethinking India's Foreign Policy
GS Paper III
Economy
NCERT Class X – Understanding Economic Development
NCERT Class XI – Indian Economic Development
NCERT Class XII – Macroeconomics
Indian Economy for Civil Services Examinations – Ramesh Singh
Science and Technology
Spectrum publications – Developments in Science and Technology
Environment
GS Paper IV
IGNOU Ethics material
12thNCERT Psychology
2ndARC's
Questionnaire on Ethics in governance
Questionnaire on Civil Services Reforms
Reforms in Governance and Administration
ESSAY WRITING
What does UPSC expect from your essays? Why are they asking u to write essay, while they already have GS papers and subjects to know how knowledgeable you are and how well you know to communicate?
The answer is that, UPSC wants to know your general traits. When you are asked to write 10 sentences about a topic, how u write discloses lots of things about you! So, UPSC wants to know who you are, than knowing how much you know! Your traits like, postive attitude, imagination, innovation, etc come out on the essay! The major difference between essay and others papers is: While the other papers are based on knowlegde and logic, essay is based on imagination!
Thats why essay question never seek factual answers.
Once the question paper is received, choose either 1 or 2 topics which you feel you have more points. On the last page of the answer booklet make note of topics and points under following   headings:
Intro – try to write a quote, story, poem etc so that it catches the eye of examiner
Different issues under this topic such as history, present status and statistics, impact-social, economical, biological, ethnological, political, psychological, cultural, religious,historical, geographical,etc
Pros and cons
Relate the topic to present day social conditions prevailing.
Closing remarks in conclusion
This should take about 30 minutes for both topics.
Then,
Choose topic where you have more points and better grip of the subject.
Start the essay  with good beginning-quote/anecdote/song/statistics/some witty phrase made up
Use Anecdotes in as many parts as possible.
Sub heads can be given.
Language and grammar are important.
Points must have a flow. They must not appear disconnected.
Underline some key words/stats/quotes/names of people etc and emphasize on neatness of handwriting and make sure you don't scribble or strike out words or sentences in the main booklet.
OPTIONAL STRATEGY- After Prelims we will come up with detailed strategy and guide you accordingly
SOCIOLOGY
Approach to sociology optional papers is quite different. As I had background from social sciences in TISS, I also faced lot of problems from moving from engineering background to social sciences. Try to study the thinker's part in both papers very perfectly and get a clarity on all the sociological concepts.
While writing sociology answers, try to keep in 3 things in mind-
Thinkers and their ideas
Coherent arrangement and expression
Using contemporary topics in answers.
Thinkers should be used in all answers. Arrangement of answers means the contents with a definite structure to be framed.
The structure must be exposed indirectly through the flow of writing with interlinking of sub topics and paragraphs explaining the scope meaning, description and discussion.
One needs to give the powerful and logical conclusion which is the consequence of everything discussed earlier. It must be balanced and free from prejudice.
Books for sociology preparation:
Paper I
NCERT 11th to 12th Std. Sociology Book
2 IGNOU notes (especially for thinkers )
Haralombus
Giddens, Anthony, Capitalisation and Modern Social Theory,
T.B. Sociology: A Guide of problem and Literature
Paper II
IGNOU notes (especially for thinkers and topic on Indian system)
Caste its 20th Century Avatar – M.N. Srinivas
Singh – Modernisation of Indian Tradition
Singh – Social tradition in India
NCERT texts books on sociology
My Interview Experience:
Indian Forest Service Interview, 2014
Board: Alka Sihori madam
Score: 210/300
Chairman
Some question in Hindi on water scheme( which I couldn't grasp)?
Your hobby is lake cleaning?
How do clean lakes?
What was your role in cleaning lakes?
In Bangalore, there are Ulsoor lake, Yediyur lake, why are they polluted? Can you clean them?
What is Eutrophication, allotrofication?
Can you eutrophic lake is converted to oligotrophic lake?
What is the difference between lake and wetland?
Member 2
What is the chemistry of eutrophication? Can you tell the chemical reactions?
What is water hyacinth? Where did it come from? How can you eliminate it?
How in forest area, a lake can be cleaned?
Tell how many national parks are there in India?
Name any 10 national parks in India?
Name a national park where lake is there?
Name the highest altitude lake in India?
Member 3
Are you a water activist?
Name few water activists in India? Ans: Mr Rajendra Singh
What award did he win?
Where does he work? What are his achievements?
Tell me more about lake eco-system and water hyacinth?
Can it be eliminated
Your other hobby is handmade crafts? Do u still practice it? What u do?
How can you promote handmade crafts in india?
What are old age homes increasing in India?
Member 4
I can understand these technical answers of yours, can you explain lake eco-system in layman terms? ( I explained , but again he asked same question, Chairman intervened as asked Member4 to move to next question)
Name the wildlife species in south Indian forests?
Have you seen wild dog?
Can you mention few critically endangered species in South India?
Where else have you worked? Can you tell about your previous job?
Chairman intervened and asked about my work in Arghyam,an NGO and about projects in Chhattisgarh tribal areas)
Back to Chairman
You have done Computer Science engineering long time. I shall ask few questions on it
What is TCP/IP?
Difference between TCP and OSI layer?
Name seven layers of OSI model
What is embedded system?
Can u explain me the mechanism of elevator?
My interview lasted for 30 to 35 minutes. The board was chaired by a Alka Shirohi madam. I was asked about my hobby which are lake cleaning, handmade paper crafts and visiting old age homes. Chairman deliberately asked me on lakes and water issues which was my strong area. Certain questions were tricky, however, I managed to keep my cool and not give irrelevant answers. The trick I think is not to get caught and be proven self contradictory, but to maintain the same tenor and vigor throughout, without any diffidence. Overall got a good score.
BUT I DIDNT CLEAR IfoS exam and I missed by 10 marks. I was very disappointed and hoped I could clear CSE exam.
CSE Interview, 2014
Board: H C Gupta + four members ( all gents)
Date: 19 May 2015, 4.30 PM
Duration: 30 minutes
Optional: Sociology
Score: 175
Chairman: Read out my educational and employment details from DAF
Which NGO did you work?
What sectors does it work? ( drinking water and sanitation)
Which projects on sanitation did you work. Please explain
Who is the founder of Sulabh International?
What is Sulabh model of toilets
Is there any other alternative sanitation models?
Tell me about the recent Karnataka High Court verdict? ( Jayalalitha case) What is her full name?
Why did Tamil Nadu HC transfer the case to Karnataka?
M1:
Why is Lokpal needed?
What is Lokayukta? Who is current Lokayukta in Karnataka?
How do you curb corruption in India?
Among all the rights based approach which scheme you think is best? (MNREGA)
Is MNREGA successful? Tell it loopholes?
How do you create better community assets?
M2:
What is intellectual property?
What is Geographical Indications?
Why is Indian GIs less successful than EU GI like wine etc
Tell me about USA GI. How are they performing?
Why negative balance of trade is bad for India? We can very well import goods?
Why our exports not competitive? ( Long question , he gave example of automobile industry being competitive)
Case: Your are District Collector, there is a calamity( floods) all crops are destroyed and there are no official records about cropping patter in our office? You have to start from scratch. What are the steps you will take? (long question)
How will you finance the crop losses? Tell about National Calamity fund? National contingency fund? Differences? Who gives funds?
M3:
Why Urban local bodies not able to self finance urban projects?
What are the sources of funds for ULBs?
What is percentage of property tax collection in ULBs?
How can you overcome the shortfalls in tax collection?
What is Solid waste tax and water cess?
M4:
Why are old age homes growing in India(My hobby is "visiting old age homes")
What will you do if children abandon their parents and send to old age homes? What is the age of your parents?
What are the laws related to it?
Which war movies have you seen? Did you watch any 16th- 17th war movies( This is NOT my hobby)
Chairman: Your interview is over.
It was kind of a stress interview. Chairman after asking questions went to toilet and it was a very strange feeling. Some members were sleeping and not looking at me at all. Some members would object to whatever I say and deny it. But I had to substantiate my stance. They would cut me short in between and jump to another question without listening to what I am saying. To my disadvantage not much was asked from my DAF and my work experience.
Now comes one of the most important questions frequently asked- 'To go to Delhi or take coaching classes elsewhere?'
I took a hard decision to start preparing for civil services at very late age of 28 years. I had to invest my time, energy, money, effort in my preparation along with independent consulting job as I still face financial difficulties(I am still working even after getting rank 180. I laugh at my fate). Many who are from poor rural background need not venture out to New Delhi or attend any coaching institutions. One can study on their own and if I could do it, then everyone else at younger age and who are better off financially can also definitely do it.
4 C's for success– Consistency, Clarity, Confidence and Character are the bottom line for cracking the Civil services examination.
My Blog- https://atulkulkarni123.wordpress.com/
P.S- We express our deep thankfulness to Mr ATUL for sharing such an inspiring article and request our followers to extract maximum out of his sharing and contributions. 
For a dedicated peer group, Motivation & Quick updates, Join our official telegram channel – https://t.me/IASbabaOfficialAccount
Subscribe to our YouTube Channel HERE to watch Explainer Videos, Strategy Sessions, Toppers Talks & many more…