VERY IMPORTANT  –  

Read about TLP Initiative

->click here
Read Comprehensive Mains Strategy-> Click here
Important Note regarding TLP-  Our server for Virtual Classes has crashed due to huge traffic and it has serious loading issues. Also, our website has undergone so many malicious attacks in the last few days. We are working hard to make our virtual platform much more tech savy and secure. It will take some time for us. We don't want it to go in vain once started. Hence for now, our plan for 100 Days will start as in the present format only. Parallelly we will be working on Virtual Classes Platform. Once it is fully done, we will integrate it with Virtual Platform. The login will resume as soon as we build our platform. Don't worry about login now.
We just don't want our followers precious time to get killed in all this. So plan will start as per scheduled date. Hope to get your support. Do participate 🙂
The surprise is finally here 🙂
HAPPY ONAM !!
Keep the excitement. We have enough dosages to keep you going. We are creating a Virtual Class room for all the serious aspirants out there. If you are up for it, then start your Mains journey (the next 100 days) with IASbaba. Keep your fingers crossed and read through the write-up completely 🙂
IASbaba's Virtual Classroom Program for Think Learn & Perform (TLP)
When we started our Think & Learn Phase-I, we felt the need of it to be more organized. Also, a serious civil service aspirant wants a healthy atmosphere where one can spend their quality time to learn the required stuff. Usually aspirants roam around internet searching, commenting on various forums, debating, Fbking, chatting and in the process unintentionally or intentionally waste their precious time. Looking at all of the stated reasons, we thought of engaging you in a more effective and focused manner where you can get all such facets in the form of qualitative preparation without being enslaved by your mind that says " Hey let's Go, Fbking" 🙂
The very idea of coming up with this initiative is to make you understand the importance of effective and qualitative learning in a healthy competitive atmosphere.
This virtual classroom will not only provide you daily guidance by IASbaba but will also assist you in finding serious aspirants for your optional. The best part is, you can form you own forum where no other distractions will be there. Additionally you can privately chat and discuss with your group members without being visible to anyone, obviously Baba will have a watch on you 😀
So let's see what's in the offing
TUTORIAL on how to make use of the Initiative:
Now, that you have understood the benefits of our Think, Learn & Perform (TLP) initiative. Below is a guideline on how to use it.
You can have your-
Own profile – write about yourself; upload your picture, background image (Cover Photo).
Personal chat – one to one chat (just like a classroom chat with your fellow aspirants)
General chat – chat with any of the registered users
Your own followers and you can follow others too 🙂
Subscription – here you can find questions you have subscribed so that whenever someone is posting a new answer or commenting on that answer you will get a notification
Notification– Just like on Facebook, whenever anything related to your activity is followed, you get a notification. Similarly all your activity follow ups will be addressed on your profile in the form of notification. Bottom line- You will be easily accessing all your past activities as well as can directly reach wherever you want.
Reputation – This will take your excitement to a notch higher it indicates your popularity on the platform (Question Answer section).
The Reputation will be based on the following criteria-
Best answer will get 7 points
An Upvote will get you 2 points
When you upvote your fellow aspirants answers – 1 point (to encourage healthy competition)
A Downvote will reduce your point by 1 i.e., -1
New Registration – 1 point
Completing the Profile – 2 points
For Answering the question – 2 points
Commenting (Peer Reviews)- 1 point
Note: Logout is provided below your user name as shown in the screen shot
This is how the User interface (UI) will look like for the registered users.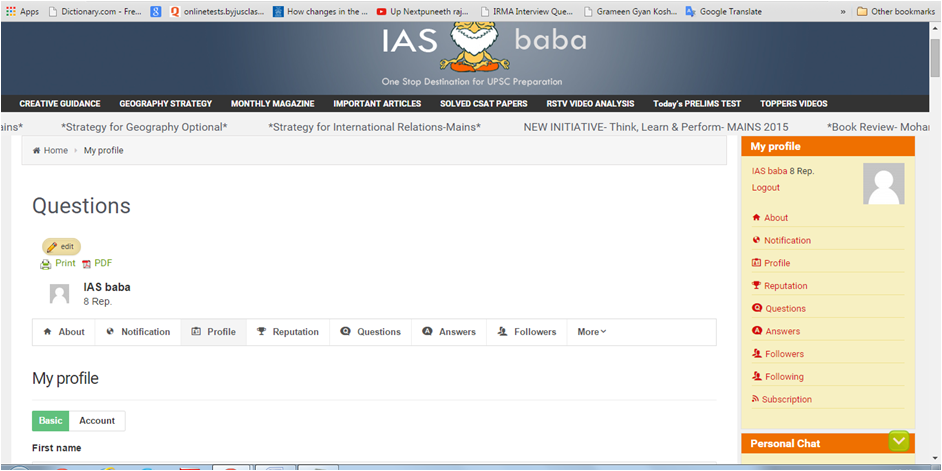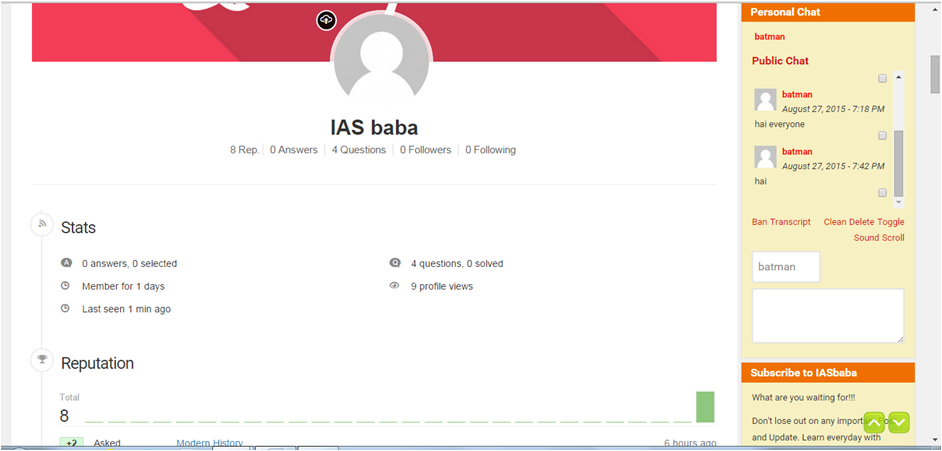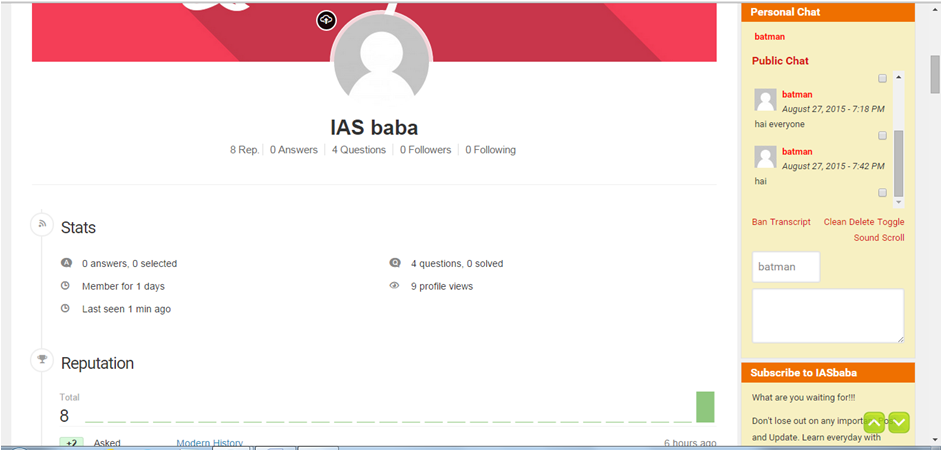 In the 'Question Answer' section we have provided categories. Here, you can sort the questions according to Day 1/Day 2 or GS paper I, GS Paper 2.
Also one can ask a question and it can be answered by the fellow aspirants (of course IASbaba too 🙂 ). On the right-hand side you can see the No. of answers written to a particular questions and the no. of votes for the same.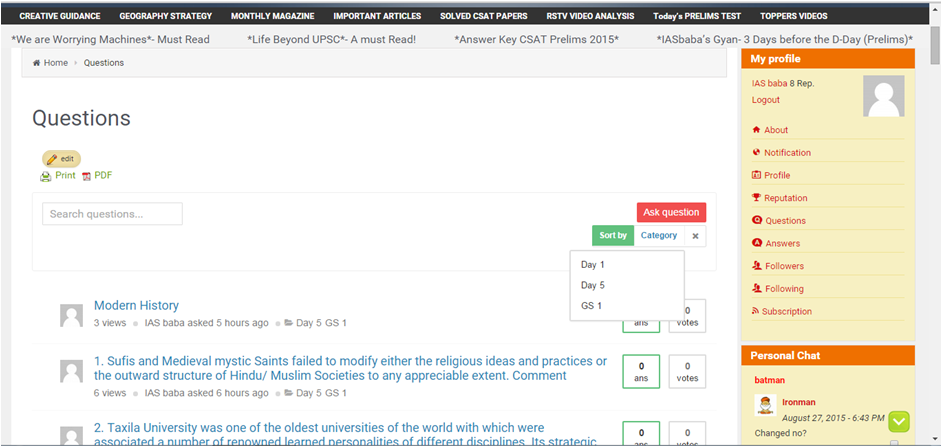 How to write an Answer?
Once you click on a particular question:
It will show the no. of views, the up votes (if one likes your answer- this will add to the reputation), your followers etc. You can either write an answer in the box provided or upload your answers (written in doc or other files).
The 'Toggle full screen' option at the top of your answer box will expand your window. Basically it gives a full view for the user.
Once you post your answers, at the bottom of the answer box, you will have 2 options:
Select – The Best answer will be selected by IASbaba (this will add to the reputation of the user)
Comment option to give the review from IASbaba and peer reviews.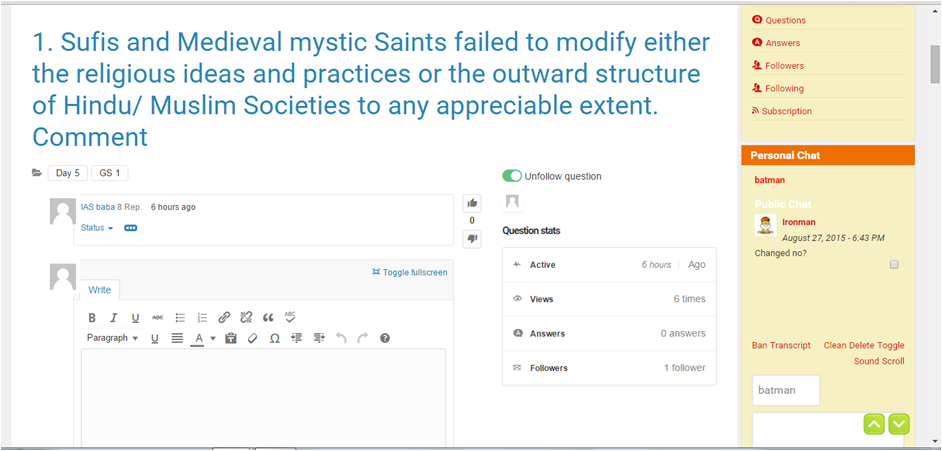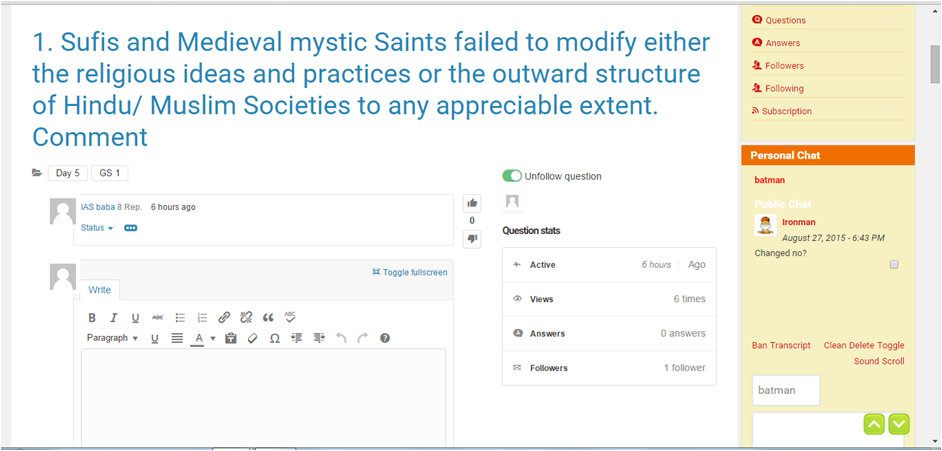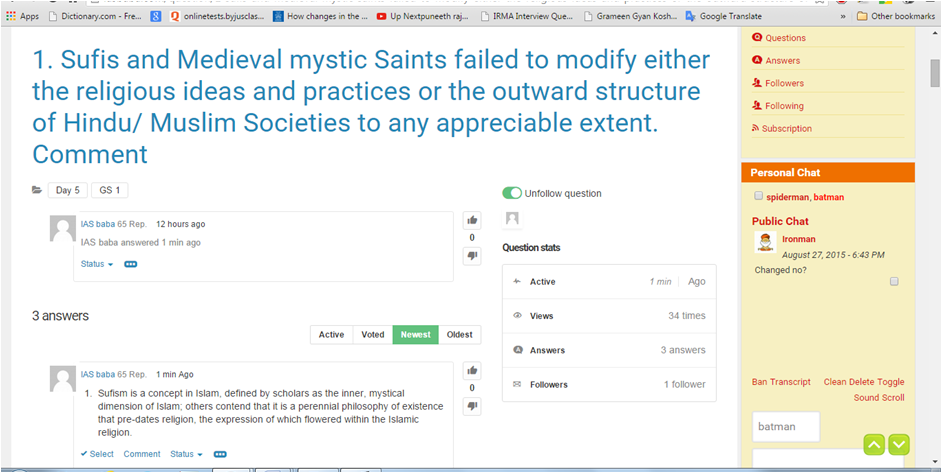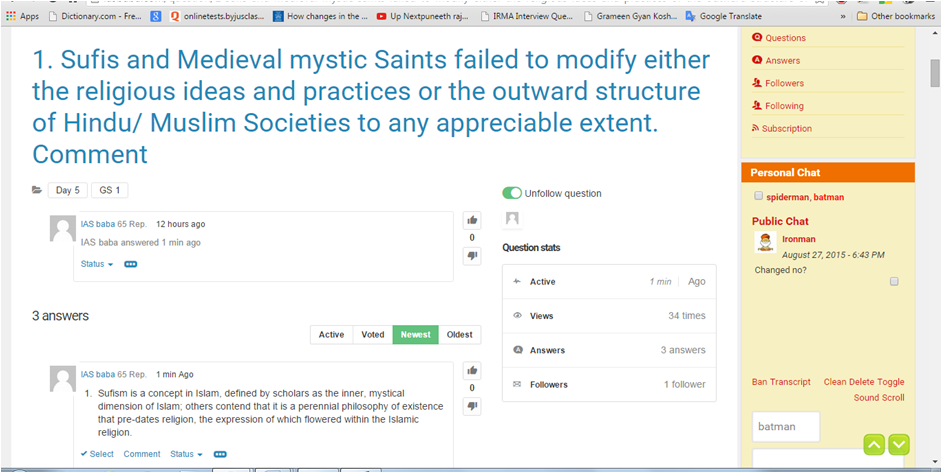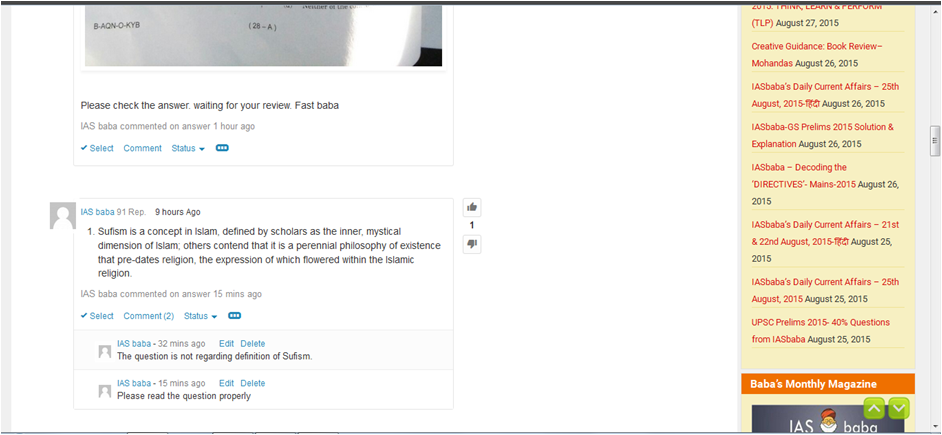 BABA'S FORUM
In Forum, we have come up with a platform for you to form a community and start your discussions. The discussions can happen on Optional like Public Administration, Sociology, Geography, Maths, Chemistry, Literature etc. Like-minded people can form a community and start sharing the materials, suggestions, strategies, books etc. that would help in your preparation. You create new topics and start discussions related to it.
Example: In Public Administration, one can create a topic on Thinkers/Administrative Behaviour/Union Government etc.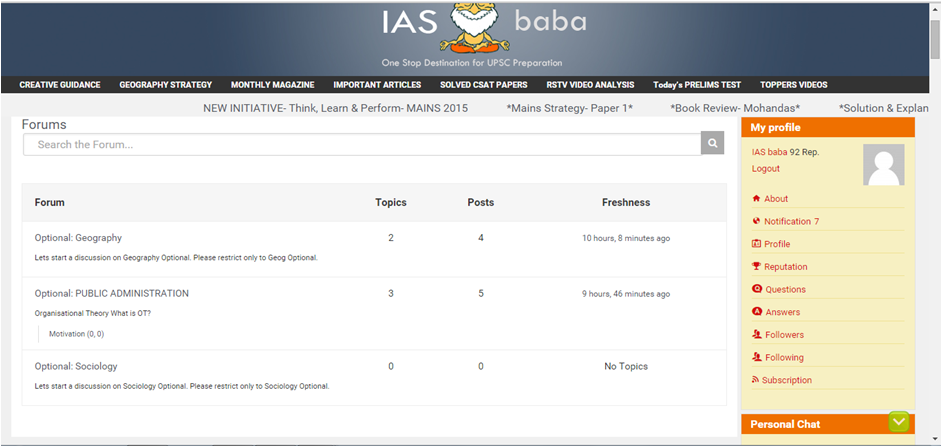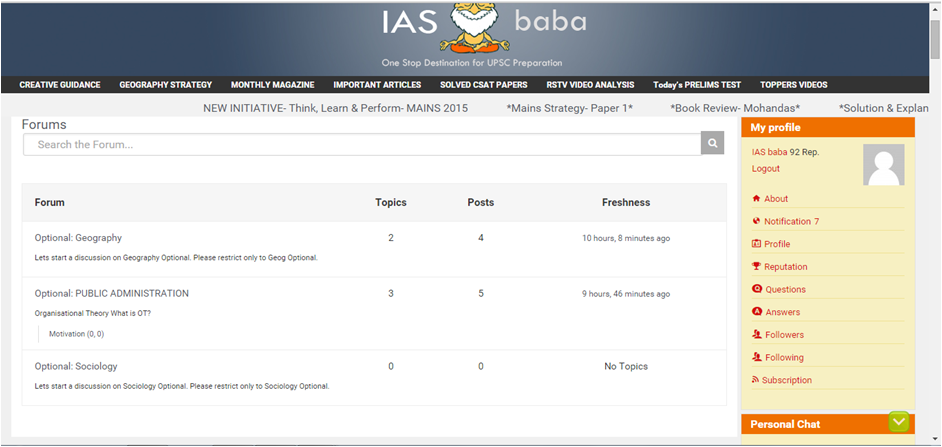 Tags– You can give names like IAS, Public Administration, Organisational Theory, Climate change etc. so that every topic related to the particular mentioned Tag will be displayed. Basically it acts like a category for your future references.
Topic Type– You can make the topic of High Priority or Normal. When you make it High priority then the topic will be displayed @ the Top.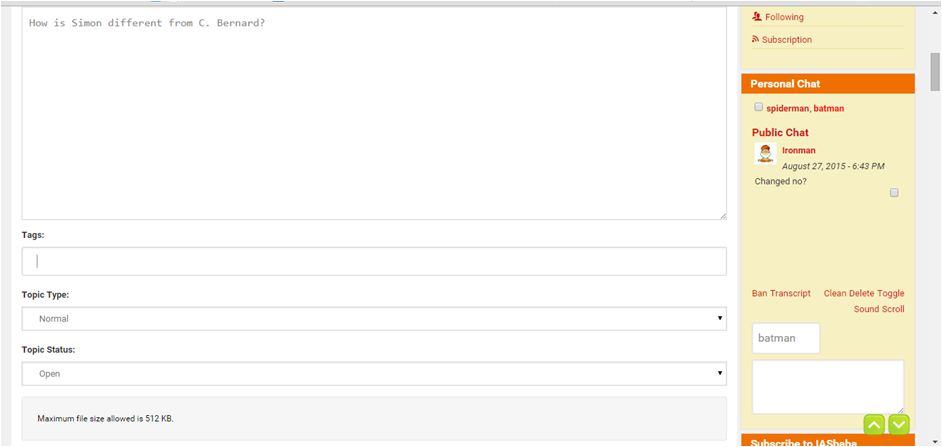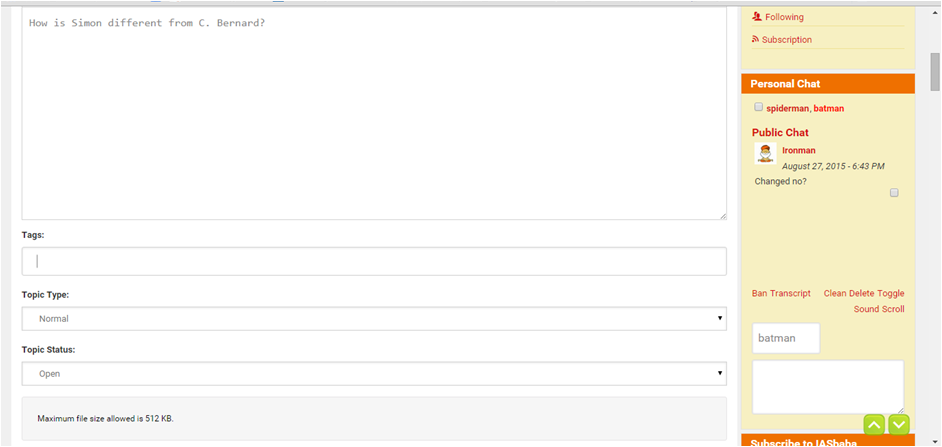 Favourite and Subscribe @ the Top
You can mark the discussion as Favourite, so that you can go through the particular discussion or topic when you are free or if you want to go back to the topic when you want to. It's awesome isn't it 🙂
Subscribe – here you can find the discussions you have subscribed to, so that whenever someone is posting a new comment (on the discussion that you have subscribed to) you will get a notification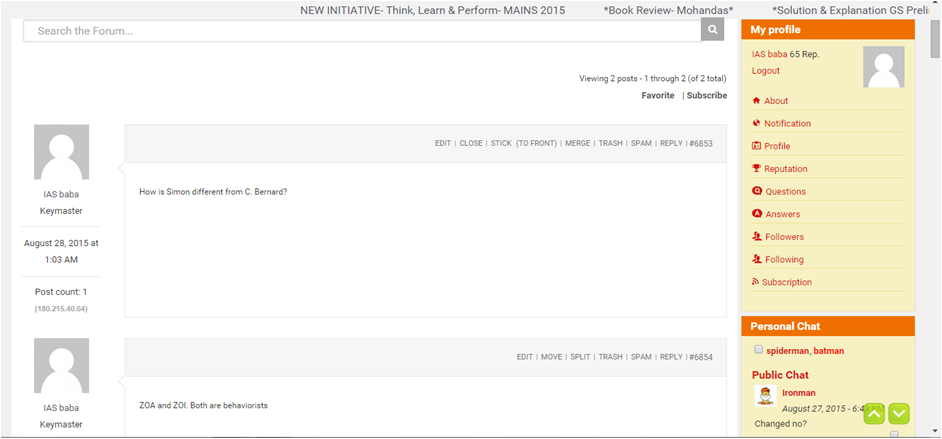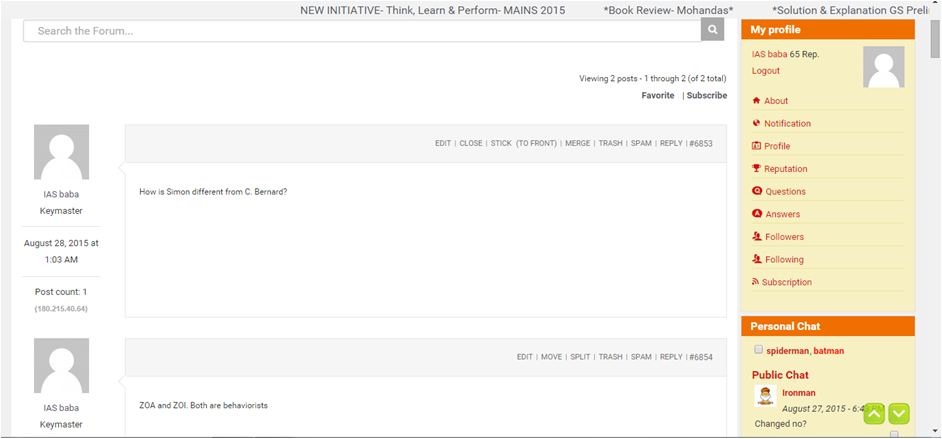 If you are interested in forming any 'new' community, you can post your request on the platform provided or mail us @ www.iasbaba2015@gmail.com. Based on the number of request, popularity and usefulness we will create separate forums accordingly.
Finally it is YOU who has to benefit from this whole initiative. IASbaba will be the guiding light making sure that the 2nd phase (Mains) of your journey too is smooth and safe!
To Participate in 'Think, Learn & Perform (TLP)' Initiative
Registration/Login is a must. Since the Questions will be sent via mail only to the Registered Users.
To be in the group write at least 1 Answer in 2 days, else there are chances of you being removed from the group
Review and feedback will be given only to Registered Users
P.S: Registration is FREE!!
Benefits for Registered users:
We are creating a Virtual Classroom for the registered users- where aspirants can ask questions/doubts, share materials, form a group and discuss.
You will have your own Profile exactly like Facebook /Quora
All the Notifications will be visible on your profile.
You can Access all your activities @ One place
You can check your performance on a regular basis –Reputation is based on the no. of points – Best Answer (6); Up votes (1-3); Answering the question (1);
One can create a Community of 'Like-minded' people. Example: People who have chosen 'Public Administration' can form a community and chat and share information and other materials among themselves.
You can also have a Personal chat among any member of the group.
For Non-registered Users:
Non-registered Users can ONLY VIEW the Answers written by the registered users but cannot participate in the virtual classroom provided to the Registered users. Nor can get your answers reviewed by IASbaba.
Register soon and start playing with awesome platform provided here. Explore all the options given, so that you will be ready to sail with IASbaba from 31st August, 2015. Though it's going to be a long journey (100 days), we promise you that it will be one of your most memorable and exiting journey with IASbaba!
Note- Kindly note that 'Chat Option' should be used only when its very important. We suggest you to keep chat option as the last resort instead you should use Questions/Answer or Forum. It shouldn't become your personal Fb type chat box otherwise we will disable it. 
"Without leaps of imagination, or dreaming, we lose the excitement of possibilities. Dreaming, after all, is a form of planning." – Gloria Steinem
This was one of our Dream .. You made it a reality. Let's begin the exciting journey!!
All the Best 
For a dedicated peer group, Motivation & Quick updates, Join our official telegram channel – https://t.me/IASbabaOfficialAccount
Subscribe to our YouTube Channel HERE to watch Explainer Videos, Strategy Sessions, Toppers Talks & many more…