IASbaba's Daily Current Affairs- 17th September

, 2015
NATIONAL
Where is my Right to Despise?
Article 19:
Freedom to express ones views + opinion + belief + convictions including contempt + enmity and disaffection openly (applied)
Article 19 (2)
State can impose reasonable restrictions on this exercise if:
Hampers sovereignty + integrity + security of India
Comes in the way of friendly relations with foreign states
Disruption in Public order
Contempt of Court
Defamation
Incitement to an offence
    Restrictions: Not arbitrary and impairment of freedom must be 'as little as possible'
Ushered in an era of Revolutions:
For Independence: Courageous men used their power of free and fearless reasoning to gift us freedom
Social Change: Voices rose against massive levels of poverty, unemployment, malnourishment, price rise, and lack of health care, farmers' suicides, and discrimination against the minorities, women and Dalits
Freedom of Press: Most paramount among the responsibilities of a free press is the duty to prevent any part of the government from deceiving the people and this can be observed in the improvement in ranking (136th) of India in the 'World Press Index Freedom 2015'.
Fear of serious injury cannot alone justify the suppression of Free Speech & Assembly
Recent examples of agitations taking place in India:
Agitation by the Patel Community in Gujarat
The agitation by ex-servicemen for 'One Rank One Pension'
One day, nation-wide Bharat Bandh observed by 15 crore workers across India
To justify suppression of free speech there must be reasonable ground to fear that serious evil will result if free speech is practiced and that the danger apprehended is imminent.
Section 499 and 500 of the Indian Penal Code, 1860
Pertaining to criminal defamation, constricting free speech beyond reasonable limits
Law Commission of India:criminal defamation laws violated international norms, and that the penalty of incarceration up to two years was clearly disproportionate. The recent history of defamation laws is riddled with misuse by politicians and corporations to silence the media, activists and criticisms.
May harm public order and are covered by Sections 124, 153 and 153A, and so criminal defamation does not serve any overarching public interest.
Important Judgements by Supreme Court:
The Supreme Court recently observed that one cannot resort to abusive language against historical figures in the guise of artistic expression and free speech to accentuate sensationalism. Liberty of ones thoughts cannot be an excuse for abusing nationally revered figures.
The Public's "Right to Know" is directly affected by Section 66A of the Information Technology Act
Recent Examples:
Cartoonist Aseem Trivedi held for cartoons allegedly mocking Indian Constitution
2 girls in Thane held over a post on Facebook
Upholding the rights, SC mentioned that the law will no longer allow someone to be arrested for posting any content online and issued advisory that arrests need consent of senior officers.
Government: Panel to look into post-66A security concerns as security agencies raised concerns about activities on digital media that threaten national security and are inciting violence.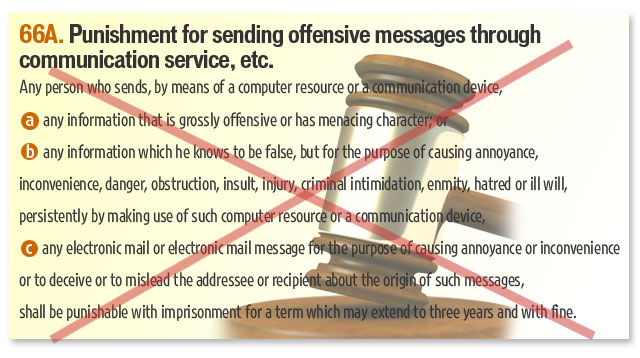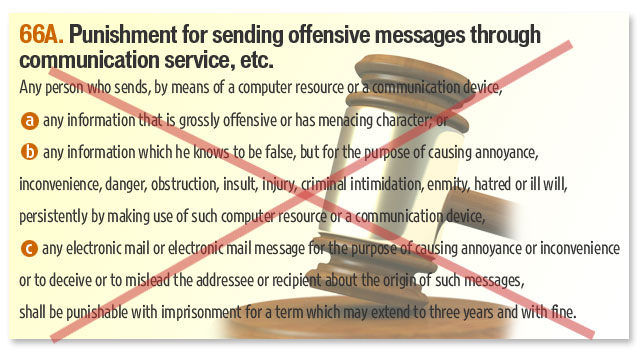 IASBaba's Views:
Freedom of speech is not absolute and should be curtailed only when the right to life is at stake.
Punishment for mere suspicion in a democratic country like India, should be strictly dealtwith and since the online intermediaries have a huge pool of content, cooperation is a must to establish a set of procedures for effective monitoring of 'dangerous' content and not a 'dissenting' one.
Connecting the Dots:
'The remedy to evil counsel is more speech, not enforced silence'. Comment
Mukesh in the documentary 'India's Daughter' says: "The death penalty will make things even more dangerous for girls. Now when they rape, they won't leave the girl like we did. They will kill her." Is this statement amounting to "hate speech"? What do you mean by hate speech? Suggest a way forward to deal with it.
INTERNATIONAL
India- Saudi Arabia relations
India and Saudi Arabia enjoy multifaceted relations reflecting the centuries old economic and socio-cultural ties.
The bilateral business ties between the two countries have steadily expanded and further strengthened by continuous interaction and cooperation, including regular exchange of business delegations.
Besides being a major trade partner, India sees the Kingdom as a major pillar for its energy security and an important economic partner for investments, joint ventures, transfer of technology projects.
Why India needs Saudi Arabia?
Economic & Commercial:
Saudi Arabia is the 4th largest trade partner of India and the bilateral trade was USD 36 billion in 2013-14.
The import of crude oil by India forms a major component of bilateral trade with Saudi Arabia being India's largest supplier of crude oil, accounting for almost one-fifth of its needs.
Oil is one major commodity that determines the need of Saudi Arabia to India. India is now the fourth largest recipient of Saudi oil after China, the United States, and Japan.
Saudi Arabia is the 14th largest market in the world for Indian exports and is destination of more than 1.86% of India's global exports.
Investments :
Twelfth five year plan envisages an investment of one trillion dollars into various infrastructure projects.
In this regard , Saudi Arabia may need the useful.
Saudi Arabia is the 46th biggest investor in India with investments from April 2000 to June 2012 amounting to USD 33.81 million.
On the other hand, Saudi Arabian investment authority has issued 426 licenses to Indian companies for joint ventures/100% owned entities till 2010, which are expected to bring total investment of USD 1624.60 million in Saudi Arabia.
Remittances:
More than 2 million Indian community is working in Saudi Arabia and contribute more than one tenth to the total remittance amount into India.
Strategic need:
Saudi Arabia supports for India, an observer status in the Organization of Islamic Conference.
Organization of Islamic Conference: The organisation founded in 1969 ,works as a collective voice of the Muslim world and also to "safeguard and protect the interests of the Muslim world in the spirit of promoting international peace and harmony"
Saudi Arabia has also been supportive of Indian moves to reduce tension in Kashmir and has tried to move beyond its traditional approach of looking at India through a Pakistani prism.
Saubi Arabia can be an important player in India's look west policy.
Why Saudi Arabia needs India?
Saudi Arabia and Iran have long competed for power and influence in the Persian Gulf.
The 1979 Islamic Revolution in Iran added a new edge to the rivalry, as Iranian ayatollahs sought increasingly to challenge the Saudi officials on religious matters, such as the rules and regulations surrounding the hajj or pilgrimage to Mecca.
To counter Iranian influence on India , Saudi Arabia is getting closer to India.
Also in wake of Arab spring in the middle east , Saudi Arabia is looking towards a country which has stabilized democratic setup for its investments.
Saudi Arabia and India , both are countries facing threat of terrorism .Coming together of these two countries indicate a stronger fight on terrorism.
For the above reasons Saudi Arabia signed "Delhi Declaration" with India in 2006, calling for a wide-ranging strategic partnership, putting energy and economic cooperation on overdrive, and committing to cooperate against terrorism.
Way Forward:
India as a part of its "look west" policy needs access to middle east and Saudi Arabia as a part of its "look east" policy needs access to Asia . This creates a win-win situation to both India and Saudi Arabia to engage in a strategic dialogue with each other.
Connecting the dots:
Comment on India Saudi Arabia relations in the wake of look west policy of India.
Do you think Saudi Arabia is a natural ally of India.
India Saudi Arabia relation is more of a need based relation than compared to natural friendship. Critically analyse.
For a dedicated peer group, Motivation & Quick updates, Join our official telegram channel – https://t.me/IASbabaOfficialAccount
Subscribe to our YouTube Channel HERE to watch Explainer Videos, Strategy Sessions, Toppers Talks & many more…